Largest in the World in Nitrile Gloves
Background
Hartalega Holdings Berhad is a Malaysian glove manufacturer and supplier, specializing in nitrile and latex gloves. It is the world's leading nitrile glove producer.
HART acts as an original equipment manufacturer (OEM), having its products marketed by other companies/manufacturers.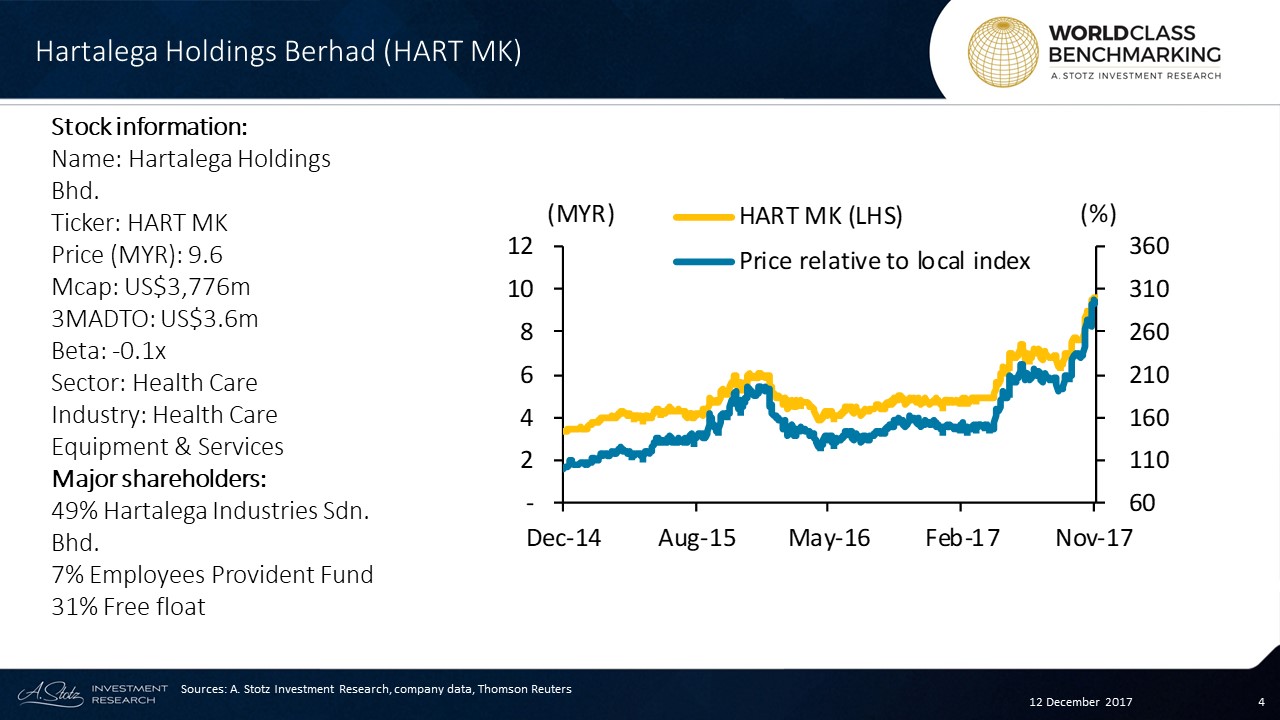 It has operations in the United States, Europe, and Asia.
Business Description
HART production lines operate at a rate of 45,000 pieces per hour with a workforce of 6,600 people across 5 plants in Bestari Jaya and 6 plants to be commissioned in Sepang, both in the state of Selangor in Malaysia. HART produces gloves in two materials:
Latex – traditionally used all over the world, they offer more comfort and dexterity. Used in manufacturing, healthcare, laboratory, and food industries.
Nitrile – more puncture resistance, perfect for medical applications, i.e. disposable examination, surgeries and other cleanroom uses. May be used in other industries to prevent latex allergies.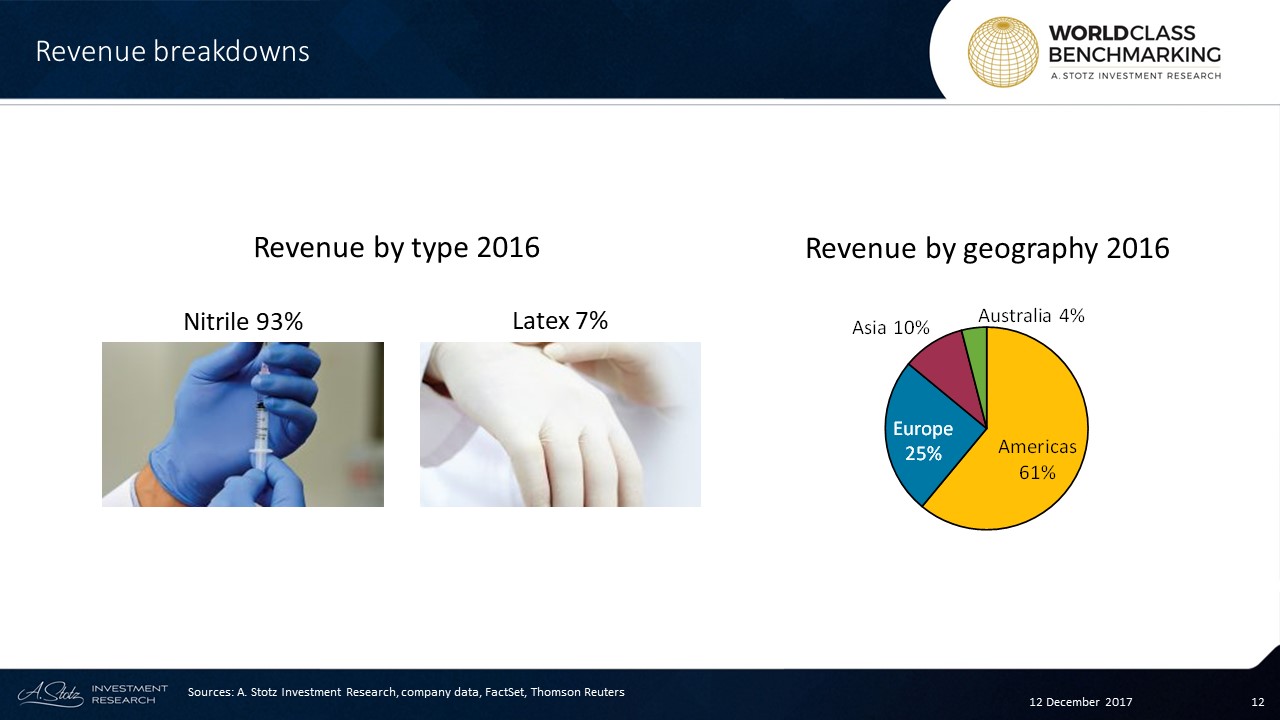 HART created the world's first lightweight nitrile glove in 2005, shifting demand from latex to nitrile all over the globe. It produces over 27bn nitrile gloves a year, being the largest manufacturer in the world.
Its export markets include America, Germany, Japan and Australia. The company has operations in the United States, Europe and Asia.
Leadership
Kuan Kam Hon was appointed the Chairman of the company in 2007. He founded Hartalega in 1981 and has had a lot of experience in construction and manufacturing. Kuan Kam Hon also sits on the board of multiple private companies.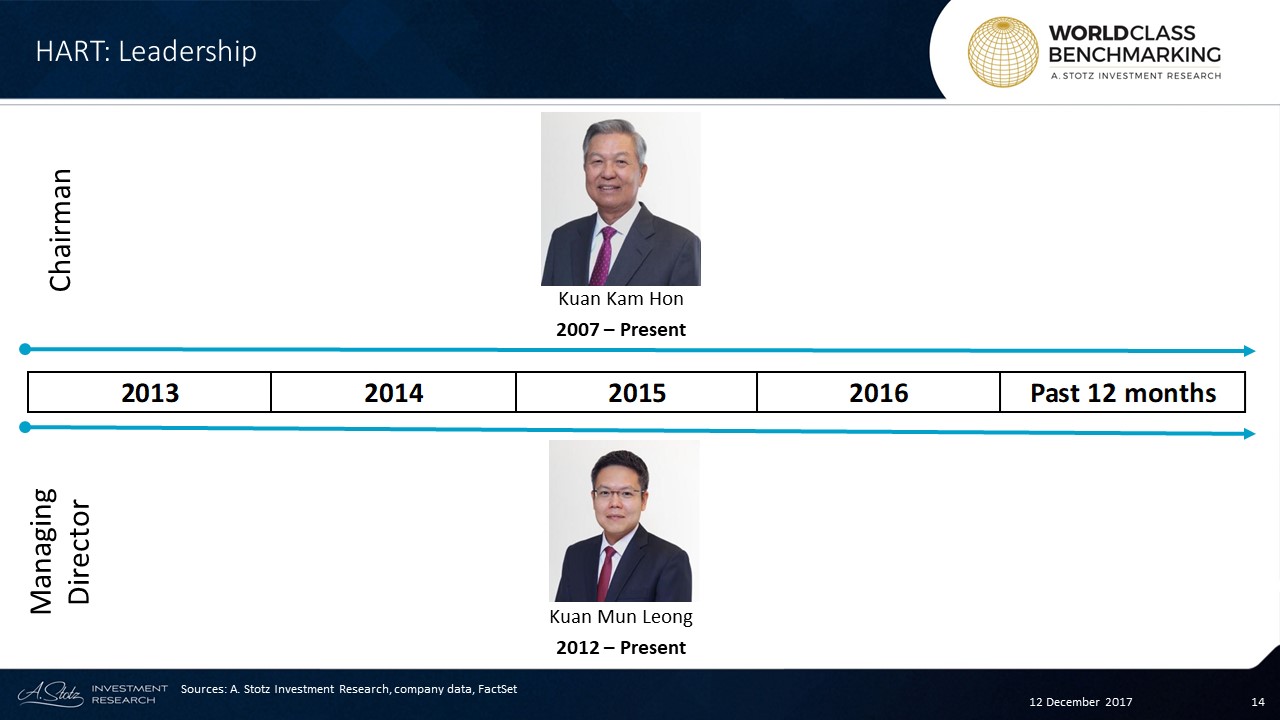 Kuan Mun Leong is the son of Kuan Kam Hon and the managing director of Hartalega. He has been serving in this position since 2012 after joining the company in 2001. His education includes a Bachelor's degree in Mechanical engineering from Monash University, Australia and Masters in Business Administration from University of Strathclyde, Scotland.
Find an updated World Class Benchmarking scorecard of Hartalega Holdings here.
World Class Benchmarking
Profitable Growth has been impressive at consistently high ranks. Hartalega ranked among the top 90 of 450 medium-sized Health Care companies globally.
Profitability has been excellent and improved to the top rank in the past 12 months. Growth has been improving and ranked #3 in the past 12 months.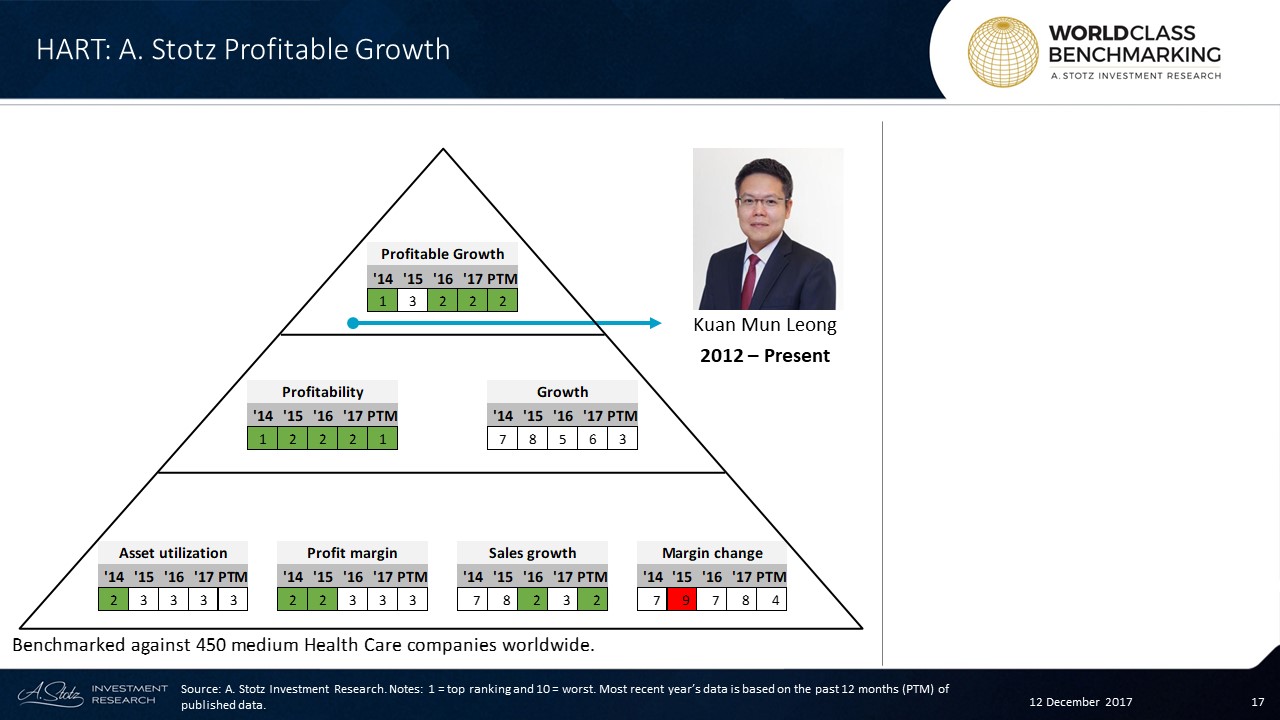 Asset utilization and Profit margin have both maintained a good #3 rank.
Sales growth has been great, returned to #2 from #3 in the past 12 months. Margin change has been poor, but improved to above average in the past 12 months.
---
What're your thoughts of HART?
If you like our research, share it with your friends.
---
DISCLAIMER: This content is for information purposes only. It is not intended to be investment advice. Readers should not consider statements made by the author(s) as formal recommendations and should consult their financial advisor before making any investment decisions. While the information provided is believed to be accurate, it may include errors or inaccuracies. The author(s) cannot be held liable for any actions taken as a result of reading this article.