Oleochemicals Could Mitigate Negative Impact from Low CPO Price
Background
Kuala Lumpur Kepong Berhad is a Malaysia incorporated company engaging in plantation, manufacturing, and property development.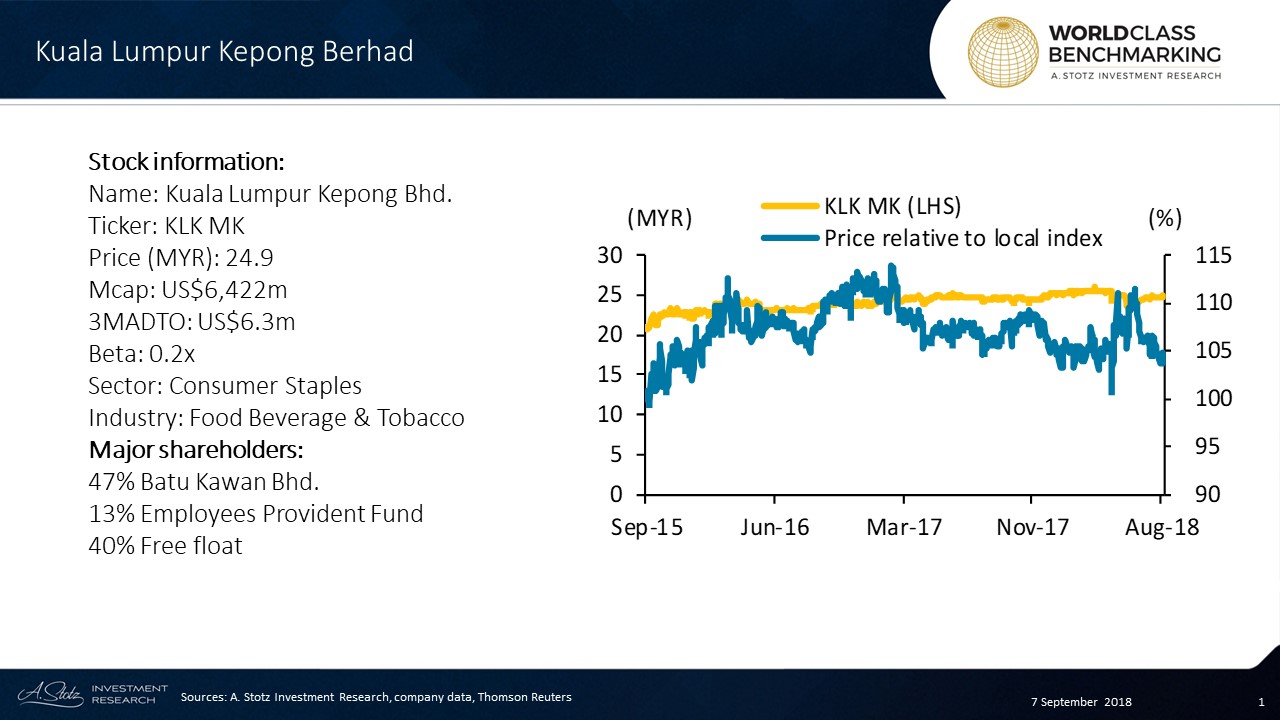 Plantation being its core business constituted 81% of operating profit in FY2017 with 270,000 ha planted area across Malaysia, Indonesia, and Liberia. Oil palms use 94% of the area, rubber the rest.
Business Description
KLK's plantation business has 270,000 ha of planted area with 25 palm oil mills, 4 refineries, 3 kernel crushing plants, and 6 rubber factories in Malaysia, Indonesia, and Liberia where 94% is oil palm and the rest is rubber. Palm oil trees are most productive in years 7-18, at an average age of 12.4, fresh fruit bunches production should increase.
The manufacturing segment is divided into oleochemicals (OLEO) and non-oleochemicals (NOLEO), operated through subsidiaries in Asia and Europe. While low CPO price negatively impacts KLK's plantation business, it benefits its OLEO business as input costs are lower.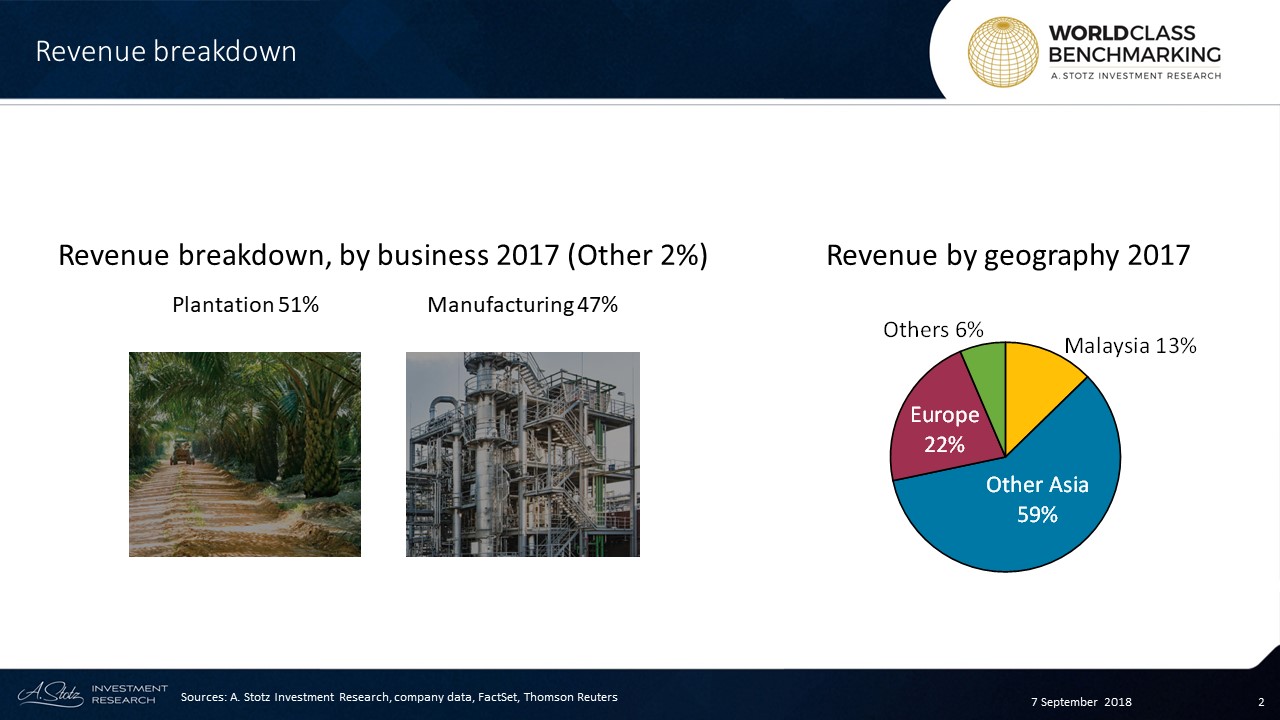 KLK produces a range of oleochemicals such as fatty acids, alcohol, and esters, glycerine, and surfactants used in, for example, home and personal care, food, lubricants and industrial chemicals. The NOLEO segment includes latex gloves for household and industrial use and hardwood floors.
To capitalize its Malaysian landbank, KLK diversified into residential property development which accounts for only 2% of operating profit and less than 1% of revenue.
Leadership
R.M. Alias has been the independent Chairman of KLK since 2008. He also holds the positions of Director of Batu Kawan Berhad (BAK MK) and is a member on the Board of Trustees of the Tan Sri Lee Loy Seng Foundation and Yayasan KLK. He graduated with a Bachelor of Arts degree from the University of Malaya, Singapore and earned a Certificate in Public Administration from the Royal Institute of Public Administration in London, UK. Additionally, he attended the Advanced Management Program at Harvard Business School, US.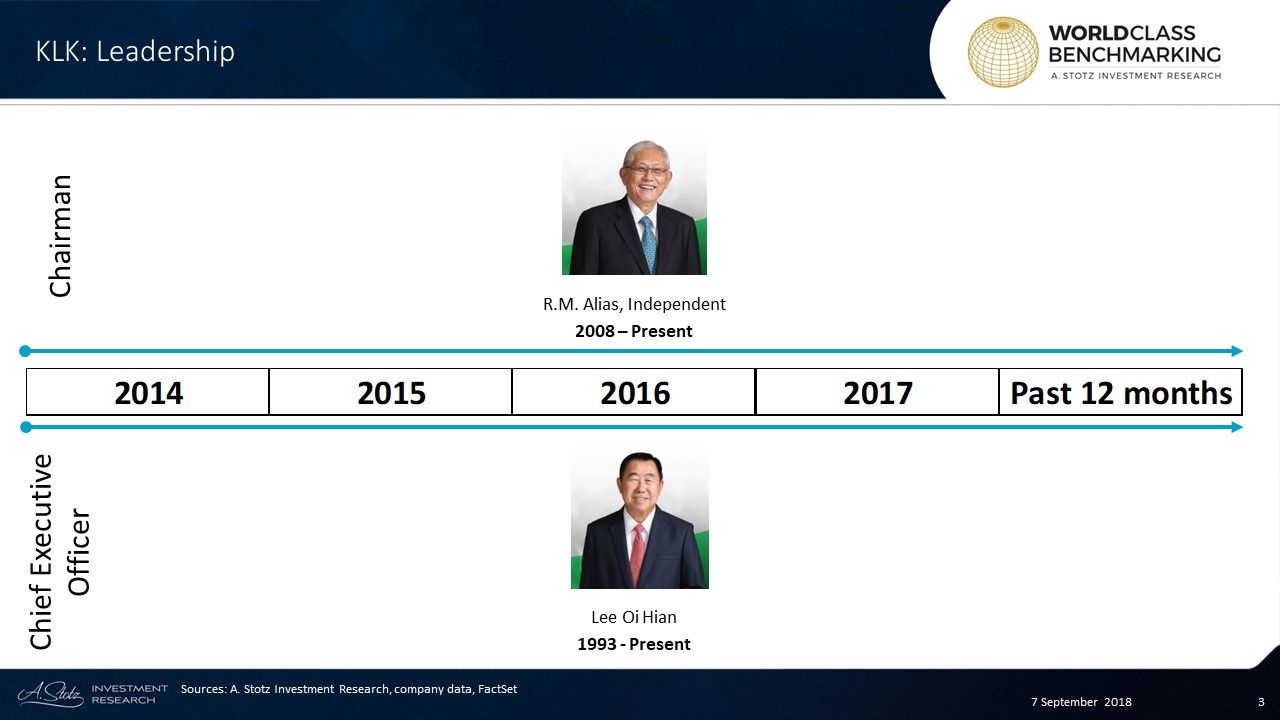 Lee Oi Hian was appointed as CEO and Group Chairman of KLK in 1993, but in 2008 he retired from the Group Chairman position to leave room for an independent chairman. Furthermore, he serves as the Chairman of Batu Kawan Berhad (BAK MK) and a Director of Equatorial Palm Oil Public Limited Company (PAL LN). He holds a Bachelor of Agricultural Science degree from the University of Malaya, Singapore and a Master of Business Administration from Harvard Business School, US.
World Class Benchmarking
Profitable Growth was mainly above average in 2014-2016 but as ranked at #6 since 2017. In the past 12 months, KLK ranked in the lower half among 590 large Consumer Staples companies worldwide.
Profitability has fluctuated over the years but ranked below average for the first time in the most recent period. Growth jumped to #2 in 2016 but plunged to #9 in 2017 and has stayed there.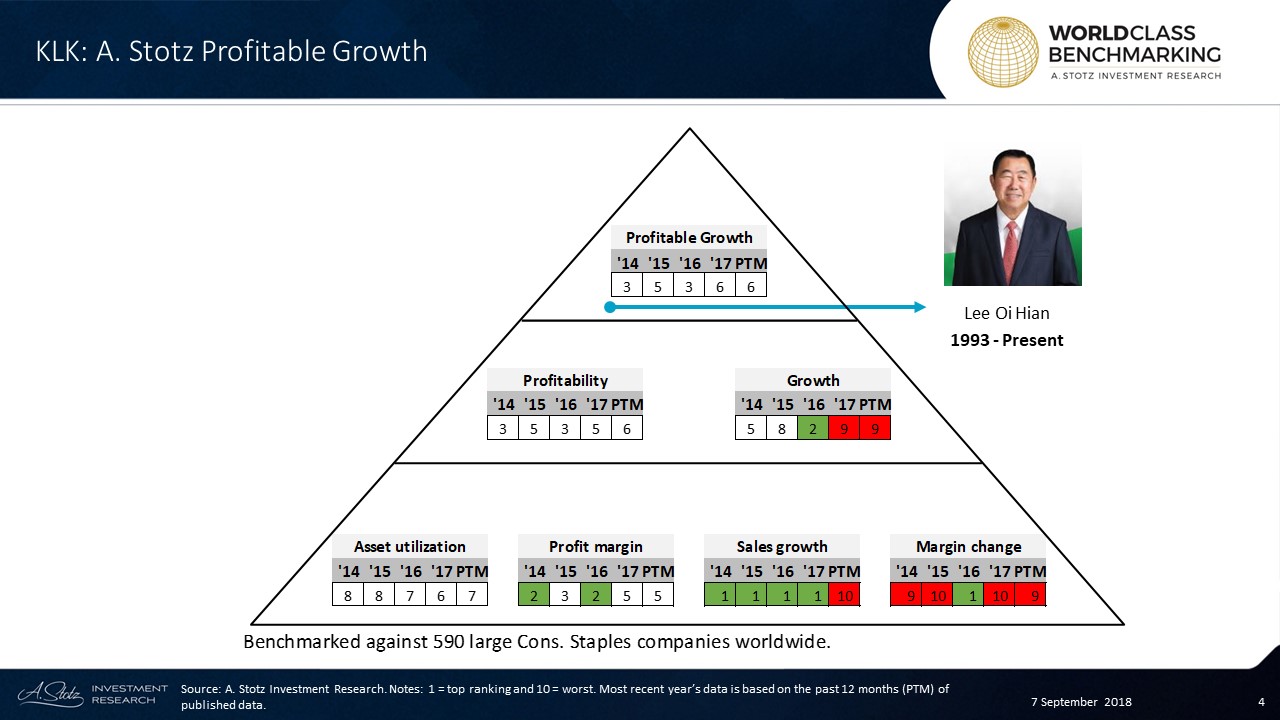 Asset utilization has stayed below average for the whole time period. Profit margin ranked in the top 30% until 2016 but fell to #5 in 2017 and stayed there in the past 12 months.
Sales growth was top-ranked until 2017, but in the past 12 months, it fell to #10. Margin change has had poor performance for the whole time period except for the year 2016, when it jumped to #1.
---
What're your thoughts on KLK?
If you like our research, share it with your friends.
---
DISCLAIMER: This content is for information purposes only. It is not intended to be investment advice. Readers should not consider statements made by the author(s) as formal recommendations and should consult their financial advisor before making any investment decisions. While the information provided is believed to be accurate, it may include errors or inaccuracies. The author(s) cannot be held liable for any actions taken as a result of reading this article.