Korean Making Biological Drugs for the West
Background
Celltrion Incorporated is one of Korea's biggest exporters by value of biosimilar pharmaceutical products; A biosimilar is a cheaper version of a biopharmaceutical, a type of drug which is derived from biological rather than chemical sources.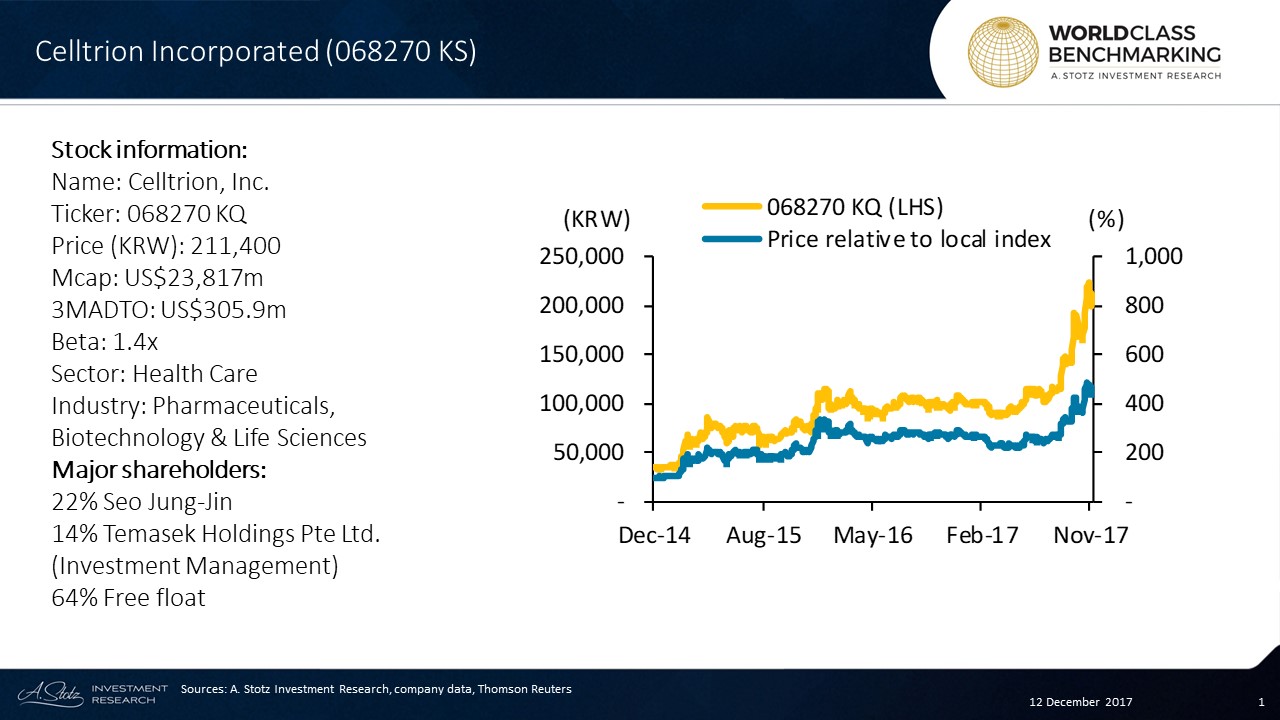 The group has two plants and markets its two products to more than 120 countries.
Business Description
Celltrion is one of the biggest manufacturers in Korea by global sales of biosimilar pharmaceuticals, and included amongst the top 25 worldwide. Biosimilars are pharmaceuticals which are similar to existing biologicals, but are much cheaper, and hence are in demand from cash-strapped government health departments.
A biological, or biopharmaceutical, is any pharmaceutical product manufactured from biological sources. Like a generic drug, the development costs are low, but unlike a generic, a biosimilar is only similar – and not identical – to the original.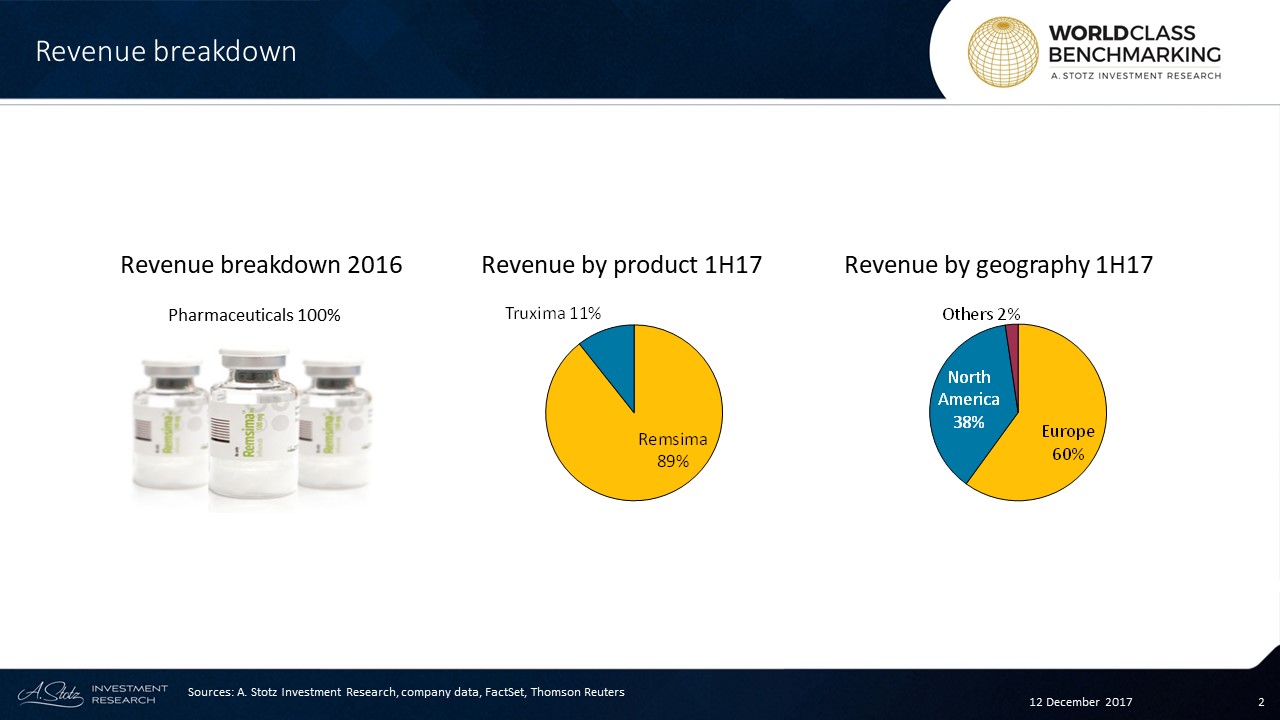 The company has two products on the market, Remsima for arthritis, and Truxima for arthritis and blood cancer. It has a healthy pipeline of products waiting for approval, with a biosimilar version of Herceptin, for breast cancer, expecting to be approved in Europe before yearend.
While the biosimilar market is rapidly expanding in Europe, it is only just starting to take off in the US, the biggest pharma market in the world.
Leadership
Seo Jung-Jin has served the role of Chairman of Celltrion since 2002. He obtained his Master's Degree in Business Administration from Kornkuk University, Korea.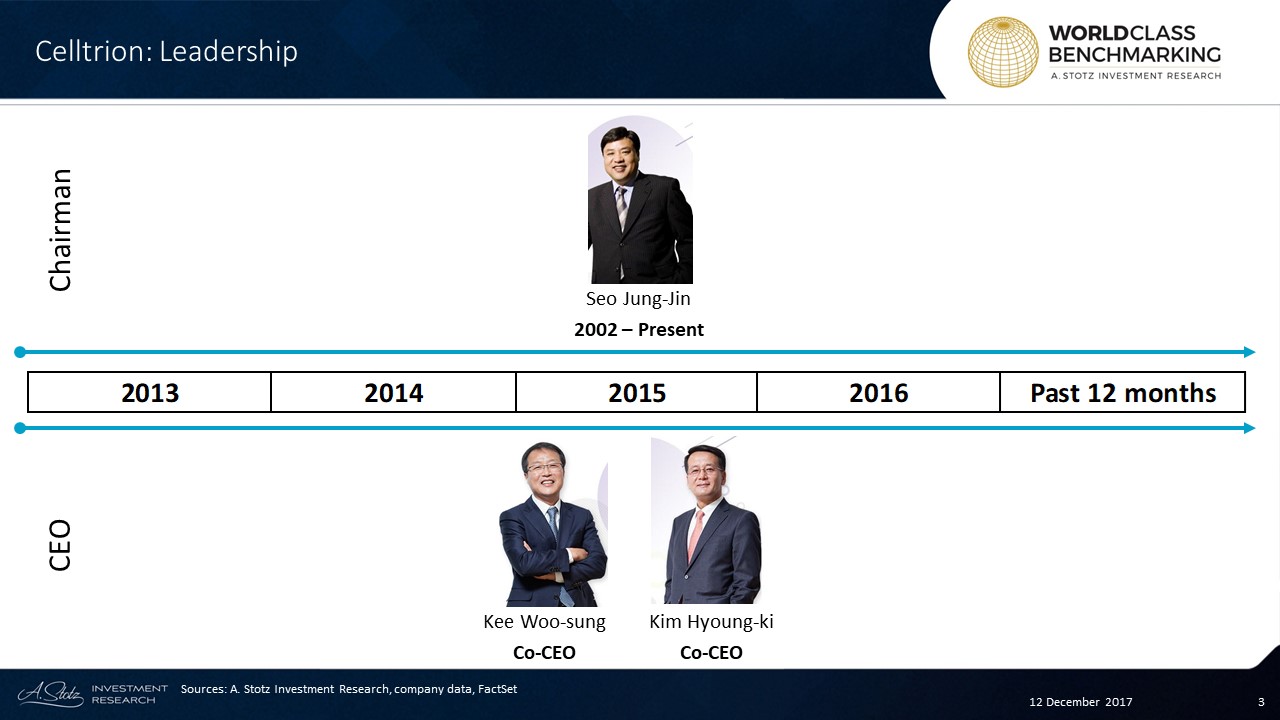 Kee Woo-sung is the Co-CEO of Celltrion along with Kim Hyoung-ki. Kee used to work in the role of Vice president at Nexol Biotech Co., Ltd. He also served as Deputy General Manager of Daewoo Motor Company before joining Celltrion. Kim holds other responsibilities outside of Celltrion including a role in the Committee of Director of The Korean Society of Combustion. He also holds a Ph.D. awarded by the INHA University, Korea.
World Class Benchmarking
Profitable Growth has improved to #2 in the past 12 months from being ranked average.
Celltrion ranked among the top 72 of 360 large Health Care companies globally.
Profitability and Growth shows a similar pattern where ranks were #2 and #1 respectively in the past 12 months.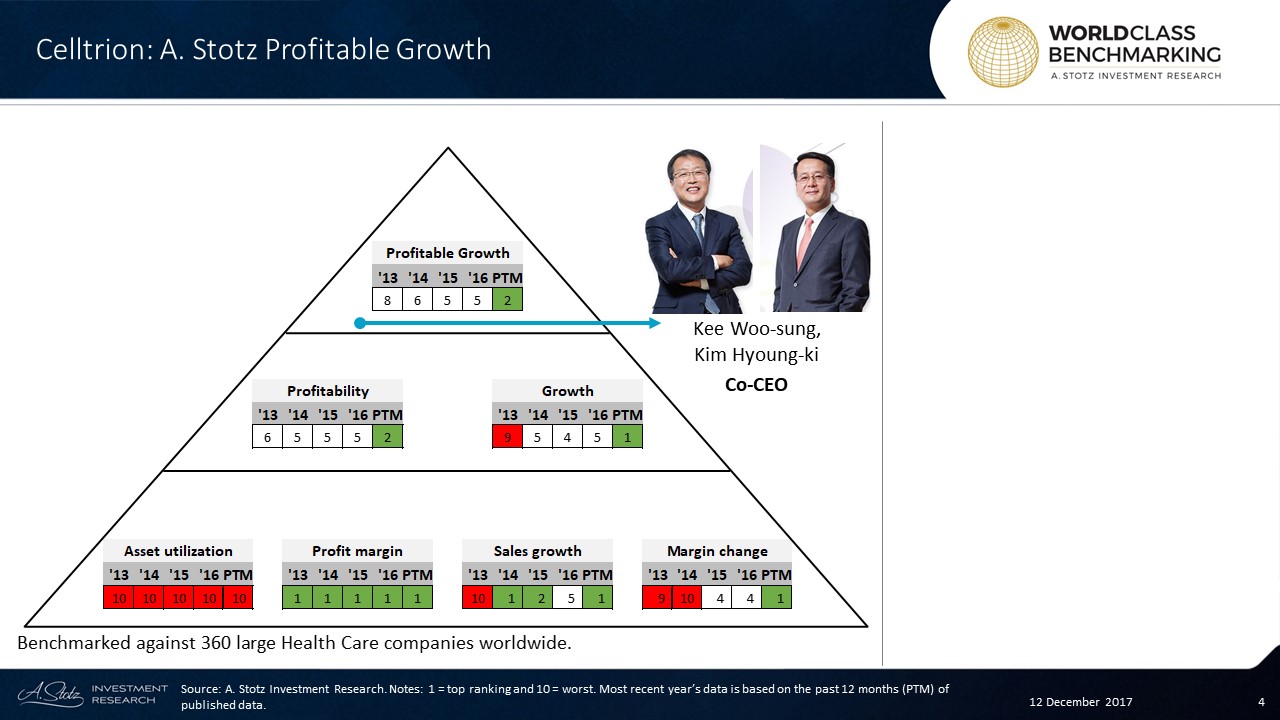 Asset utilization has always been the worst in contrast to the Profit margin that has always been the best.
Both Sales growth and Margin changed have risen to #1 in the past 12 months.
---
What're your thoughts on Celltrion?
If you like our research, share it with your friends.
---
DISCLAIMER: This content is for information purposes only. It is not intended to be investment advice. Readers should not consider statements made by the author(s) as formal recommendations and should consult their financial advisor before making any investment decisions. While the information provided is believed to be accurate, it may include errors or inaccuracies. The author(s) cannot be held liable for any actions taken as a result of reading this article.