Great Improvements at Thai Biomass Power Company
Background
TPC Power Holding Public Company Limited focuses on electricity generation and distribution from biomass.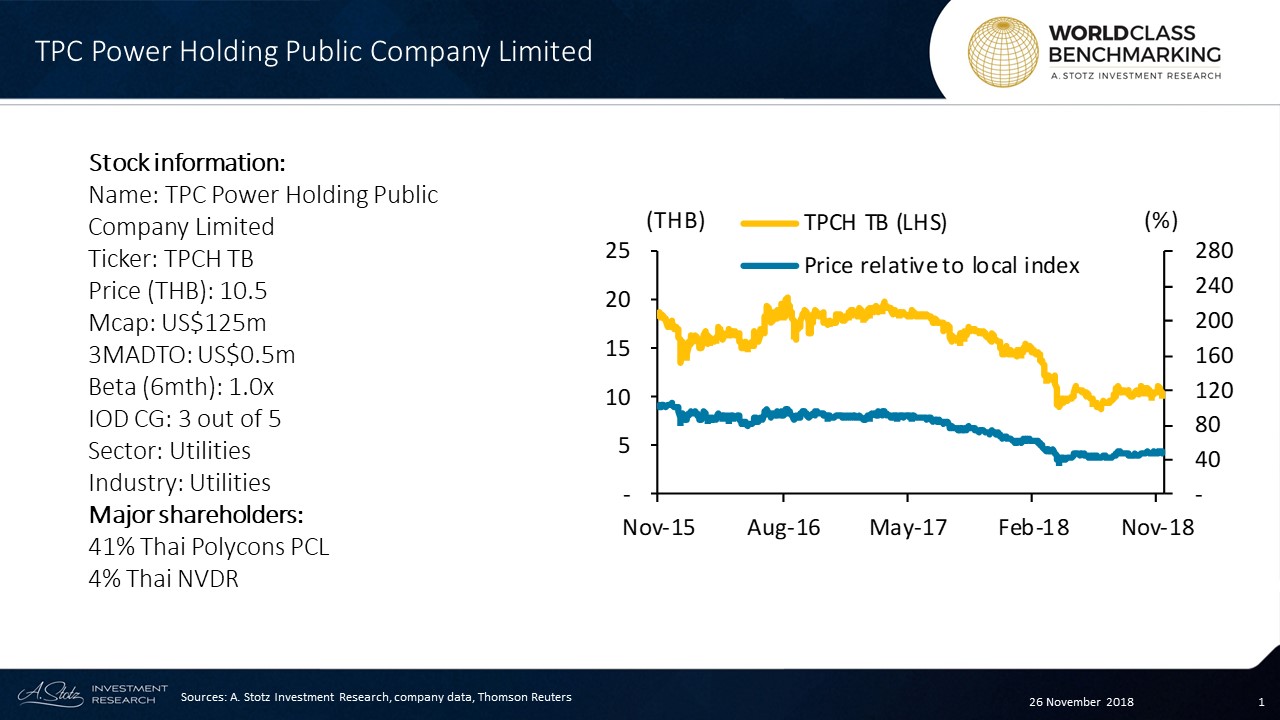 TPCH has investments in six biomass power producers, all of which are located in Thailand and service the domestic market. Each plant has operating capacity of between 8 to 9MW.
Business Description
TPCH is the holding company for six biomass power plants, making it the biggest such power plant group in Thailand. Its main revenue is dividends and servicing fees from the six plants, which are its subsidiaries. Core biomass fuels come from rubber tree, coconut tree, rice husk, and other crops that are widely grown in Thailand.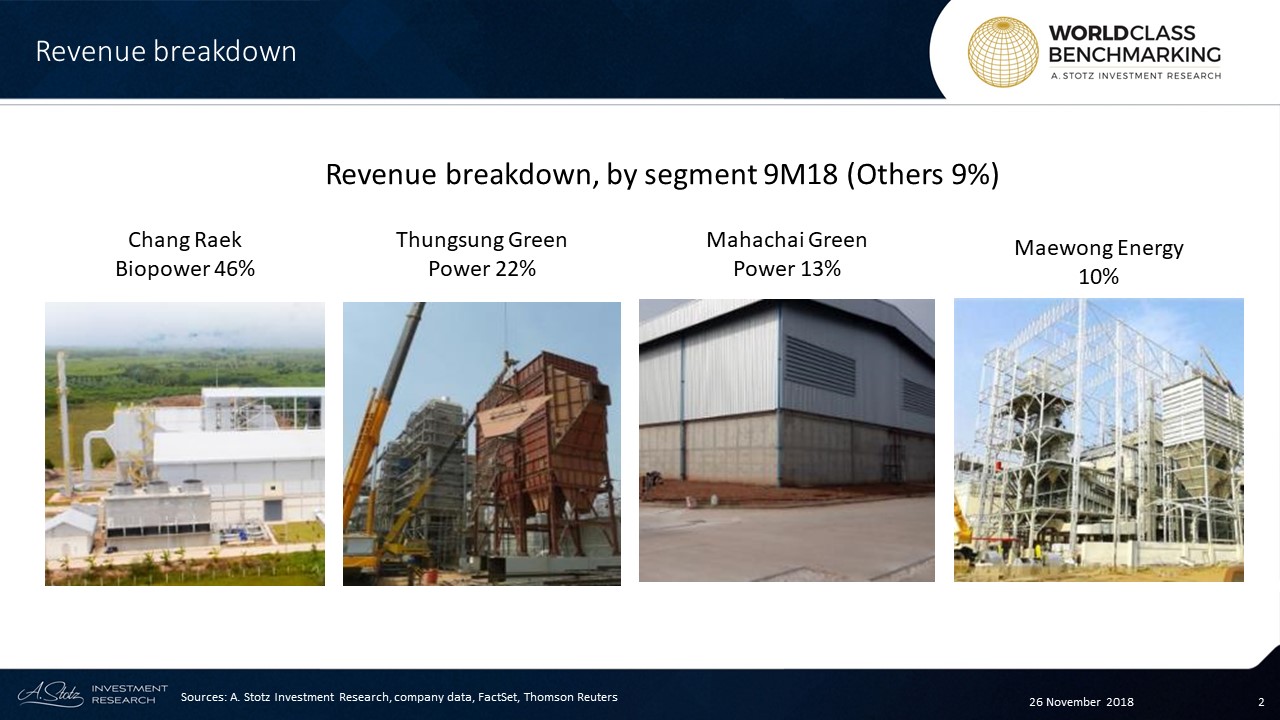 The group sells and distributes the energy generated through PPAs and similar long-term government contracts. The subsidiaries Maewong Energy (85%-owned), Chang Raek Biopower (73%-owned), Thungsung Green Power (65%-owned) and Mahachai Green Power (46%-owned) operate with about 8 to 9MW capacity each, while the newer facilities, Pattani Green Power (65%-owned) and Satun Green Power (51%-owned) generate about 9MW capacity each.
The next planned project by the company to come on stream is a waste-to-energy plant, a joint venture with Siam Power in Nonthaburi, due for completion in 2019. Long-term plans are to more than double the current level of biomass-produced energy from a bit less than 60 MW to 200 MW by 2020.
Leadership
Thanu Kulachol has served as the Chairman of TPCH since 2013 and holds the same position at Thai Polycons Public Company Limited (TPOLY TB), Siam Power Company Limited. He earned his Bachelor of Business Administration from Bangkok University, Master of Business Administration in Finance from Fairleigh Dickinson University in the US, and Doctorate from Southern Illinois University also in the US. Moreover, he participated in the Advanced Management Program at Harvard University, US.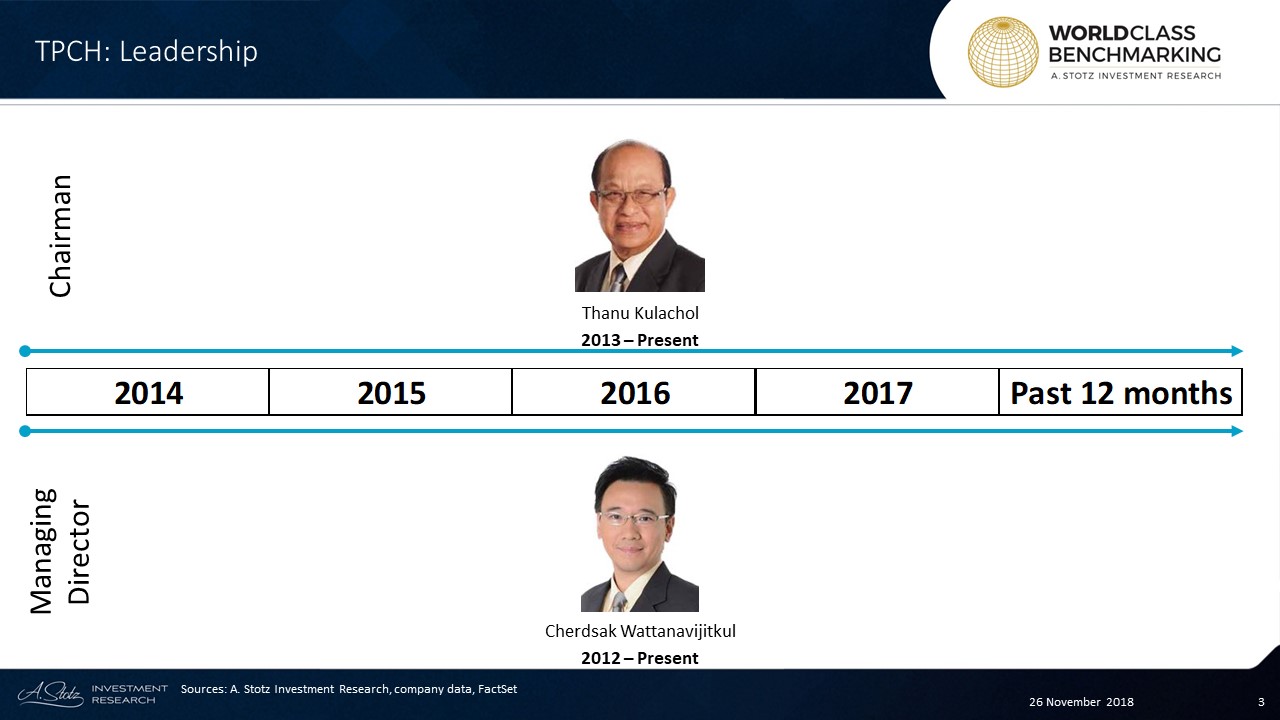 Cherdsak Wattanavijitkul has held the position of Managing Director at TPCH since 2012 and also holds the directorship of various energy companies in Thailand. For his educational background, he graduated with a Bachelor of Business Administration from Assumption University, Thailand and a Master of Business Administration from Bangkok University, also in Thailand.
World Class Benchmarking
Profitable Growth has fluctuated over the years, and in the past 12 months, TPCH ranked in the top 30 out of 100 small Utilities companies worldwide.
Profitability has a positive trend although it dropped to #5 in 2017. In the most recent period, the Profitability rank stood at #3. Growth has oscillated above the average since 2014.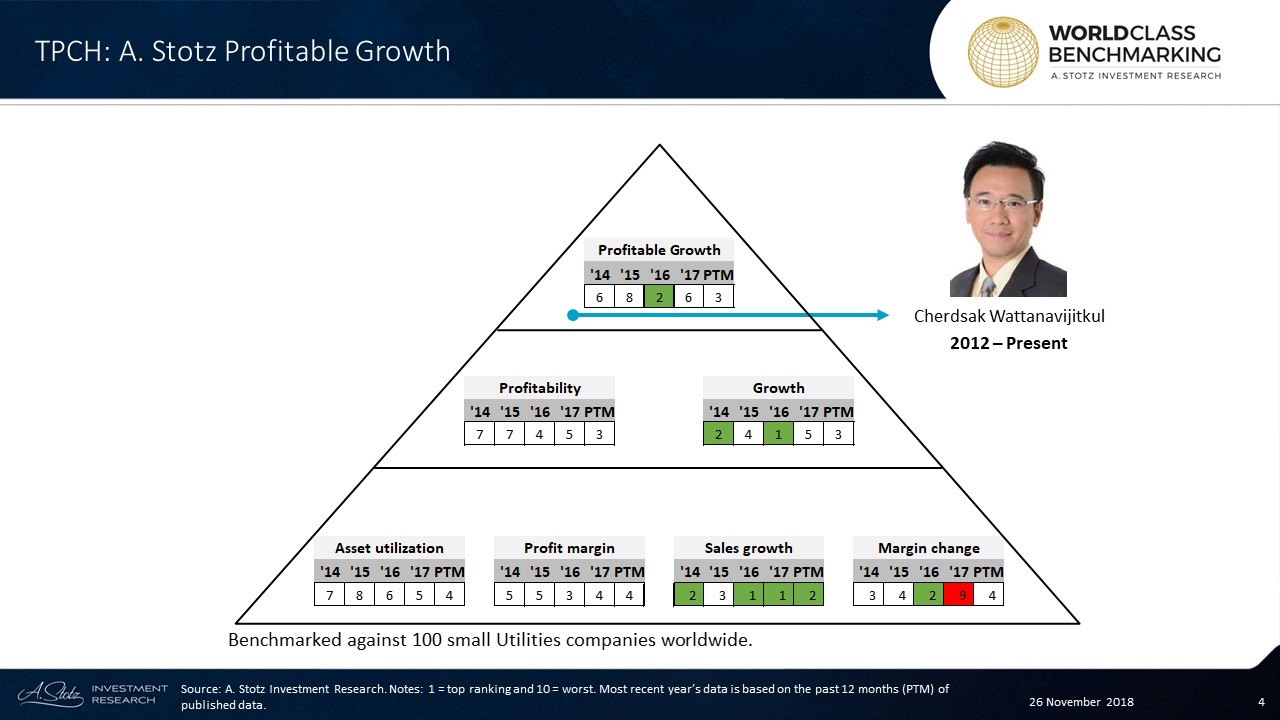 Asset utilization has shown a steadily improving trend since 2018 and in the past 12 months, the rank had stepped up to #4. Profit margin has stayed above average at #4 since 2017.
Sales growth has shown great ranks for the whole time period. Margin change has ranked above average in all years except 2017.
---
What're your thoughts on TPCH?
If you like our research, share it with your friends.
---
DISCLAIMER: This content is for information purposes only. It is not intended to be investment advice. Readers should not consider statements made by the author(s) as formal recommendations and should consult their financial advisor before making any investment decisions. While the information provided is believed to be accurate, it may include errors or inaccuracies. The author(s) cannot be held liable for any actions taken as a result of reading this article.