Good Sales Trend at Japfa Comfeed Indonesia
Background
PT Japfa Comfeed Indonesia Tbk is the second-largest poultry feed producer in Indonesia, with around a 22% market share.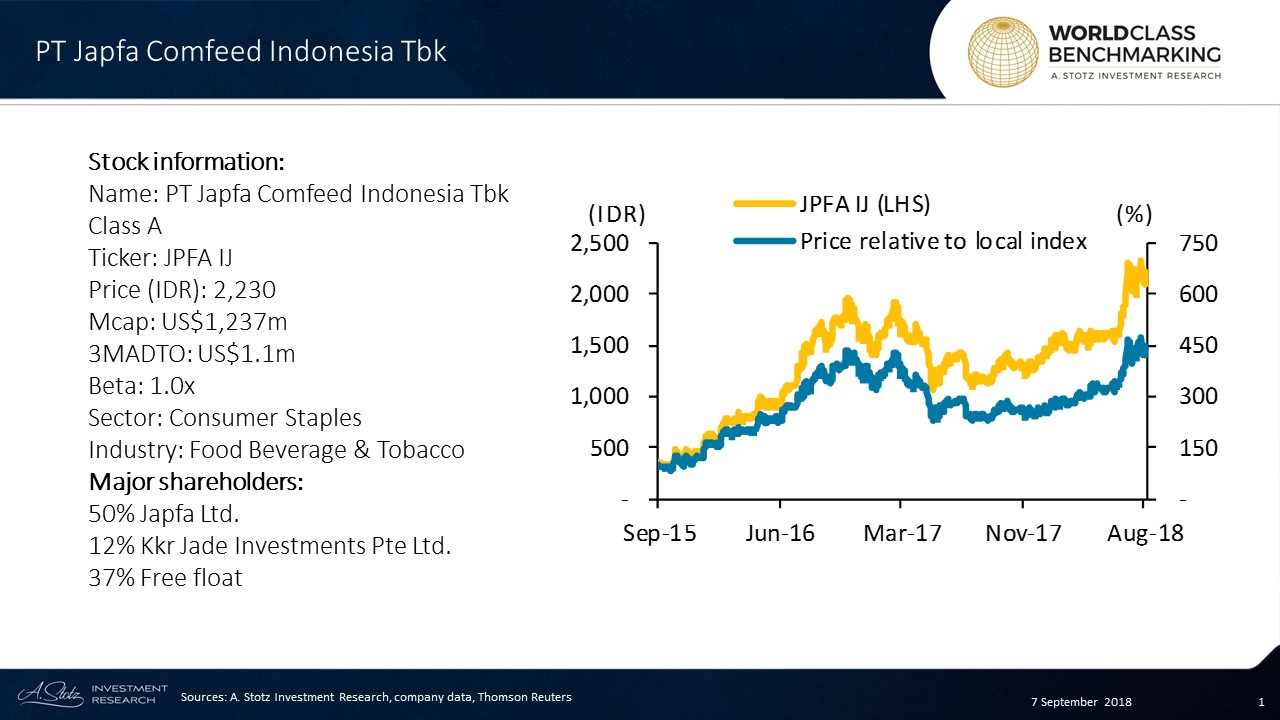 The company is involved in all stages of chicken processing ranging from farming to product distribution. It also has operations in beef and fish, including the production of related food products for consumers and export.
Business Description
JPFA has five divisions, the biggest of which is poultry feed; it contributes 45% of total company revenue. The second major division is broilers, or processed chicken, which makes up just over a quarter of sales. Day-old chicks (DOC) are 11% and the remaining 13% comprises aquaculture, cattle and beef, and related trading.
Within the integrated poultry business, which combined accounts for 87% of the company's total sales, chicken feed contributes 67% of overall operating profits.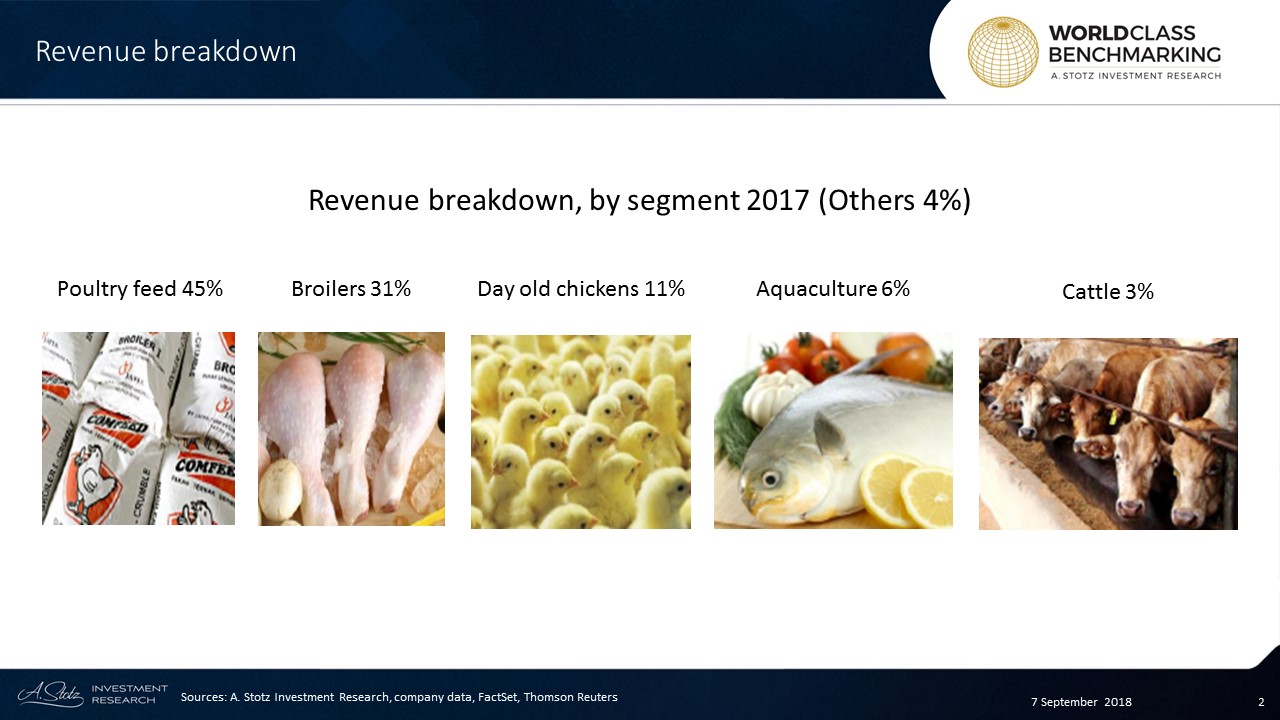 Many adjustments to regulations on poultry have been implemented in 2017; these include reduction of final-stock broiler amounts, grand parents import quota and hatching eggs with aims to control poultry supply amounts and quality within Indonesia.
Ban of Antibiotic Growth Promoters (AGP) was implemented on 1 January, 2018. The policy's objective is to protect consumers from possible side effects. This has taken effect to increase the mortality rate of DOC and lowering volume of broiler per amount of poultry feed.
Leadership
Syamsir Siregar was appointed as President Commissioner in 2010. Furthermore, he serves as a member of the Company's Nomination and Remuneration Committee since 2015. He studied in the National Military Academy and the Army Command Staff School.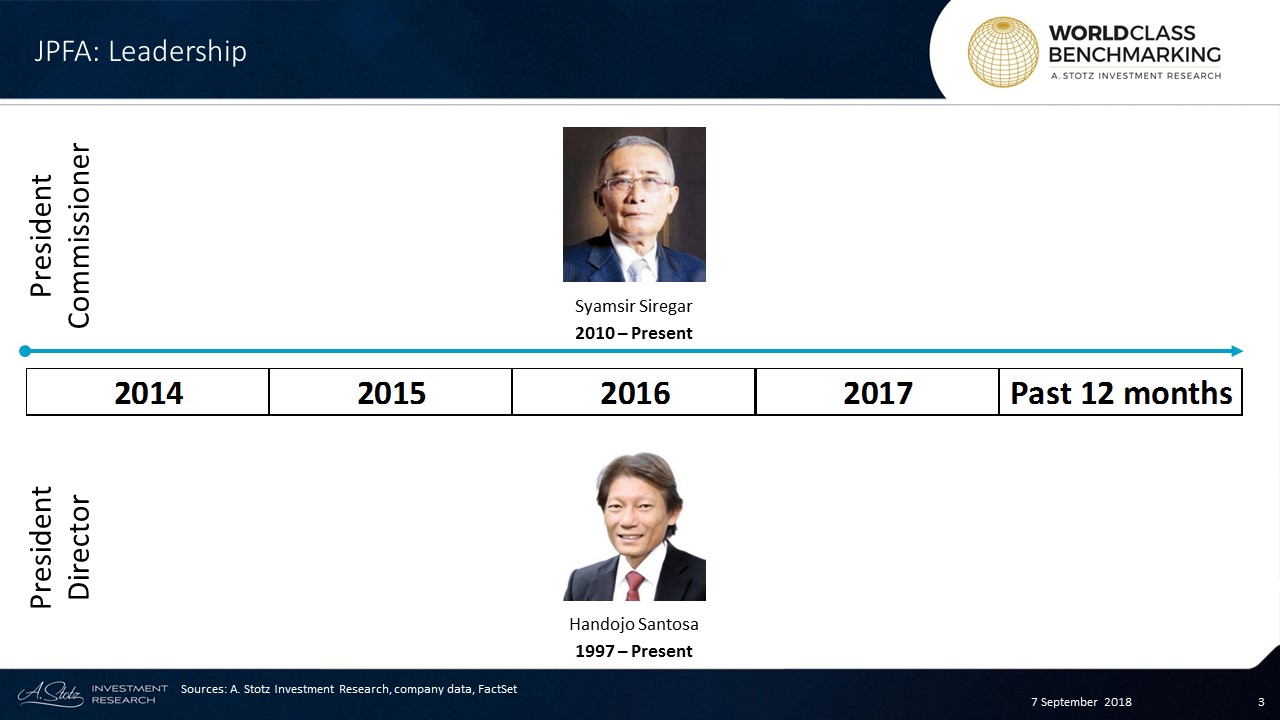 Handojo Santosa has served as President Director of JPFA since 1997, he is in charge of overseeing the entire strategic activities and operations of the company. Currently, he is also Executive Deputy Chairman at Japfa Limited (JAP SP). He graduated with a Bachelor of Economics from the Faculty of Economics of Surabaya University, Indonesia.
World Class Benchmarking
JPFA's Profitable Growth has fluctuated over the years, and in the past 12 months, the company ranked at #4 which was in the top 236 out of 590 large Consumer Staples companies worldwide.
In the past 12 months, Profitability recovered to #3. Growth has been volatile and in the most recent period, JPFA ranked at #6.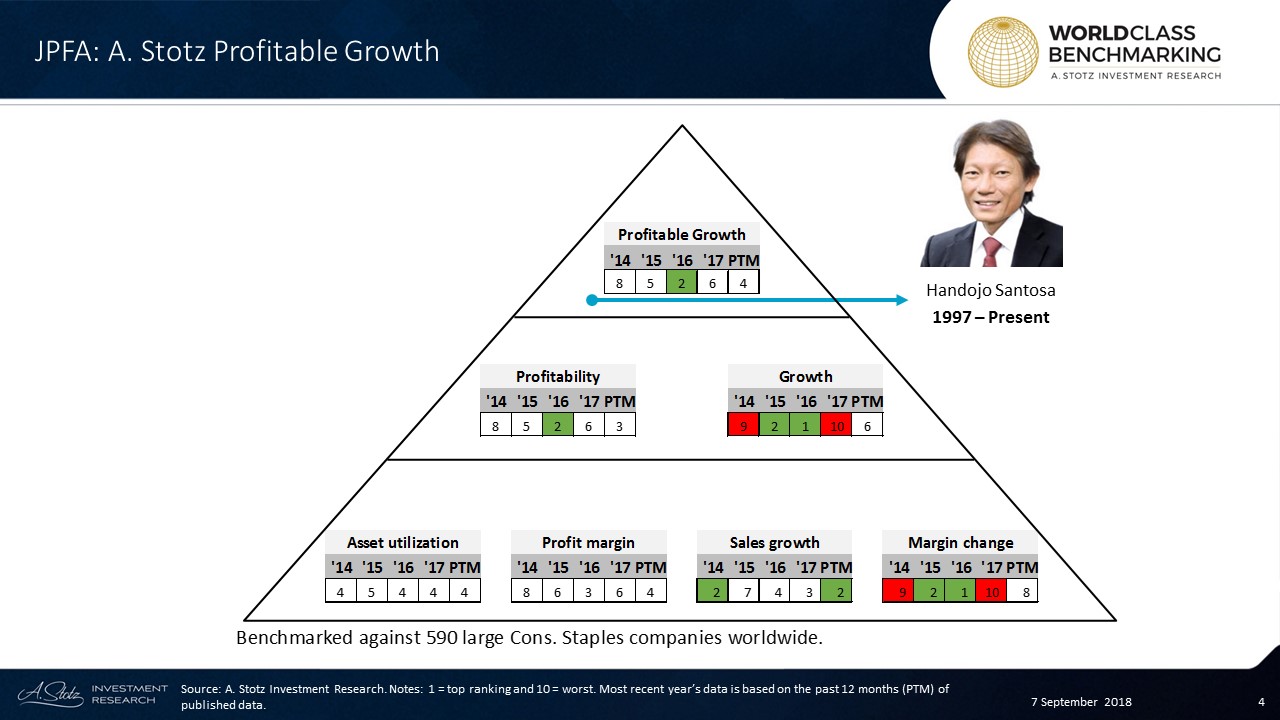 Asset utilization has been stable at #4 since 2014 except 2015 when it ranked at #5.  Profit margin showed a good trend in 2015 and 2016 but returned to below average in 2017. The rank improved in the most recent period to #4.
Sales growth has improved since 2015 and in the most recent period, it ranked at #2. Margin change has been volatile over the years and ranked at #8 in the past 12 months.
---
What're your thoughts on JPFA?
If you like our research, share it with your friends.
---
DISCLAIMER: This content is for information purposes only. It is not intended to be investment advice. Readers should not consider statements made by the author(s) as formal recommendations and should consult their financial advisor before making any investment decisions. While the information provided is believed to be accurate, it may include errors or inaccuracies. The author(s) cannot be held liable for any actions taken as a result of reading this article.