Good Profitable Growth Trend at the Owner of OfficeMate and B2S
Background
COL Public Company Limited is a Thai group engaged in the distribution of office supplies and related equipment and services in Thailand through its stores and online under the brand OfficeMate.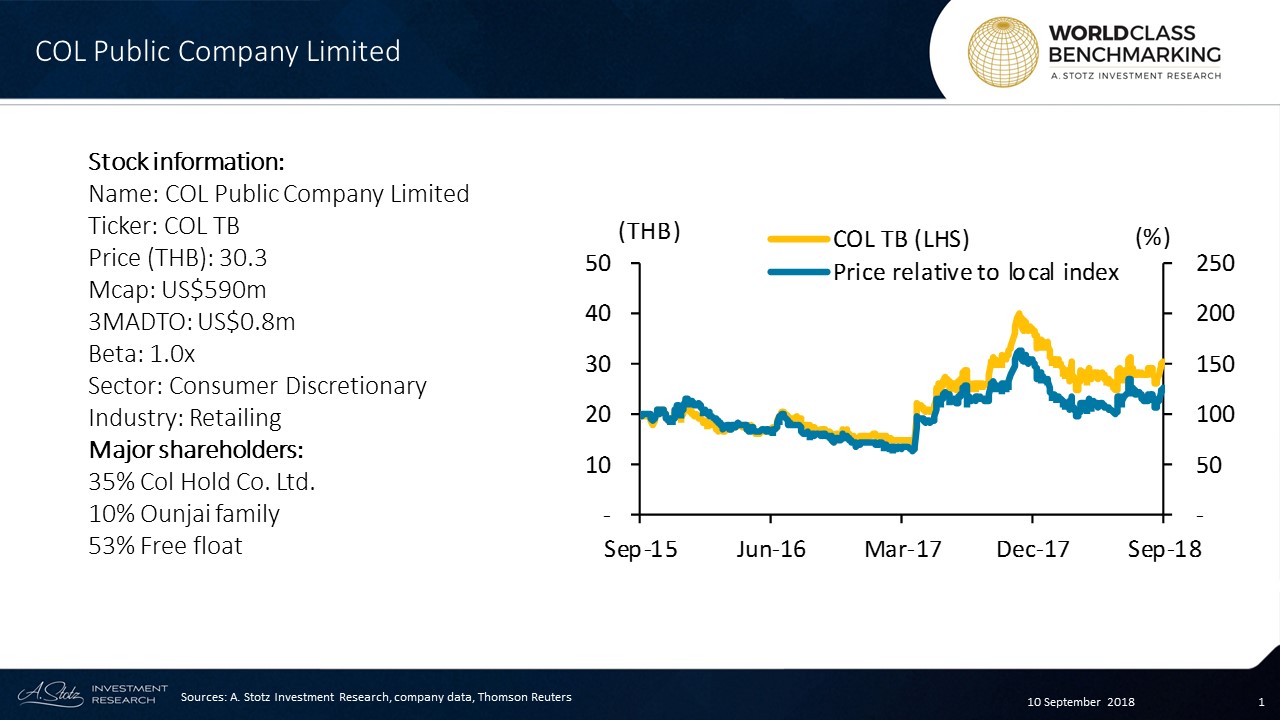 It also has a retail business, B2S, which sells mainly books, stationery and learning products for children.
Business Description
COL operates two main businesses. Just under 2/3 of revenue is derived from the OfficeMate retail channel and OfficeMate online channel for selling office-related equipment and services. The remaining 1/3 of revenue comes from B2S, which is a retail business offering books, stationery, and art supplies, as well as learning and recreation-related products for children.
Hitherto, the firm had also been engaged in the online B2C market, but due to the poor outlook for profits on the back of fierce pricing pressure, the company withdrew fully from this business in August 2017.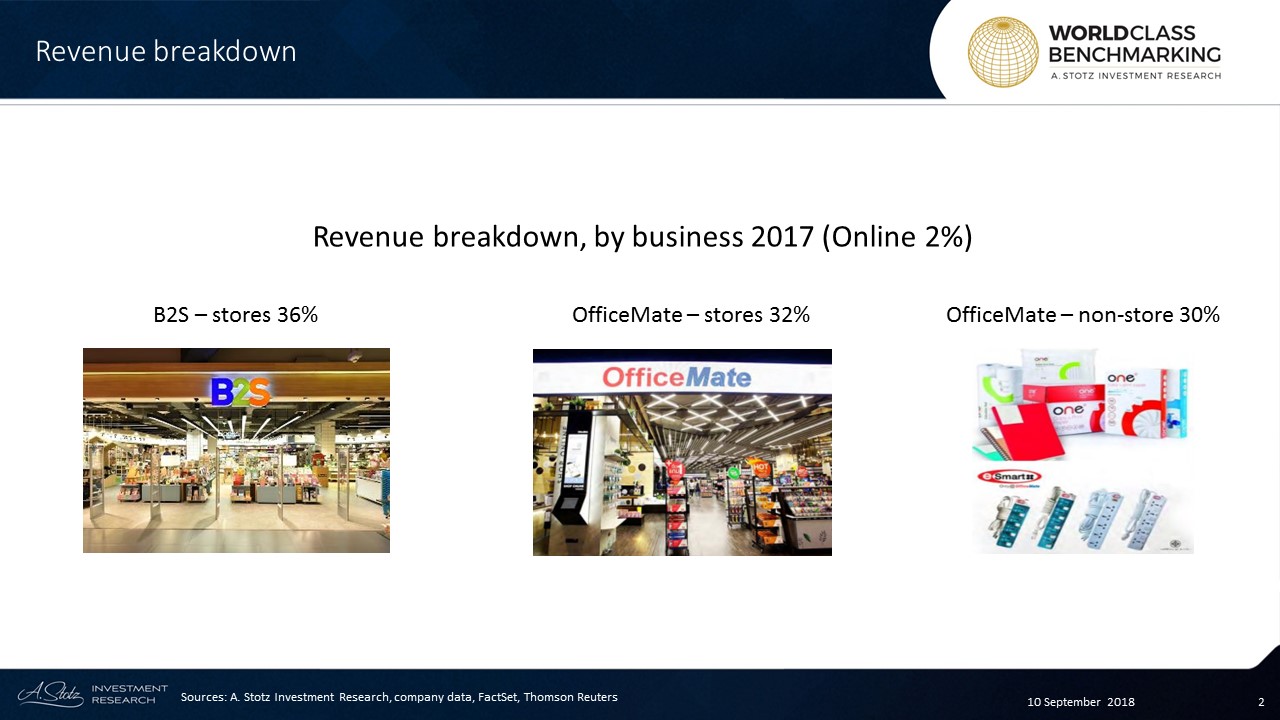 The OfficeMate retail/online breakdown is split approximately half and half, with the three product categories sold by the company comprised of office supplies, electronic equipment, and office furniture.
OfficeMate is focused on the corporate customer market and currently has 68 stores, with 8 planned for opening by yearend. It has 108 B2S stores, with 4 planned for opening by yearend.
Leadership
Sahas Treetipbut was appointed as independent Chairman of the Board of Directors in 2008, and as Chairman of the Corporate Governance Committee in 2013. In addition, he also serves as a Director at Origin Property PCL (ORI TB) and Internet Thailand PCL (INET TB) among others. He holds a Bachelor of Business Administration in Statistics from Chulalongkorn University, Thailand and a Master of Science in Computer and Information Sciences from Syracuse University, US.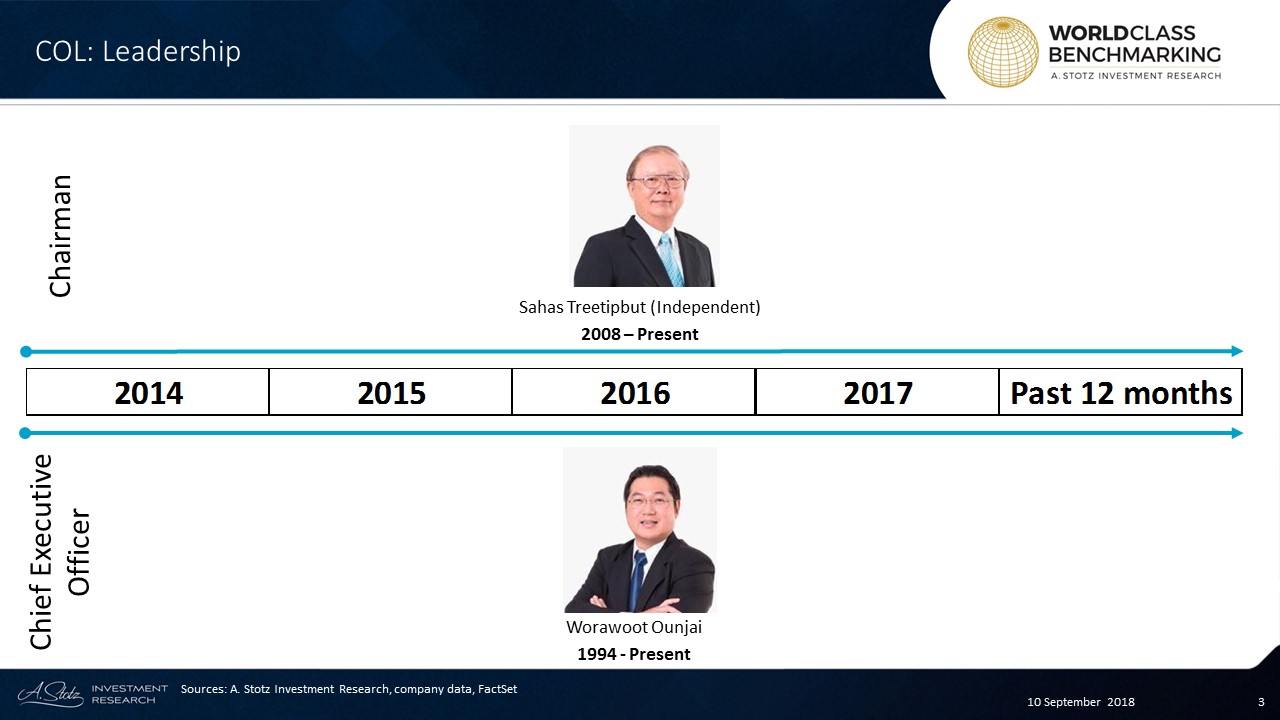 Worawoot Ounjai has been the CEO of COL since 1994 and a Director since 2008. He graduated with a Bachelor of Business Administration in Marketing from Kasetsart University, Thailand and an MBA from National Institute of Development Administration, Thailand.
World Class Benchmarking
Profitable Growth has improved since 2016 and in the past 12 months, COL ranked in the top 287 out of 1,290 medium-sized Consumer Discretionary companies worldwide.
Profitability has shown a similar trend and ranked #3 in the most recent period. Growth has shown a strong improvement since 2016 to a most recent of #2.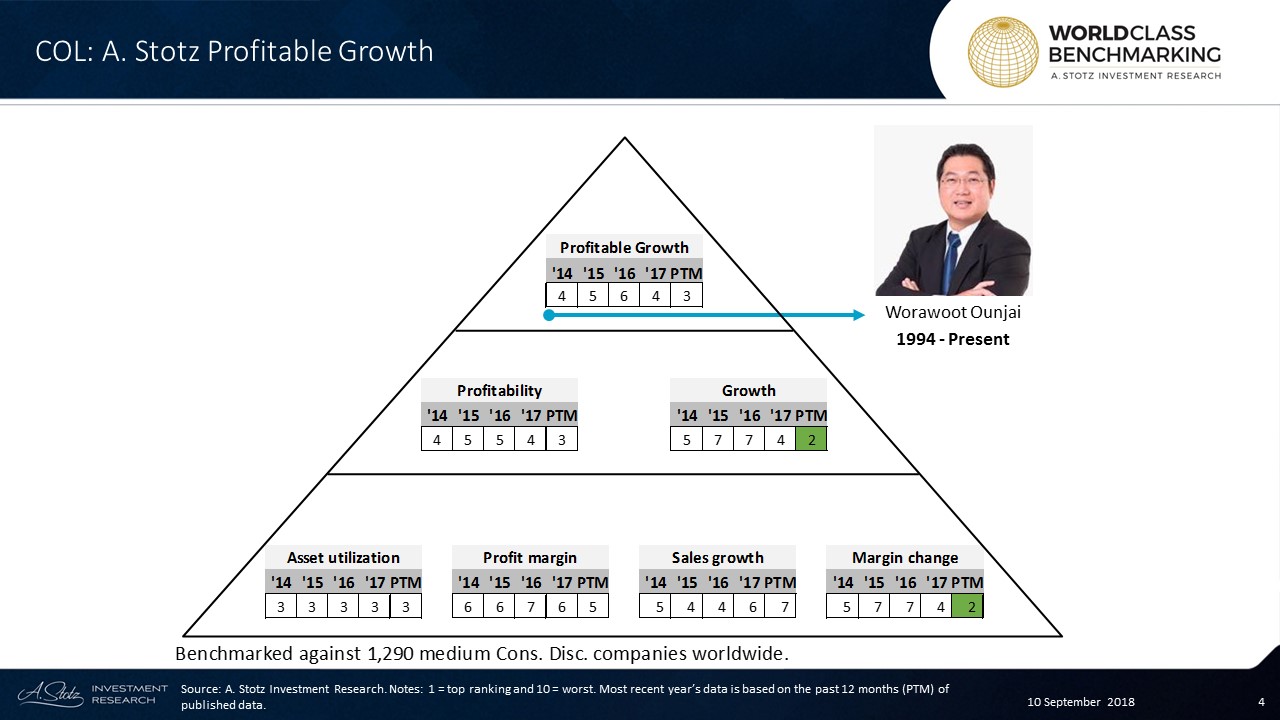 Asset utilization has stayed steady at #3 from 2014 until the most recent period. Profit margin has shown an improving trend since 2016 and ranked at #5 in the past 12 months.
Sales growth has fallen since 2016 and ranked at #7 in the most recent period while Margin change has improved and ranked at #2 most recently.
---
What're your thoughts on COL?
If you like our research, share it with your friends.
---
DISCLAIMER: This content is for information purposes only. It is not intended to be investment advice. Readers should not consider statements made by the author(s) as formal recommendations and should consult their financial advisor before making any investment decisions. While the information provided is believed to be accurate, it may include errors or inaccuracies. The author(s) cannot be held liable for any actions taken as a result of reading this article.