Good Profit Margin at One of the Largest Oil Palm Players in Indonesia
Background
PT Astra Agro Lestari Tbk (AALI) is a subsidiary of Astra International (ASII IJ).
It is one of the largest oil palm players in Indonesia with an extensive operational experience spanning over more than 30 years.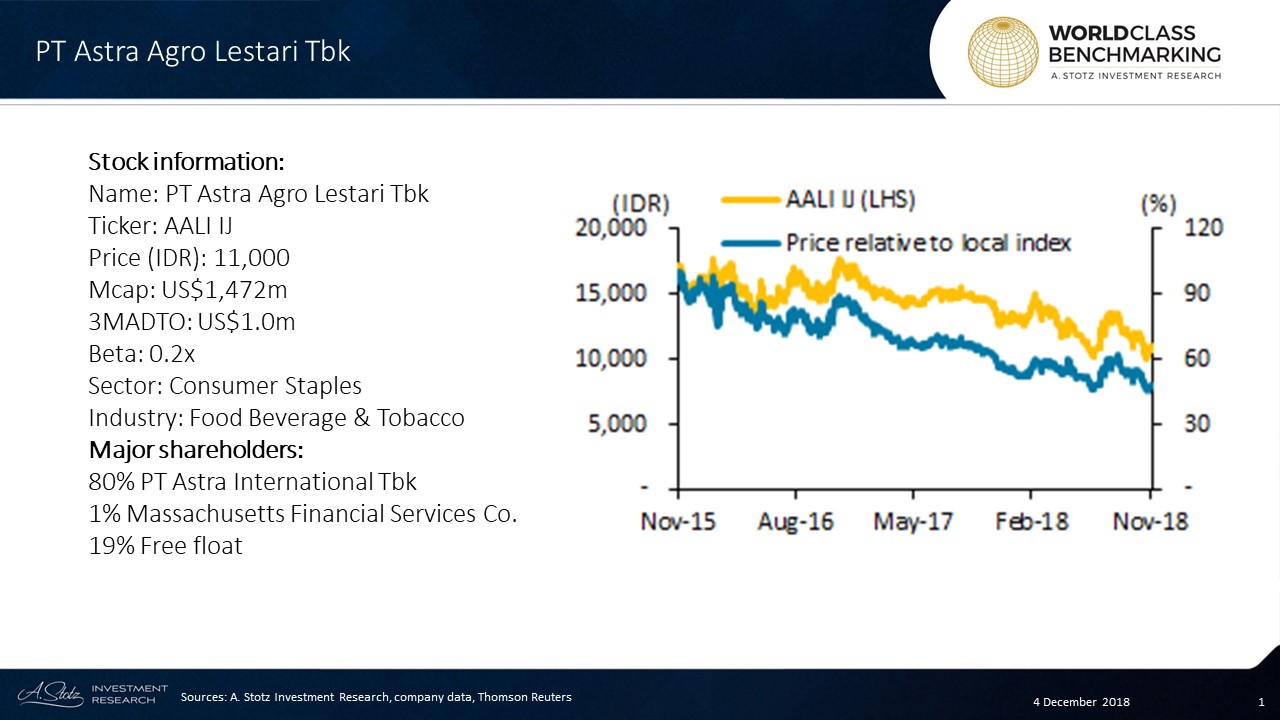 Currently, AALI has oil palm plantation in Sumatra, Kalimantan, and Sulawesi operating a total acreage of 291,000 hectares.
Business Description
AALI is the plantation unit of Astra International (ASII IJ), a diversified conglomerate. AALI has 133,000 ha of oil palm plantation in Kalimantan, 106,000 ha in Sumatra, and 52,000 in Sulawesi.
Fresh fruit bunches (FFB) produced are processed into crude palm oil (CPO) by AALI's 31 CPO mills. Together with its subsidiaries, AALI has a production capacity of 1,510 tons FFB per hour and 300 tons of CPO per day. CPO accounts for 84% of revenue.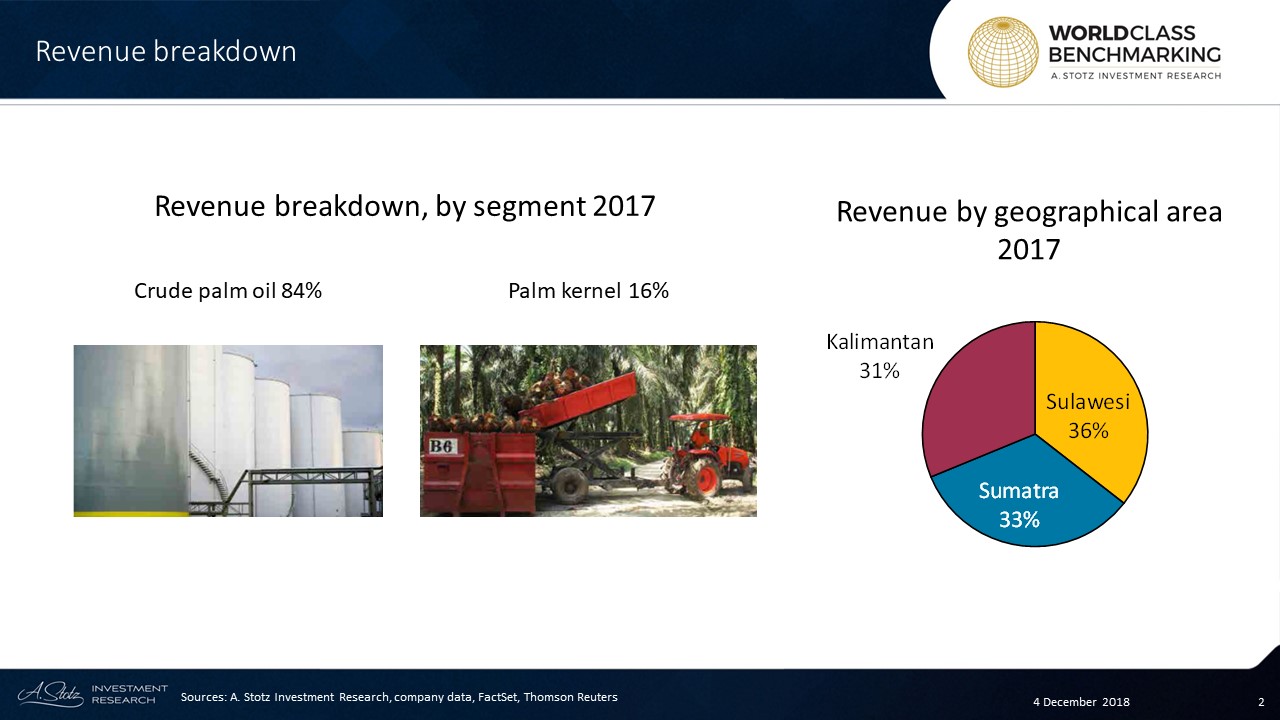 AALI also produces palm kernel which is used in cosmetics, home and personal care products. Currently, AALI owns 14 kernel crushers which can produce 1,635 tons of kernel per day and contributes 16% of revenue.
The company has also entered into downstream segments through owning a CPO refinery, palm kernel refinery, fertilizer blending plant and integrated cattle-in-plantation business. Indonesia's biodiesel mandate on compulsory use of biodiesel blended fuels for all vehicles could drive CPO demand and therefore CPO price.
Leadership
Widya Wiryawan was appointed President Commissioner of AALI in 2017. Previously, he was President Director of the Company for 10 years. Moreover, he also holds the position of director at PT Astra International Tbk (ASII IJ).  He graduated from Bogor Agricultural University, Indonesia and University of Sydney, Australia.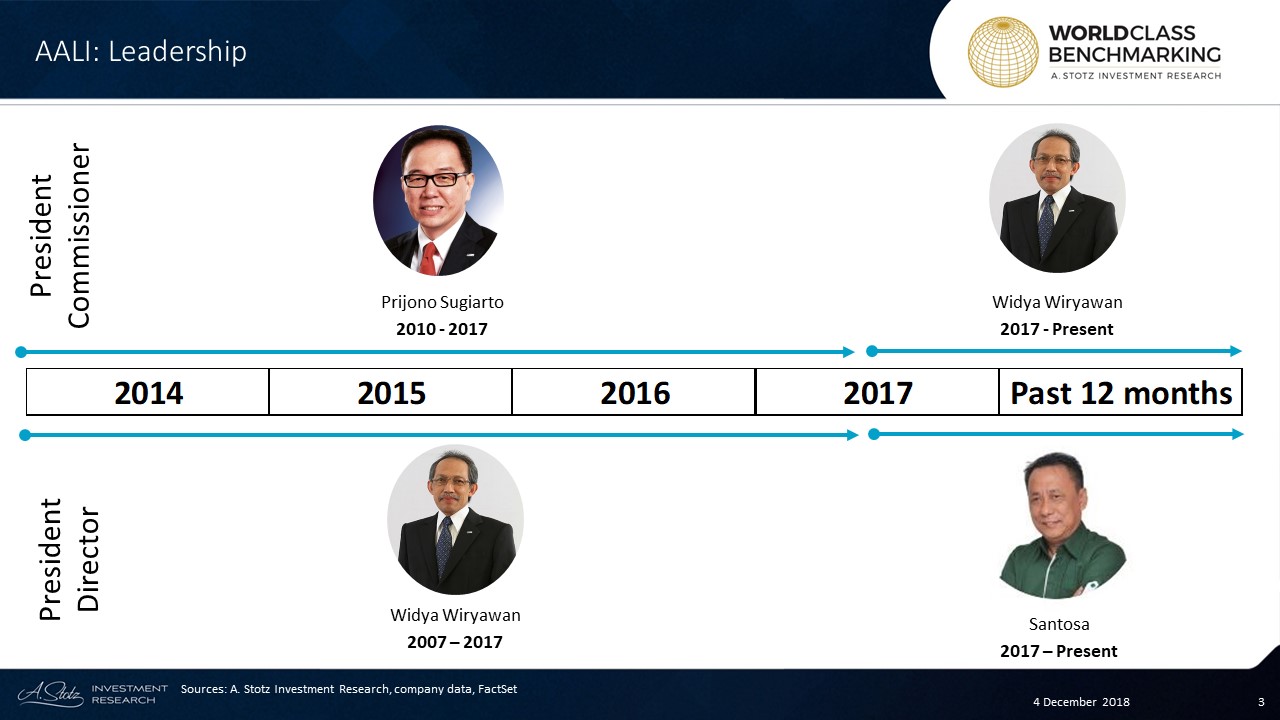 Santosa has served as the President Director of AALI since 2017. In the past, he has held directorships and other various positions of the companies under Astra Group. Moreover, he graduated from Gadjah Mada University in Indonesia.
World Class Benchmarking
Profitable Growth has mainly ranked above average, and in the past 12 months, AALI ranked in the top half among 600 large Consumer Staples companies worldwide.
Profitability has shown similar ranks as Profitable Growth and ranked at #4 in the most recent period. Growth has been volatile over the years.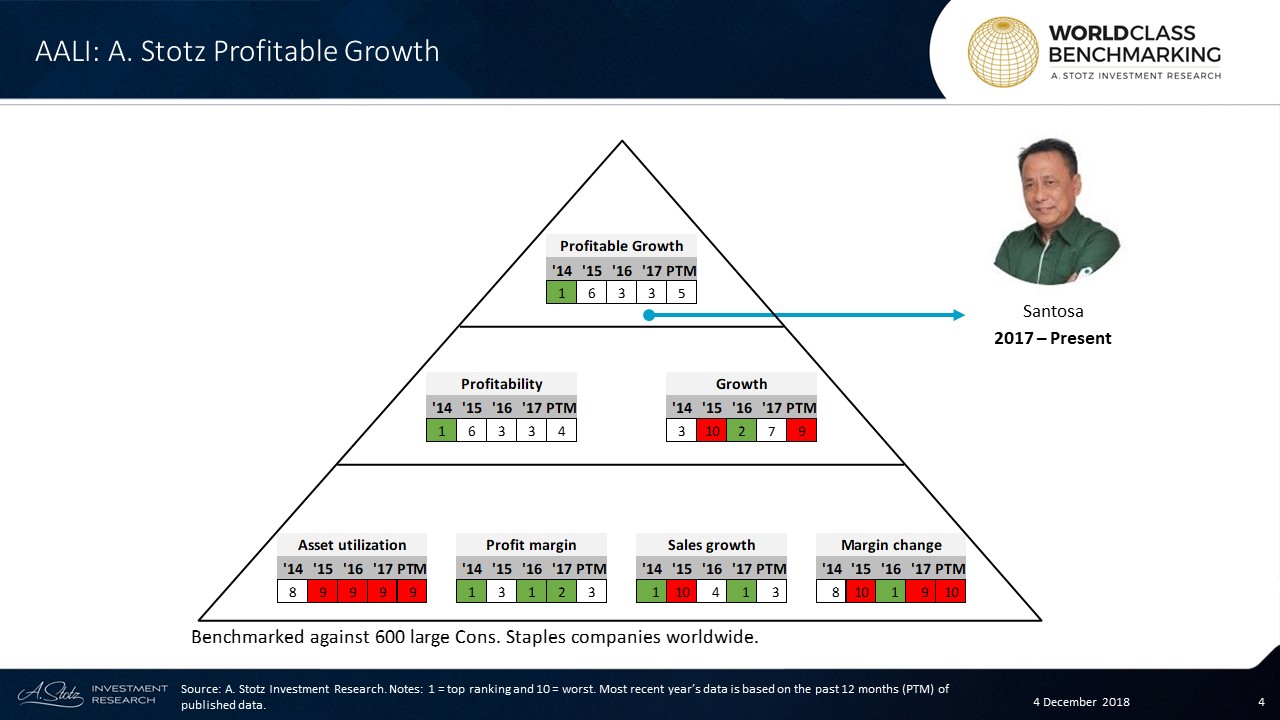 Asset utilization has steady been at #9 since 2015. Profit margin has been great over the years.
Sales growth has stayed above average except in 2015 when AALI ranked at #10. Margin change has mainly shown poor ranks over the years.
---
What're your thoughts on AALI?
If you like our research, share it with your friends.
---
DISCLAIMER: This content is for information purposes only. It is not intended to be investment advice. Readers should not consider statements made by the author(s) as formal recommendations and should consult their financial advisor before making any investment decisions. While the information provided is believed to be accurate, it may include errors or inaccuracies. The author(s) cannot be held liable for any actions taken as a result of reading this article.