Business DNA: Entering the Global Auto Market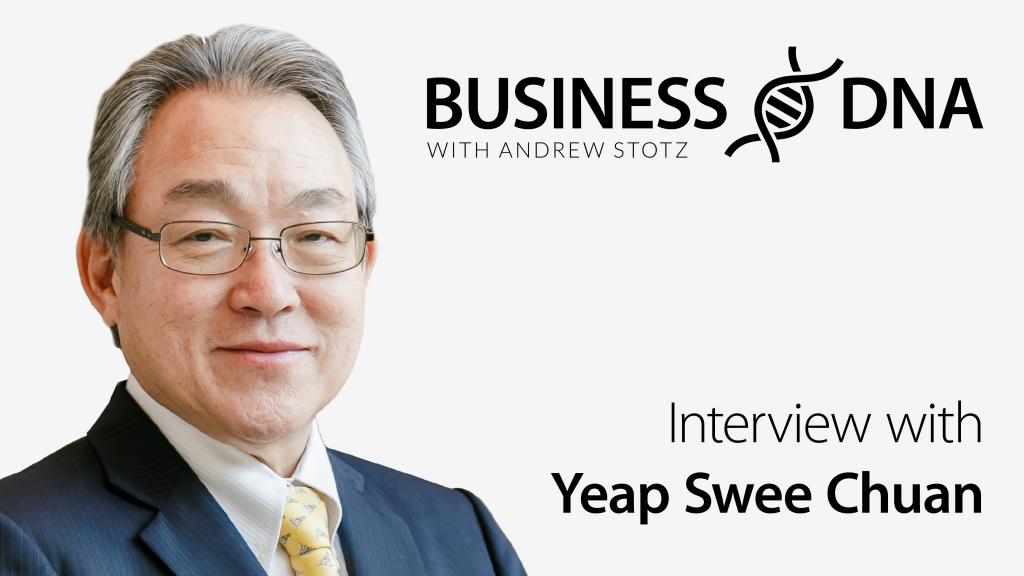 After growing up in Malaysia, Yeap Swee Chuan moved to Thailand, where he established his auto-part manufacturing and auto-dealership businesses. He later expanded to China and India, before more recently expanding globally in Europe and the US.
He established AAPICO Hitech Public Company Limited in 1996, which engages in designing, producing and installing assembly jigs, manufacturing OEM automotive parts such as plastics, forging, machining, and chassis frame components. Its main customers are leading automotive assemblers in Thailand.
Company DNA: AAPICO Hitech
The focus of this interview was to try to understand the company's DNA. Now that we had a little bit of a background on the company, we wanted to drill down to find the unique leadership vision of the founder.
Can you give us a clear description of your business as it is today?
YSC:  My company is Able Auto Parts Industry Company (AAPICO): It's anything related to cars and auto parts. I do car dealerships.
These days I'm entering the realm of the "Internet of Things", but with all products related to cars ─ car navigation systems, telematics and similar products. My business is everything related to cars. And the customers are all the same. So it's easy.
What is something that people don't understand about your business that you would like to explain?
YSC: I think that, sometimes, analysts don't understand. Analysts or investment bankers have very short-term thinking. I'm a long-term thinker. We buy our assets for the long term. Short-term thinking is not successful in the business world.
This holds true in the difficult times and the good times. But we have a longer vision in mind. So I think that's where the main difference is.
And, of course, for them to understand our business in total is not easy. They focus on so many companies. How will they get the feeling of the company unless they come and visit us? And, how much time do they have to come and visit us?
I think most of my plants are world-class plants, because we supply world-class products. Our defect rate is zero parts per million (PPM). Every part must be perfect. You cannot produce many bad parts or you'll get burned in Australia or Europe. So, every plant must feature high quality standards.
Leader DNA: Yeap Swee Chuan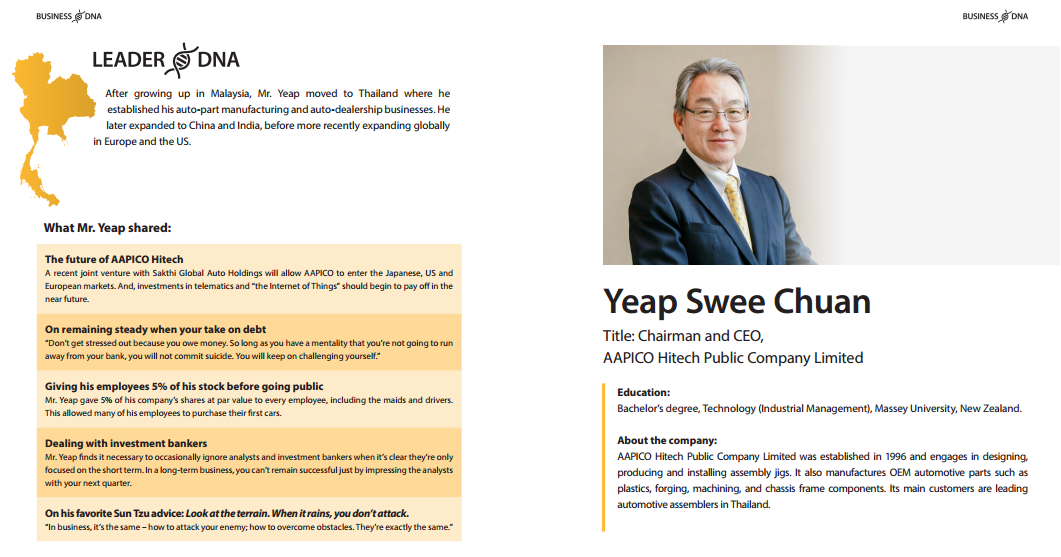 What is the one book that influenced you the most?
I like to read books about leadership. One book that I think is very interesting for me is Sun Tzu's The Art of War. It's a great book.
Every phrase that he wrote is very deep with meaning:
"You can conquer your enemy without fighting him or killing him."
"You put up enough balance, surround him, show him that you're bigger than he is, and he surrenders. You don't have to fight."
So many wonderful phrases there! I think it's amazing.
"Look at the terrain. When it rains, don't attack."
In business, it's the same ─ how to attack your enemy; how to overcome obstacles. They're exactly the same. And he came hundreds of years before us. He thinks greater than we do.
Can you share what motivates you and gives you inspiration during difficult times?
YSC: I think, for us, looking for business is always the challenge. I think the first big deal I had was when Sime Darby invested 250 million baht in us in 2001. I felt relieved, because I finally had the funds to get to the next level.
Sime Darby owned 25% of AAPICO and grew interested in buying the entire company, but I resisted.
I knew that in a certain number of years, I would take the company public. In 2002, I listed the company. That was another highlight, because going public allowed me to retain control.
Sime Darby eventually sold their shares and gained a billion baht in the process. I felt proud. They were very happy. Until today, all their money for investments in Thailand have come from the money they made from me.
It's important not to worry about investors making a lot of money off your business. They help, and then they make a lot of money. It's a win-win situation.
Then, once you are successful, the issues about money are not important anymore, because you can raise funds and things like that.
Another highlight is what I'm currently doing to be able to go global. Recently, I just did an investment ─ US$100 million dollars ─ that allowed me to go to India, Europe, America and China. That's another thing that will allow my company to be sustainable, because then we have a global market.
Thailand's domestic car market is not growing. It's been stable for the past four years. If you don't change, eventually the company will go bust.
The company I invested in is a global company. Although we're only 25%, that gives us the reach we need.
And later, that company will buy 25% in our company. So we have 25% in them, and they have 25% in us. Whatever we do, we try to avoid a conflict. So this will take away conflict.
They will sell our products, and we will see their products, which are different. So they can take our products to the global arena, and we can bring their products to Thailand. They can then enter the Japanese market, which we don't have (a presence in).
Key Takeaways
The future of AAPICO Hitech – Expanding into the Japanese, US and European markets through a joint venture with Sakthi Global Auto Holdings.
Not worrying too much about debt – It's important to have a positive mentality about debt by focusing on utilizing that debt effectively rather than simply worrying about paying it off.
The positives of rewarding your employees with stock – Mr. Yeap gave 5% of his company's shares at par value to every employee, including the maids and drivers. This allowed many of his employees to purchase their first cars.
How to deal with investment bankers – In a long-term business, you can't remain successful just by impressing the analysts and investment bankers with your next quarter.
Reading Sun Tzu for business strategy – "In business, it's the same ─ how to attack your enemy; how to overcome obstacles. They're exactly the same."
Learn more about how Mr. Yeap built a successful career and company based on fundamental principles you can put to work in your professional life today!
---
What do you think about Mr. Yeap's Leader DNA?
Feel free to share this article with your friends.
---
DISCLAIMER: This content is for information purposes only. It is not intended to be investment advice. Readers should not consider statements made by the author(s) as formal recommendations and should consult their financial advisor before making any investment decisions. While the information provided is believed to be accurate, it may include errors or inaccuracies. The author(s) cannot be held liable for any actions taken as a result of reading this article.