Business DNA: Thai Hacker Builds Cryptocurrency Exchange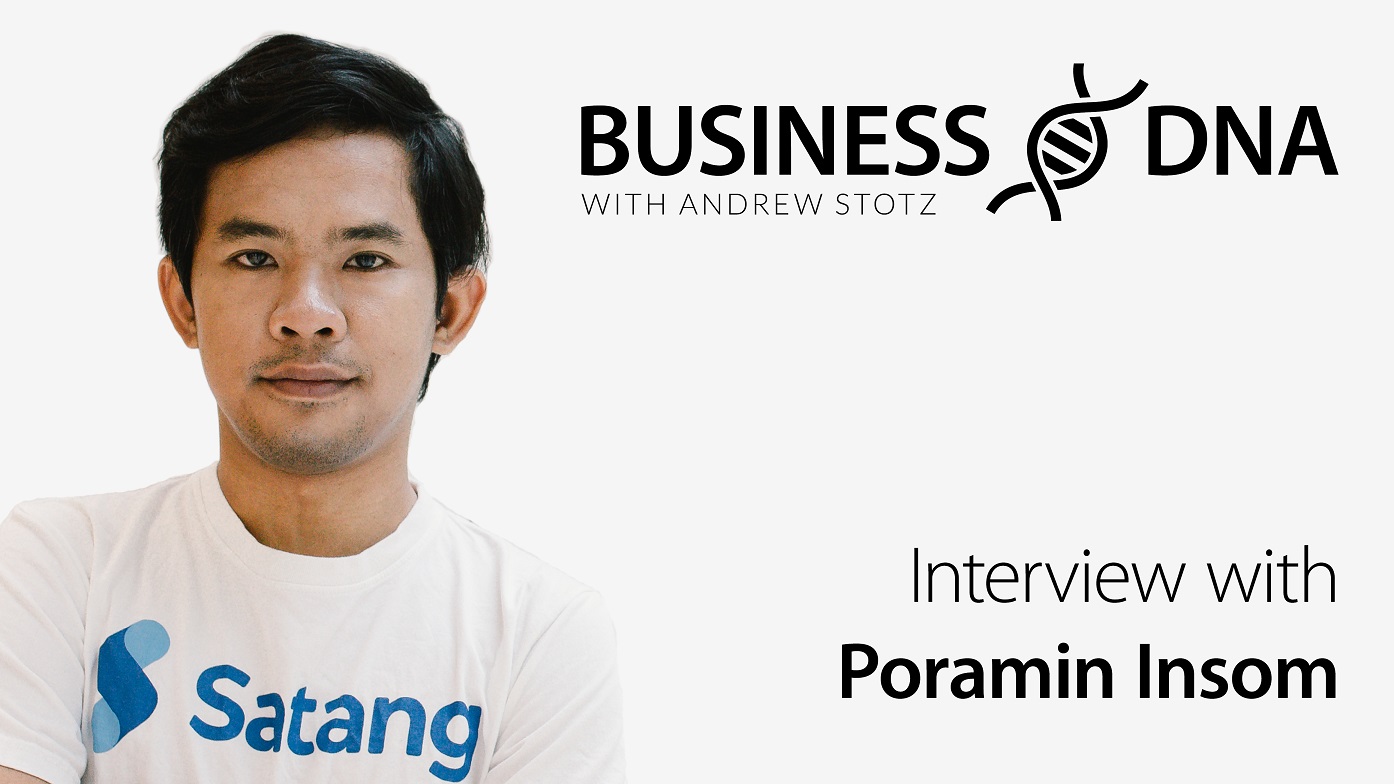 Transcribed and translated by Suppakorn Araam-arunsri.
A famous game, Red Alert, was an inspiration for Poramin Insom to jump into the world of cryptocurrencies. He wanted to know how to hack the game, developing a program to earn unlimited money for in-game purchases; beating the competitors was the ultimate goal. His interest in hacking later brought him to Johns Hopkins University where he earned a Master of Science in Security Informatics. Poramin later became the team leader who created the cryptocurrency, Firo (formerly Zcoin), one of the world's top 100 most traded coins. After that, he founded Satang Corporation.
Satang Corporation Company Limited (Satang) is one of the leading experts in cryptocurrency in Thailand. The company's founder previously established Zcoin—the privacy-focused cryptocurrency. Satang aims to become the central digital asset service provider for Thailand. The essential products are Satang Pro, a central platform for digital asset exchanges, and Satang App, a digital wallet designed to connect with Satang Pro and banks to facilitate the access and management of digital assets.
Company DNA: Satang Corporation
The focus of this interview was to try to understand the company's DNA. Now that we had a little bit of a background on the company, we want to drill down to find the unique essence of what differentiates Satang Corporation.
How and why did you start Satang?
PORAMIN: I was looking for a way to use my cryptocurrency, Firo (formerly Zcoin), and realized a need to create infrastructure. There were very few developers and not enough infrastructure to support the use of coins at the time. There were only 3-4 primary players like CoinBase in the US or Bitstamp in Europe or Bitfinex. They were still young.
Building an infrastructure platform was inexpensive. Initially, I intended to make it a wallet instead of a coin exchange. I wanted to create a platform where we could use coins. As we developed it, we saw an opportunity for Firo to be used worldwide.
How hard was it to take Satang from the beginning to now?
PORAMIN: The first problem we faced was user acquisition. Very few customers signed up on the platform. We did not have a market and did not understand the users' demands.
In a week, there were only 1-2 people who signed up. We expected at least ten people to sign up in the first week. The two people who signed up did not even use the platform. Our platform was a social wallet for people to transfer cryptocurrency to each other. But instead, they signed up to deposit Bitcoins. What we thought would happen and what actually happened were different.
The market was not ready
The market was not ready for a social wallet and crypto. People were not interested in transferring coins to each other.
We paused to see what the market wanted, and that is when we learned that the market was more interested in trading. So, we changed from developing a wallet to becoming an exchange platform. But we did not throw away the social wallet. We only changed the concept.
Pivoting to deposit and transfer
Instead of a social wallet, we built a simple deposit and transfer function. Eventually, we came up with Satang App and Satang Pro. For Satang App, one could use Firo to make payments at any store with a QR code or PromtPay. PromptPay is a Thai money-transfer service connecting most Thai banks and allowing people to transfer money between bank accounts using only their phone number or national ID number.
After I registered Satang Corporation as an exchange platform, we needed to scale up and hire more developers. So, I needed to raise funds. I, therefore, changed the organizational structure of Satang Corporation. The new entity is called Thai Digital Asset Exchange (TDAX). We received five million baht from investors with whom we had developed Firo.
Leader DNA: Poramin Insom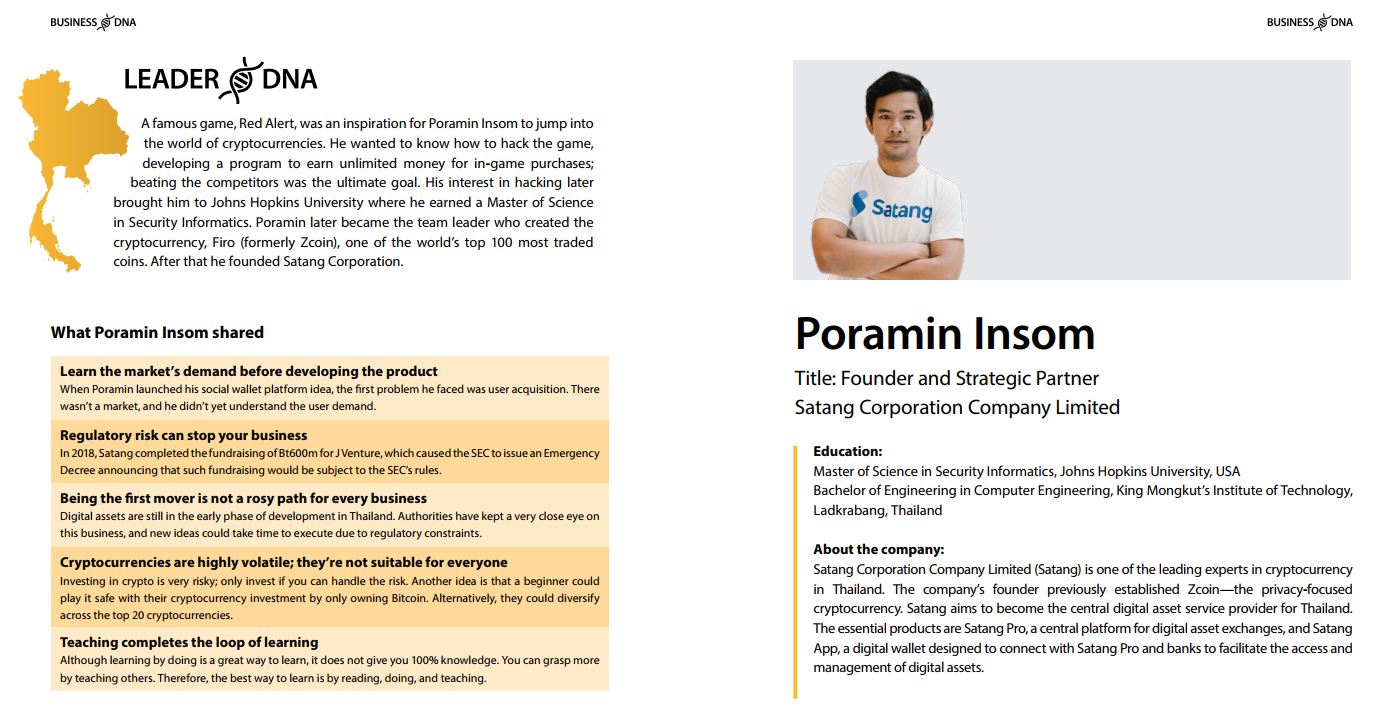 Take a moment to introduce yourself.
PORAMIN: My interest in technology started in middle school when studying computers. I learned how to build a computer, how to use it, and what programs to use.
I went further to learn how to hack a computer, like in the old movie Minority Report. At that time, I studied at Pathumkongka School at Ekkamai in Bangkok, Thailand.
Google did not exist
In those days, Google did not exist. So, I followed a community of people who were already in the hacking industry. I got to know a senior who studied at King Mongkut's Institute of Technology Ladkrabang, Thailand. He was majoring in Information Engineering.
Interested in hacking
That senior was interested in hacking and was a developer as well. He was one of the leading programmers who used PHP programming or coding language. He also wrote websites about hacking. He taught a course about hacking and suggested I study it. In the course, he taught me how to hack Windows, which has kept me interested in hacking until today.
After school, I would look at many websites to see if they had any vulnerabilities. It was learning by doing, which was my way of learning new things. Most of the things that I have learned were not taught in the classroom. I had to master them on my own.
Studies in Computer Engineering and Security Informatics
When I entered high school, I decided to continue my studies in Computer Engineering. I thought it would be the foundational knowledge for me to specialize in hacking. That led me to study Computer Engineering at King Mongkut's Institute of Technology Ladkrabang, Thailand.
I always wanted to be a hacker, and I felt that I needed to study abroad. I went to Johns Hopkins University and majored in Security Informatics after learning English. My parents had to take a loan so that I could undertake those studies. This university was one of the top 10 most expensive universities in the US.
Why were you interested in hacking?
PORAMIN: My interest in hacking started after I played a game called Red Alert. To get unlimited money for in-game purchases, I had to install additional programs to help me earn money.  I was quite curious to know how one could hack the game, but no one knew how to create it. So, I was super interested and wanted to create it myself. I did not want to be just a user.
Any negative aspect of learning by doing?
PORAMIN: Although learning by doing is a great way to learn, it does not give you 100% knowledge. You grasp more by teaching others. For me, the best way to learn is by reading, doing, and teaching.
What is your advice for those who want to invest in cryptocurrencies?
PORAMIN: First, make sure you understand that cryptocurrencies are very risky. Do not invest unless you have money that you could bear to lose. Be prepared for extreme volatility. A straightforward way to invest is to buy only Bitcoin. Another alternative is to diversify into the top 10-20 cryptocurrencies.
Depending on your preference, you can also categorize your cryptocurrency investment into sectors, such as energy-related coins or infrastructure coins like Ethereum, Algorand, and Cardano. Or maybe privacy-related coins, such as Monero, Zcash, and Firo.
Where do you see the crypto space five years from now?
PORAMIN: I think it will be more professional. If you look at seven years back to 2013, everyone was new to the concept. It was like everyone loved technology and tried to make it a business.
But in the future, crypto will rise to the next level as it has moved from being for hobbyists to becoming a more serious business. In the future, I expect that crypto will be something that everyone has access to.
Key Takeaways
Learn the market's demand before developing the product – When Poramin launched his social wallet platform idea, the first problem he faced was user acquisition. There wasn't a market, and he didn't yet understand the user demand.
Regulatory risk can stop your business – In 2018, Satang completed the fundraising of Bt600m for J Venture, which caused the SEC to issue an Emergency Decree announcing that such fundraising would be subject to the SEC's rules.
Being the first mover is not a rosy path for every business – Digital assets are still in the early phase of development in Thailand. Authorities have kept a very close eye on this business, and new ideas could take time to execute due to regulatory constraints.
Cryptocurrencies are highly volatile; they're not suitable for everyone – Investing in crypto is very risky; only invest if you can handle the risk. Another idea is that a beginner could play it safe with their cryptocurrency investment by only owning Bitcoin. Alternatively, they could diversify across the top 20 cryptocurrencies.
Teaching completes the loop of learning – Although learning by doing is a great way to learn, it does not give you 100% knowledge. You can grasp more by teaching others. Therefore, the best way to learn is by reading, doing, and teaching.
Learn more about Poramin and Satang Corporation in the full interview.
---
DISCLAIMER: This content is for information purposes only. It is not intended to be investment advice. Readers should not consider statements made by the author(s) as formal recommendations and should consult their financial advisor before making any investment decisions. While the information provided is believed to be accurate, it may include errors or inaccuracies. The author(s) cannot be held liable for any actions taken as a result of reading this article.