Apple Supplier Leading the Parade
Background
Founded in 2005 Parade Technologies Limited is a producer of mixed signals integrated circuits used in computers, smartphones and other display devices.
The company was listed in 2005 on Taipei Stock Exchange. However, its headquarters are located in Silicon Valley, California, USA and its design center in Shanghai, China.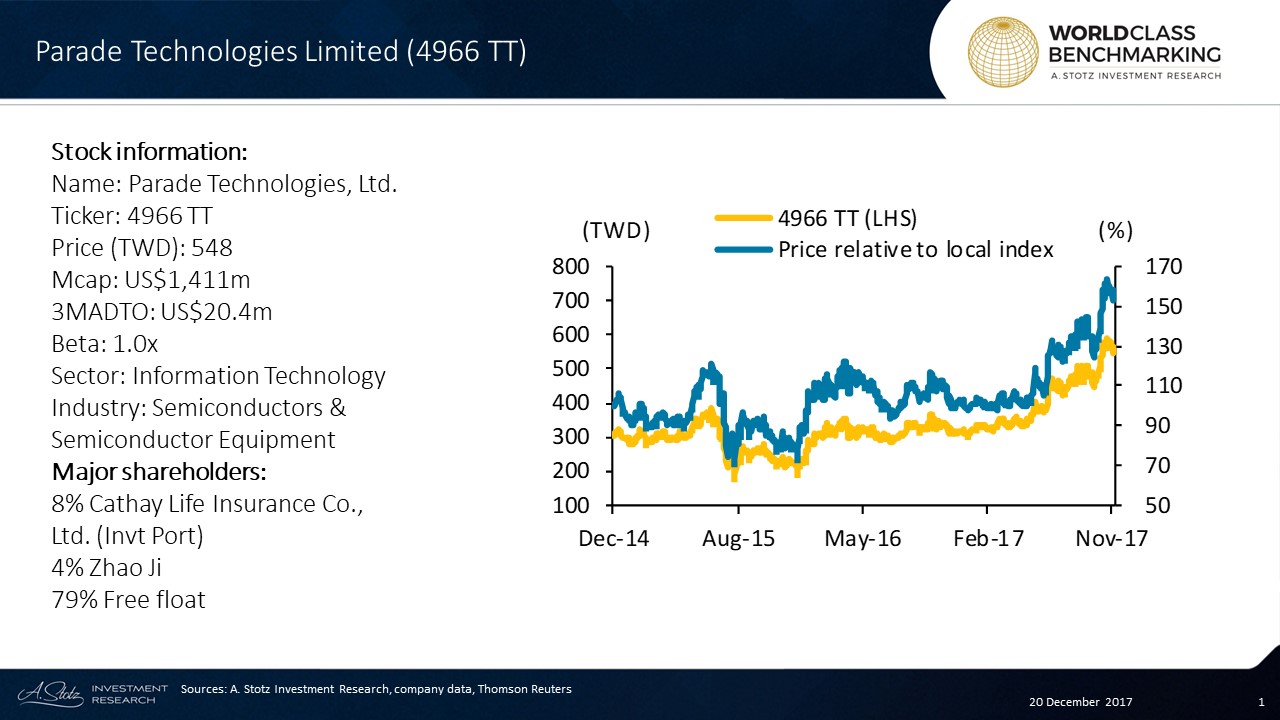 Business Description
Parade business can be divided into four units.
Its display ports (DP) are timing controller (TCON) products providing high-quality graphics, image, and color control in LCD panels for smartphones, PCs, and notebooks. They support both TFT and LCD AMOLED. Its newest solutions support most advanced 4K displays installed in Apple MacBook Pro laptops to which Parade is the leading DP supplier.
High-speed interface (I/F) products are USB Type-C connectivity solutions for achieving the highest speed of transferring files, HDMI/DVI solutions offering format conversion on the PC docking station, motherboard or within DVD players as well as set-top boxes.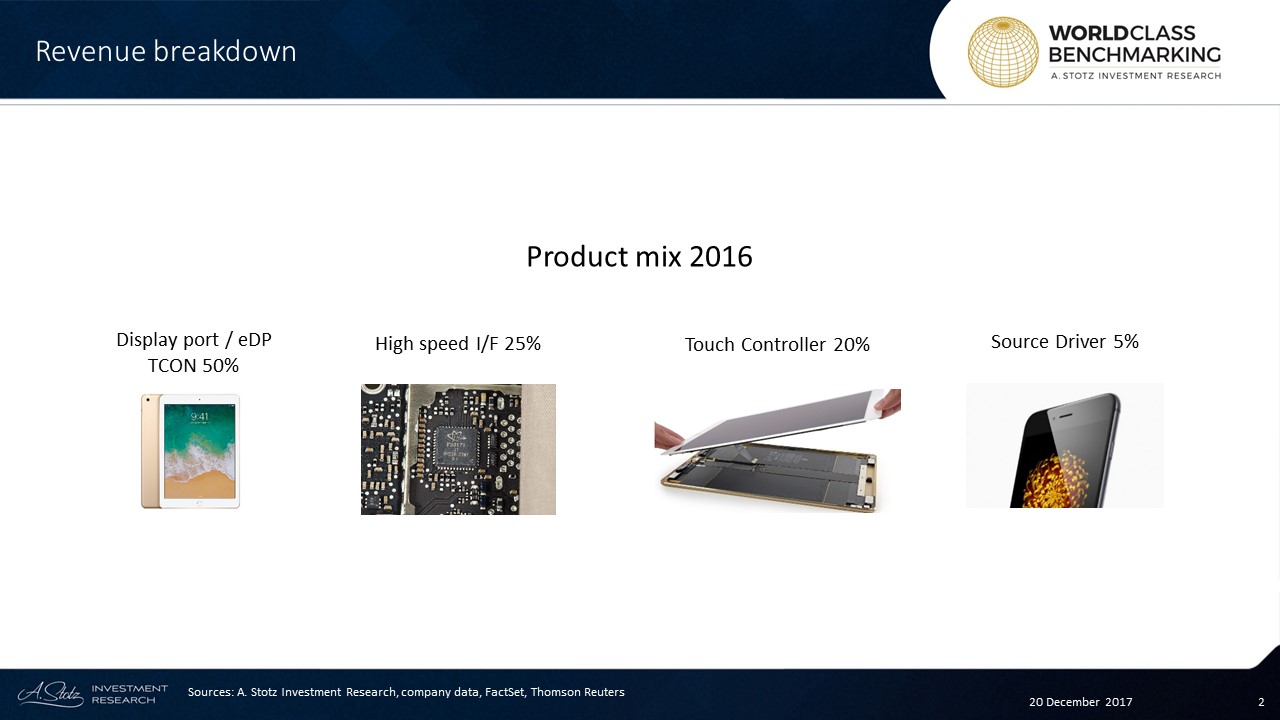 Touch controllers offer integrated system products in form of display ports and display panel source drivers controlling single touch and multi-touch on touchscreens with the size range of 1.5" to 10.1".
Source drivers are scalable intra panel interface (SIPI) solutions for Chip on Glass (COG) application providing bandwidth for the high-speed link. SIPI was developed to address growing demand for high-performance displays.
Leadership
Jack Zhao, co-founder of Parade, is also the current Chairman and CEO and has served in these positions since 2011. He has multiple experiences in managerial positions and in the semiconductor industry. He obtained his Bachelor's Degree and Master's Degree from Shanghai Jiaotong University, China and received his Ph.D. from the University of California, US.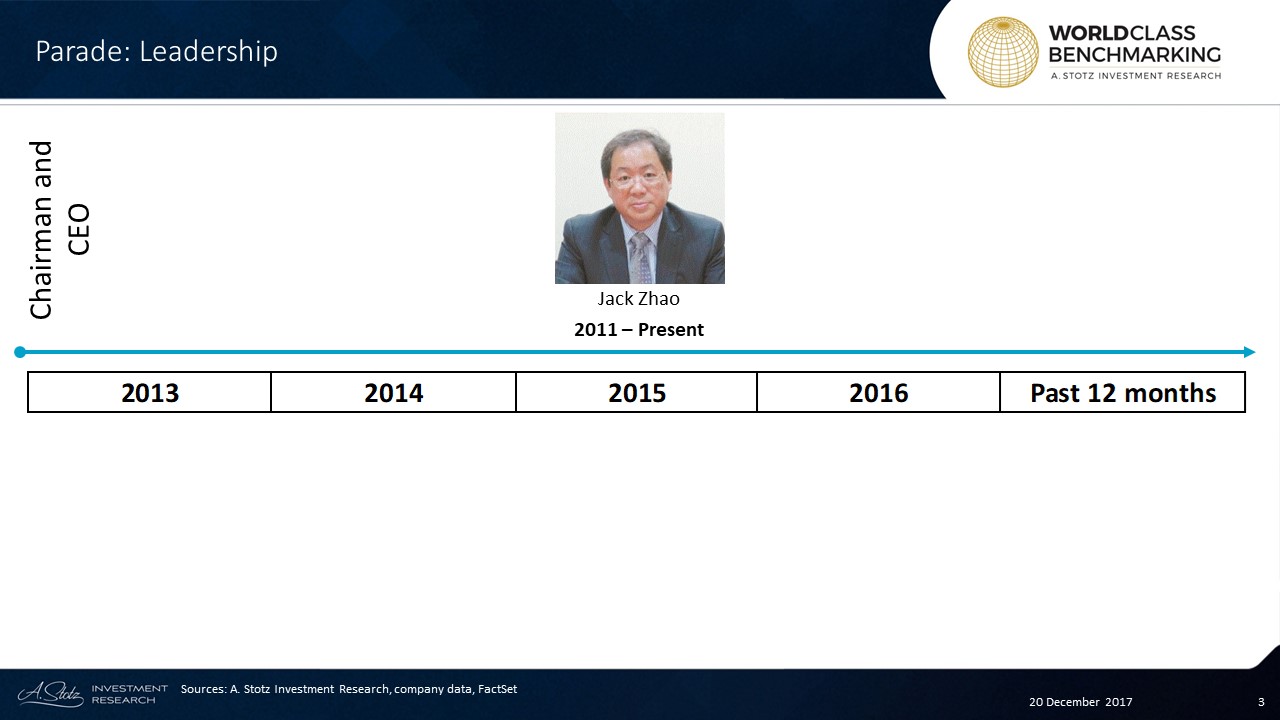 World Class Benchmarking
Profitable Growth has consistently ranked #1 since 2014. Parade ranked among the top 118 of 1,180 medium-sized Information Technology companies worldwide.
Profitability has maintained its World Class rank for the whole time period. Growth has been weaker but improved to #4 in the past 12 months.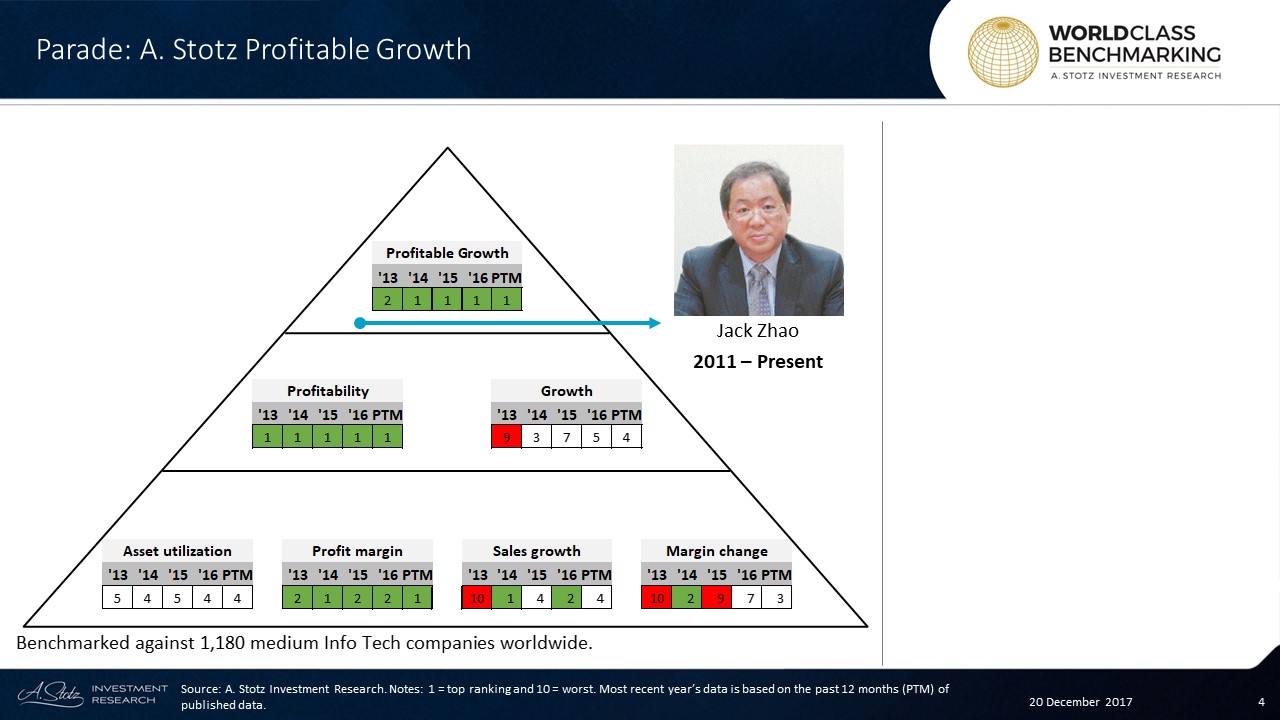 Asset utilization has been stable and above average since 2016. Profit margin has ranked in the top 20% for the whole time period and is the driver of Parade's excellent Profitability.
Sales growth and Margin change has fluctuated over the years and were ranked at #4 and #3 in the past 12 months respectively.
---
What're your thoughts on Parade?
If you like our research, share it with your friends.
---
DISCLAIMER: This content is for information purposes only. It is not intended to be investment advice. Readers should not consider statements made by the author(s) as formal recommendations and should consult their financial advisor before making any investment decisions. While the information provided is believed to be accurate, it may include errors or inaccuracies. The author(s) cannot be held liable for any actions taken as a result of reading this article.