A. Stotz All Weather Strategies – November 2022
---
Executive summary
Central bankers appear to be raising rates into a recession to stifle inflation; stagflation would be the worst outcome
Demand for necessities (food and energy), inflation, and supply-chain disruptions can drive commodities higher
Bonds and gold to protect capital
Risks: Inflation gets under control, monetary tightening crash markets, weak China
The All Weather Strategy is available in Thailand through FINNOMENA. If you're interested in our allocation strategy, you can also join the Become a Better Investor Community. Please note that this post is not investment advice and should not be seen as recommendations. Also, remember that backtested or past performance is not a reliable indicator of future performance.
What happened in world markets in November 2022
Performance of the World stock markets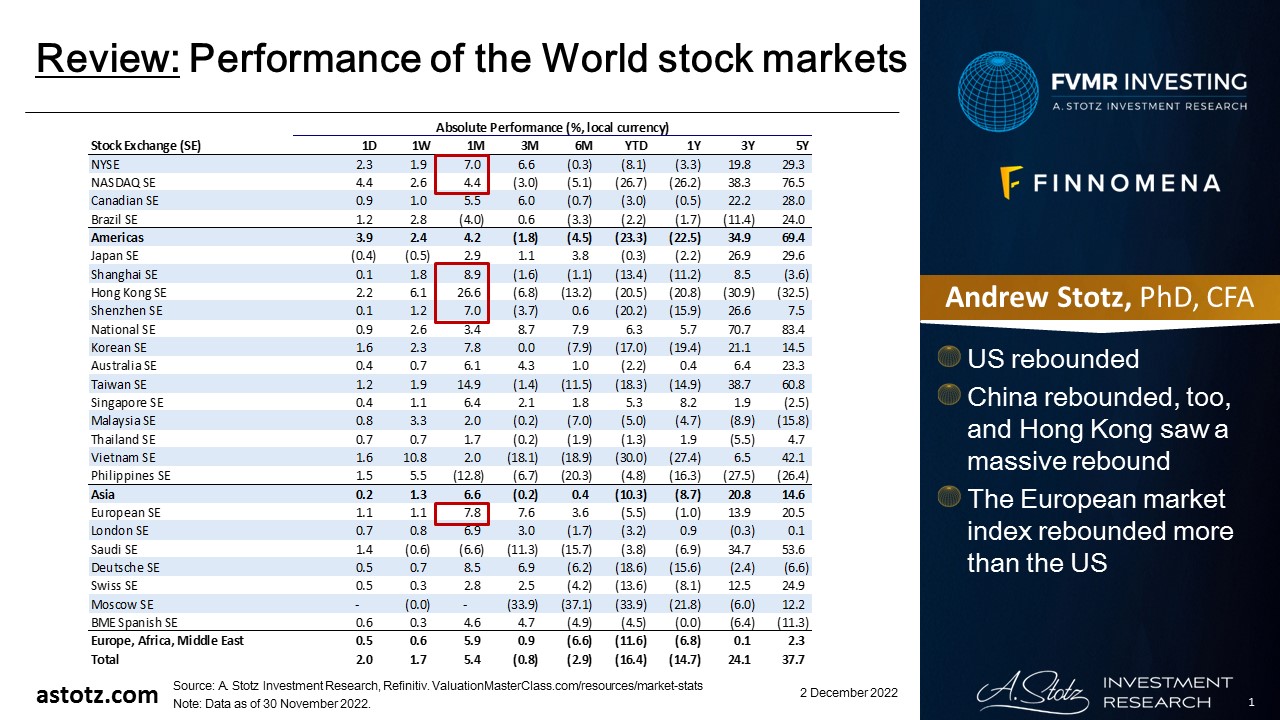 US rebounded
China rebounded, too, and Hong Kong saw a massive rebound
The European market index rebounded more than the US
Find the updated Performance of the World stock markets here.
World stocks have taken a hit in 2022 but gained in October and November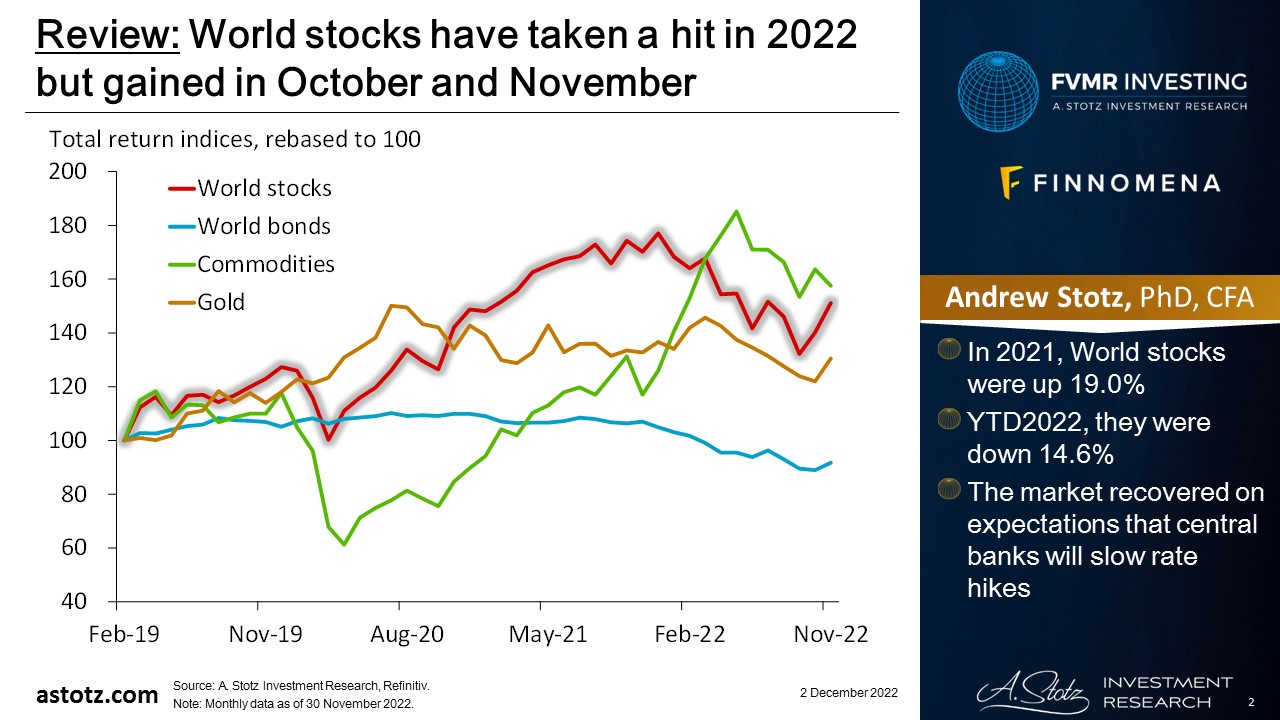 In 2021, World stocks were up 19.0%
YTD2022, they were down 14.6%
The market recovered on expectations that central banks will slow rate hikes
Bonds were up in November 2022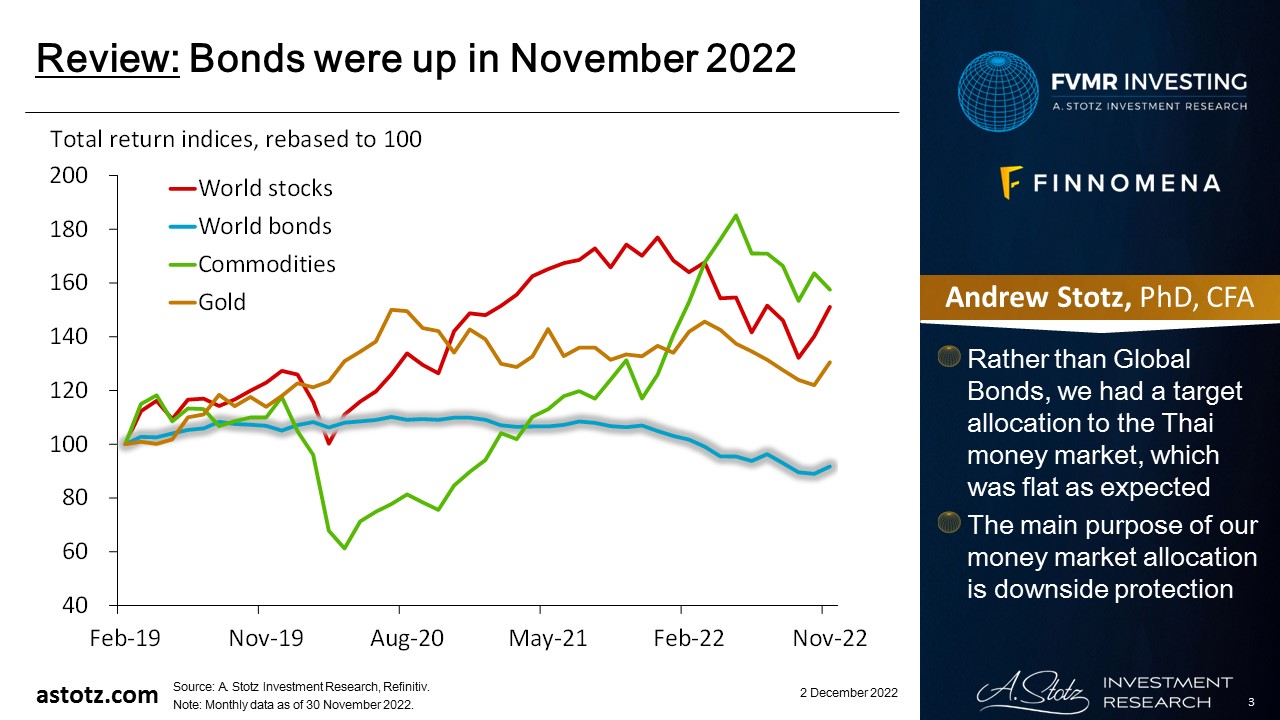 Rather than Global Bonds, we had a target allocation to the Thai money market, which was flat as expected
The main purpose of our money market allocation is downside protection
Commodities were up in November 2022, but underperformed equity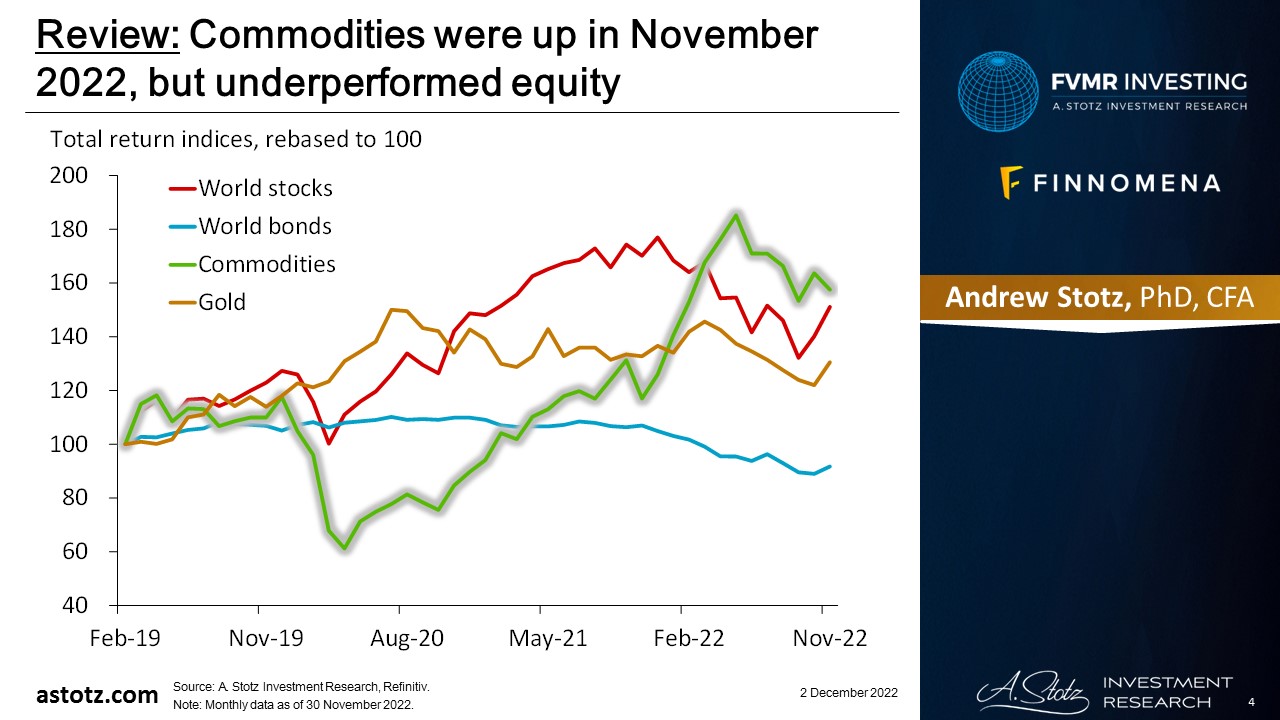 Metals performed the best in November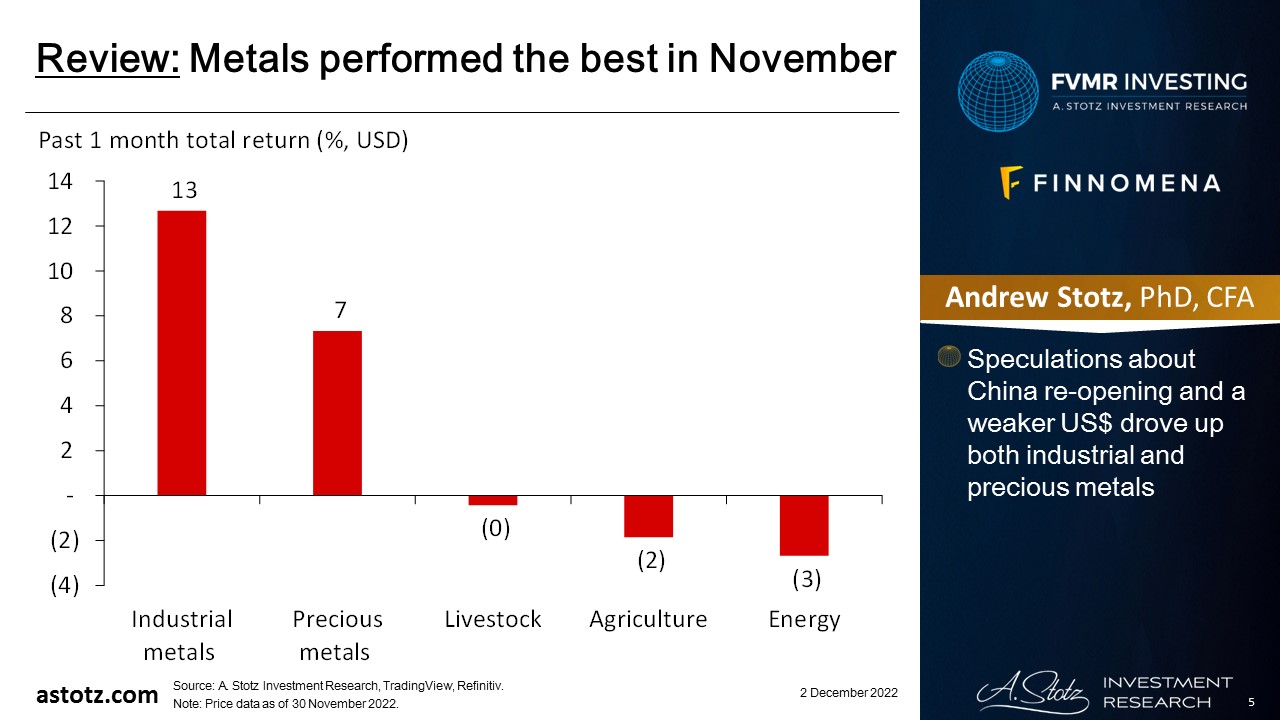 Speculations about China re-opening and a weaker US$ drove up both industrial and precious metals
Gold gained slightly less than equity in November 2022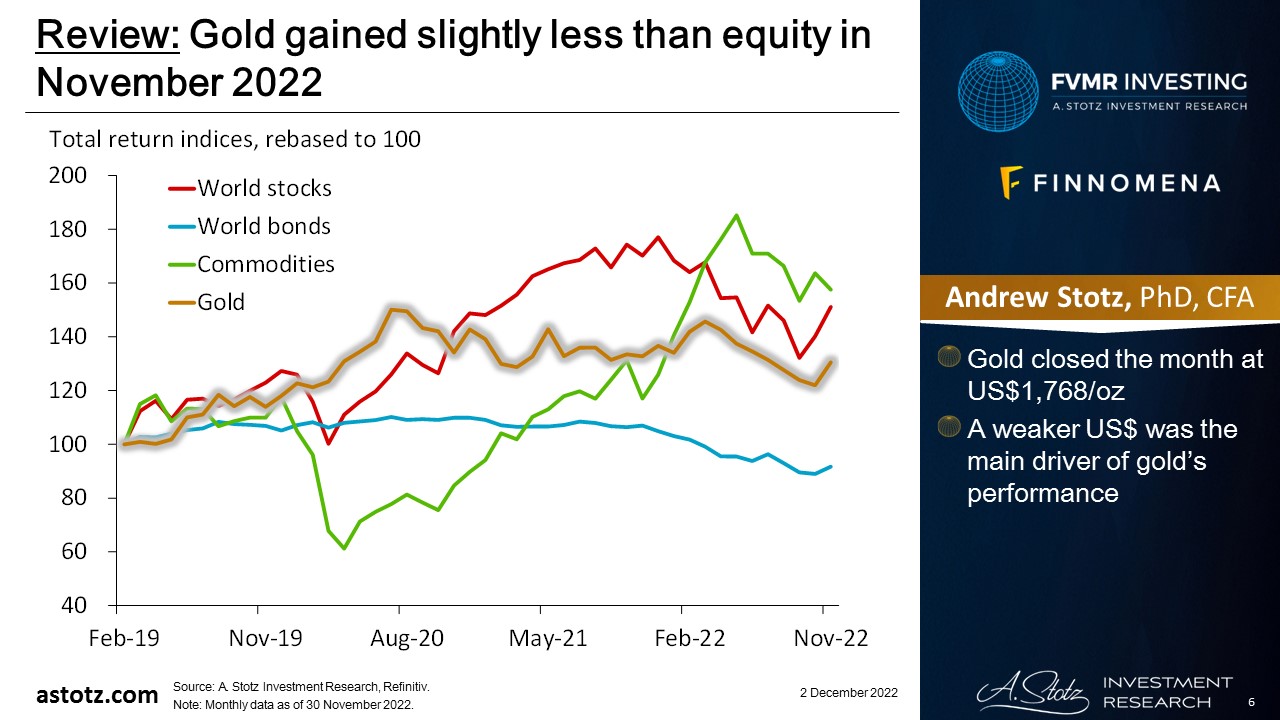 Gold closed the month at US$1,768/oz
A weaker US$ was the main driver of gold's performance
Much of the recent weakness in gold is actually US$ strength, and vice versa

Think of gold price as a currency pair
Typically, a stronger US$ means a lower gold price in US$
This also means that gold performance differs in other currencies
Only US$ has strengthened relative to gold YTD2022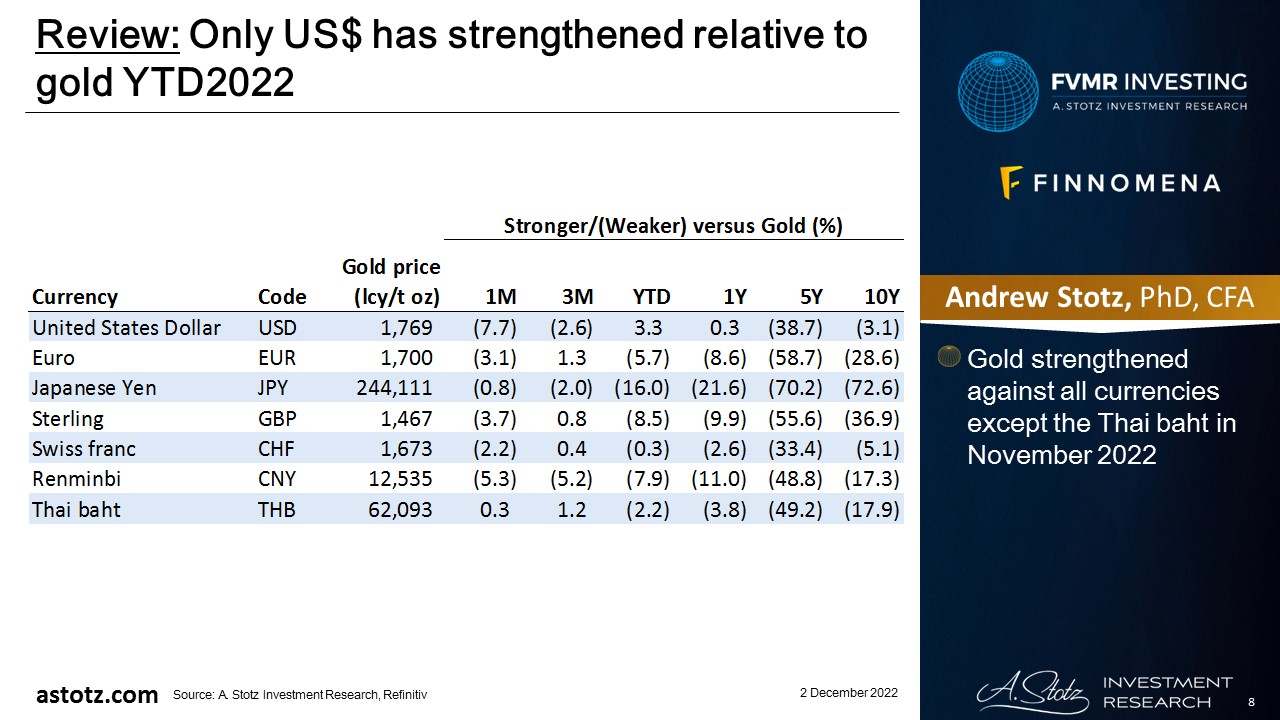 Gold strengthened against all currencies except the Thai baht in November 2022
Fed hiked 0.75% in November
The #Fed's balance sheet is down $98 billion thus far for November, biggest monthly decline yet of the cycle. They also did a jumbo 0.75% rate hike this month.

This is the most #Fed tightening one-two punch of rate hikes + balance sheet reduction of the cycle thus far. @Factset pic.twitter.com/Jgv7nJMbZB

— Matthew Miskin, CFA (@matthew_miskin) November 22, 2022
ECB hiked 0.75% in November
Three days ago: German Composite PMI at 44.1 -> recession

Today: The ECB hikes by 75 bps

Raise your hand if you think hiking into a recession is a good idea pic.twitter.com/MprfOTTdvq

— AndreasStenoLarsen (@AndreasSteno) October 27, 2022
BoE hiked 0.75% in November
Bank of England hikes interest rates by 0.75ppt to 3% in biggest rise >30yrs. BoE's main rate has not gone up this fast since Nov1989 when it rose from 13.75% to 14.875%. An even bigger hike was briefly imposed on Black Wed in Sep1992 but was revoked by then Chancellor Lamont. pic.twitter.com/Zz3iYx2bey

— Holger Zschaepitz (@Schuldensuehner) November 3, 2022
So Fed, ECB, and BoE all raised rates by 0.75%
Households are using their savings to keep up with higher prices
Those excess saving everybody refer to… they have been halved in 2022. Not sustainable of course pic.twitter.com/JBLEjvA8m1

— AndreasStenoLarsen (@AndreasSteno) November 5, 2022
We may see a slowdown in consumption at some point
We got reminded how easily the war in Ukraine could spread
NEW: U.S. SAYS MISSILE THAT HIT POLAND WAS FIRED BY UKRAINIAN FORCES AT INCOMING RUSSIAN MISSILE: AP

— FXHedge (@Fxhedgers) November 16, 2022
First reports only included that NATO member Poland had been hit
Soon thereafter, it was reported that the missiles came from Ukraine trying to defend itself from a Russian attack
The FTX debacle increased distrust in crypto markets (and US politics)
So, what these test messages prove is that SBF is a criminal and a fraud. Period, full stop.

A couple of follow-on points.https://t.co/meSTVnz3BL

— Ben Hunt (@EpsilonTheory) November 16, 2022
The FTX story could lead to distrust in overall financial markets as well
Chinese are protesting in the streets
The mass protests breaking out across China against the draconian lockdowns are both courageous and historic. The people have had enough. Authoritarianism never ends well. History has taught us that. The Chinese protestors are creating their own history.pic.twitter.com/y1aLGswuZU

— James Melville (@JamesMelville) November 28, 2022
Is this really the end of the Communist Party Rule? Of Xi's rule?
Or are people just exasperated with being locked down?
As Europe tries to replace Russian pipeline gas, LNG becomes harder to secure
Global competition for LNG intensifies as supply is "SOLD OUT" for years, Japan warns 🇯🇵🚨

⚠️ There aren't any long-term LNG contracts available that start before 2026, METI says
📝 These deals are essential for buyers, as it offers stable pricing/supplyhttps://t.co/5hU37pR7cY pic.twitter.com/EhKrRtVaGP

— Stephen Stapczynski (@SStapczynski) November 21, 2022
We can see that gas markets are still fragile, given how, for example, European gas prices have rebounded
US has drawn down its oil reserve
The US Strategic Petroleum Reserve moved down for the 62nd consecutive week to its lowest level since 1984. The 34% decline in reserves this year is the largest on record by a wide margin.

Charting via @ycharts pic.twitter.com/N5Ad125bUt

— Charlie Bilello (@charliebilello) November 16, 2022
Releasing oil from the SPR helped the Democrats keep control of the Senate and lose less in the House
When it's time to refill the SPR, oil prices could rise on the additional demand
Central banks have been loading up on gold, maybe switching from US$?
'Almost 400 tons of gold were scooped up by central banks in the third quarter, more than quadruple the amount a year earlier. That takes the total so far this year to the highest since 1967, when the dollar was still backed by the metal.' https://t.co/x9ZwDKpJI6 pic.twitter.com/EozM0W9714

— Jesse Felder (@jessefelder) November 1, 2022

Key takeaways
Central banks push aggressive rate hikes
Ukraine war could easily spread
Chinese are protesting its government
Gas supply remains tight
Central banks have been loading up on gold
Performance review: All Weather Inflation Guard
All Weather Inflation Guard was up 0.9%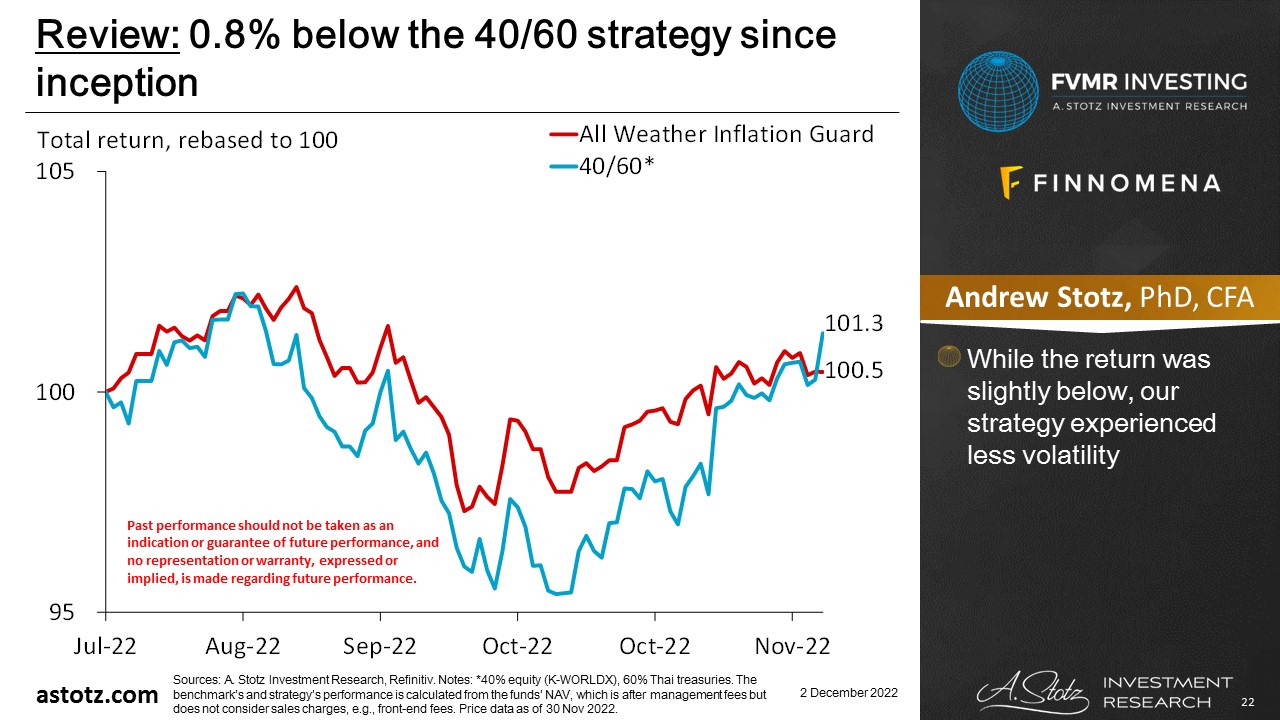 While the return was slightly below, our strategy experienced less volatility
The strategy was up by 0.9% but 2.5% less than the 40/60 portfolio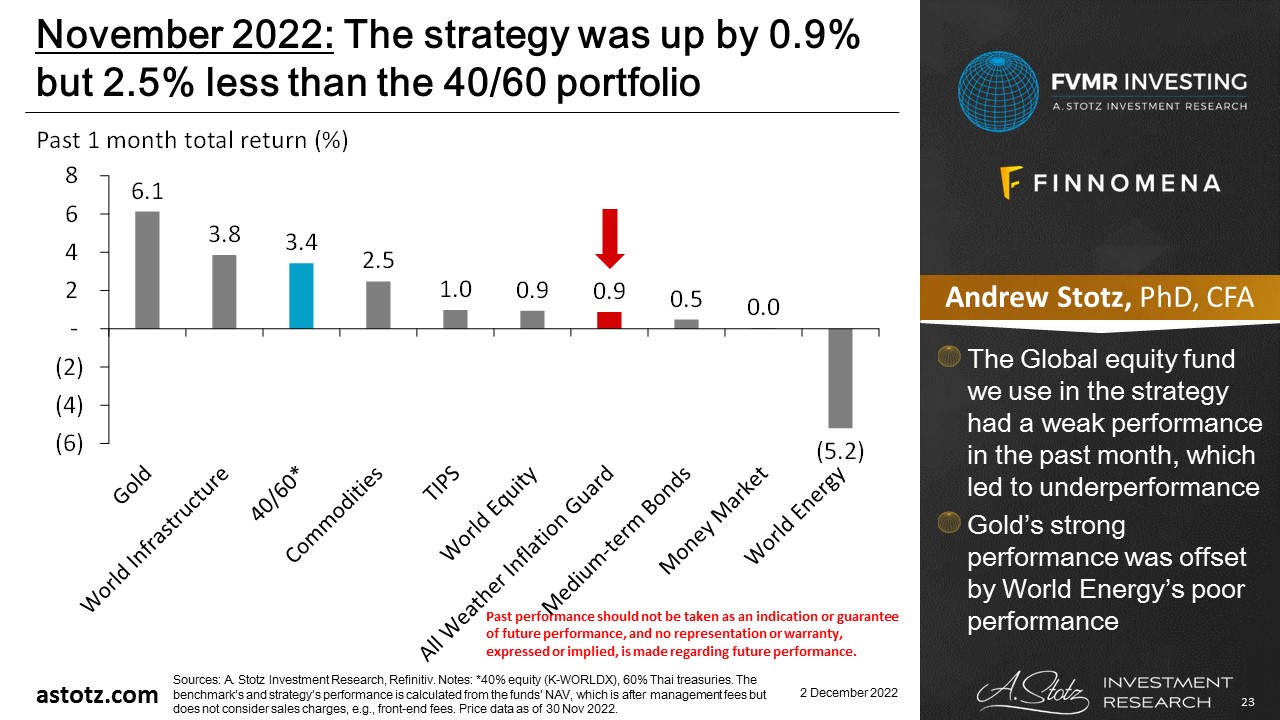 The Global equity fund we use in the strategy had a weak performance in the past month, which led to underperformance
Gold's strong performance was offset by World Energy's poor performance
Performance review: All Weather Strategy
All Weather Strategy was up 4.2%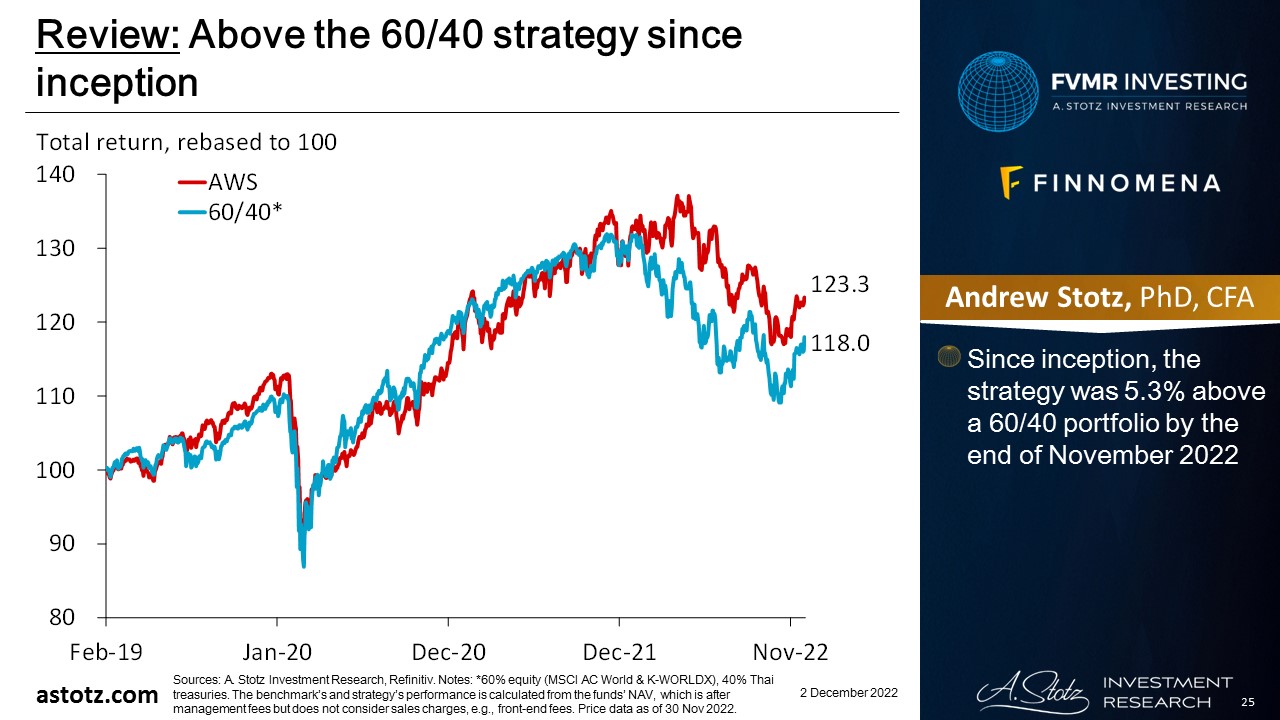 Since inception, the strategy was 5.3% above a 60/40 portfolio by the end of November 2022
The strategy was on par with the 60/40 portfolio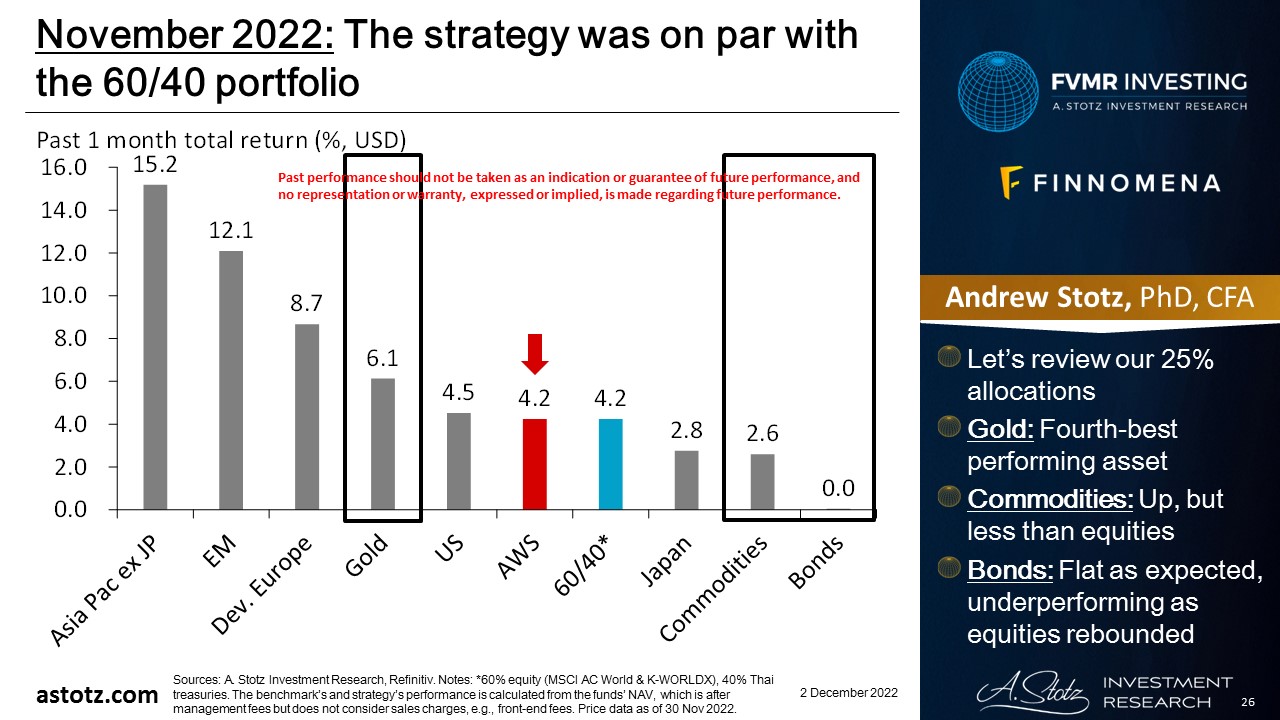 Let's review our 25% allocations
Gold: Fourth-best performing asset
Commodities: Up, but less than equities
Bonds: Flat as expected, underperforming as equities rebounded
The strategy has lost less on 9 out of the 10 worst global stock market days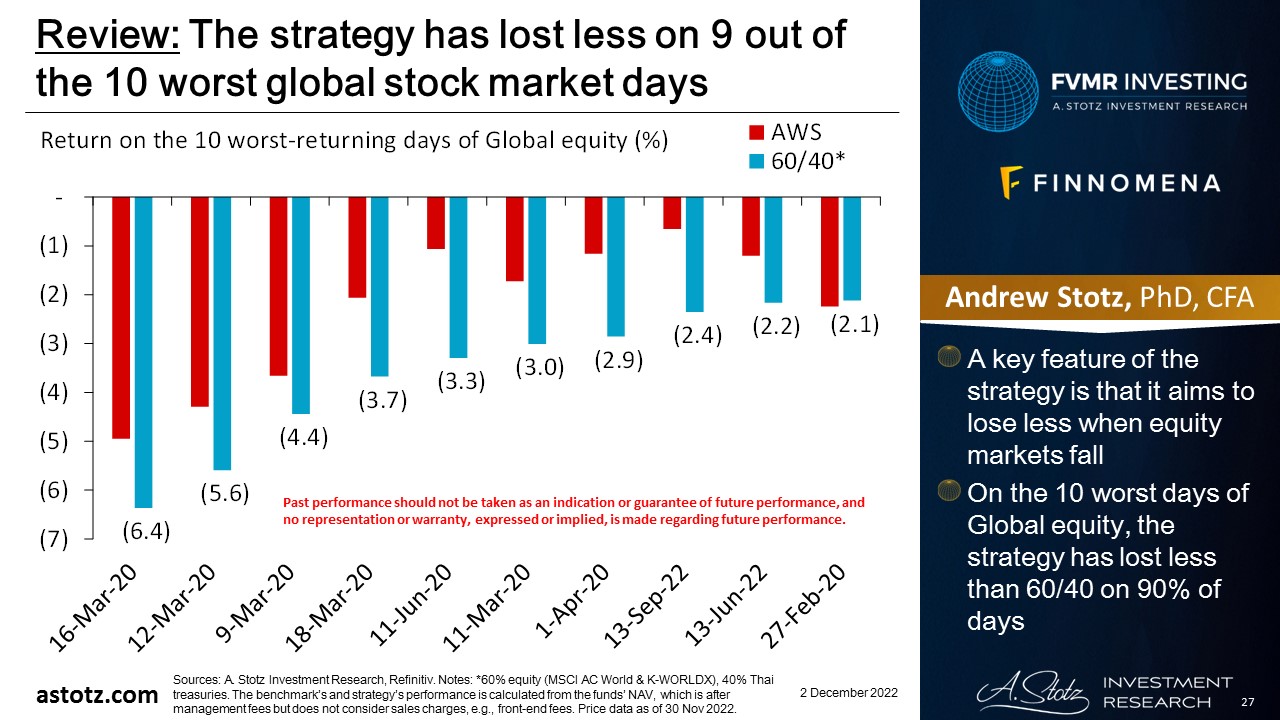 A key feature of the strategy is that it aims to lose less when equity markets fall
On the 10 worst days of Global equity, the strategy has lost less than 60/40 on 90% of days
Outperformed a 60/40 in 60% of months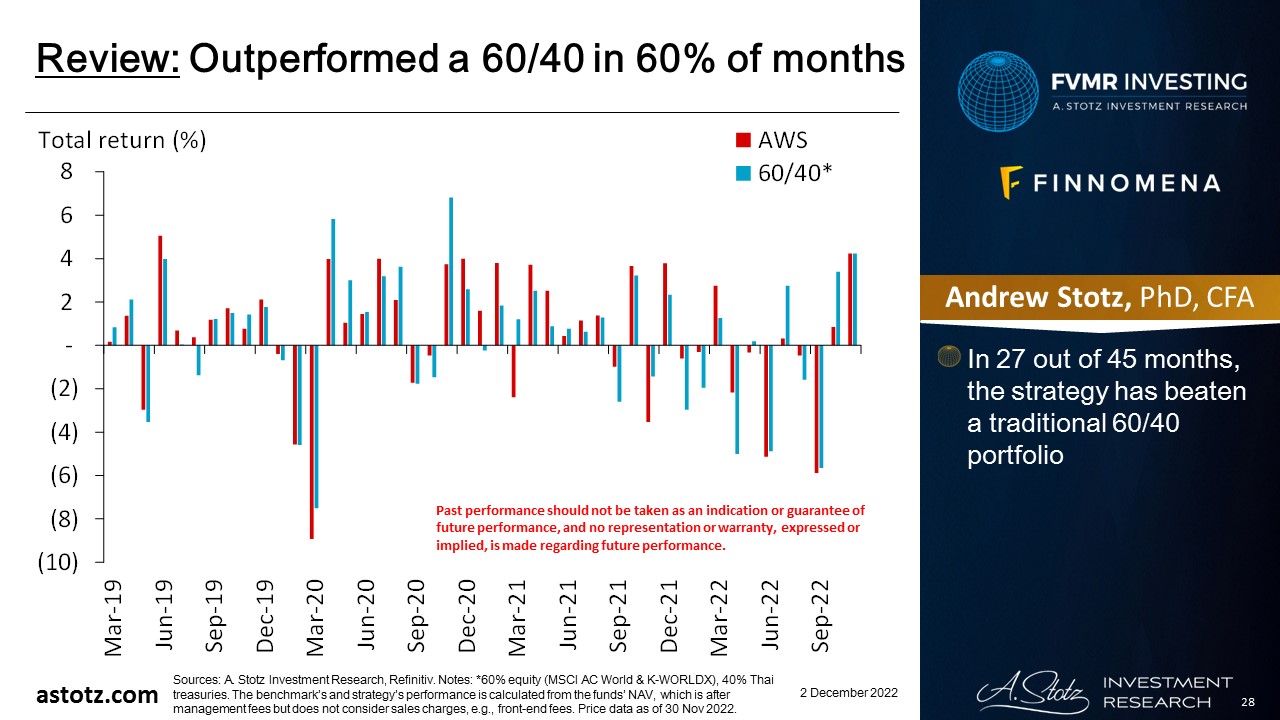 In 27 out of 45 months, the All Weather Strategy has beaten a traditional 60/40 portfolio
Performance review: All Weather Alpha Focus
All Weather Alpha Focus was up 4.4%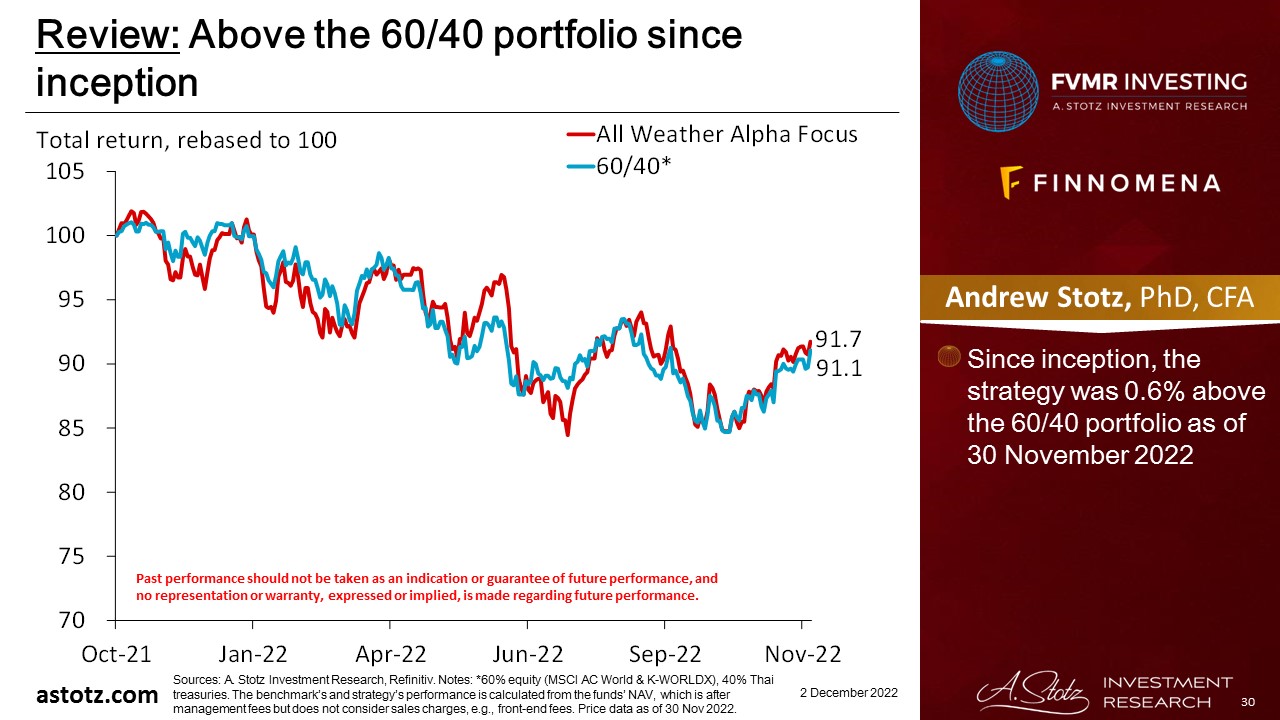 Since inception, the strategy was 0.6% above the 60/40 portfolio as of 30 November 2022
The strategy has still done better than World equity since inception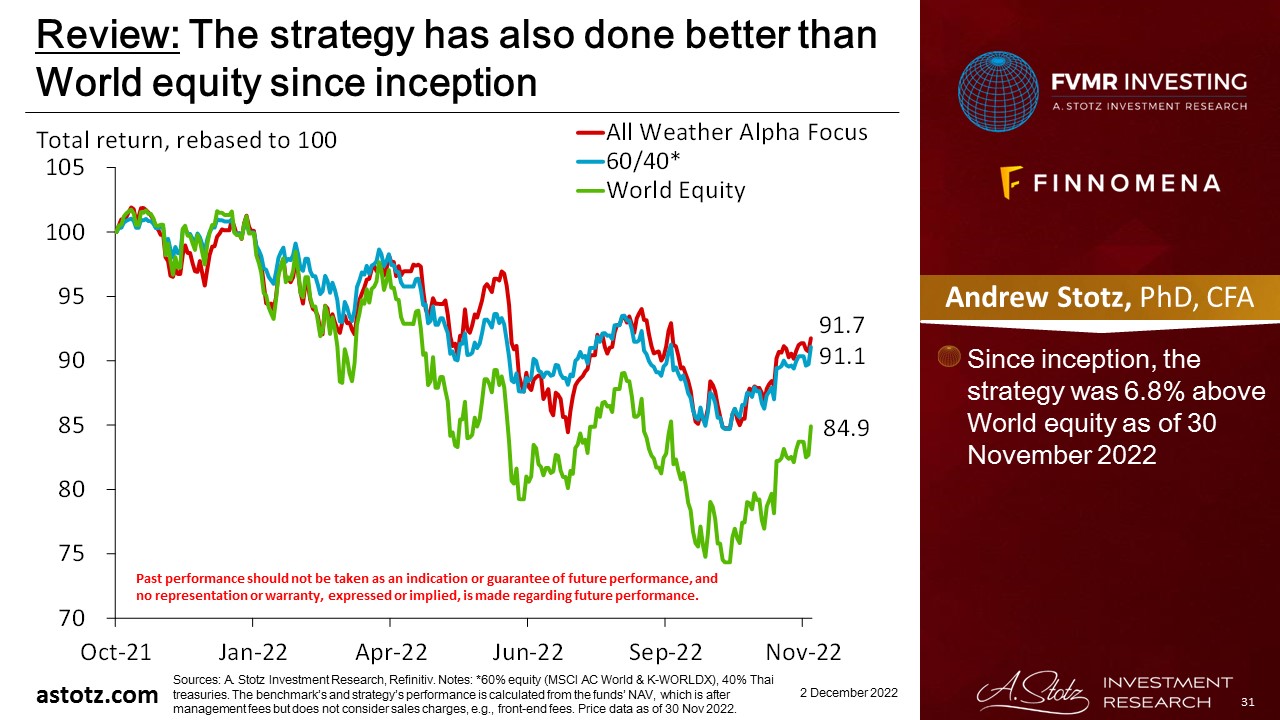 Since inception, the strategy was 6.8% above World equity as of 30 November 2022
The strategy was 0.5% above the 60/40 portfolio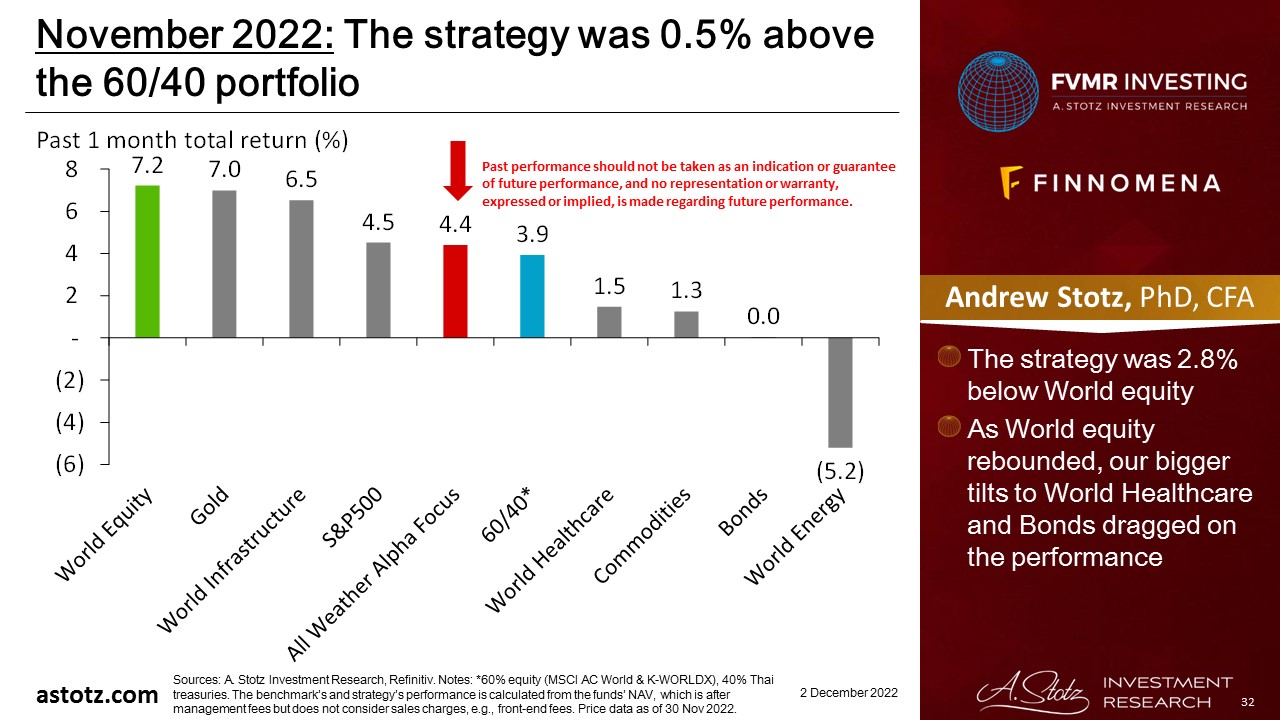 The strategy was 2.8% below World equity
As World equity rebounded, our bigger tilts to World Healthcare and Bonds dragged on the performance
Global outlook that guides our asset allocation
Oil price has retreated, but not yet world inflation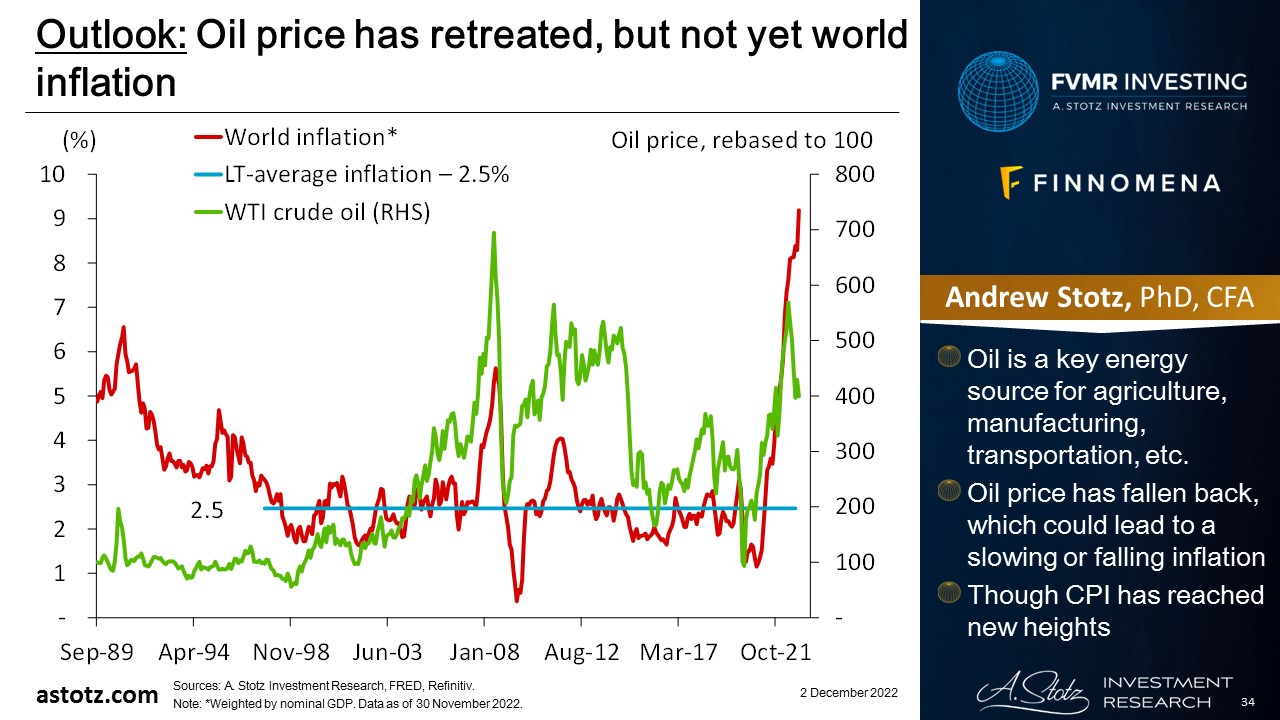 Oil is a key energy source for agriculture, manufacturing, transportation, etc.
Oil price has fallen back, which could lead to a slowing or falling inflation
Though CPI has reached new heights
Inflation through the roof, but US 10yr bond rate has been cooling off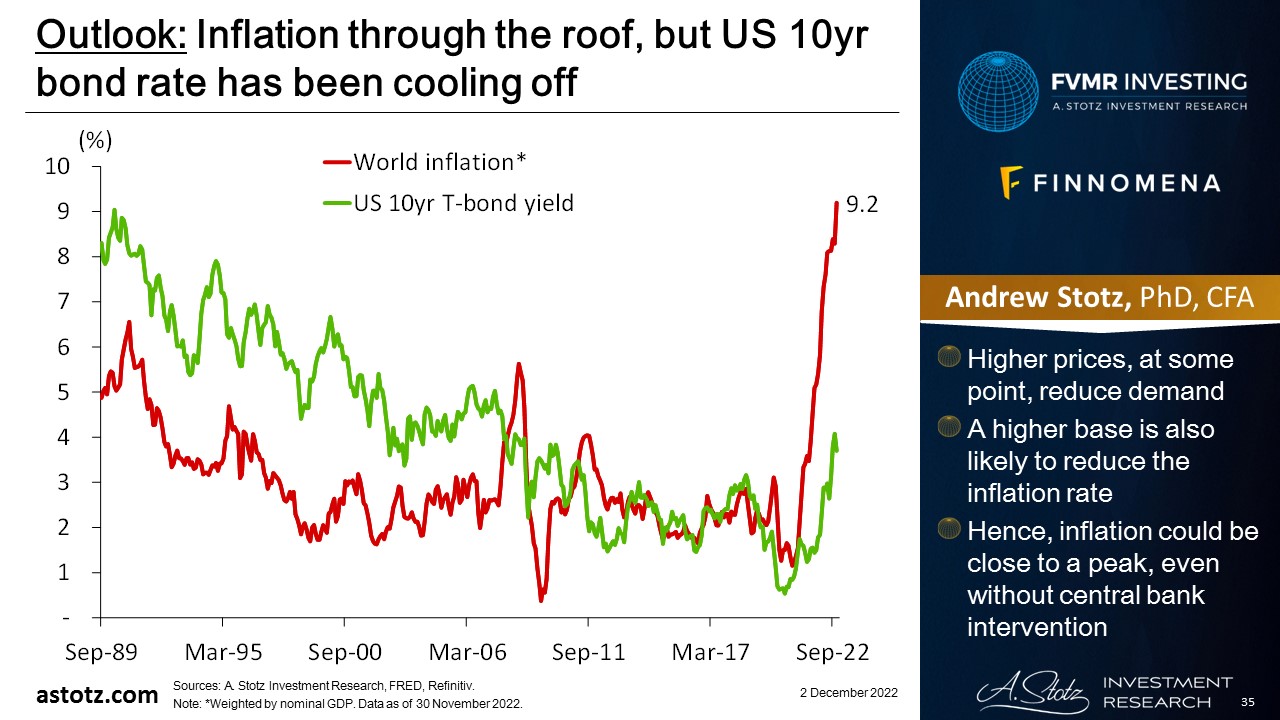 Higher prices, at some point, reduce demand
A higher base is also likely to reduce the inflation rate
Hence, inflation could be close to a peak, even without central bank intervention
The 3m gov't bond yield has risen to 4.3% from 1.5% a year ago

Still, global inflation has raced up significantly more
Expect central banks to continue raising rates as they haven't yet stifled inflation
Fed is committed to break the back of inflation
"Despite some promising developments, we have a long way to go in restoring price stability, We will stay the course until the job is done."
"We wouldn't…try to crash the economy and then clean up afterward."
"We have to do what it takes to restore balance in the labor market to get back to 2% inflation…really just by slowing job growth rather than putting people out of work."
Overall, the interpretation of JPow's latest speech is that rate hikes will slow
The market expects inflation to return to "normal"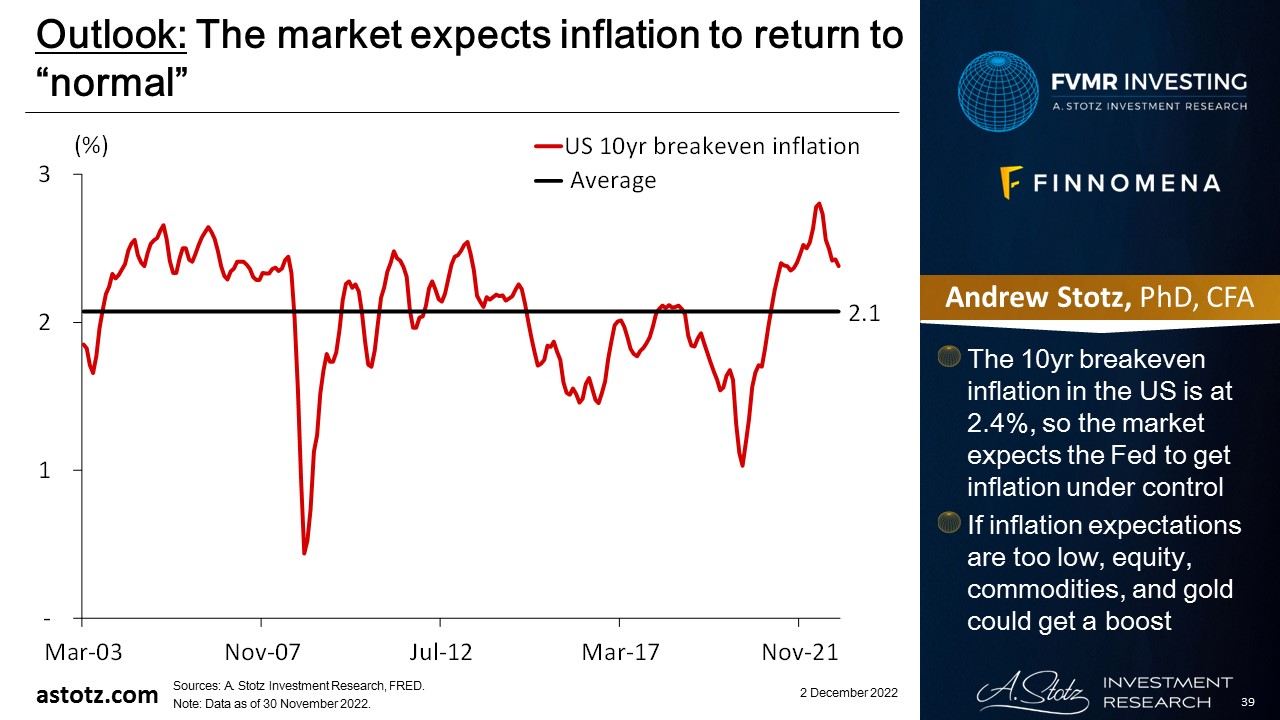 The 10yr breakeven inflation in the US is at 2.4%, so the market expects the Fed to get inflation under control
If inflation expectations are too low, equity, commodities, and gold could get a boost
A December Fed hike is priced in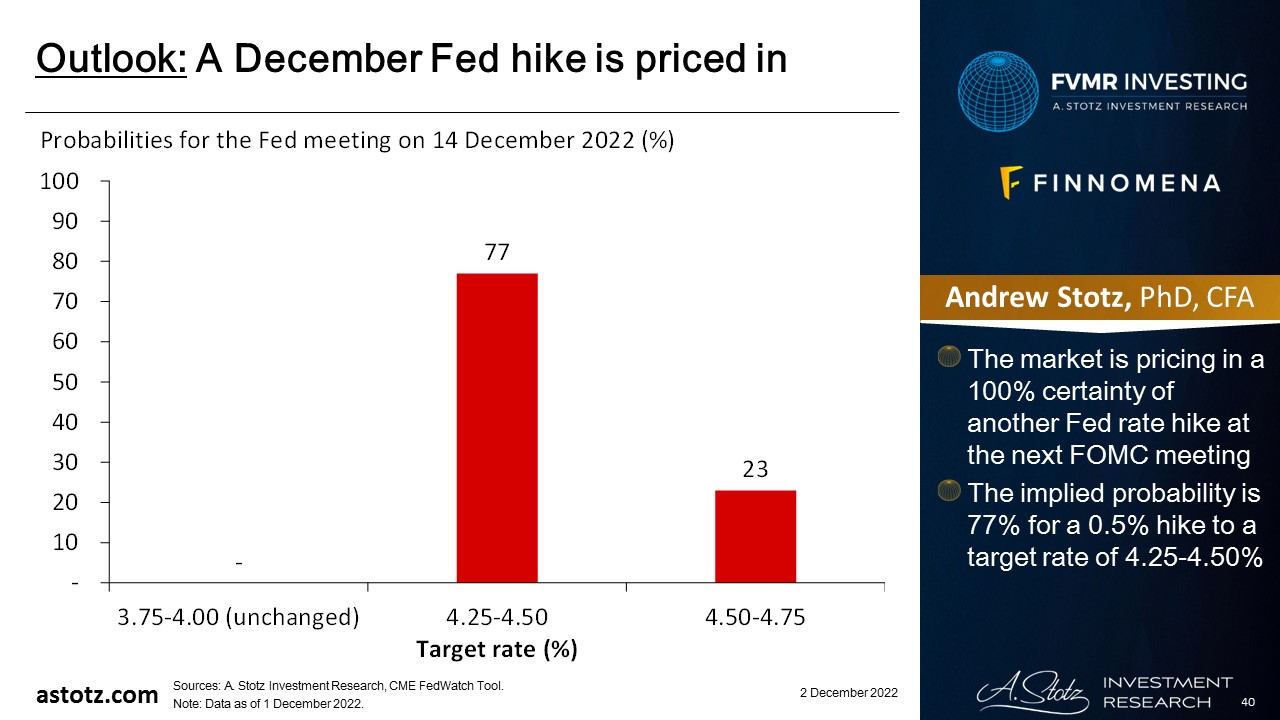 The market is pricing in a 100% certainty of another Fed rate hike at the next FOMC meeting
The implied probability is 77% for a 0.5% hike to a target rate of 4.25-4.50%
The fastest rate-hike cycle by the Fed since the 1980s

In the 2004 cycle, the target rate was hiked by 4.25% in total
In the current cycle, Fed has hiked by 3.75%
Since March, market expectations have shifted to a much more aggressive Fed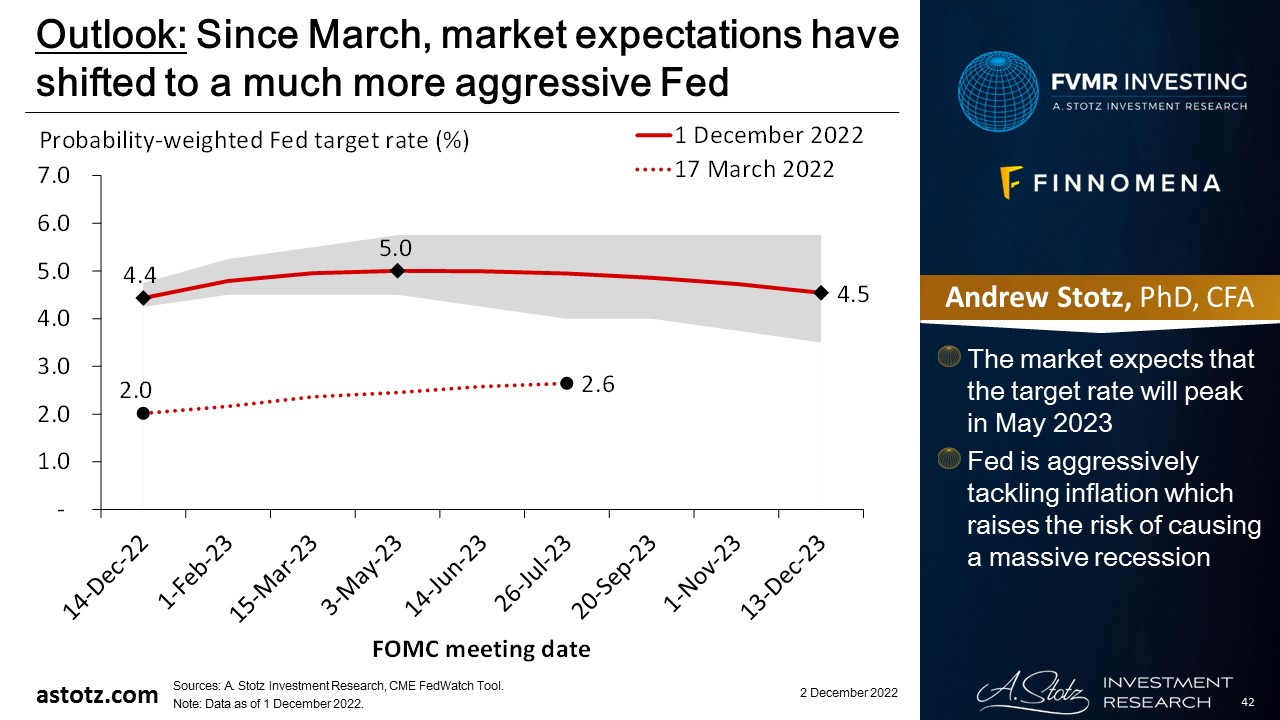 The market expects that the target rate will peak in May 2023
Fed is aggressively tackling inflation which raises the risk of causing a massive recession
The market expects the target rate to peak at 5% in May 2023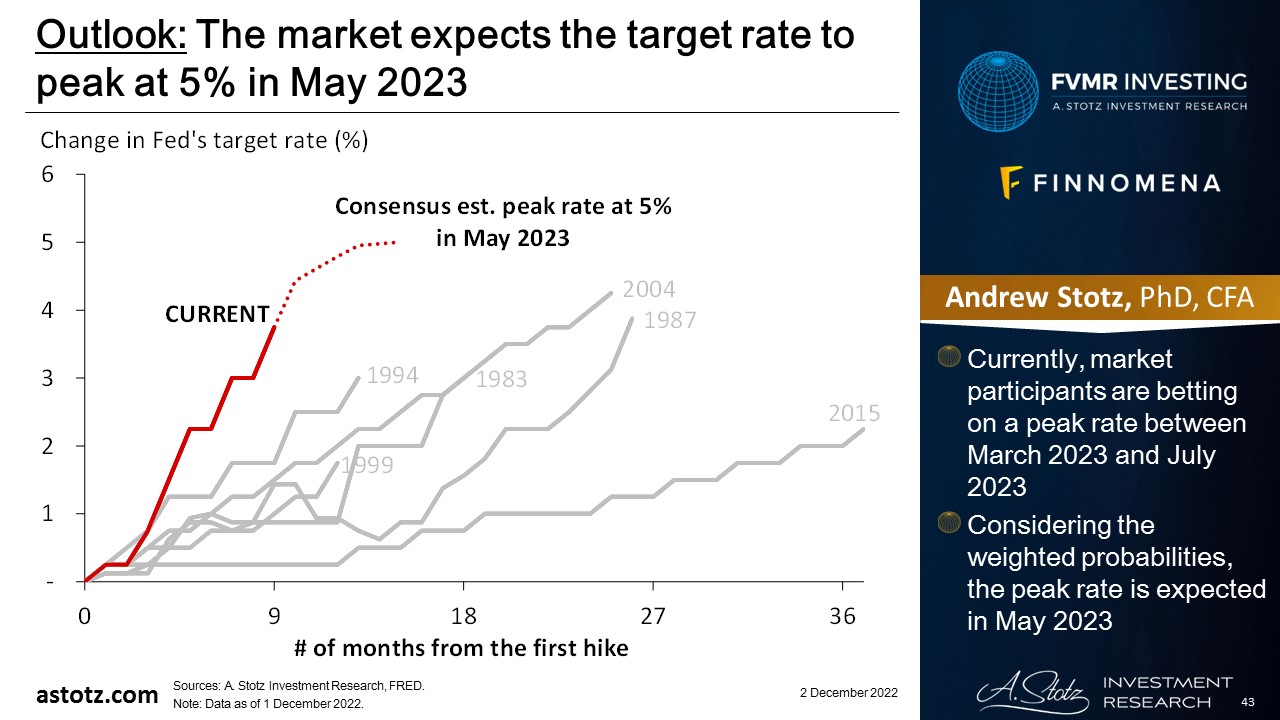 Currently, market participants are betting on a peak rate between March 2023 and July 2023
Considering the weighted probabilities, the peak rate is expected in May 2023
Fed has kept the peak target rate for 6 months on average since the 1980s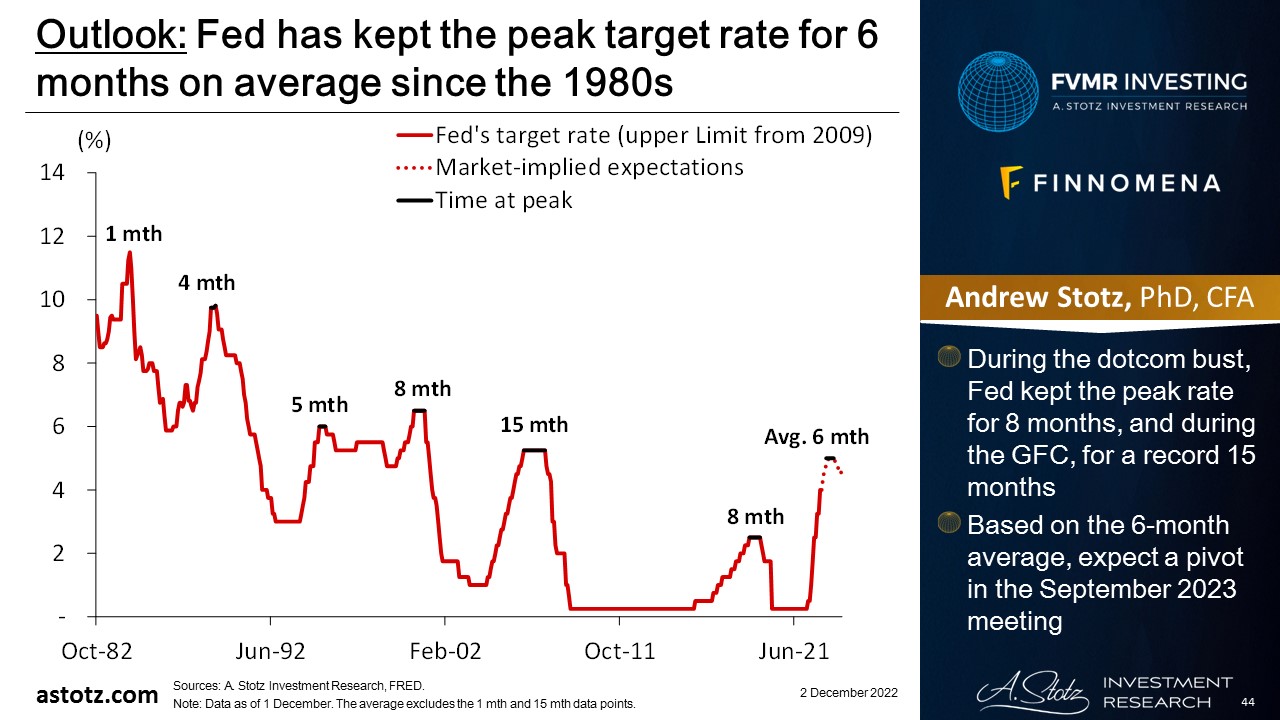 During the dotcom bust, Fed kept the peak rate for 8 months, and during the GFC, for a record 15 months
Based on the 6-month average, expect a pivot in the September 2023 meeting
Fed is expected to be the most aggressive; BoE to be on par in 2H23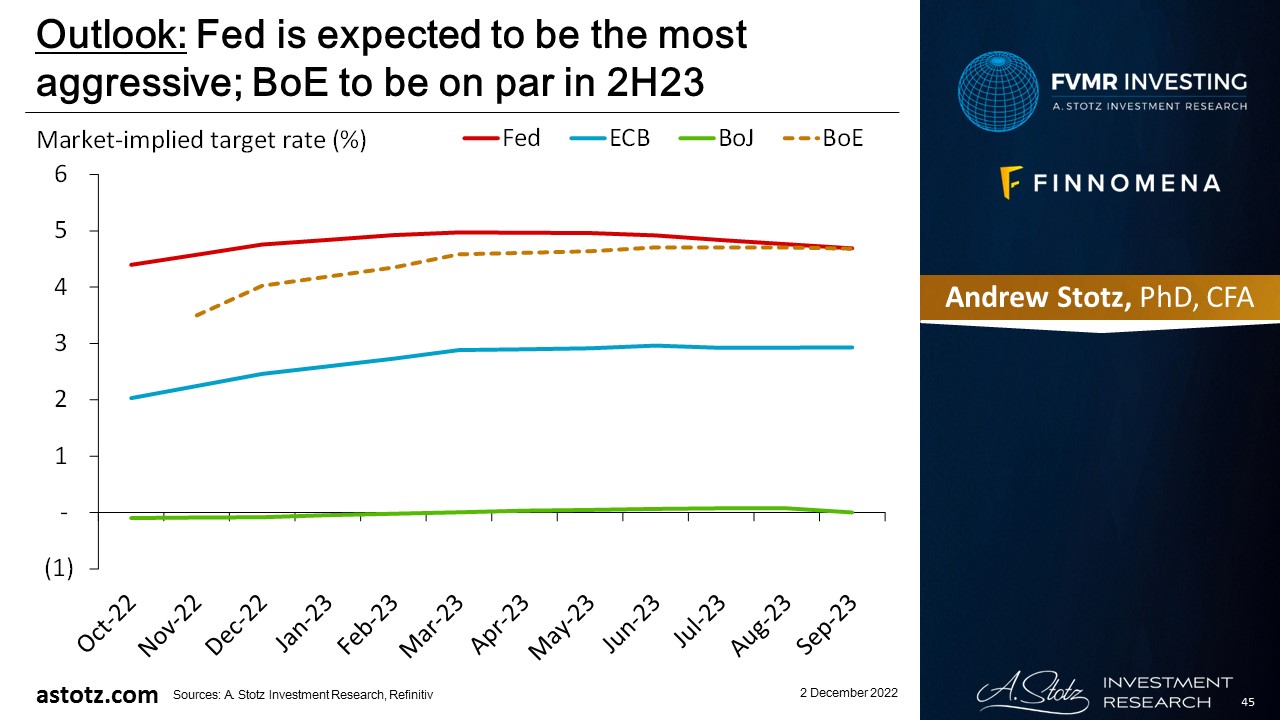 Yield-curve inversion is diving deeper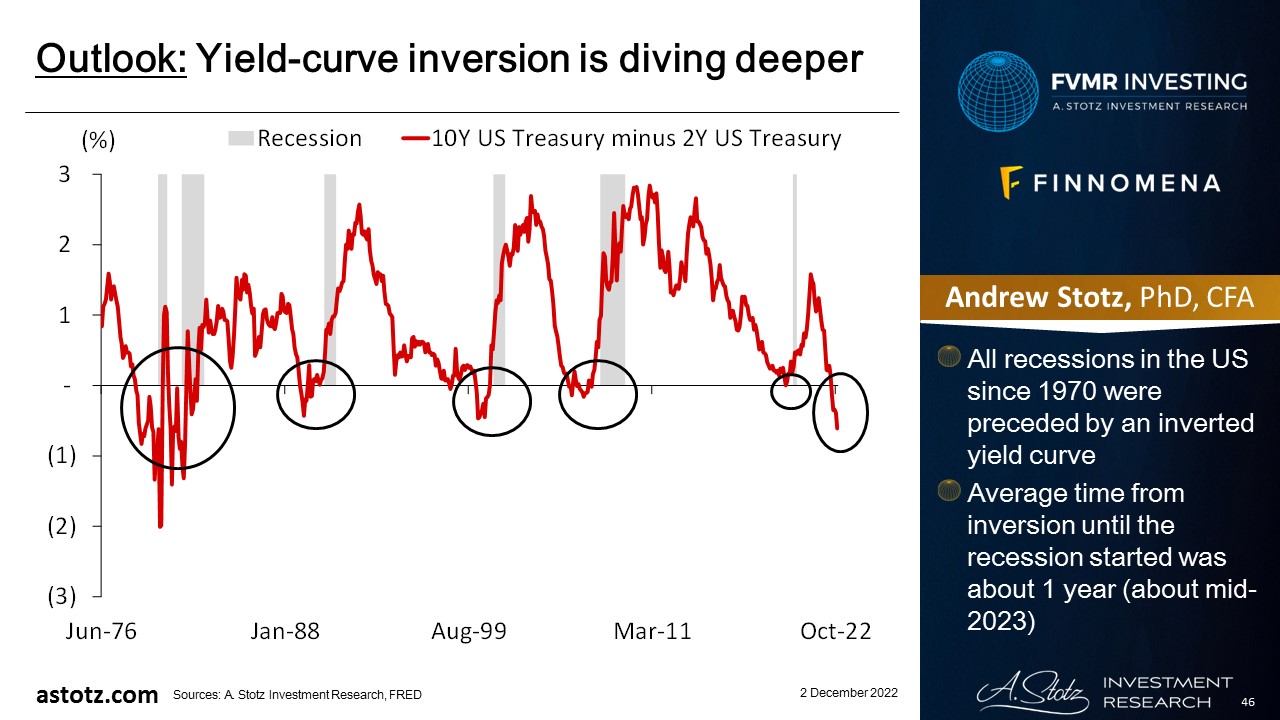 All recessions in the US since 1970 were preceded by an inverted yield curve
Average time from inversion until the recession started was about 1 year (about mid-2023)
Watch if yield spread "breaks"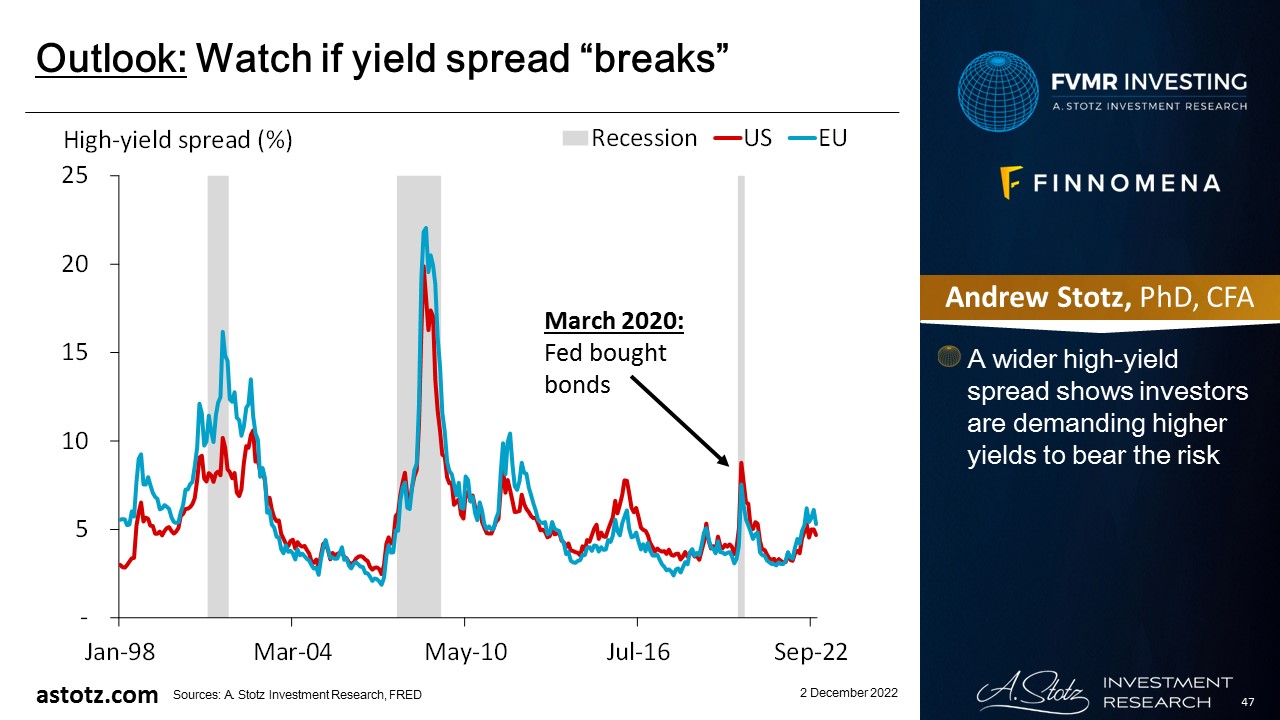 A wider high-yield spread shows investors are demanding higher yields to bear the risk
Valuations have come down, primarily due to price fall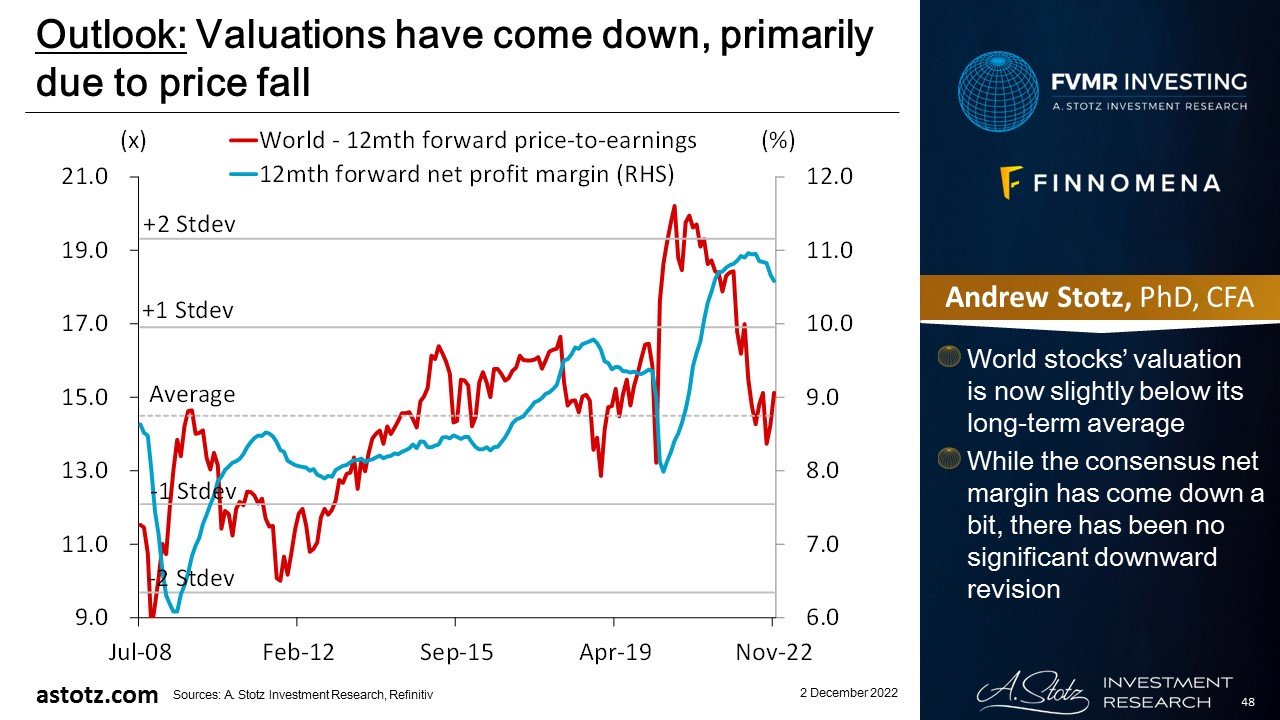 World stocks' valuation is now slightly below its long-term average
While the consensus net margin has come down a bit, there has been no significant downward revision
Every region forecasts a lower EPS growth in 2023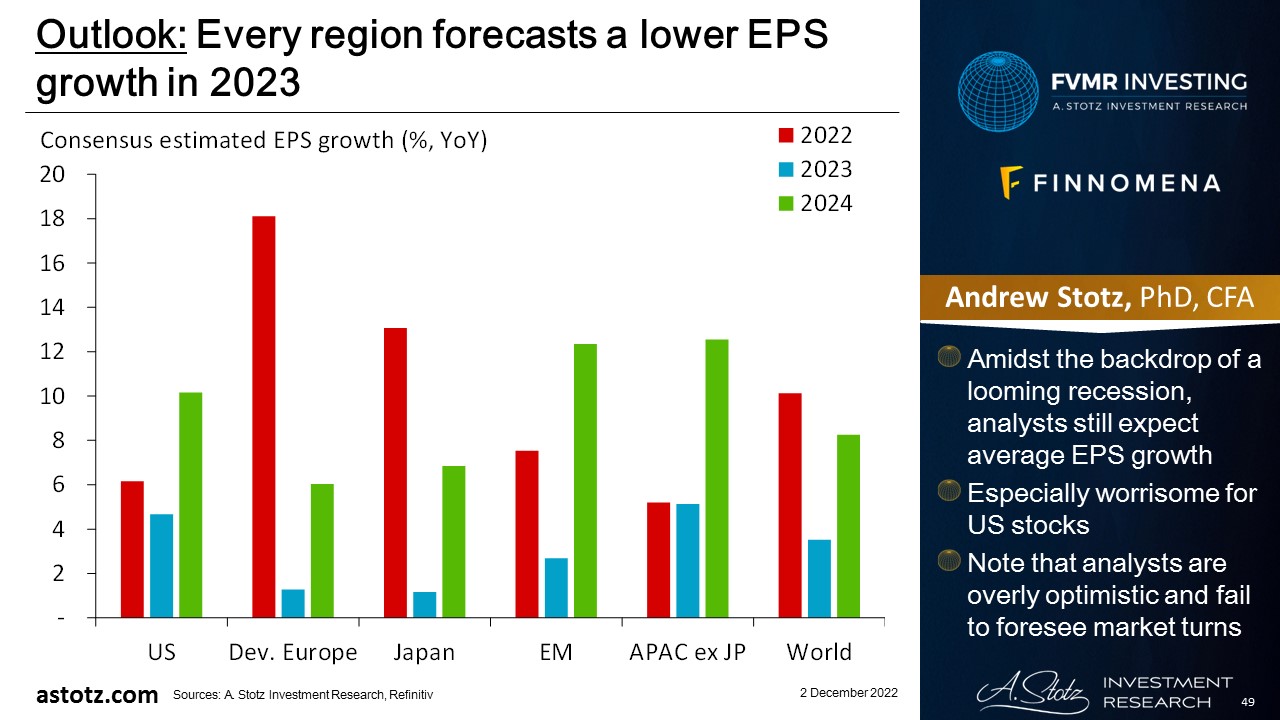 Amidst the backdrop of a looming recession, analysts still expect average EPS growth
Especially worrisome for US stocks
Note that analysts are overly optimistic and fail to foresee market turns
There hasn't been much QT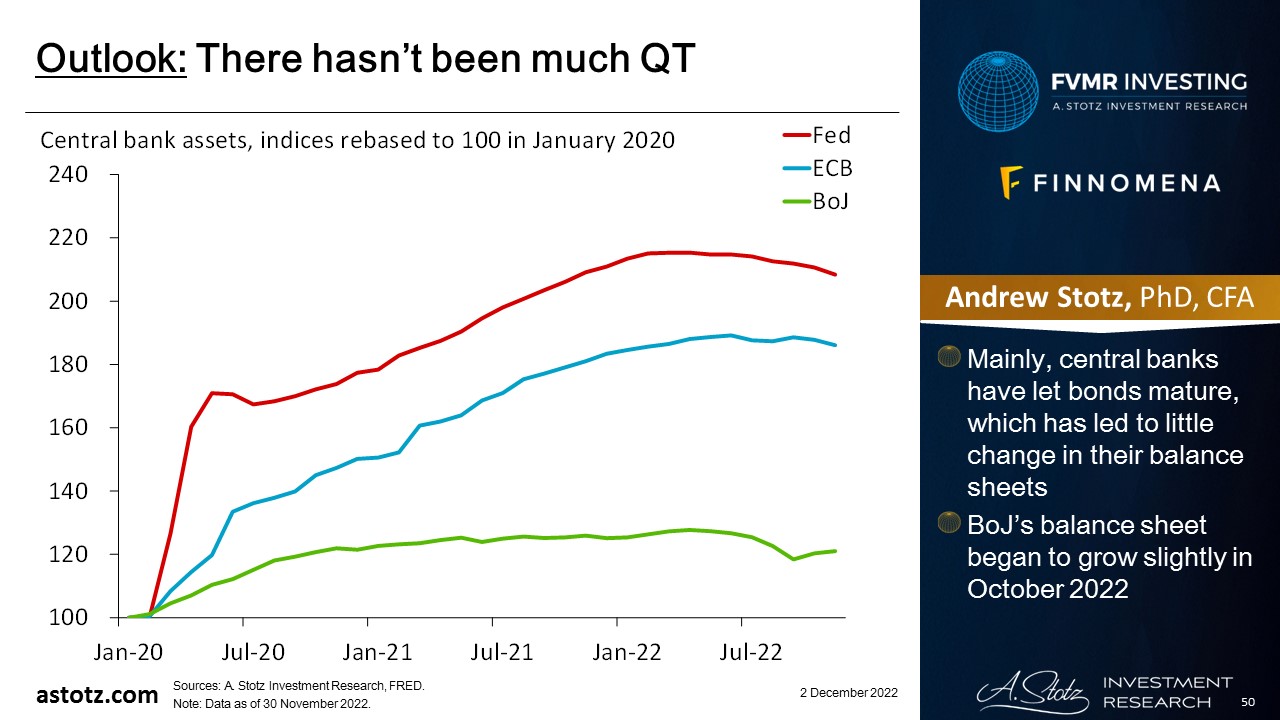 Mainly, central banks have let bonds mature, which has led to little change in their balance sheets
BoJ's balance sheet began to grow slightly in October 2022
For the past year, we've said that we think the course will eventually be reversed
Many central banks are communicating that they're going to get inflation down, and investors seem to buy the rhetoric
We still think central bankers and politicians will change course and return to accommodative policies as soon as something "breaks"
And we do think central bankers are going to break things
Central banks may kill growth but not inflation, and we'll get stagflation
Stagflation is typically bad for both stocks and bonds
Commodities have typically done well during inflationary times and have been resilient during stagflation
Gold has historically fared well during stagflation
Bonds are typically a safe place to be, even though 2022 has been exceptionally bad
In recessions, safer assets like government bonds are typically performing well
Though with high inflation, low yields could still lead to negative real returns
We typically don't allocate to Bonds to speculate on the upside but rather use it as a way to protect capital over time
The market expects natural gas price to rise during the winter in Europe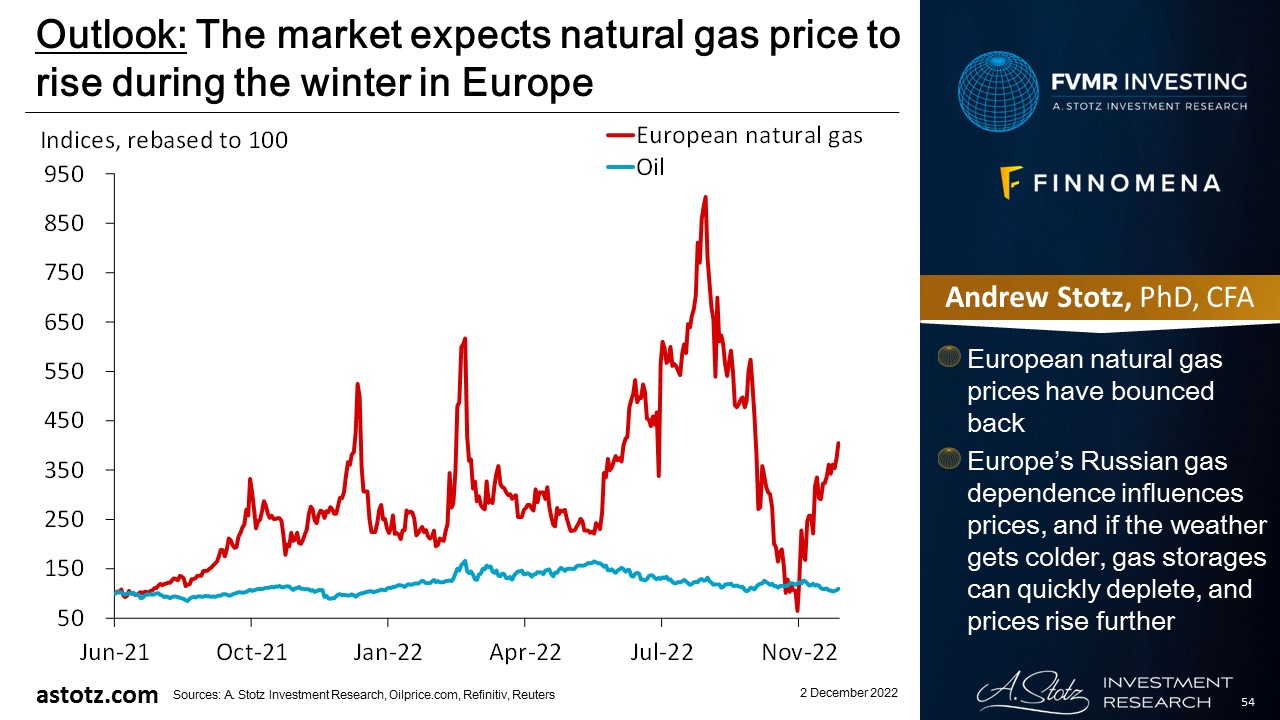 European natural gas prices have bounced back
Europe's Russian gas dependence influences prices, and if the weather gets colder, gas storages can quickly deplete, and prices rise further
Fundamental support for energy prices
OPEC+ keeps missing its output targets, and the cartel has announced to cut production and support oil price
Ukraine war could lead to further supply shocks
Energy prices can also remain high due to past underinvestment in new projects
Supply for agricultural commodities could tighten further
Besides energy, Russia is an exporter of many industrial metals, and Russia and Ukraine are both important exporters of soft commodities
La Niña* could reduce the supply of important commodities like corn, soybean, and wheat
World food price index hit a record 160 in March 2022; stayed at 136 in November 2022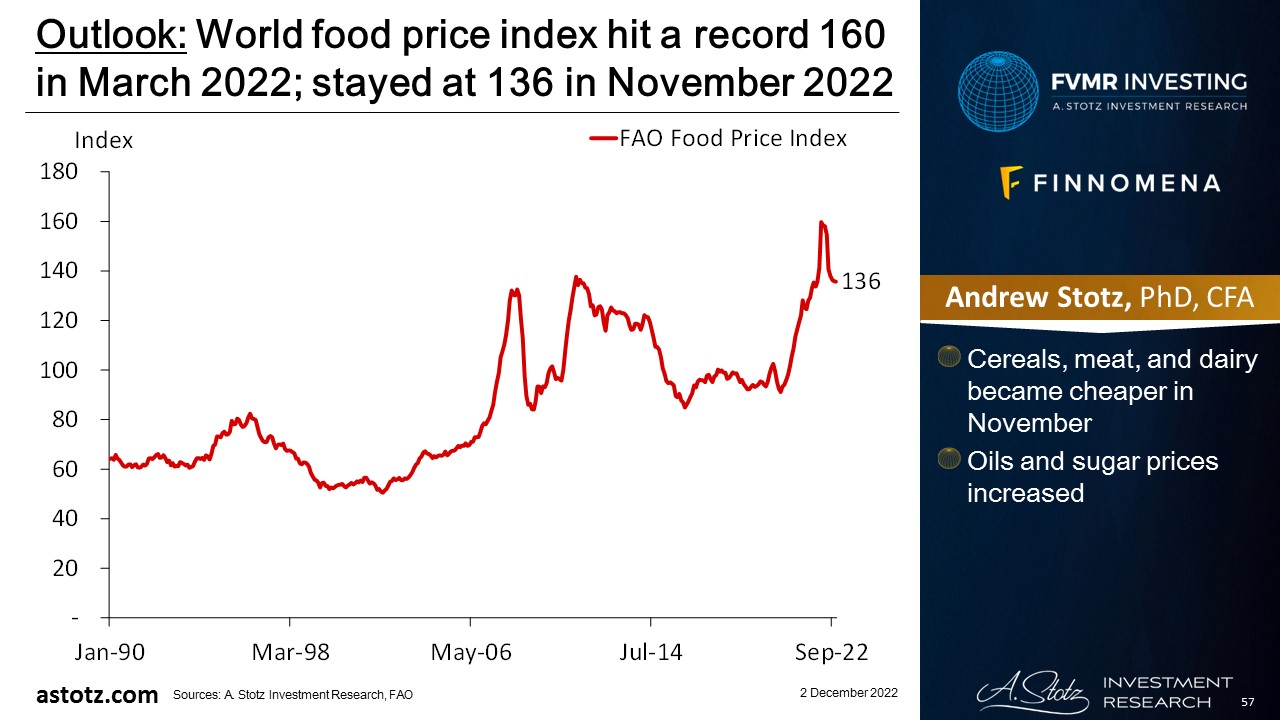 Cereals, meat, and dairy became cheaper in November
Oils and sugar prices increased
Commodities have fundamental support
Demand for necessities (food and energy), inflation, and supply-chain disruptions related and unrelated to the war in Ukraine are going to keep commodities prices high
A re-opening of China could lead to increased demand for commodities
Also, if we were to go into a stagflationary period, Commodities could show resilient
We keep gold as an insurance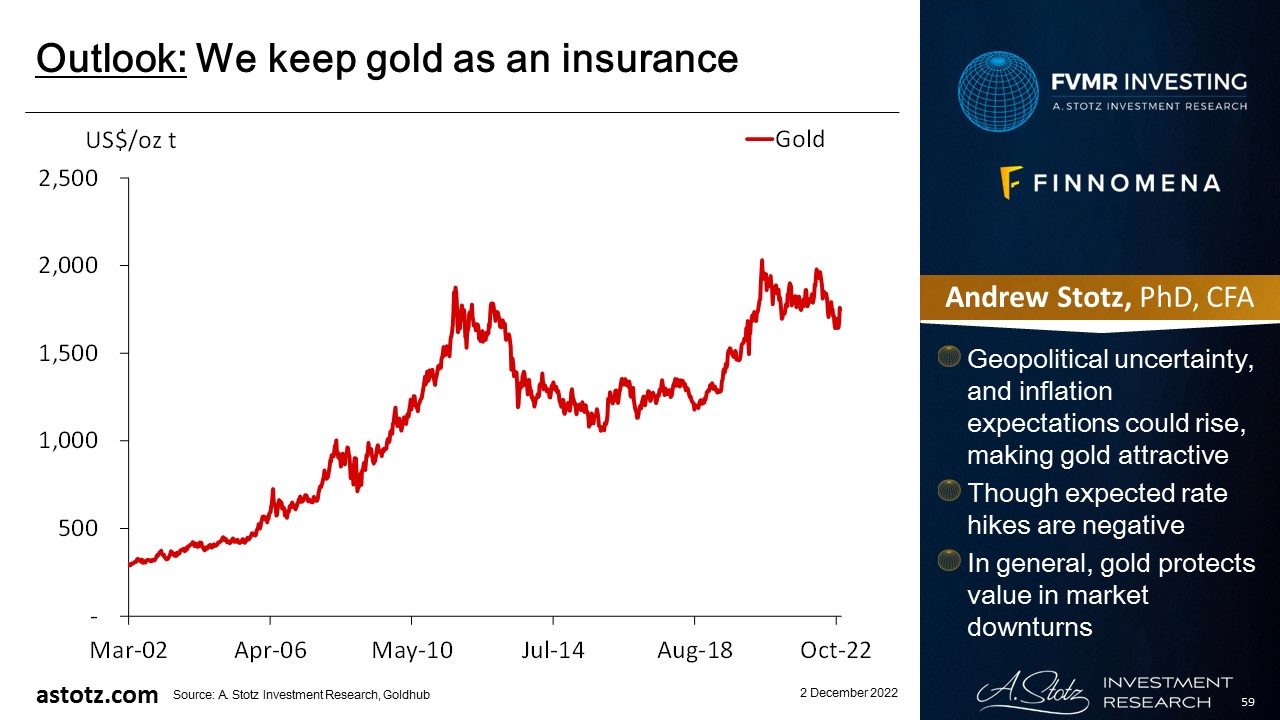 Geopolitical uncertainty, and inflation expectations could rise, making gold attractive
Though expected rate hikes are negative
In general, gold protects value in market downturns
Risks: Global recession pushing down stocks
Central banks' aggressive rate hikes and QT crash the stock markets
Collapsing energy prices would be damaging since we have exposure through our allocations to World Energy and Commodities
We are mainly exposed to Thai bonds; hence, BOT's actions impact the most
Key takeaways
Central bankers appear to be raising rates into a recession to stifle inflation; stagflation would be the worst outcome
Demand for necessities (food and energy), inflation, and supply-chain disruptions can drive commodities higher
Bonds and gold to protect capital
Risks: Inflation gets under control, monetary tightening crash markets, weak China
---
DISCLAIMER: This content is for information purposes only. It is not intended to be investment advice. Readers should not consider statements made by the author(s) as formal recommendations and should consult their financial advisor before making any investment decisions. While the information provided is believed to be accurate, it may include errors or inaccuracies. The author(s) cannot be held liable for any actions taken as a result of reading this article.