WHA Corporation is Ready to Benefit from the Eastern Economic Corridor
Background
WHA Corporation Public Company Limited is the biggest Thai property developer by revenue focused on built-to-suit distribution centers, factories, and industrial estates.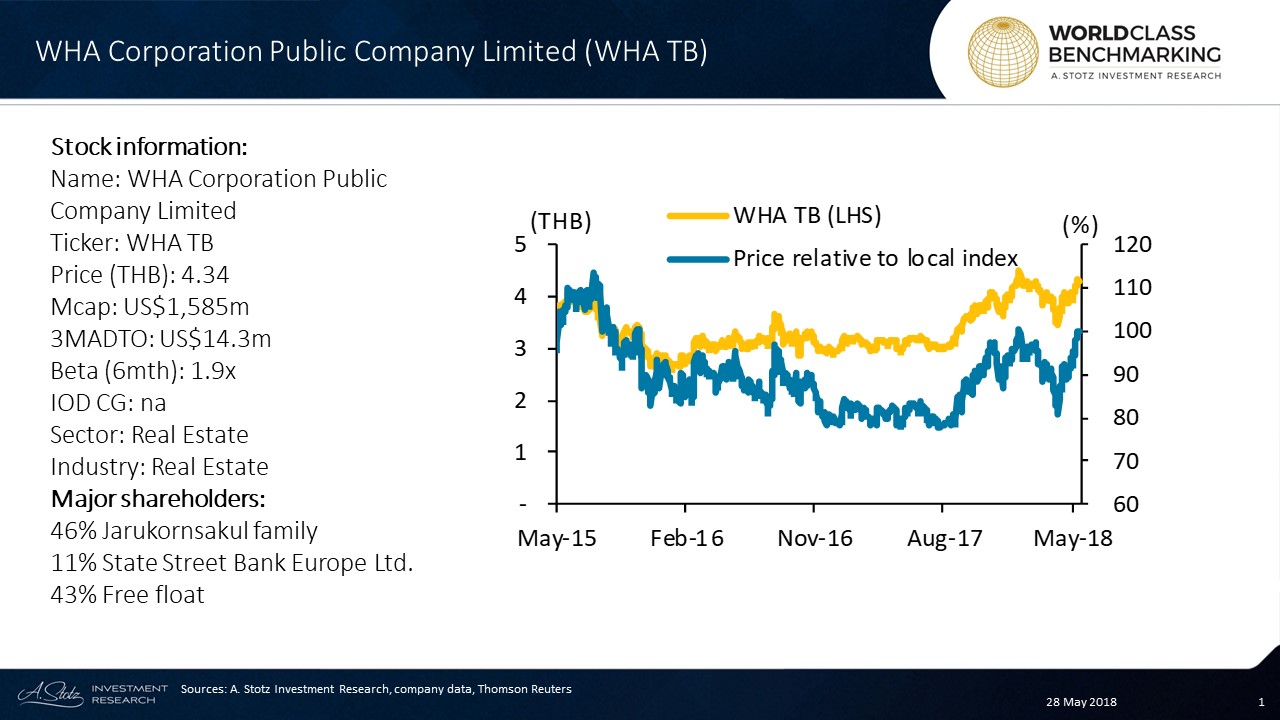 WHA also builds and operates power utilities on these sites. The logistic facilities, located in industrial estates, are mainly for lease and sales and leaseback.
Business Description
WHA is a Thailand property group with over half of its revenue derived from built-to-suit distribution centers, factory and industrial estate development including leasing and sales and leaseback rentals.
Its properties are in logistics hub areas, in and around industrial estates. These estates are in turn mainly situated in the government designated EEC, which should help further promote WHA's development projects ahead of its peers with less exposure to the reduced tax zone.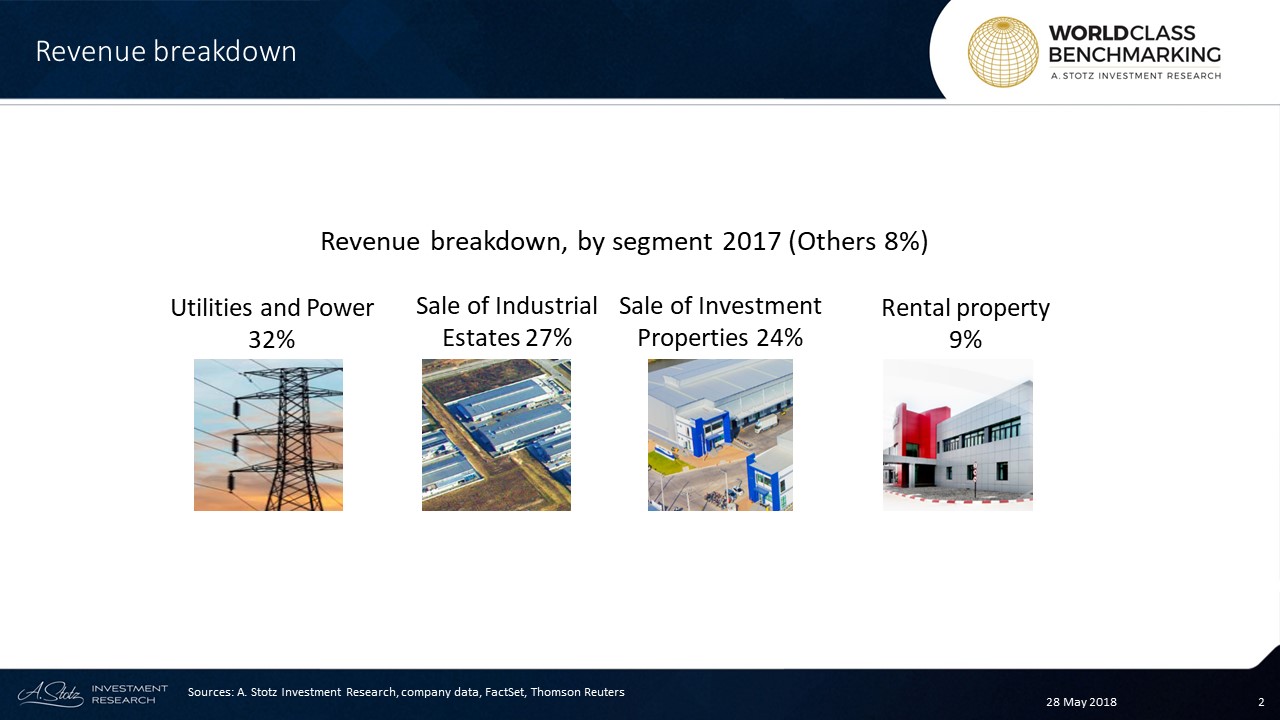 The main customers, of which about 1/3 are large Japanese corporations, are comprised of manufacturers, retailers and third-party logistics providers.
WHA currently owns stakes in a number of property funds and REITs. They act as funding vehicles for WHA via the sale of assets to the funds.
The company also has utilities and power business, which accounts for about 1/3 of revenue. The operations of the utility companies are carried out on the industrial estates where WHA's properties are located.
Leadership
Jareeporn Jarukornsakul is the co-founder of WHA took over as the company's chairman and CEO at the beginning of 2018, after Somyos Anantaprayoon, co-founder and the previous chairman and CEO, passed away. Jareeporn holds bachelor's degree from Mahidol University and MBA from Bangkok University.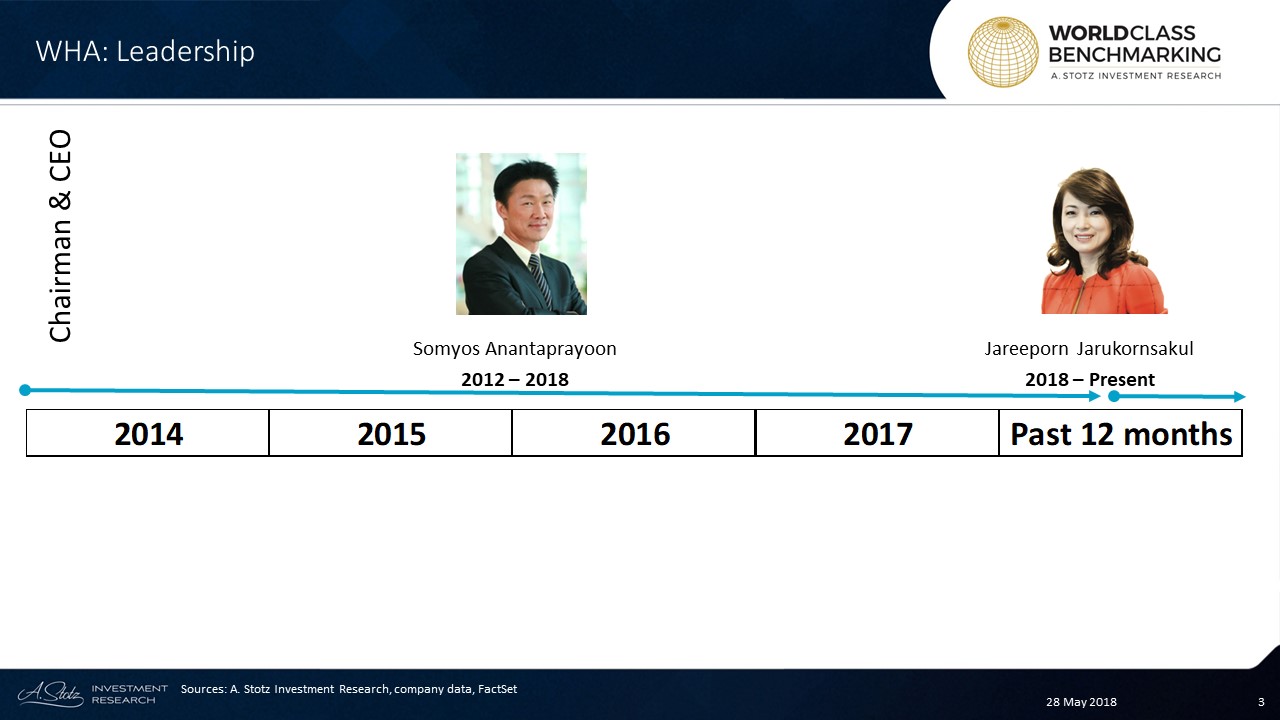 World Class Benchmarking
Profitable Growth improved to #4 from #7 in the past 12 months. WHA ranked among the top 132 of 330 medium-sized Real Estate companies worldwide.
Profitability has been in a declining trend, however, the rank improved to #4 in the most recent period. Growth also ranked #4 in the past 12 months, returning from the dip to #6 in 2017.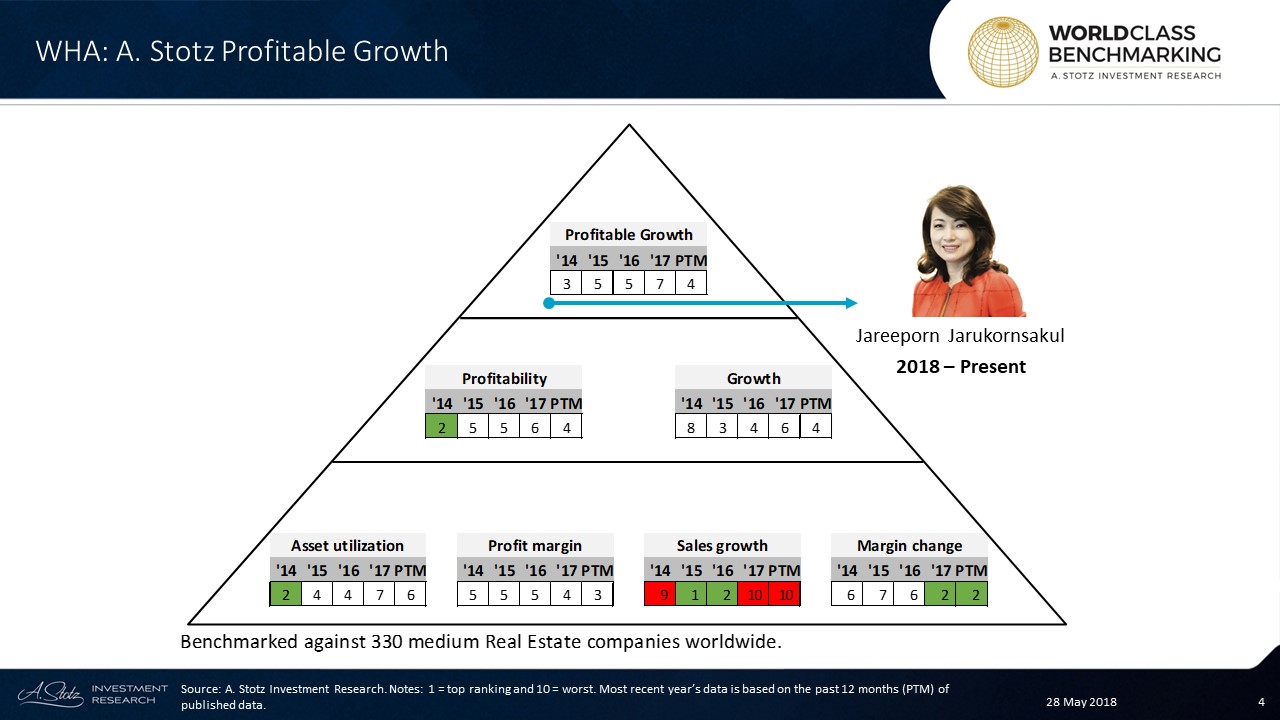 Asset utilization exhibits a falling trend but inched up one step in rank to #6 in the past 12 months. Profit margin has been improving, from #5 in 2016 to #3 in the most recent period.
Sales growth has been volatile and has ranked the worst since 2017. Margin change shows positive change and has ranked at #2 since 2017.
---
What're your thoughts on WHA?
If you like our research, share it with your friends.
---
DISCLAIMER: This content is for information purposes only. It is not intended to be investment advice. Readers should not consider statements made by the author(s) as formal recommendations and should consult their financial advisor before making any investment decisions. While the information provided is believed to be accurate, it may include errors or inaccuracies. The author(s) cannot be held liable for any actions taken as a result of reading this article.