Uncovered Health-Care Stock Has Wards of Room for Growth
Watch the video with Andrew Stotz or read a summary of the World Class Benchmarking on Thai Nakarin Hospital.
---
---
Background
Thai Nakarin Hospital Public Company Limited was established in 1993, and provides 24-hour medical services at its hospital in East Bangkok. It has about 360 doctors and 540 nurses with capacity for 190 inpatients and 2,000 outpatients per day.
The facilities incorporate 24 departments, including oncology and heart surgery.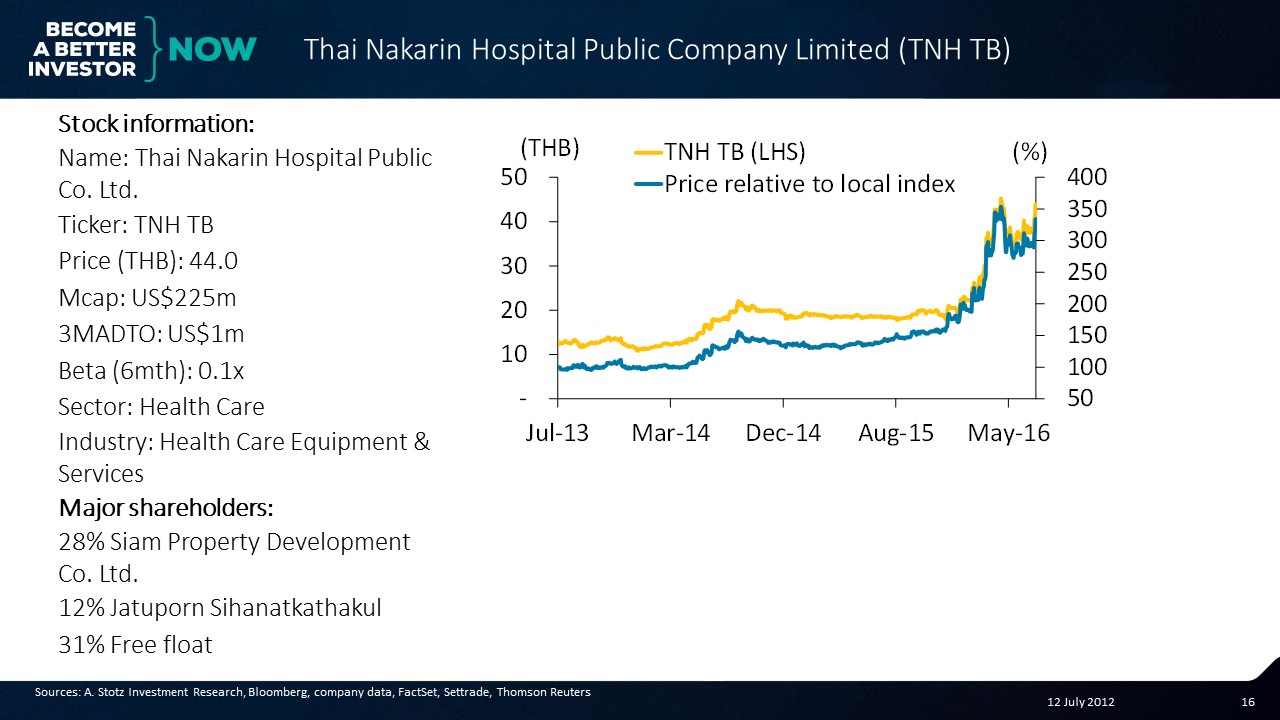 Business Description
At TNH's hospital based in East Bangkok, just under 60% of its revenue comes from outpatients (hospitalized for less than 24 hours), and the rest from inpatients (hospitalized for more than 24 hours). The facility has total capacity of 730,000 patients per annum, and just more than 500,000 were treated in 2014.
Bed occupancy was just greater than 50%, and total occupancy only 70% in 2015, so the company has ample room to expand its patient numbers. Its 24 departments range from oncology to dentistry and heart surgery, and cover most medical conditions.
It has an intensive care unit and delivery rooms as well as surgical units and patient wards, staffed by about 360 doctors and 540 nurses on site.
TNH also provides at its premises access to high-speed internet, 24-hour convenience stores, florists, hair salons, coffee shops, bakeries, maternity shops, and prayer rooms.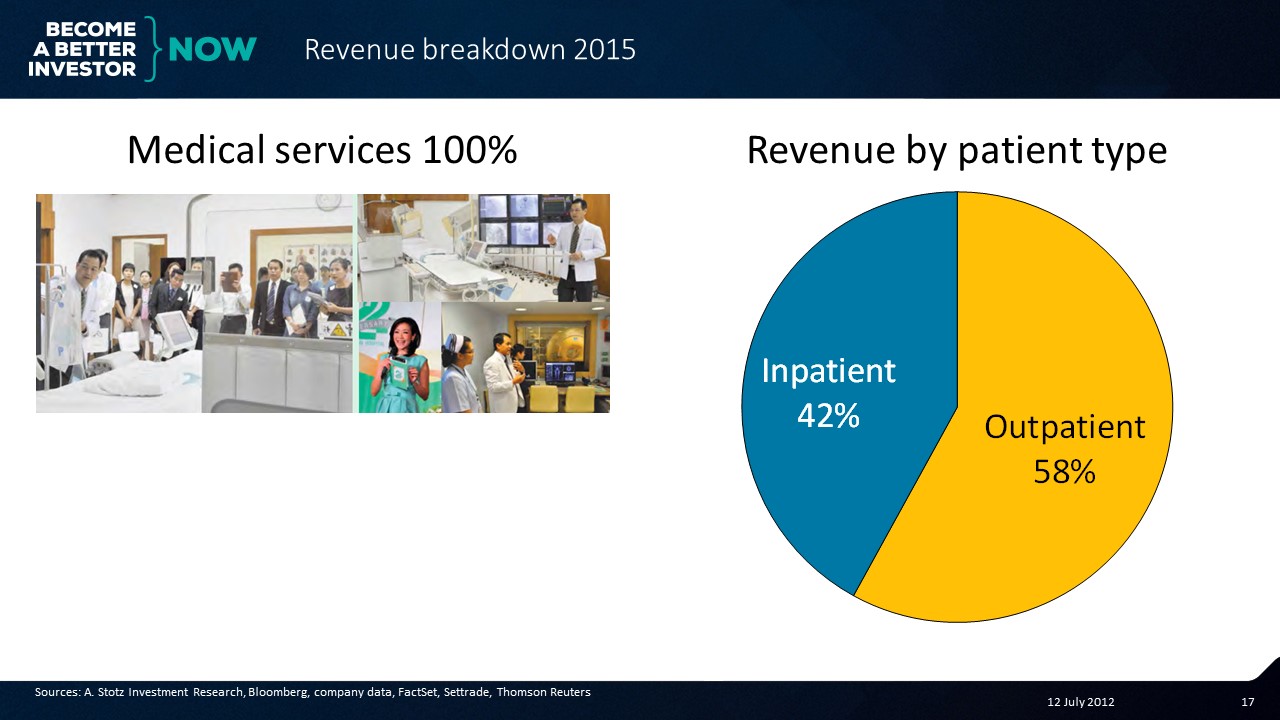 World Class Benchmarking
Profitable Growth improved to #1 from #2. This means TNH ranks better than 882 of 980 small Health Care companies globally.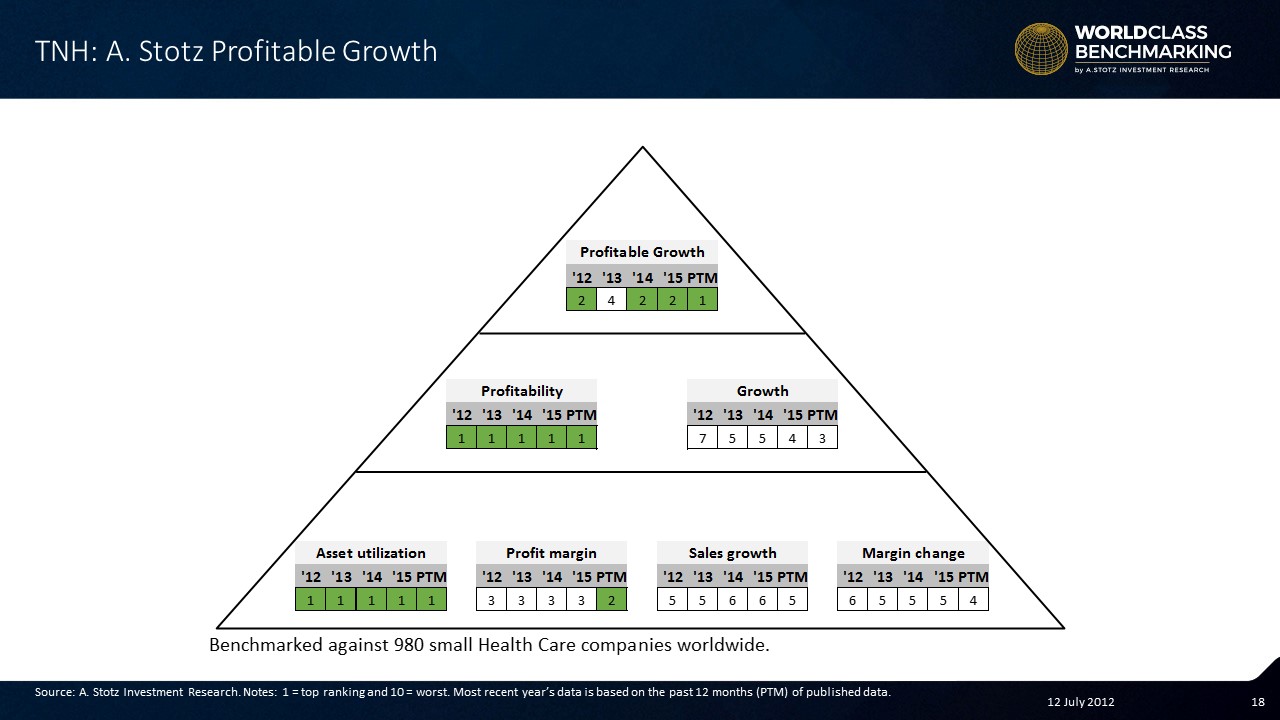 Profitability remained its #1 rank. TNH's ROA ranks among the best 98 of 980 small Health Care companies globally. Growth improved to #3 from #4 and has seen steady improvement since 2012.
Profit margin improved to #2 from #3. Sales growth improved to #5 from #6. Margin change also improved one step in rank to #4 from #5. Growth improvement was supported by both increased sales and better margin.
---
Do YOU want to see the Profitable Growth rank for a company in YOUR portfolio?
Leave a comment below and we'll post it if we have it.
---
DISCLAIMER: This content is for information purposes only. It is not intended to be investment advice. Readers should not consider statements made by the author(s) as formal recommendations and should consult their financial advisor before making any investment decisions. While the information provided is believed to be accurate, it may include errors or inaccuracies. The author(s) cannot be held liable for any actions taken as a result of reading this article.