Ignore 'Truthiness' from Market Pundits
Top 5 of the Week of February 4th
A Wealth of Common Sense's Ben Carlson kicks off our Top 5 this week with an update to his annual performance chart for 2018. Guest posting on Humble Dollar, Adam Grossman discusses the problem with listening to stock market pundits. And the writers at the Fat-Tailed and Happy blog take a closer look at dividend only investment plans.
Tyler, author of Portfolio Charts, considers the right portfolio choice for semi-retirement. And blogger Daniel Solin uncovers the virtues of not working hard…
---
The 2019 Performance Chart Update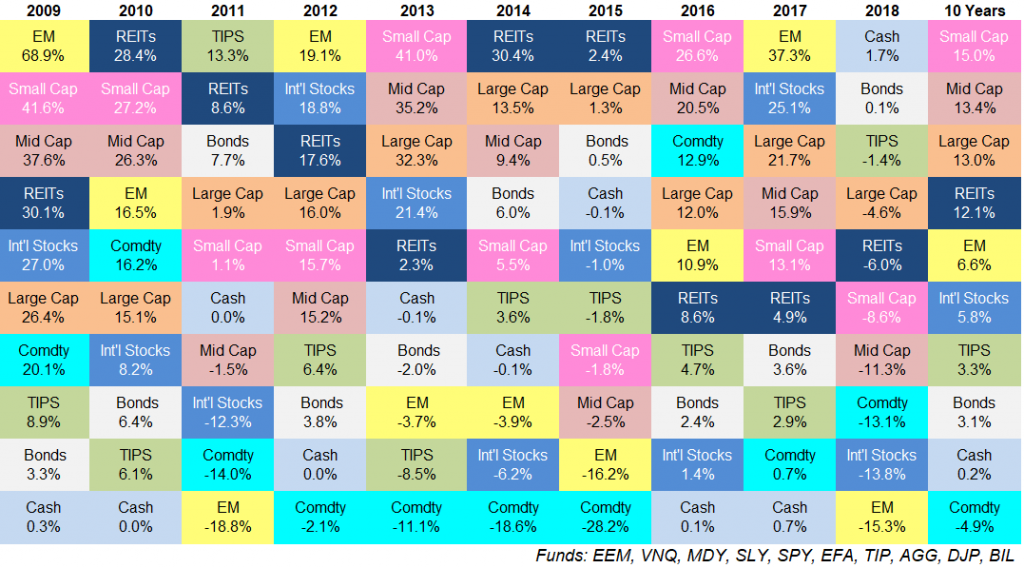 Last year saw the first outperformance by cash in the last ten years over any other asset class
If 2017 was a year of positives, then 2018 was the opposite—any asset classes that went up in 2017 were predominantly in negative territory last year by an average loss of 9.3%
Despite last year's overall asset class performance being sub-par, small caps, mid caps, large caps, and REITs have all double-digited on their returns in the last decade
---
Ignore 'Truthiness' from Market Pundits
It's an often asked question, do stock market pundits present ideas under the guise of truthiness, when in fact they offer no supporting evidence to back it up
The problem with data in the stock market is that much of it is inconclusive and it all depends on perspective as to what viewpoint such 'evidence' can support
Your best course of action is to ignore all pundits making claims that sound like facts—because in truth they're just sharing their opinions
---
Bonds All the Way
For some, dividend only investment plans are strange—an investment class that is intended to yield low risk-free cash flow is better known as a bond—surely?
Bonds and similar securities offer a safe manner for lending or borrowing money because their value will always recover when it reaches maturity
Which is why dividend investing is pretty bizarre, they carry major risk and the possibility of no recovery at all
Are you into dividend investing? Share your comments in the section below
---
It's All in the Strategy
A carefully strategized and well-thought out semi-retirement is a feasible option for many who approach the financial theory of such an endeavor with care
With intelligent investing and financial planning, it's possible to make your portfolio support this lifestyle choice
The important thing is to get the right balance in terms of asset allocation which covers stocks while balancing them with bonds, cash, and REITs to diversify
---
The Antithesis of Hard Work
When it comes to most ventures in life, investing is one of the few that works better without putting in hard work
Consultants and brokers charge huge fees in correlation with the 'hard work' they put in on behalf of their investors despite the poor performance results from active investing
This is because investors correlate the "conjunction fallacy" of hard work with success—even in investing—instead, ignore this voice in your head and relax for better investment success
---
Top 5 of the Week is a summarized collection of financial investment articles that we like and think you might like too. Having written thousands of pages of equity strategy and company research between us, we understand the allure of the ever-changing world of finance. Investing is an art form—and like everything, something you can work on and improve at. There are some excellent writers out there on the finance web, some offer a running commentary on today's market, some are doing research, some have tips on how to Become a Better Investor, and some just lift the cloud of fog behind a lot of financial jargon. Each week we will keep you up to date with the top 5 articles worthy of your attention.
---
Anything you would like to discuss about this week's top 5? Do you have another favorite that isn't mentioned here? Feel free to add it below. Let's start a discussion in the comments section!
Do you like Top 5 of the Week? Feel free to share it with your friends.
---
DISCLAIMER: This content is for information purposes only. It is not intended to be investment advice. Readers should not consider statements made by the author(s) as formal recommendations and should consult their financial advisor before making any investment decisions. While the information provided is believed to be accurate, it may include errors or inaccuracies. The author(s) cannot be held liable for any actions taken as a result of reading this article. The Become a Better Investor Team doesn't necessarily endorse any stocks or shares mentioned in the articles or the author of such articles linked to and summarized in Top 5 of the Week and cannot guarantee the accuracy of its information.