Tight Supply Is Benefiting This Taiwanese Wafer Producer
Background
GlobalWafers Company Limited produces silicon wafers – slices of semiconductor materials used in electronics and solar cells.
GWC is the largest company engaging in 3" to 12" silicon wafer production in Taiwan, exporting to Asia, Europe and North America.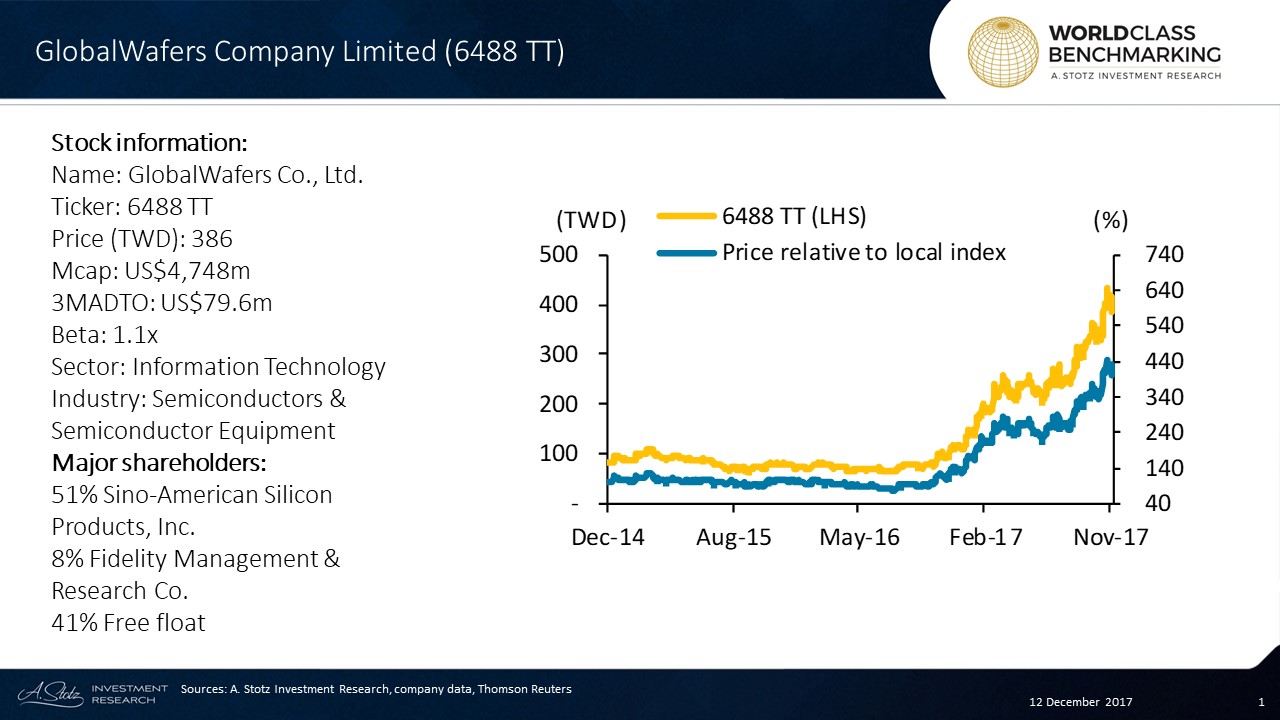 It operates the whole production line including ingot growth, slicing, polishing and rendering.
Business Description
GWC has 17 operation sites located in 10 countries. Wafers are slices of semiconductor material used to produce chips applied in automotive, power management, IT and other systems. GWC produces and sells through its fully owned subsidiaries.
Its 4-8" ultrathin and diffusion wafers are produced mainly by SST in China and used in automobile and aerospace. GWC and its subsidiary in  Japan complete the product range with 3", 4", 5", 6", 8" and 12" etched and epitaxial wafers used in power management and polished wafers used in IT and other systems. Larger diameter wafers means more semiconductors from a single wafer, increasing productivity and efficiency.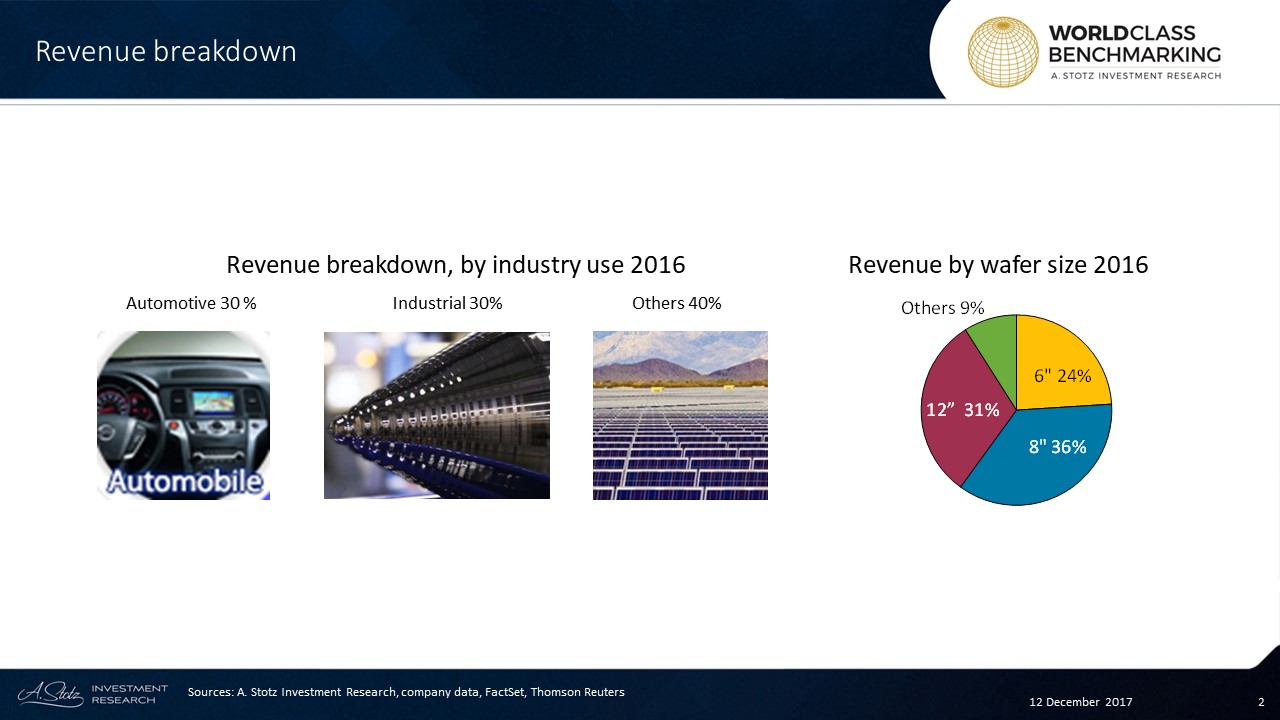 Subsidiary GlobiTech in the US does ingot growing, slicing, grinding and rendering; helping entrance into local 6" and 8" epitaxial wafer market. For European exposure GW acquired Danish Topsil in July 2016.
Recently acquired SunEdison, sun energy services provider and wafer manufacturer, added 8" and 12" wafer capacity and increased GWC's market share to 17% from about 7% which made it become the world's third-largest silicon wafer producer.
Leadership
Doris Hsu is the current Chairwoman and CEO of GWC. She also holds other board memberships in various companies such as Topsil Semiconductor Materials AS and Taisil Electronic Materials Corp. She obtained her Master's degree in Computer Science from the University of Illinois at Urbana-Champaign, US.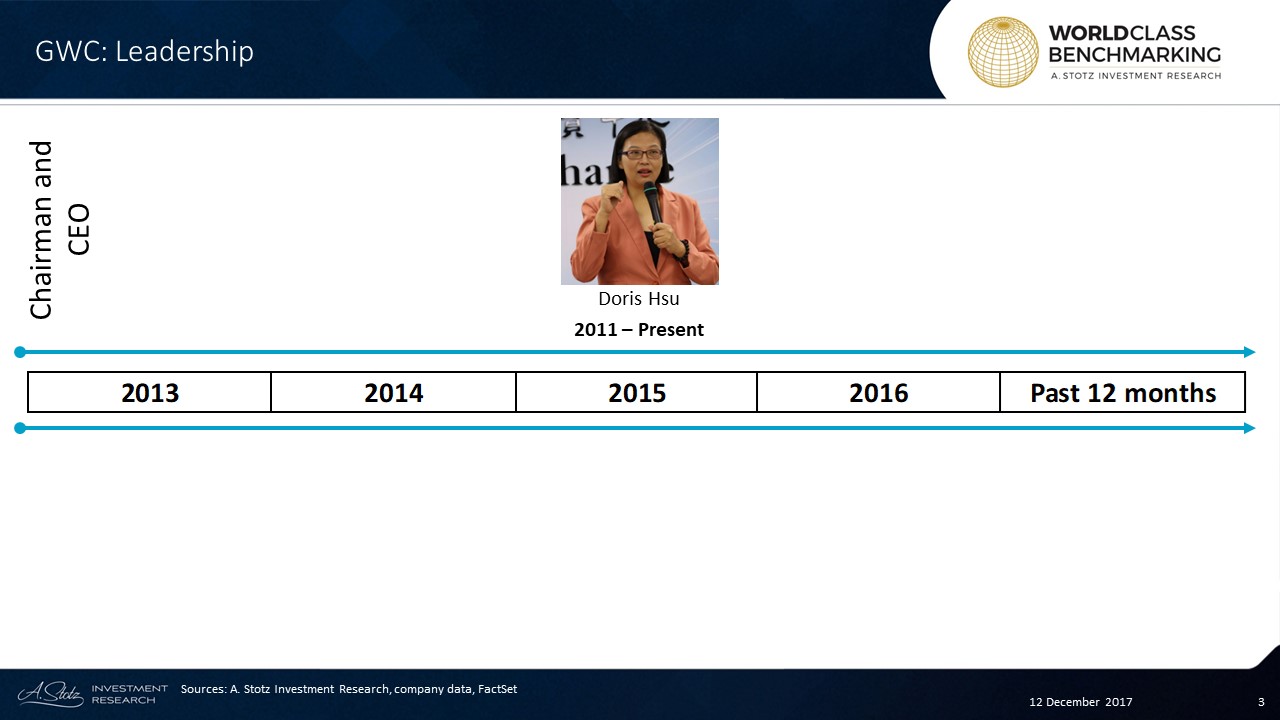 World Class Benchmarking
Profitable Growth has recovered to average rank among 680 large Info Tech companies in the world after the drop to #8 in 2016.
Profitability and Growth have exhibited similar results to Profitable Growth.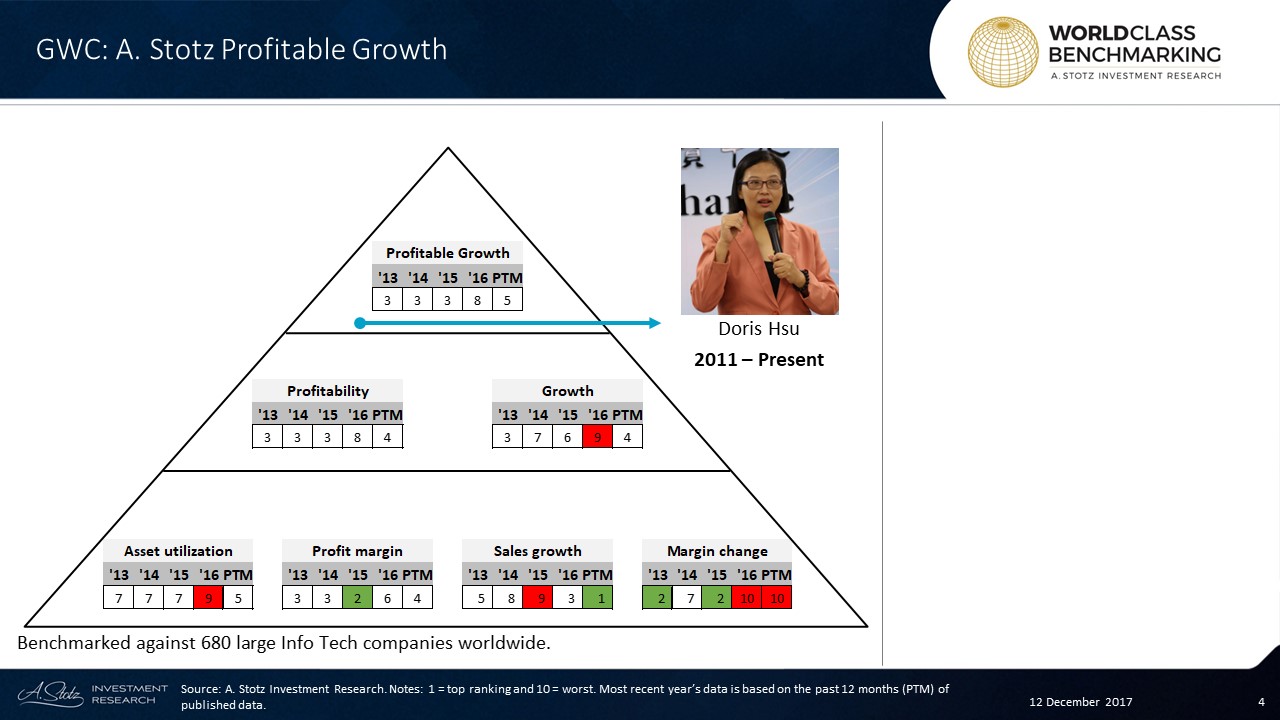 Asset utilization improved to #5 in the past 12 months and it was the best rank for GWC during the whole time period. Profit margin returned to above average, at #4.
Sales growth has been great, improving to #3 in 2016 from #9 in 2015, and reached the top rank in the past 12 months. However, Margin change has been poor since 2016 and that has dragged on the overall Growth rank.
---
What're your thoughts on GWC?
If you like our research, share it with your friends.
---
DISCLAIMER: This content is for information purposes only. It is not intended to be investment advice. Readers should not consider statements made by the author(s) as formal recommendations and should consult their financial advisor before making any investment decisions. While the information provided is believed to be accurate, it may include errors or inaccuracies. The author(s) cannot be held liable for any actions taken as a result of reading this article.