Monopoly Mass Transportation and Ads in Bangkok
Background
BTS Group Holdings Public Company Limited has the government concession to operate Bangkok's mass train and bus transit systems.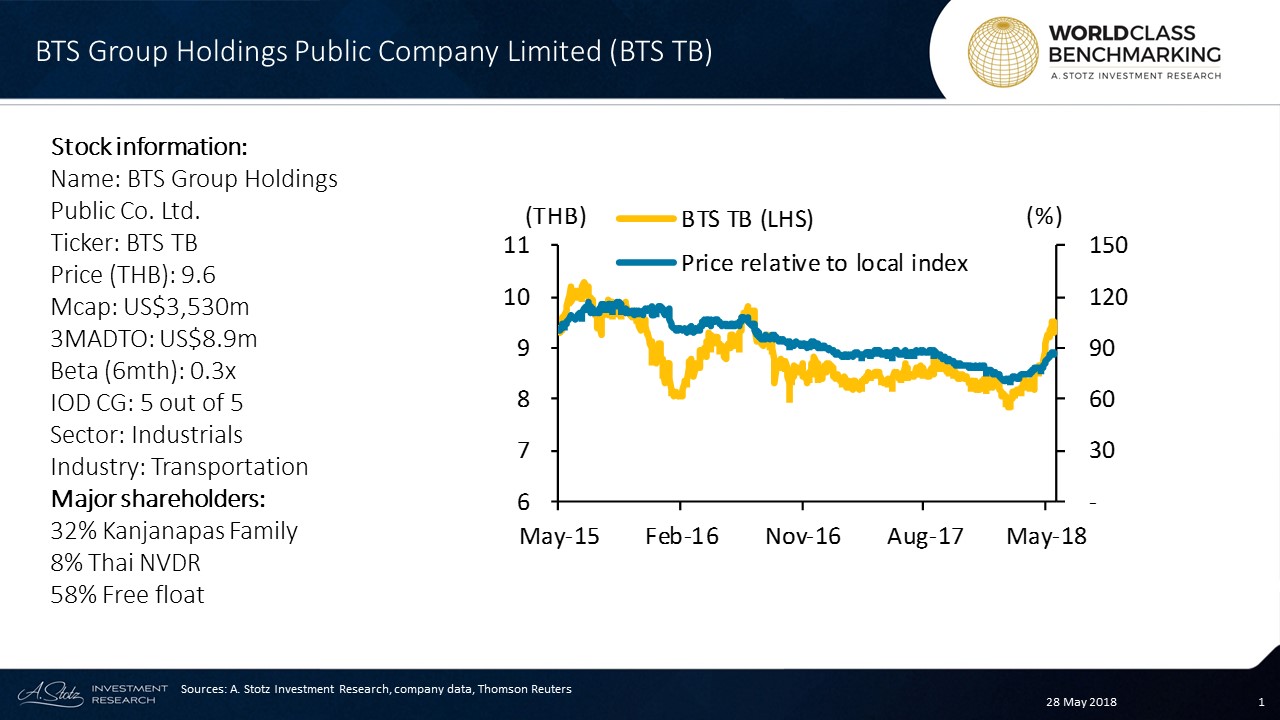 It is also involved in property development along its transit routes and advertising, as well as services including a mobile platform business which should shortly have the highest number of users in Thailand.
Business Description
BTS main business is mass transit in Bangkok, accounting for just under half of its revenue. A little over 1/3 of total sales is in media, while the rest is property development and services.
The mass transit Skytrain operations include the core Green Line, which is being extended this year, and the blue line. The company has won contracts for the Pink, Yellow, and Dark Green line extensions, taking the total track to 132km.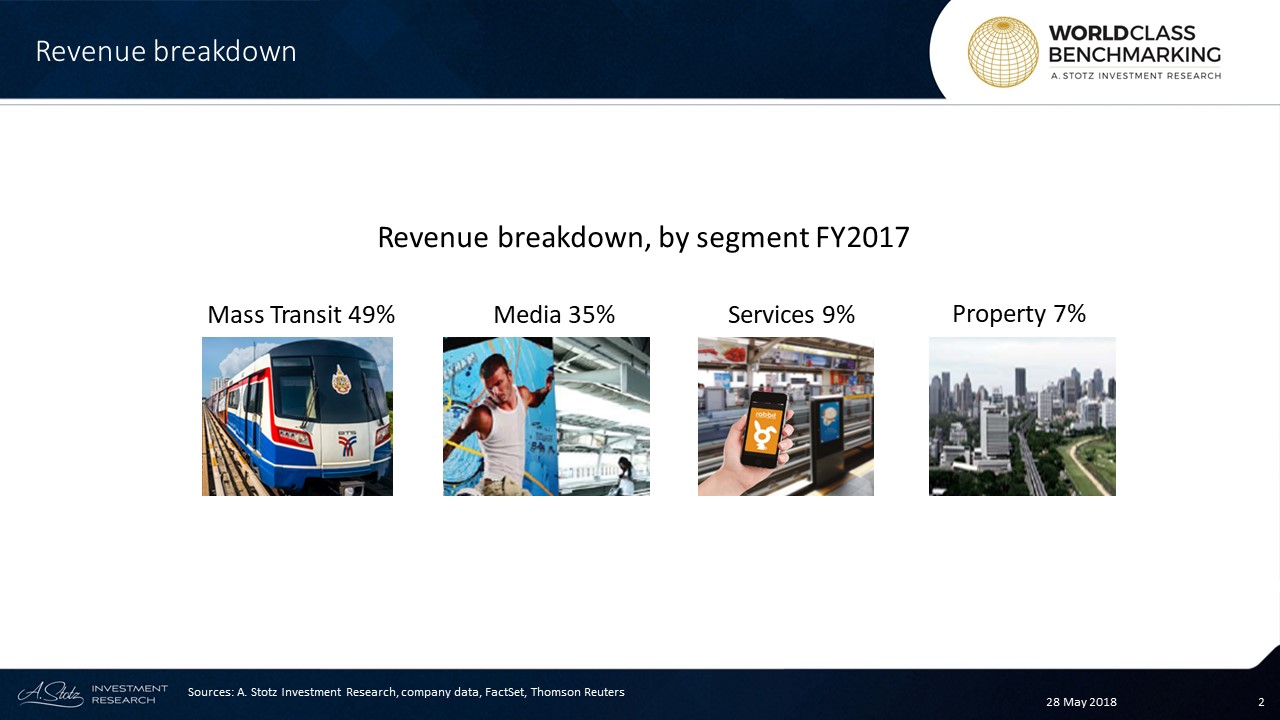 BTS' media and property businesses, focused alongside transit routes, includes a group subsidiary, VGI Global Media PCL (VGI TB), the largest out of home media business in Thailand, and Master Ad PCL (MACO TB). Its advertising sites range from office billboards to train stations.
In its services division, mPay, a subsidiary of Thailand's biggest mobile operator by revenue AIS (ADVANC TB), has bought a stake in a JV between a BTS subsidiary and LINE Biz Plus, Rabbit Line Pay (RLP), another domestic mobile payment platform. Once the two platforms are fully combined, it should be the biggest in Thailand by user number.
Leadership
Keeree Kanjanapas is the founder and chairman of BTS Group Holdings. He also serves as the chairman of the BTS subsidiary VGI Global Media (VGI TB) and and U City (U TB). The Kanjanapas family is the largest shareholder in BTS at 32%.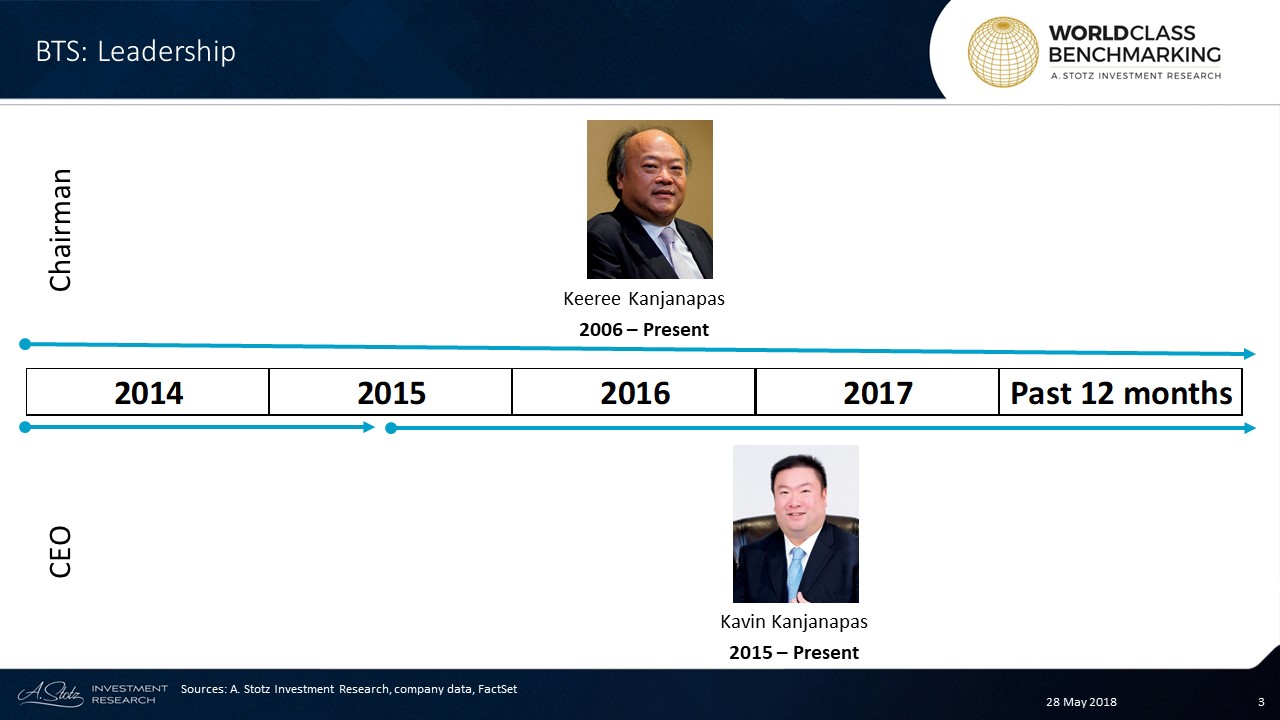 Kavin Kanjanapas, the eldest son of Keeree Kanjanapas, has been the CEO of BTS Group Holdings since 2015. Like his father, he is also on the board of VGI Global Media (VGI TB) and U City (U TB). Kavin has an educational background from Stonyhurst College, UK.
World Class Benchmarking
Profitable Growth has fallen from a #1 rank in 2014 to #7 among 438 of 1,460 medium-sized Industrials companies worldwide in the past 12 months.
Profitability shares similar trend as Profitable Growth, while Growth has fluctuated from high to low ranks over the past five years.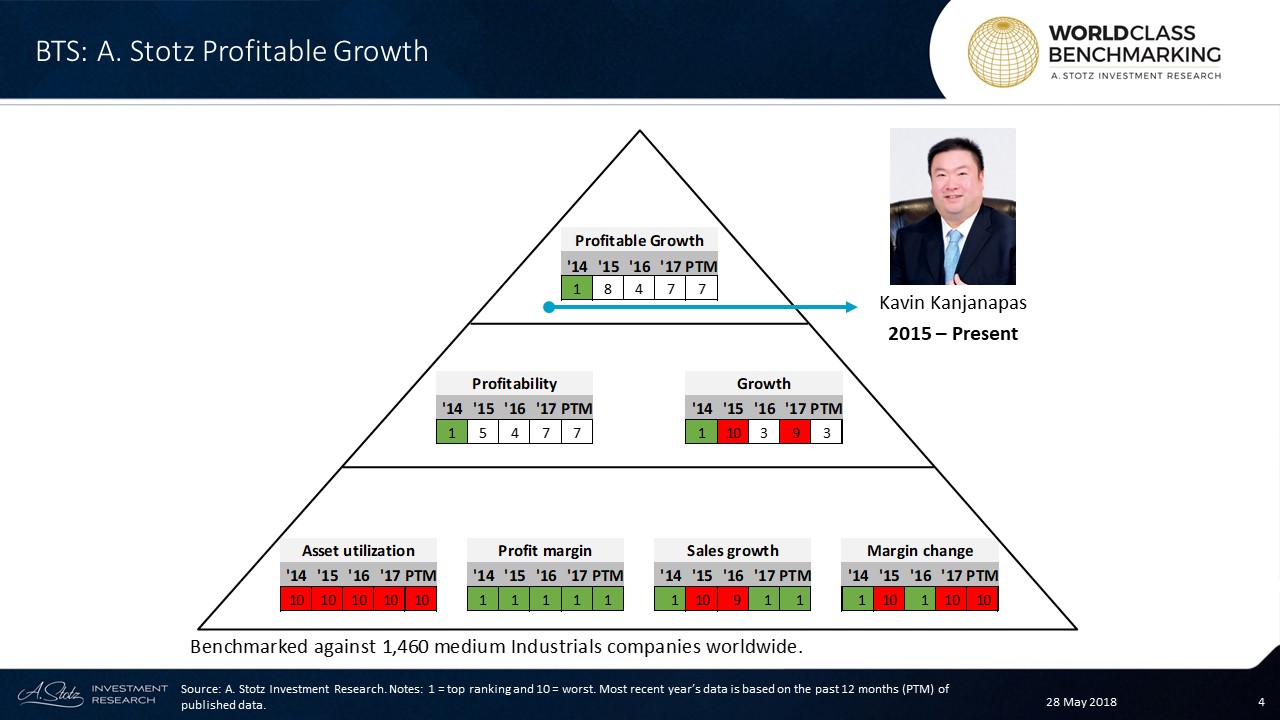 Asset utilization has stayed at its bottom-rank since 2014, however, Profit margin has ranked the best for the whole time period.
Sales growth returned to its top rank in 2017 after poor ranks in 2015-2016. Margin change has dropped in rank and ranked the worst since 2017.
---
What're your thoughts on BTS?
If you like our research, share it with your friends.
---
DISCLAIMER: This content is for information purposes only. It is not intended to be investment advice. Readers should not consider statements made by the author(s) as formal recommendations and should consult their financial advisor before making any investment decisions. While the information provided is believed to be accurate, it may include errors or inaccuracies. The author(s) cannot be held liable for any actions taken as a result of reading this article.