The World's Second Largest Zinc Producer Has Excellent Profitability
Watch the video with Andrew Stotz or read a summary of the World Class Benchmarking on Korea Zinc Company Limited.
---
---
Background
Korea Zinc Company Limited, a non-ferrous metals company, is the world's second largest producer of zinc. Its principal activities are also refining lead, silver, gold, and copper, and making use of byproducts such as cadmium, bismuth and sulfuric acid.
It exports around 98% of silver, 85% of lead and 65% of zinc volumes.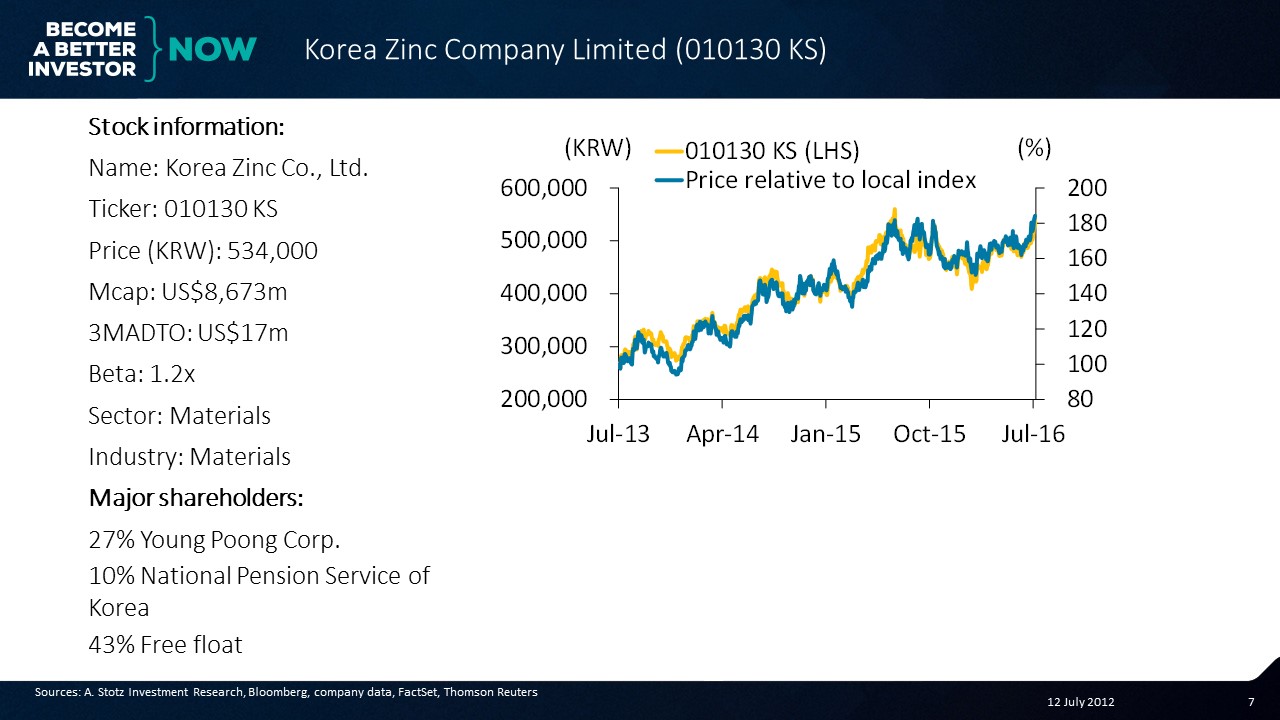 Business Description
Korea Zinc is a non-ferrous smelter that also produces lead, gold, silver, copper, indium, gallium and sulfur. Non-ferrous metals/alloys do not contain iron in high amounts and are more costly than ferrous metals because of their desirable properties, such as low weight, greater conductivity, lack of magnetism and resistance to corrosion.
The company purchases zinc and lead ores as concentrates from mines, then smelts them. It also recovers precious metals, such as gold, and silver, by reprocessing the byproducts of zinc/lead smelting. Korea Zinc features the highest recovery ratio among the world's smelters.
As of year end 2015, its 650K tonnes of zinc products a year included slab ingots, alloy jumbo blocks, anode ingots and die-casting ingots.
Besides its domestic operations, it has a distribution network to China, Japan, Taiwan, Laos, Thailand, Singapore, Australia, UK, South Africa and America. However, the majority of its overseas revenue is from Australia.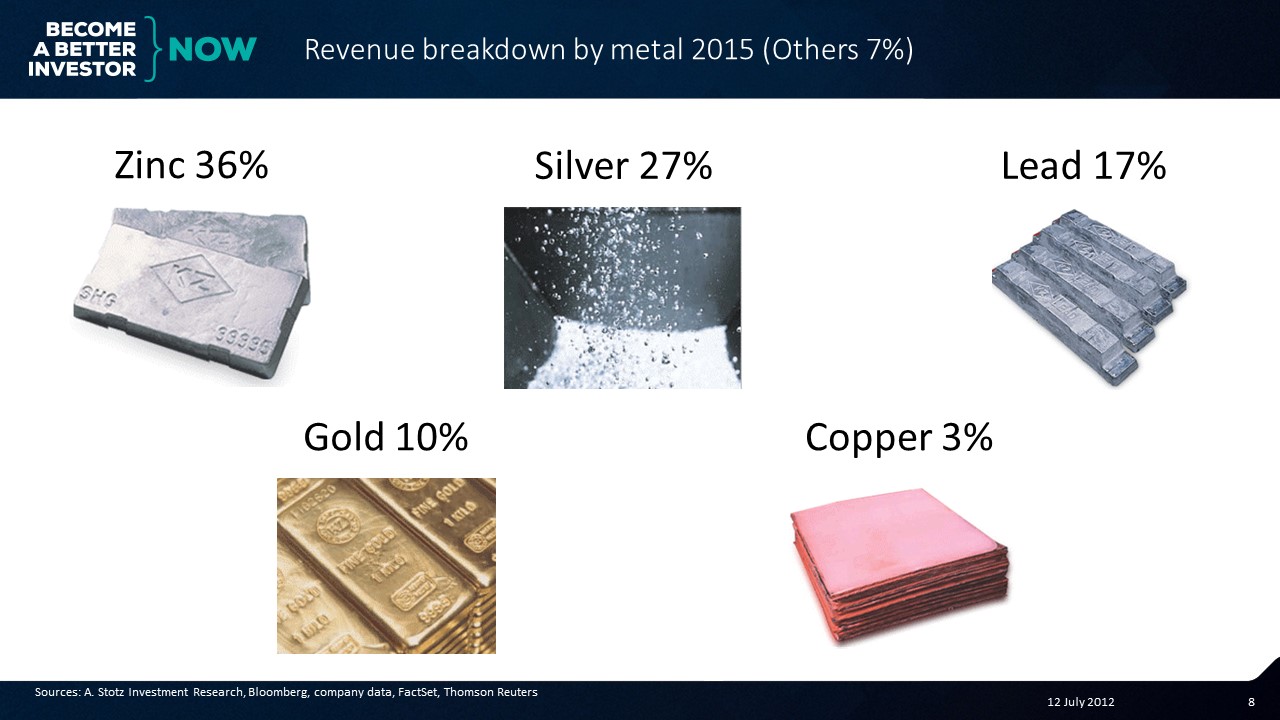 World Class Benchmarking
Profitable Growth improved to #1 from #2. This means Korea Zinc ranks better than 666 of 740 large Materials companies globally.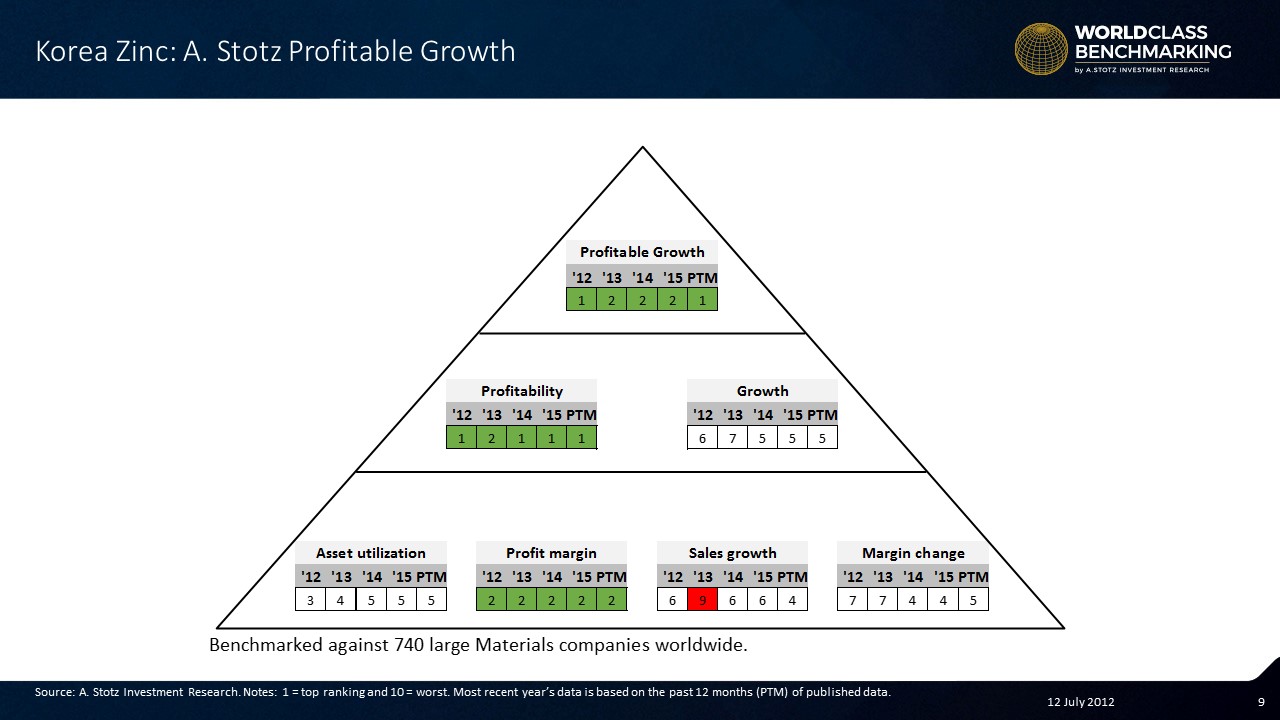 Profitability stayed #1 and remained the primary driver of its Profitable Growth rank. Growth maintained its #5 rank. Sales growth improved to #4 from #6, and offset the drop in Margin change rank to #5 from #4.
---
Do YOU want to see the Profitable Growth rank for a company in YOUR portfolio?
Leave a comment below and we'll post it if we have it.
---
DISCLAIMER: This content is for information purposes only. It is not intended to be investment advice. Readers should not consider statements made by the author(s) as formal recommendations and should consult their financial advisor before making any investment decisions. While the information provided is believed to be accurate, it may include errors or inaccuracies. The author(s) cannot be held liable for any actions taken as a result of reading this article.