The Bangkok Podcast 71: Investing in Thailand — Risk & Reward with Andrew Stotz
Andrew was interviewed by Greg for the 71st episode of The Bangkok Podcast: Investing in Thailand — Risk & Reward with Andrew Stotz.
---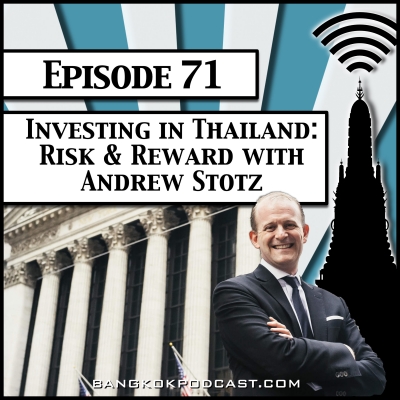 We've a special guest on this week that anyone into in finance in Bangkok probably knows, Mr. Andrew Stotz, Ph.D. He's an award-winning equity analyst, the former President of the CFA Society Thailand, and the founder and CEO of A. Stotz Investment Research. Prior to that he spent 20 years working global investment banks in Asia, and has been a university lecturer in finance for more than two decades. Voted the #1 investor in Thailand by his peers several times over, he's also a co-founder of CoffeeWORKS Co. Ltd., Thailand's specialty coffee roaster. He and Greg chat about investing in Thailand at the lay-person level, since many of us aren't the most well-versed in financial options.
---
DISCLAIMER: This content is for information purposes only. It is not intended to be investment advice. Readers should not consider statements made by the author(s) as formal recommendations and should consult their financial advisor before making any investment decisions. While the information provided is believed to be accurate, it may include errors or inaccuracies. The author(s) cannot be held liable for any actions taken as a result of reading this article.