Thais Choose Calm over Confrontation, for Now
On March 24th, 2019 Thailand held its first general election since the 2014 coup d'état that installed General Prayut Chan-o-cha as the country's leader. It was the first election under the 2017 constitution (with an appointed Senate) which was drafted under the military junta rule.

This election revealed five core themes: First pro-military party, first anti-military party, Thaksin's influence remains strong, Democrats are dead, and stand for something or lose.
The Thai election introduced the first pro-military party–Palang Pracharath.
And the first anti-military party–Future Forward.
Allies to Thaksin Shinawatra were split into two parties, had the smaller party not been banned it is likely that, like every election since 2001, Thaksin-affiliated parties would have won control of the House.
The Democrat party was the biggest loser of the various coups since 2006, with its worst showing ever. Voters shoved the party to the back benches of Thailand's democracy.
Voters demonstrated that they want their leaders to stand for something. It was the first time that one major party was clearly standing for the military and one against it. The Democrat party got decimated because voters did not perceive a firm stance.
For now, Thais chose calm over confrontation, but a significant portion said the opposite by casting their votes on the Future Forward party. For now, the coup-appointed government policies should continue, but a storm is coming in the next election.
---
---
First pro-military party: Palang Pracharath leaders come from the military government
The Palang Pracharat party won 117 or 24% of the seats in the House of Representatives. A watershed for Thailand because it is the first time that a large political party has been seen as an official pro-military party. Consider that Palang Pracharat party leaders come mainly from the junta-appointed General Prayut's former cabinet ministers.
After years of indirect influence and involvement in Thai politics, the military will now be seen as represented through the policies of the Palang Pracharat party. Expect their most vigorous opponents in parliament to brand them as such.
First anti-military party: Future Forward wants to break Thailand's cycle of military coups
Since 2006, Thailand elections have been overshadowed by military coups. It took 13 years for an anti-military party to form, but it has arrived. The Future Forward party, led by Thanathorn Juangroongruangkit, won 86 or 17% of the seats in the House. This result sends a strong message that a portion of the Thai population are so fed up that they prefer confrontation over calm. Expect the Future Forward party to replace the Democrat party as the authentic opposition.
Thaksin's influence remains strong: If not for a party ban, would have won
In this election, the strategy of Thaksin Shinawatra's allies appeared to be the dangerous one of divide forces. This was done by having Thai Raksa Chart party running in 101 districts that had no Pheu Thai party presence. The objective appeared to be to accumulate constituency votes through Puea Thai and party-list votes through Thai Raksa Chart. This strategy failed as the Constitutional Court dissolved the Thai Raksa Chart party on March 7th, 2019 for nominating Princess Ubol Ratana Rajakanya Sirivadhana Barnavadi as its prime minister candidate.
We estimate that if Thai Raksa Chart had run that it would have garnered about 75 or 15% of seats through this strategy. If this had happened, Thaksin-affiliated parties would have won 39% of the seats in the House, not the 27% it did.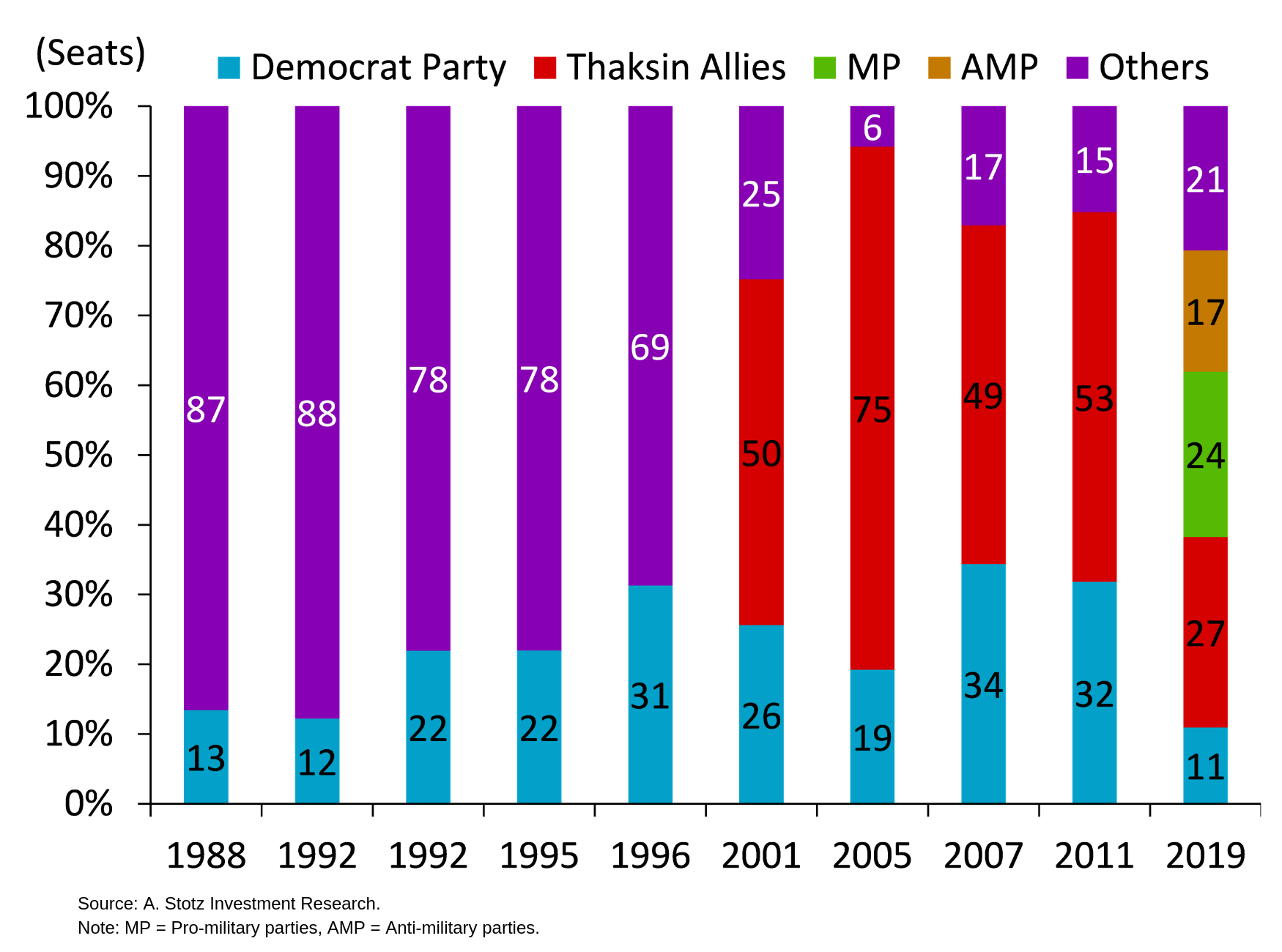 Democrats are dead: Worst showing ever, leader resigns
The Democrat party was at its peak with 26% of seats in 2001. Though the party got above 30% in 2007 and 2011, their popularity at that time was aided by military coups. In this election, Democrats only won 54 or 11% of seats. When these poor results were evident on the evening of the election night, party leader Abhisit Vejjajiva once again chose to step down.
Stand for something or lose: Those who made it clear gained in this election
The Democrat loss was partially due to it not being clear whether Abhisit was "for" or "against" the military. Before this election, the party had a chance to reshape itself strongly around democratic principles. Instead, it failed to communicate a clear stance to voters. At the time, the party lacked the will to replace their leader, Abhisit. If they had done that, it is possible that Thanathorn would not have had to start the Future Forward party.
A clear option if the pressure becomes irreconcilable
The Bhumjaithai party has made a strong showing with 51 or 10% of the seats in the House, up from 7% in the 2011 election. Their attraction has expanded beyond a few northeastern provinces thanks to the party's proposal of making cannabis a legal cash crop. Their leader, Anutin Charnvirakul, is acceptable to most parties, making him a potential Prime Minister candidate if the two large parties find themselves in a deadlock.
It's all about the next election
For now, Thais chose calm over confrontation, but a storm is coming. It's all about the next election as Thailand inches towards democracy. It has been 13 years since the 2006 coup, and Future Forward's 17% of seats show that Thais are comfortable voicing opposition to military rule. Thai people appreciate leaders who stand for something.
Expect Thaksin to regroup his followers and have a strong showing in the next election, and the same for Thanathorn. Meanwhile, expect Thailand's military-general-led government to find governing through the principles of democracy a challenge.
Note: Results are as of 494 out of 500 seats reported.
---
DISCLAIMER: This content is for information purposes only. It is not intended to be investment advice. Readers should not consider statements made by the author(s) as formal recommendations and should consult their financial advisor before making any investment decisions. While the information provided is believed to be accurate, it may include errors or inaccuracies. The author(s) cannot be held liable for any actions taken as a result of reading this article.