Thai Property Developer with World Class Financial Perfomance
Watch the video with Andrew Stotz or read a summary of the World Class Benchmarking on Pruksa Real Estate Public Company Limited.
---
---
Background
Pruksa Real Estate Public Company Limited (PS) operates as a real estate developer in Thailand focusing on the low- to mid-end residential market.
Projects include townhouses, single-detached houses, and condominiums. The company has seven precast units in Bangkok.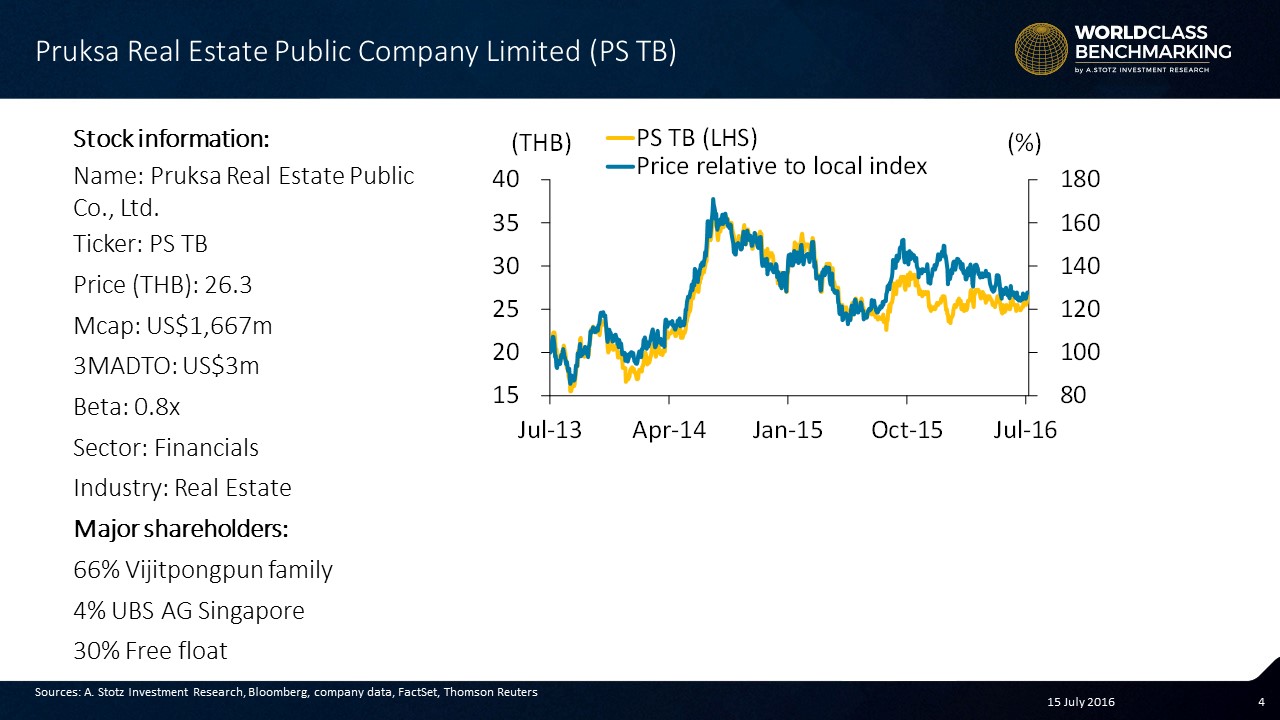 Business Description
The company develops three types of residential housing projects namely, single detached house (SDH), town/duplex houses (TH) and condominiums (condos) with a focus on Bangkok and environs. The company manages its own construction by dividing work into parts and hiring contractors to perform specific tasks.
Its precast factories produce house walls, fences, slabs and special elements for walls and façades. Currently, it has seven precast factories and a total capacity to produce 1,120 housing units/month.
PS holds the largest market share in the TH segment at 30%.  As of 2015, the company had 173 active projects covering all its house types.
The company plans to restructure its business and expand into other recurring income businesses, which could include hospitals or hotels.
A holding company is planned that makes a tender offer on all PS shares at a swap ratio of 1:1 and then list the holding company on the SET. The company plans to complete this in the end of 2016.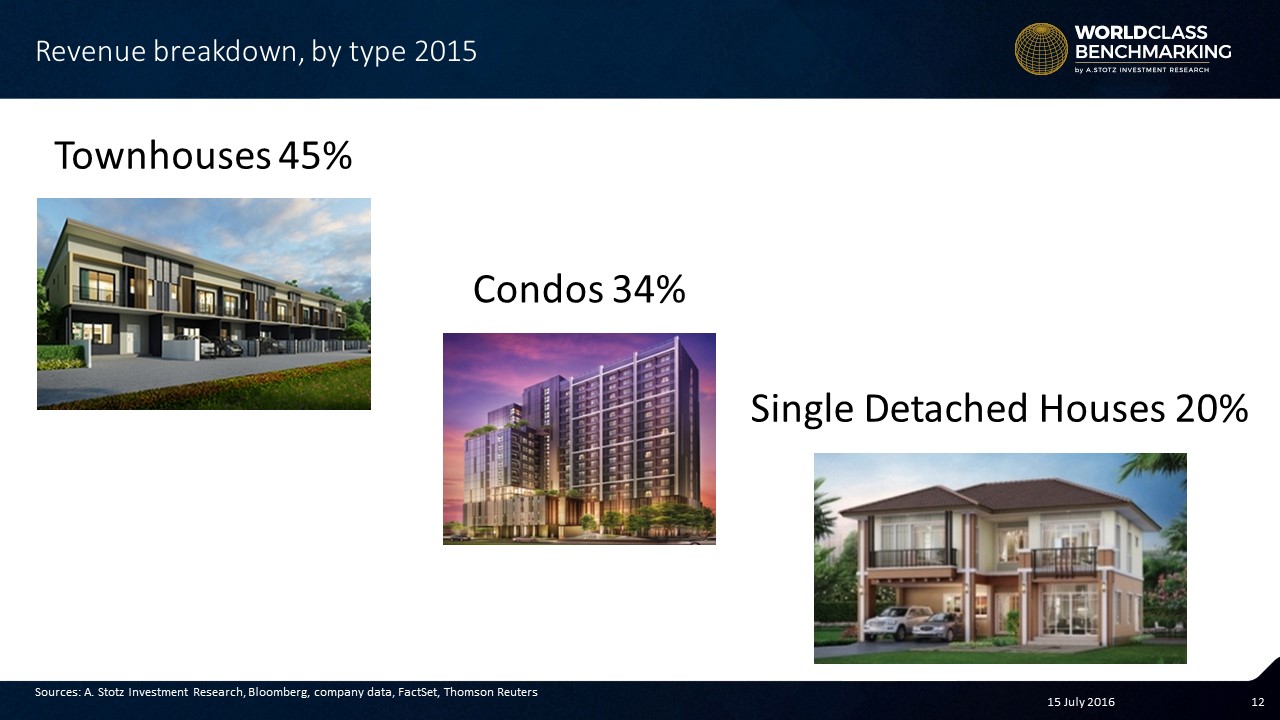 Leadership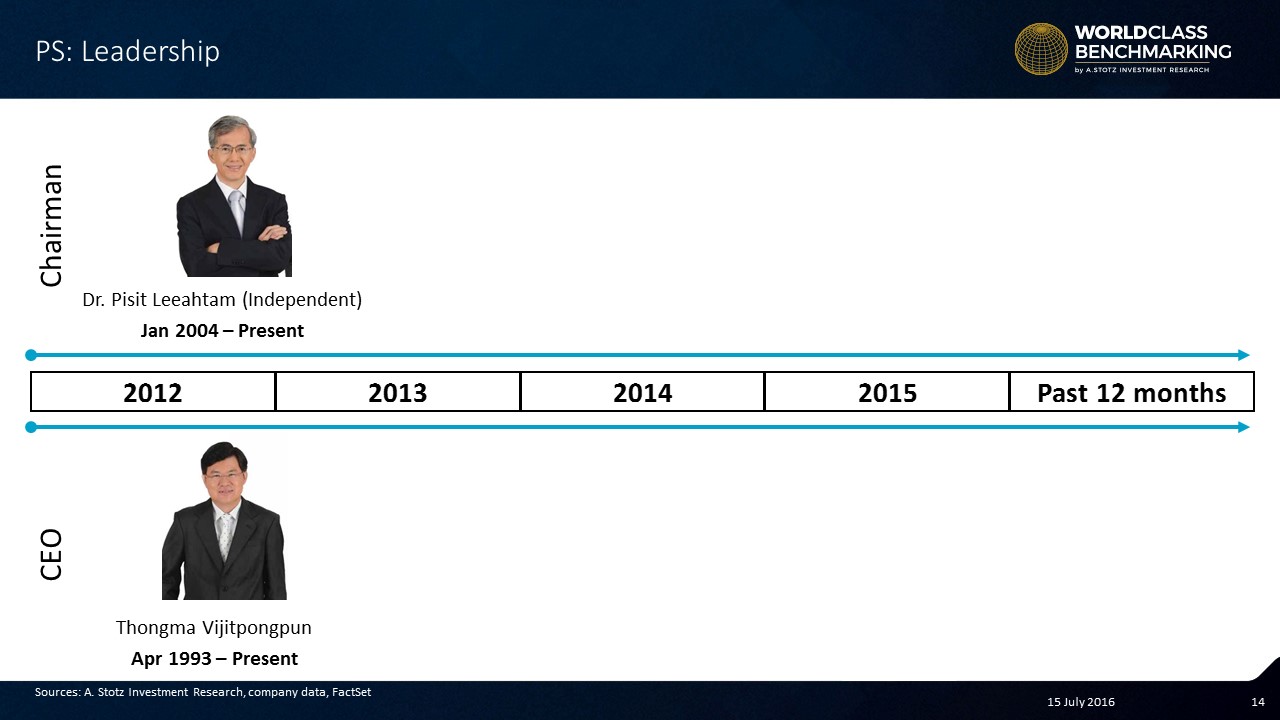 The Chairman of the Board is Dr. Pisit Leeahtam who is an independent director and has held this position since January 2004. Dr. Pisit has been the Chairman of Pruksa Real Estate since before the company was listed on the Stock Exchange of Thailand, which it was on December 6, 2005.
Thongma Vijitpongpun founded the company in 1993 and has been its CEO since then. When you look at the Profitable Growth rank in the chart below you'll see that he has been running Pruksa Real Estate with great success for the past five years.
World Class Benchmarking
Profitable Growth has maintained its #1 rank since 2012. This means PS ranks better than 162 of 180 large Real Estate companies globally.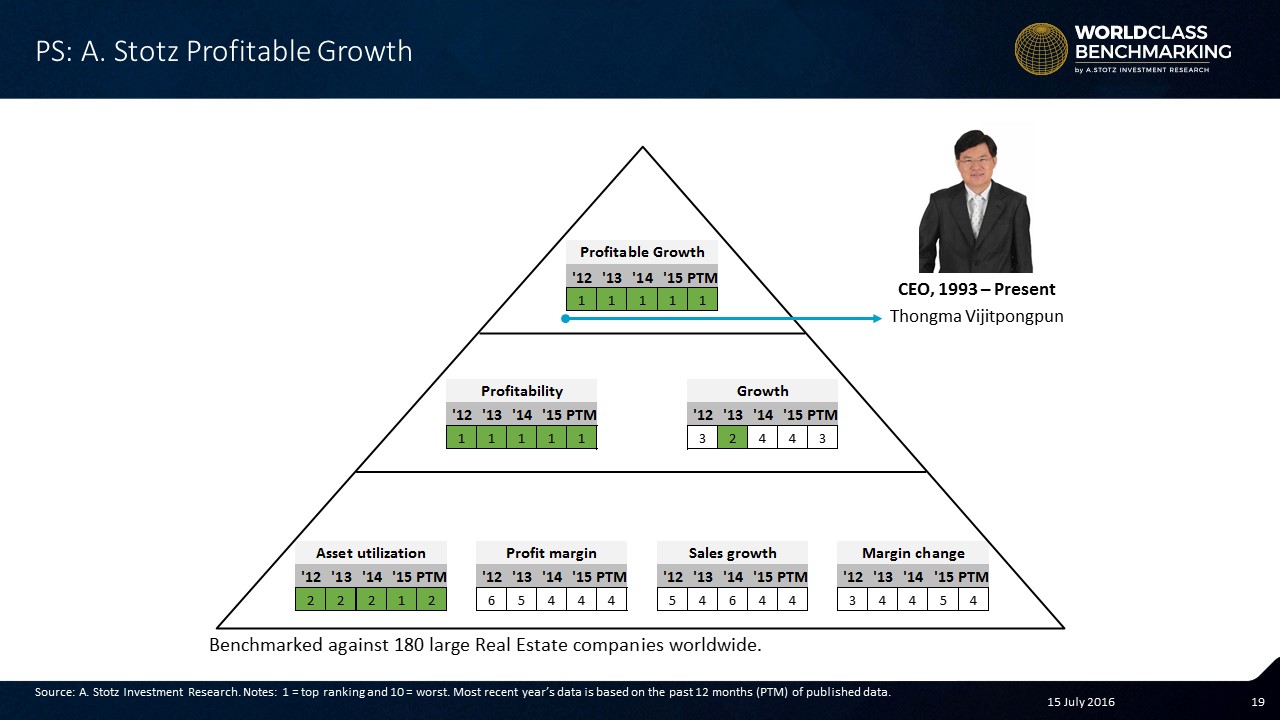 Profitability maintained its #1 rank. This means PS ranks among the best 18 large Real Estate companies globally on ROA. Growth improved to #3 from #4.
Asset utilization fell to #2 from #1, but it didn't impact the Profitability rank. Margin change improved to #4 from #5 and drove up the Growth rank one step.
---
Do YOU want to see the Profitable Growth rank for a company in YOUR portfolio?
Leave a comment below and we'll post it if we have it.
---
DISCLAIMER: This content is for information purposes only. It is not intended to be investment advice. Readers should not consider statements made by the author(s) as formal recommendations and should consult their financial advisor before making any investment decisions. While the information provided is believed to be accurate, it may include errors or inaccuracies. The author(s) cannot be held liable for any actions taken as a result of reading this article.