Thai Auto OEM Teamed up with a German
Background
Founded in 1962, Somboon Advance Technology Public Company Limited acts as the Original Equipment Manufacturer (OEM) for the automotive sector, including passenger cars, pickups, trucks and agricultural machinery.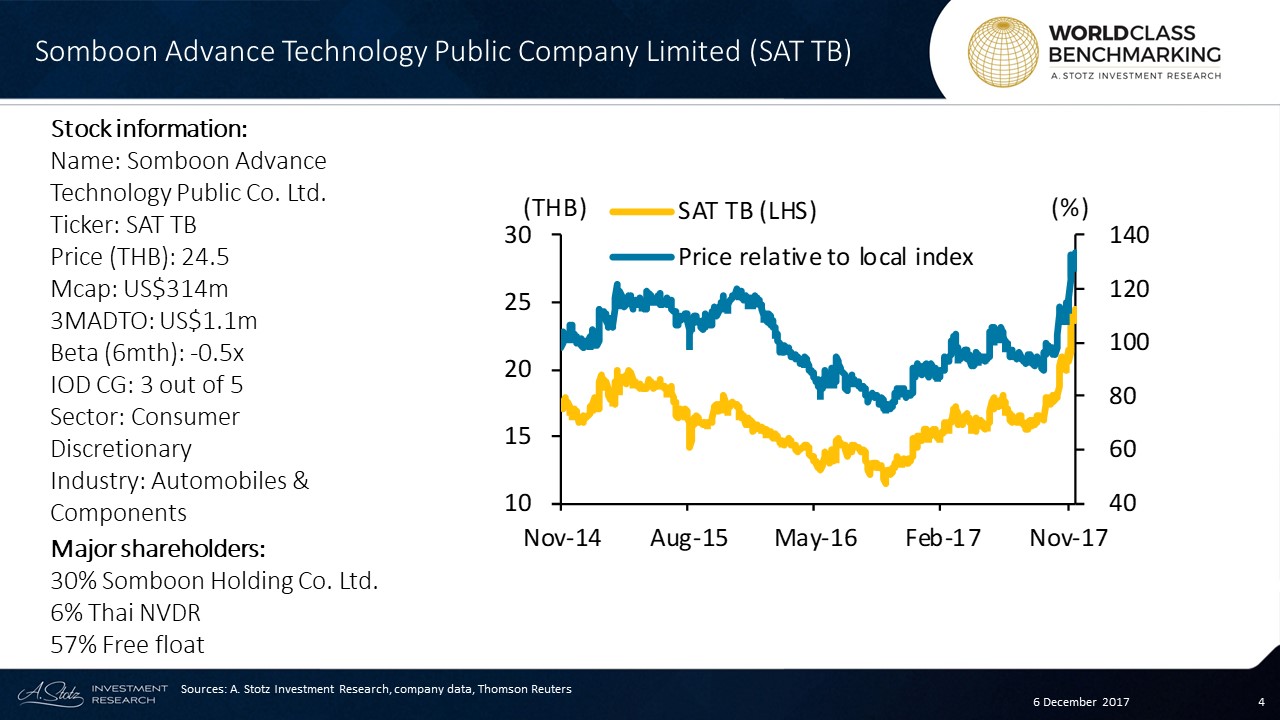 Its products range from axle shafts, disc brakes and coil springs to parts for farm equipment and machines.
Business Description
SAT is an Original Equipment Manufacturer (OEM) producing different types of parts used in passenger cars, pickups, trucks and agricultural machinery such as tractors. SAT operates through four subsidiaries.
Subsidiaries International Casting Products Company Limited and Somboon Malleable Iron Industrial Co., Ltd. both manufacture disc brakes, drum brakes and parts for agricultural machinery.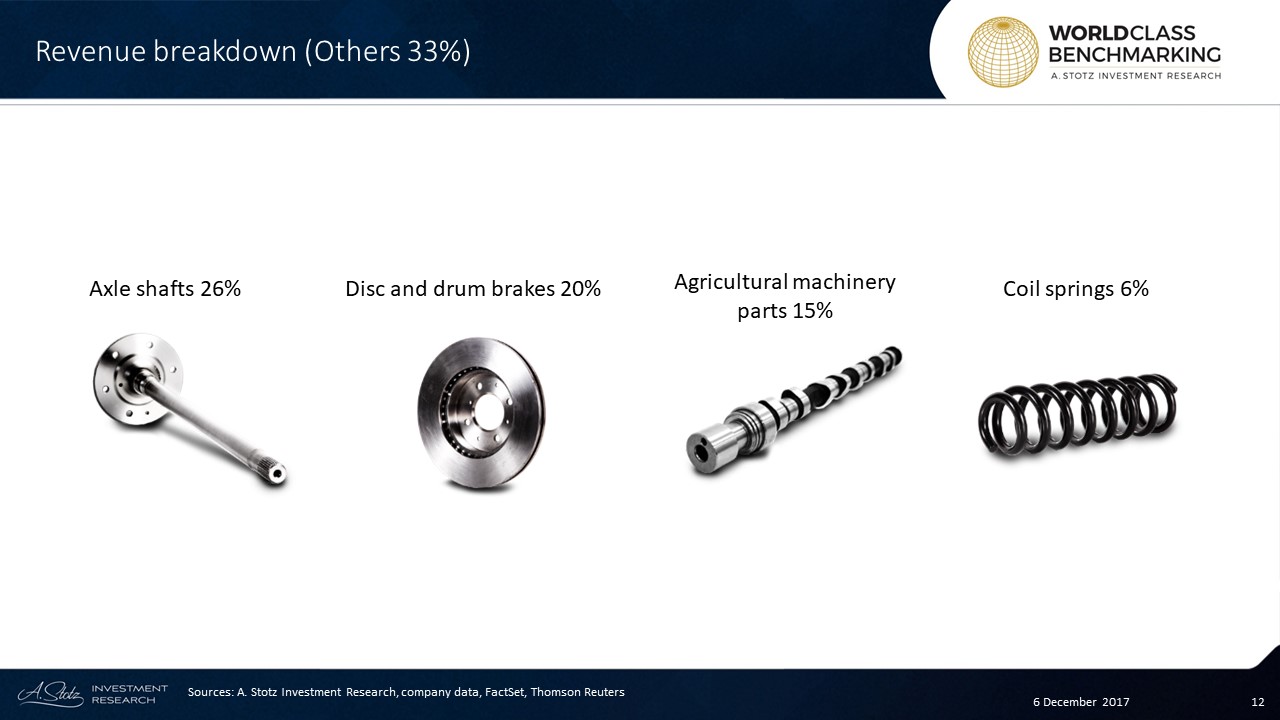 Bangkok Spring Industrial Co., Ltd. (BSK) produces mainly leaf spring, coil spring and stabilizer bars. BSK's assets should be sold to the JV with Mubea and Mubea should contribute with know-how in light-weight car pars production. The fourth subsidiary, Somboon Forging Technology Co., Ltd., creates car parts from hot and cold forging processes.
SAT's customers include big automotive and heavy equipment manufacturers, such as Mitsubishi, Toyota and Kubota. The company serves mostly companies that have established their production facilities in Thailand. Strong domestic sales are supported by the well-developed automotive cluster, export sales accounted for 4% of total 2016 revenue.
Leadership
Sansern Wongcha-um has been the Chairman and an independent Director of SAT since 2008. He is also the Chairman of Bualaung Securities. He received his Bachelor of Economics from Thammasat University and Master of Business Administration from University of Bridgeport, US.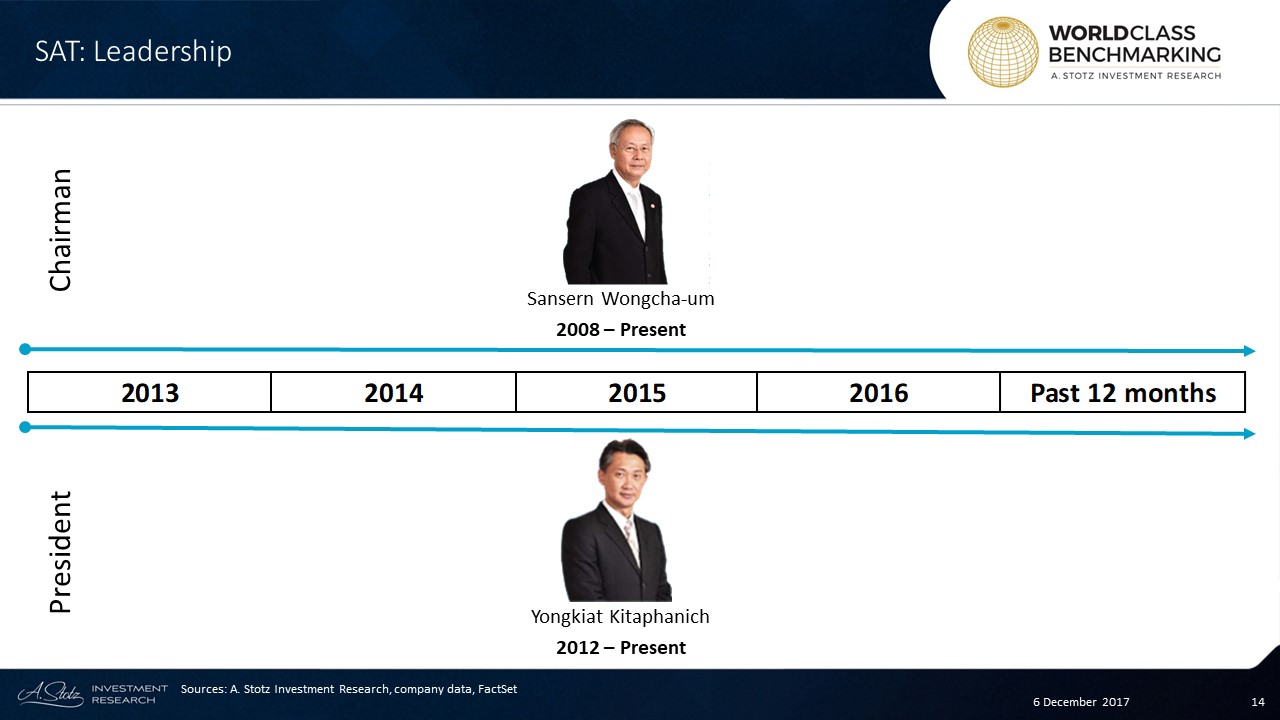 Yongkiat Kitaphanich is the current president and has served in this position since 2012. He has a Bachelors degree in Mechanical Engineering and Masters degree in Industrial Engineering from King Mongkut's Institute of Technology and Waseda University respectively. He also holds an MBA from the National Institute of Development Administration.
World Class Benchmarking
Profitable Growth has returned to #4 after being ranked #6 or #7 in 2014-2016.
SAT ranked among the top 564 of 1,410 medium Consumer Discretionary companies globally.
Profitability has been relatively stable and improved to #3 in the past 12 months. Growth has improved over the years to a #5 in the past 12 months from #8 in 2014.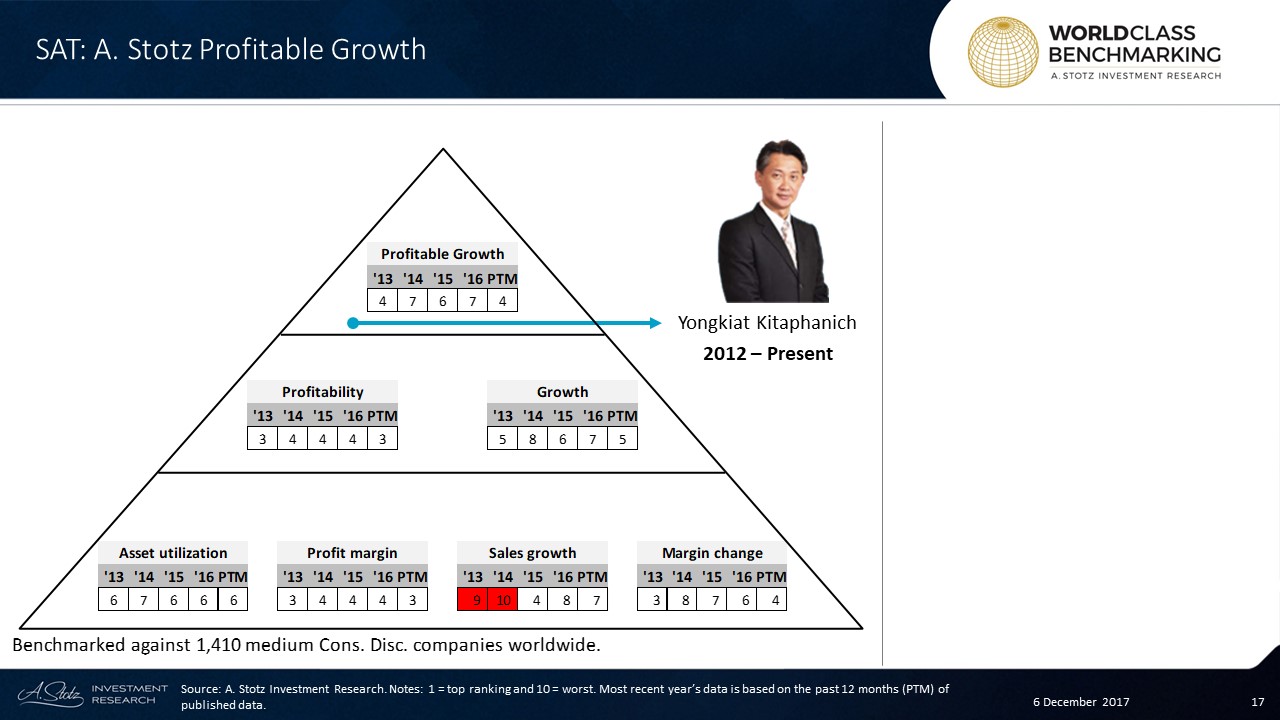 Asset utilization has remained below average for the whole time period, while Profit margin improved to the top 30% in the past 12 months. It's the Profit margind that drives Profitability at SAT.
Sales growth improved one step in rank in the past 12 months but remained poor. Margin change improved to above average.
---
What're your thoughts on SAT?
If you like our research, share it with your friends.
---
DISCLAIMER: This content is for information purposes only. It is not intended to be investment advice. Readers should not consider statements made by the author(s) as formal recommendations and should consult their financial advisor before making any investment decisions. While the information provided is believed to be accurate, it may include errors or inaccuracies. The author(s) cannot be held liable for any actions taken as a result of reading this article.