Targeting Indonesian Infrastructure with Waskita Karya
Watch the video with Andrew Stotz or read a summary of the World Class Benchmarking on PT Waskita Karya (Persero) Tbk.
---
---
Background
PT Waskita Karya (Persero) Tbk (WSKT) is Indonesia's largest toll road construction company by revenue and is 66% state-owned.
As a general contractor it both builds and operates toll roads. It is also the second largest manufacturer by volume of precast concrete, which is mainly used in domestic toll road construction.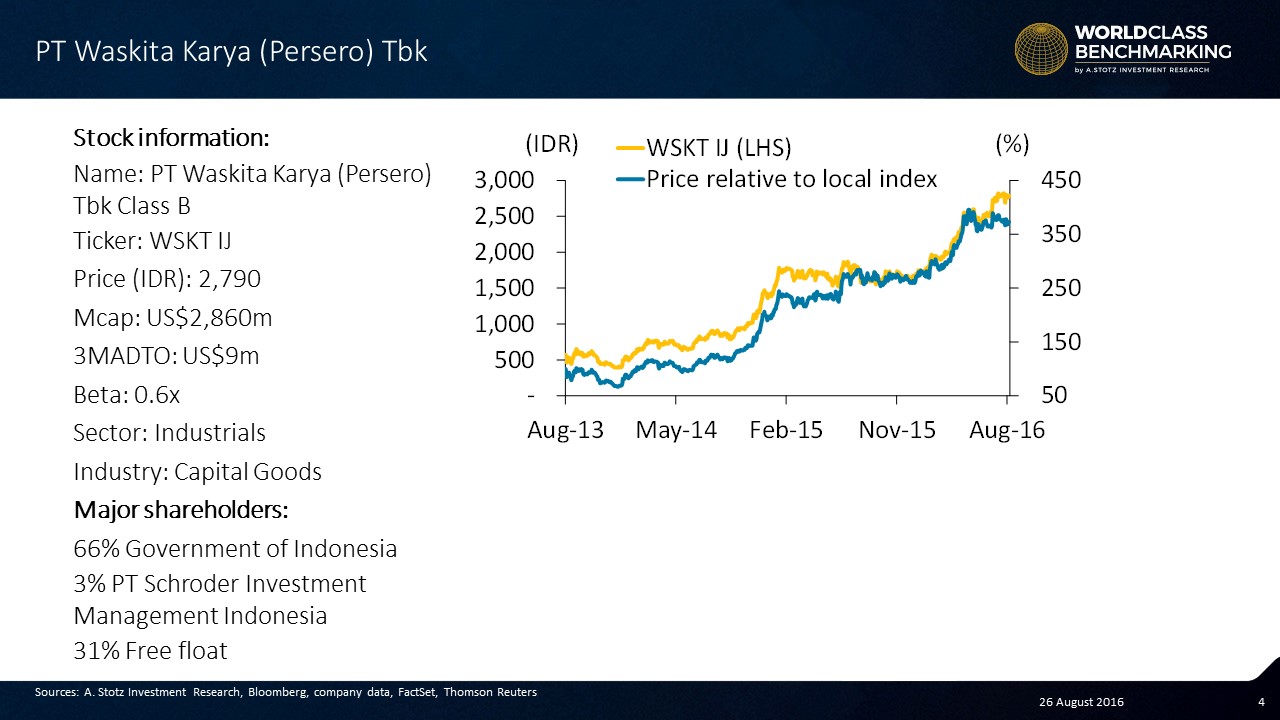 Business Description
Public spending in Indonesia is currently focused on infrastructure with further plans for more toll roads to be built through at least 2018. The government plans to merge its state-owned companies sometime in the future. This means that WSKT will likely become a subsidiary of a larger group, giving it greater power in negotiations to ensure continued success in winning large construction contracts.
Precast concrete accounts for around 15% of total revenue, while the rest largely stems from general construction for both the public and private sector, as well as  leasing and toll income. WSKT is aggressively expanding its precast manufacturing business, which is now producing 1.8m tons annually. It's planning an IPO for the fourth quarter of 2016 in order to raise funds.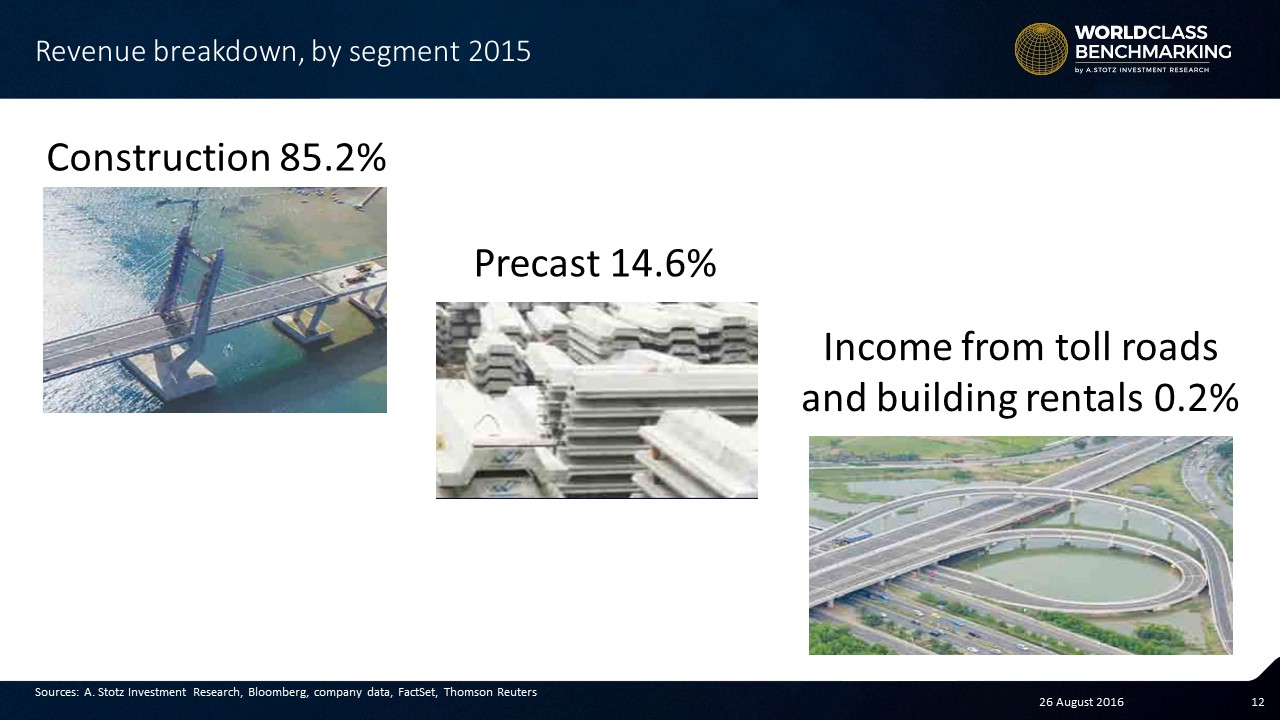 Apart from building toll roads, WSKT generates income from operating them alongside building rentals, which in the first quarter of 2016 accounted for about one percent of revenue.
Leadership
Mohamad Hasan holds the position of President Commissioner of the WSKT, a position like that of chairman of the board of directors. He previously served in a number of positions in the Indonesian Ministry of Public Works.
He served as the Director General of Water Resources at the Ministry of Public Works (2012-2014) and Head of Research and Development Agency of the Ministry of Public Works (2011- 2012).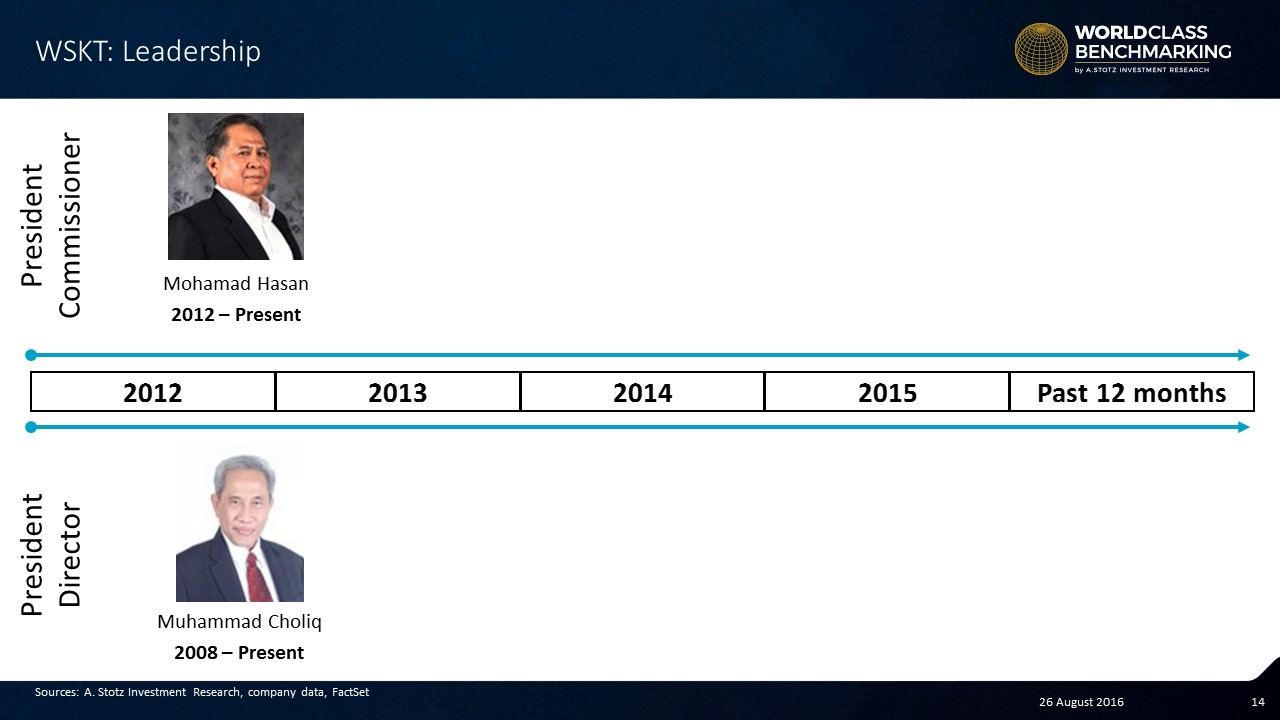 Muhammad Choliq has been the President Director, equivalent to CEO, of WSKT since 2008, a period when the company's Profitable Growth metric improved steadily.
World Class Benchmarking
WSKT has maintained a Profitable Growth rank of #4 since 2014, still a marked improvement from the 2012-2013 period. This means it ranks better than 858 of 1,430 large Industrials globally.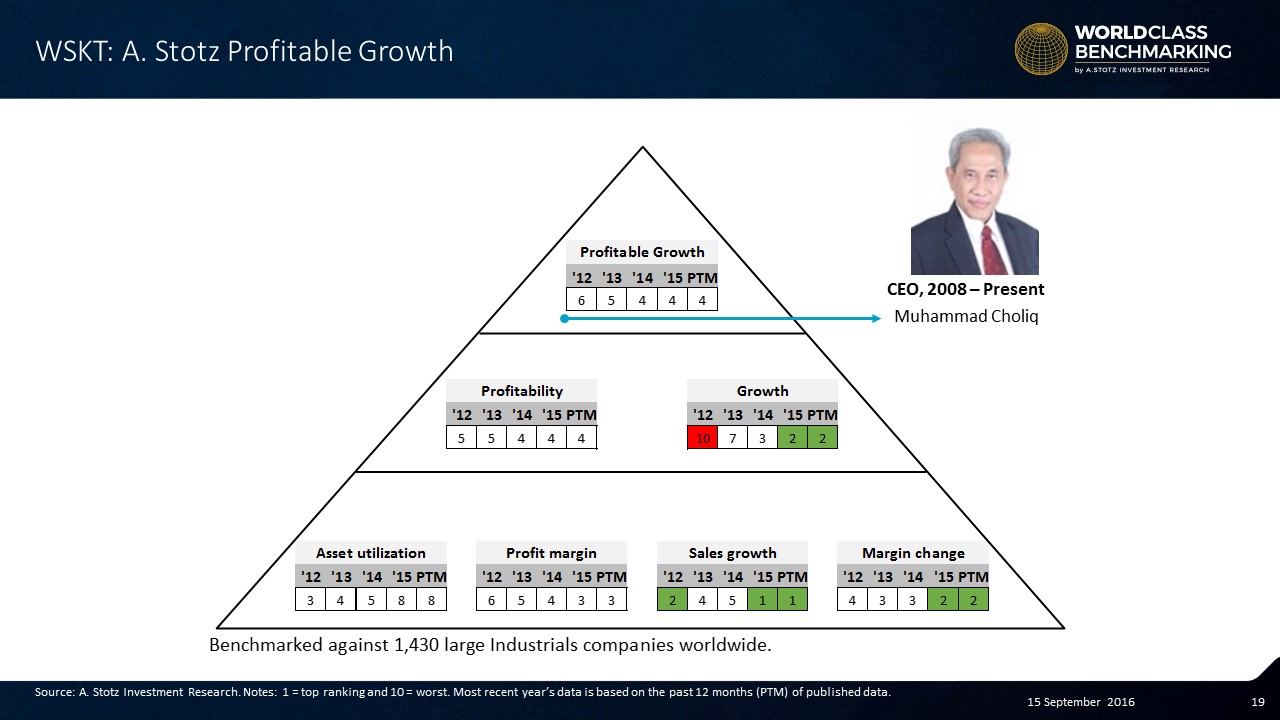 The company has seen a massive improvement in Growth in recent years, improving a category worst in 2012 to #2 rank in 2015 and past 12 months.
The company's Profitability ranking was driven higher by better Profit margin but Asset utilization has started to lag in recent years.
WSKT's Growth has been driven by both sales and margin improvements.
---
Do YOU invest in state-owned enterprises (SOE)? Why / Why not?
If you like our research, please share with your friends.
---
DISCLAIMER: This content is for information purposes only. It is not intended to be investment advice. Readers should not consider statements made by the author(s) as formal recommendations and should consult their financial advisor before making any investment decisions. While the information provided is believed to be accurate, it may include errors or inaccuracies. The author(s) cannot be held liable for any actions taken as a result of reading this article.