Sri Trang Agro-Industry's Supply Make up 10% of Global Rubber Consumption
Background
Sri Trang Agro-Industry Public Company Limited is a Thailand-based integrated rubber producer.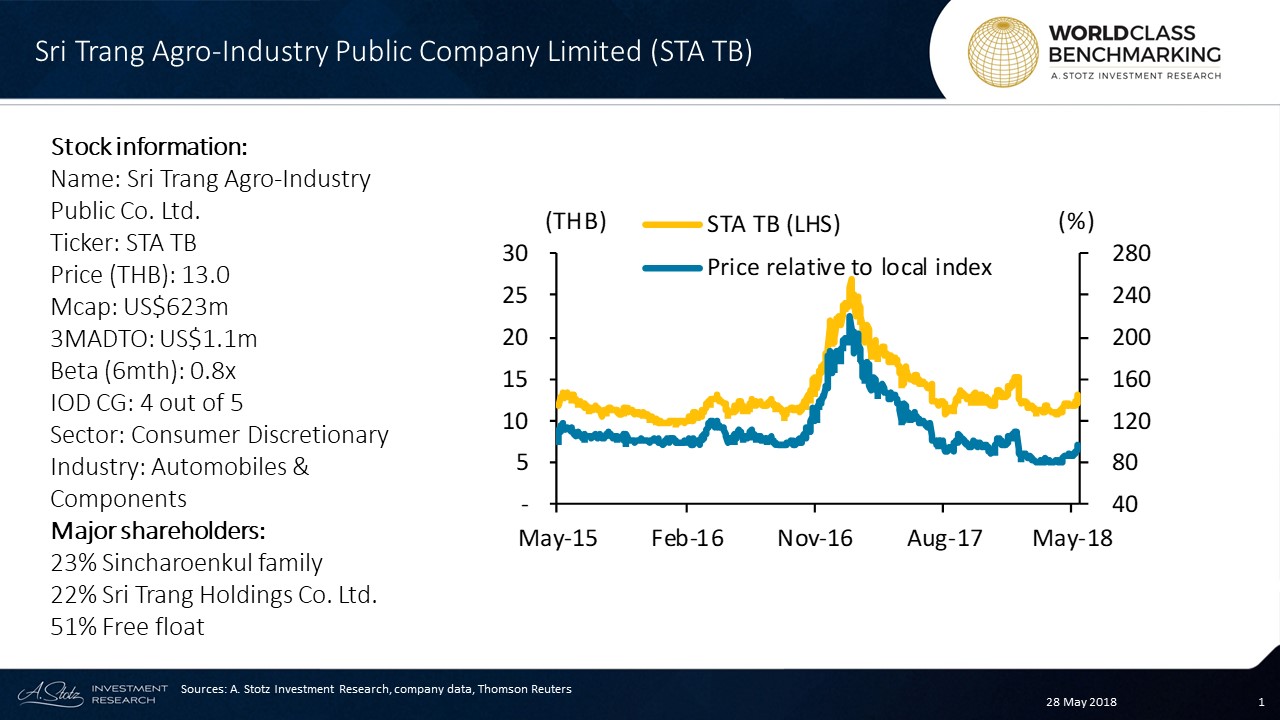 Its operation extends from plantation to processing to manufacture of rubber and its supply make up 10% of global rubber consumption. Its subsidiary, Sri Trang Gloves Co., Ltd., is Thailand's largest manufacturer of medical examination gloves.
Business Description
STA is currently the world's largest supplier of natural rubber by global consumption. With 36 productions sites in Thailand, Indonesia and Myanmar, STA possesses a total capacity of 2.6m tons per year.
STA conducts its business through three domestic sales and distribution hubs and three international sites located among countries with high consumption.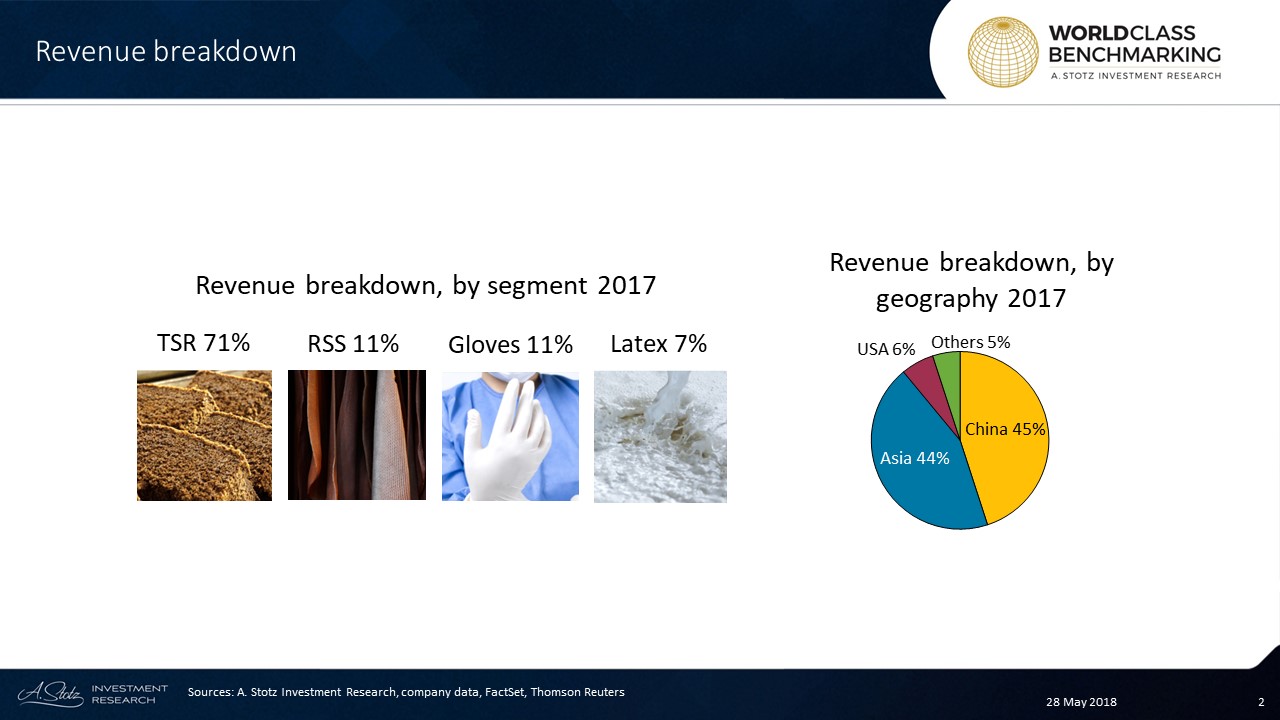 Technically Specified Rubber (TSR) makes up the majority of STA's revenue and is mainly used in the production of tires. Both Ribbed Smoked Sheet (RSS) and Latex have multiple uses, covering most rubber products such as conveyor belts, rubber pipes, condoms, and adhesives.
In 2017, STA demerged with Siam Sempermed Corporation Ltd. and acquired it to form Sri Trang Gloves Co., Ltd. where it holds 90% of total shares. Its production capacity of 14bn pieces per year are from four dedicated production plants in Thailand and constitutes 7% of global consumption. Gloves are offered in varying qualities for medical and industrial applications.
Leadership
Viyavood Sincharoenkul is a co-founder of Sri Trang Agro-Industry. He has served in the positions of chairman and managing director since 2010. Viyavood Sincharoenkul earned a Bachelor's degree and Ph.D. in chemistry from the University of London, UK.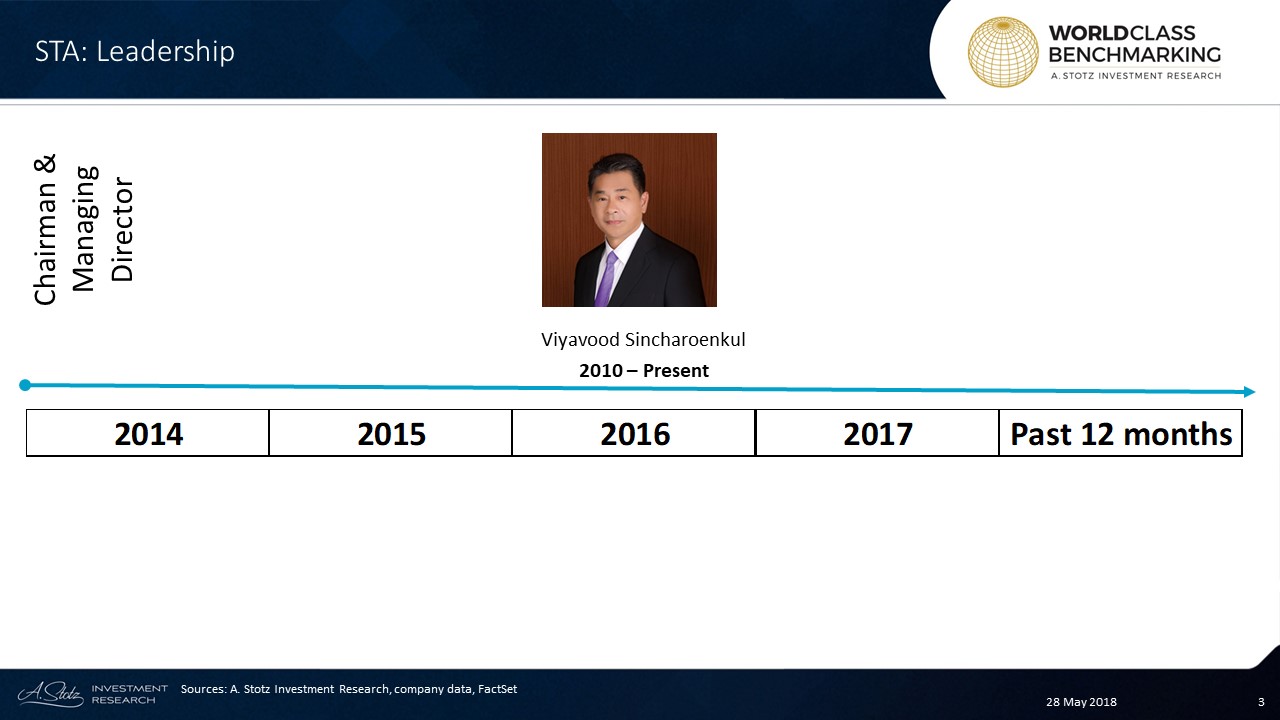 World Class Benchmarking
Profitable Growth has persistently ranked low. In the past 12 months, STA ranked among the worst 128 out of 1,280 of large Consumer Discretionary companies worldwide.
Profitability and Growth share similar trends and remain in the bottom rankings. Growth improved to #9 from #10 in the past 12 months.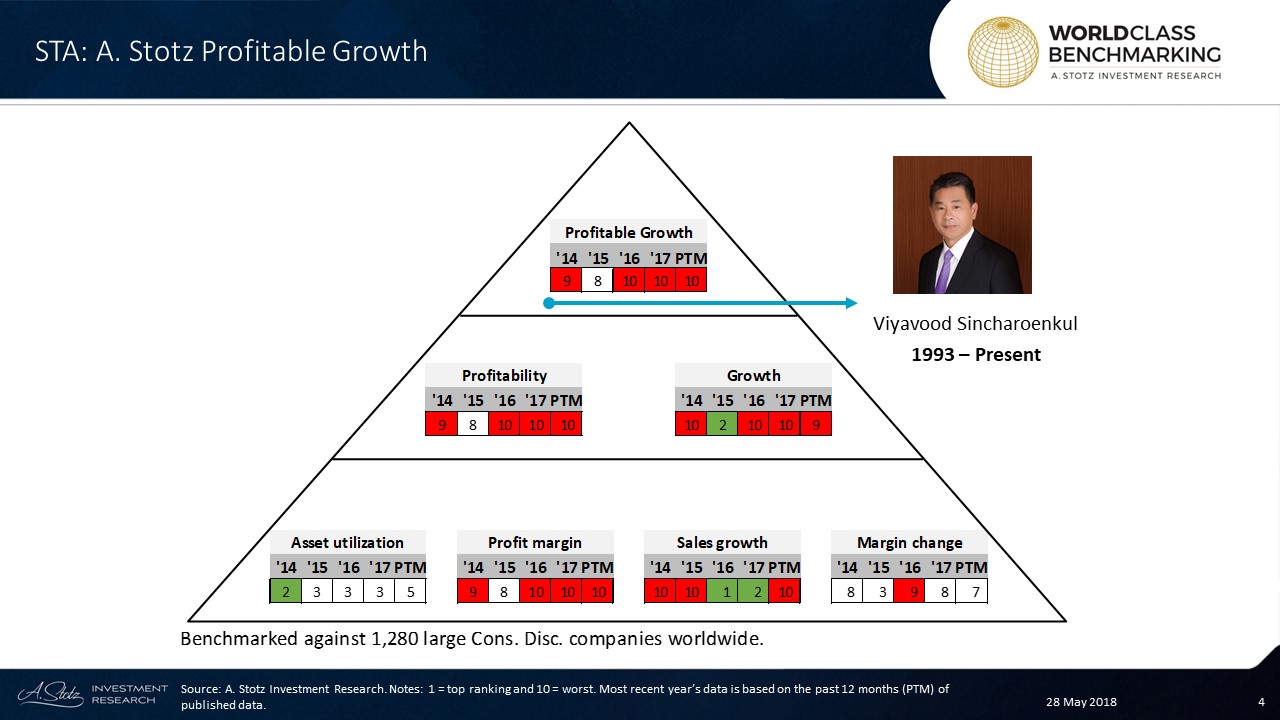 Asset utilization has been stable in the top 30%, however, it fell to a #5 rank in the most recent period. Profit margin has been poor for the whole time period and ranked at #10 since 2016.
Sales growth started to pick up in 2016-2017 but fell back to the worst decile in the past 12 months. Margin change has started to improve since its #9 rank in 2016 and ranked at #7 in the past 12 months.
---
What're your thoughts on STA?
If you like our research, share it with your friends.
---
DISCLAIMER: This content is for information purposes only. It is not intended to be investment advice. Readers should not consider statements made by the author(s) as formal recommendations and should consult their financial advisor before making any investment decisions. While the information provided is believed to be accurate, it may include errors or inaccuracies. The author(s) cannot be held liable for any actions taken as a result of reading this article.