Singapore Technologies Remains Profitable, Despite Growth Concerns
Watch the video with Andrew Stotz or read a summary of the World Class Benchmarking on Singapore Technologies.
---
---
Background
Singapore Technologies Engineering Limited is a Singapore software and engineering conglomerate with a major focus on the electronics and aerospace sectors.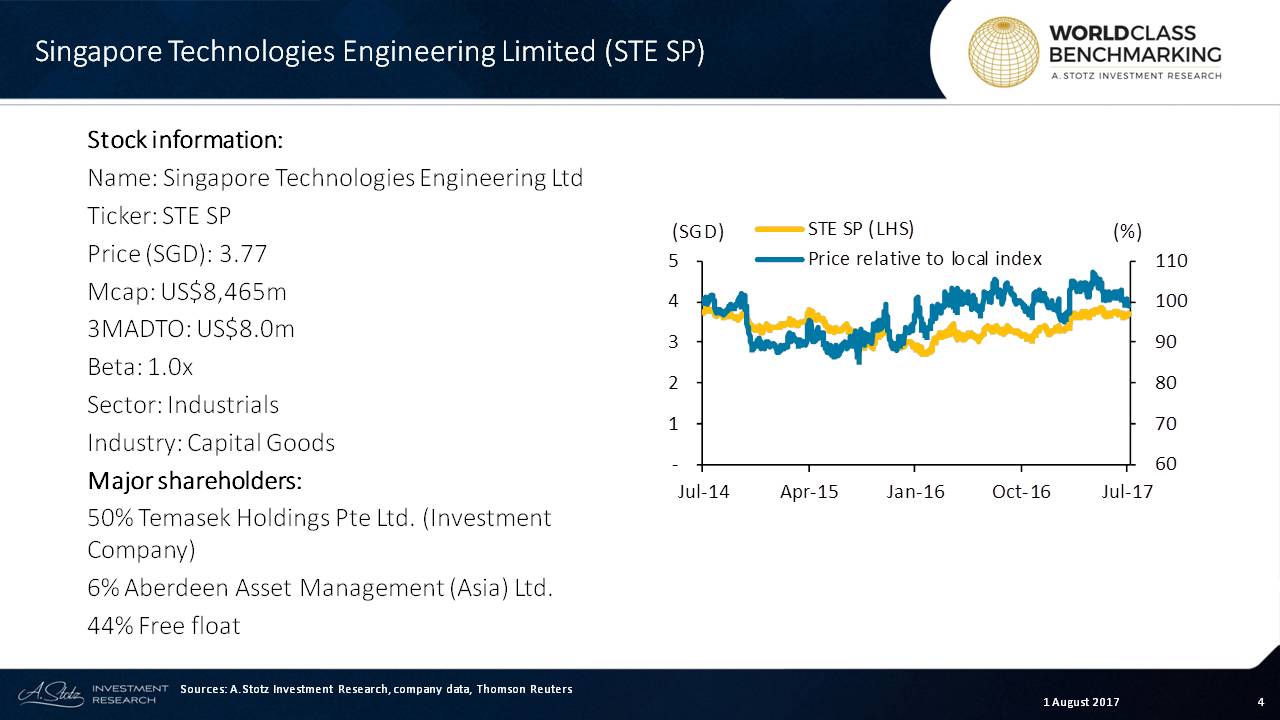 Via a subsidiary, it has the largest mechanical airframe maintenance, repair and overhaul (MRO) operations for commercial aircraft in the world.
Business operations are conducted in 20 separate countries.
Business Description
The group's biggest division, which accounts for a bit more than 1/3 of sales, is the aerospace division that maintains airframes for airlines worldwide. Air frames refer to the mechanical engineering areas of the plane.
The electronics division, which makes up about 28% of revenue, is largely focused on projects related to e-government initiatives in the Asian region, ranging from rail and intelligent transportation systems to cybersecurity and satellites.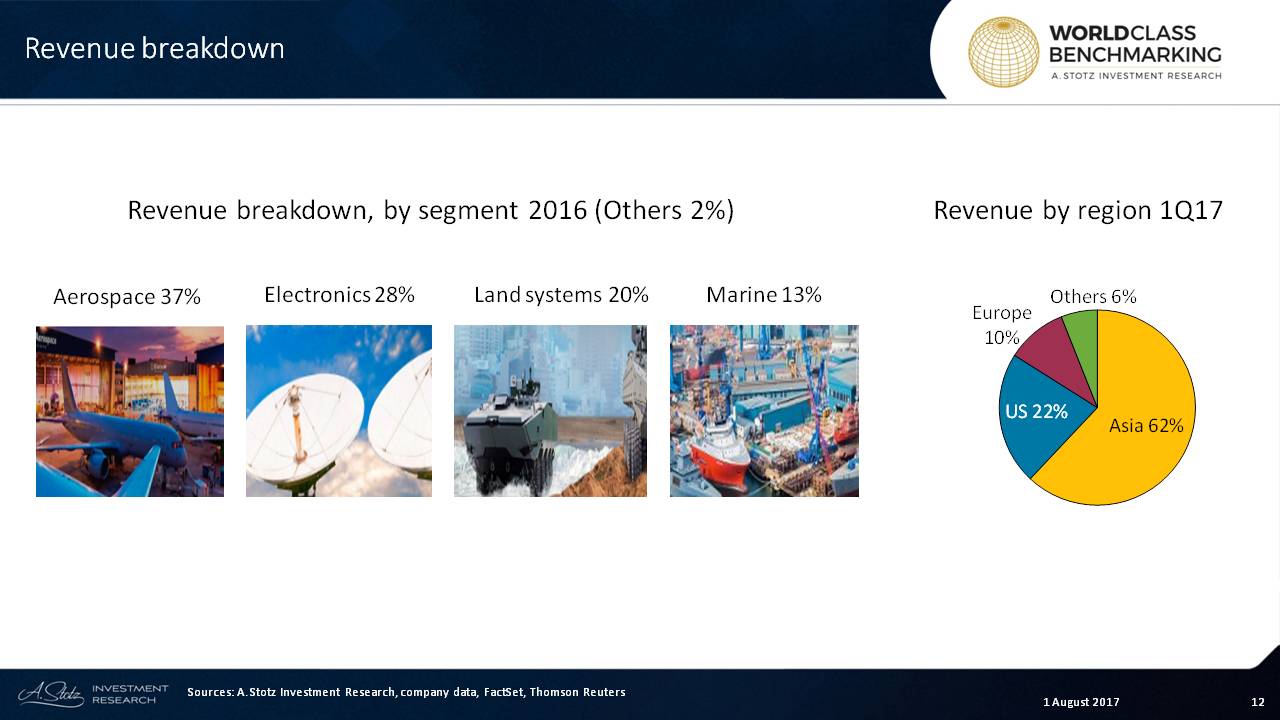 The Land systems division, producing one-fifth of sales, provides engineering related to specialty vehicles and support for government defense and homeland security, as well as commercial applications in the mining and construction sectors.
The rest of the company's business is mainly centered around engineering for ship repairs and conversions in both the public and private sector. The company also owns and operates a shipyard.
Leadership
Chairman Kwa Chong Seng, 70, has served since 2013 in his present position. He has more than 40 years of experience in the petroleum industry.
He served as Chairman and Managing Director of ExxonMobil Asia Pacific before retiring in 2011. Chong Seng is currently the Chairman of Singapore Exchange Limited and Deputy Chairman of Public Service Commission, Singapore. He also serves on the board of SeaTown Holdings and is a member of the Defence Science & Technology Agency (DSTA).
He graduated from the former University of Singapore with a Mechanical Engineering degree. Chong Seng was awarded the Distinguished Engineering Alumni Award by the National University of Singapore (NUS) in 1994 and is a Fellow of the Academy of Engineering Singapore.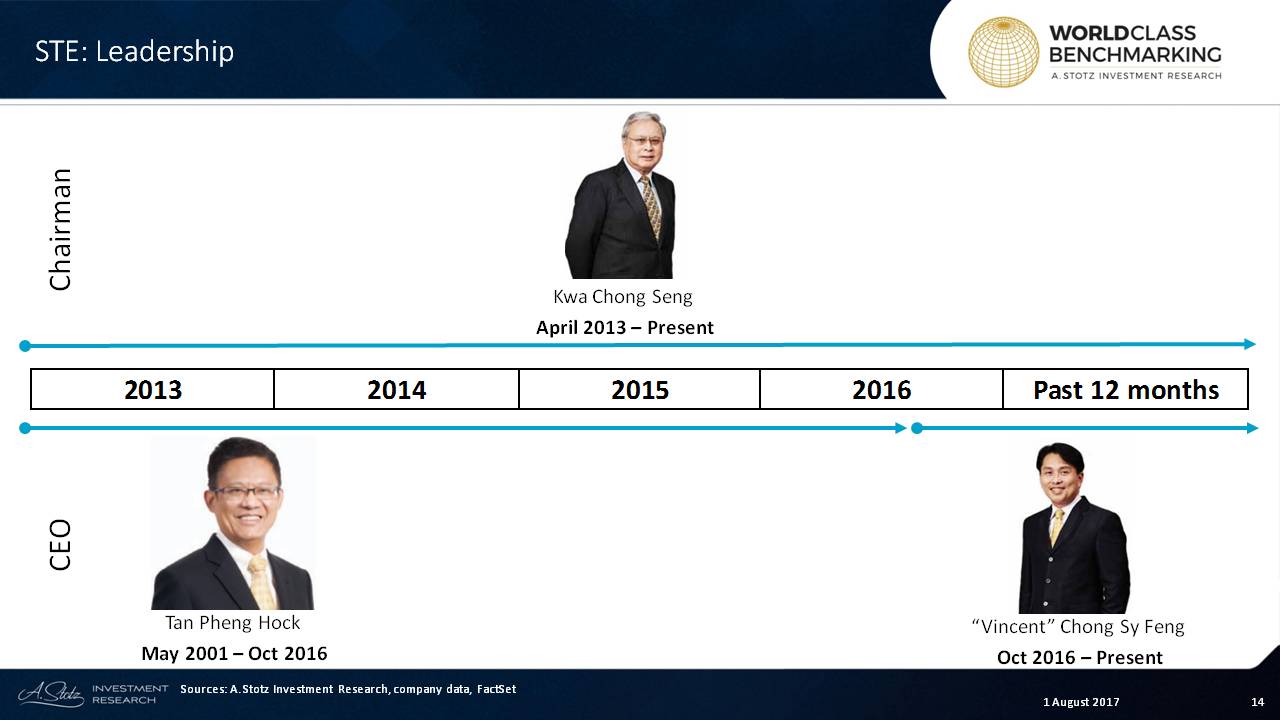 Following longtime CEO Tan Pheng Hock's 15-year tenure, "Vincent" Chong Sy Feng took over in October 2016. Vincent Chong, 47, is the President & CEO of ST Engineering. Vincent joined ST Engineering Group in April 2014, first as President of Strategic Plans & Business Development at ST Aerospace and later as the Group's Deputy CEO (Corporate Development).
Vincent had a 20-year career in the petroleum industry holding a variety of technical, operations and senior management positions. Before joining the ST Engineering Group in April 2014, he was Director of Asia Pacific Lubricants Sales at ExxonMobil Asia Pacific Pte. Ltd.
He graduated with First Class Honours in Mechanical Engineering from the National University of Singapore. Vincent has also attended executive leadership programs at the Thunderbird School of Global Management and the Columbia Business School.
World Class Benchmarking
Profitable Growth fell one step to #4 in 2016. STE ranked among the top 568 of 1,420 large Industrials around the globe.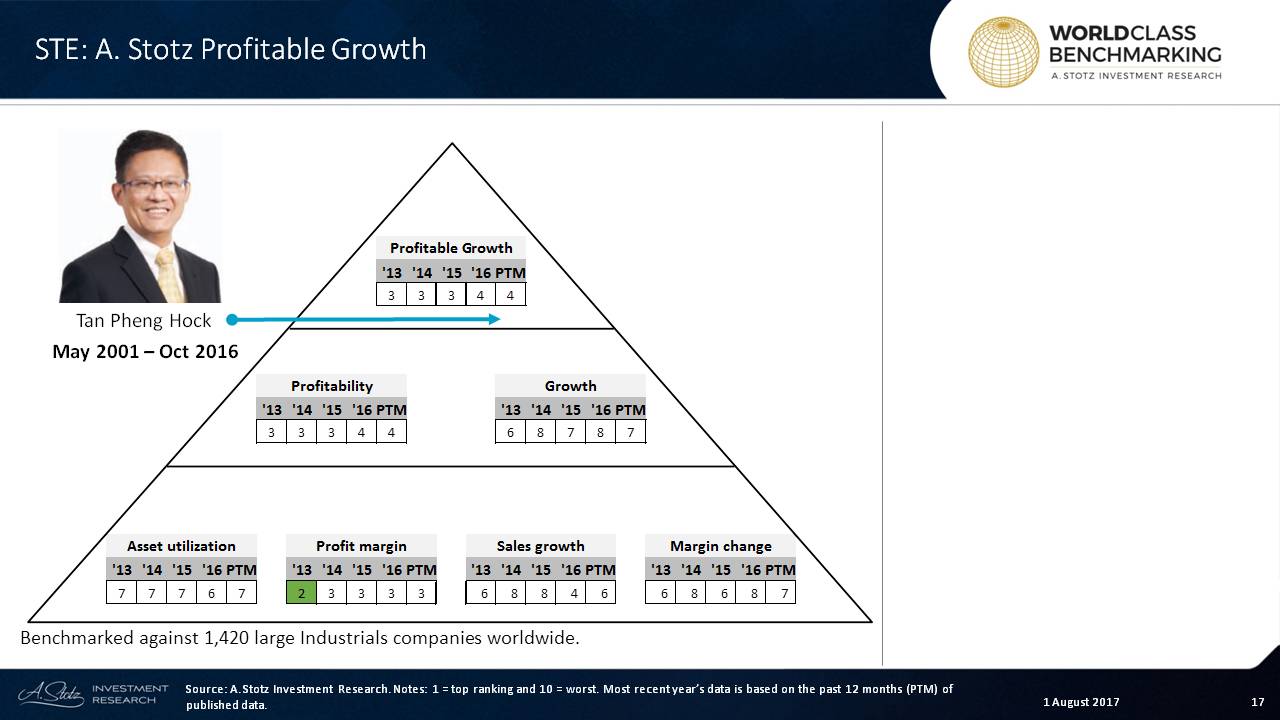 Profitability dropped to #4 in 2016 as well, still above average, but Growth has been below average for the whole time period. Still, one might note that the Growth ranking has remained largely stable, waxing between #7 and #8.
Asset utilization ranked below average, while it's clear that Profit margin drives Profitability and ranked #3.
Sales growth fell to #6 in the past twelve months, and Margin change slightly increased to#7 from #8.
---
What's your thoughts of STE?
If you like our research, share it with your friends.
---
DISCLAIMER: This content is for information purposes only. It is not intended to be investment advice. Readers should not consider statements made by the author(s) as formal recommendations and should consult their financial advisor before making any investment decisions. While the information provided is believed to be accurate, it may include errors or inaccuracies. The author(s) cannot be held liable for any actions taken as a result of reading this article.