Servicing Airports Makes for a Gentle Landing
Watch the video with Andrew Stotz or read a summary of the World Class Benchmarking on SATS Limited.
---
---
Background
SATS Limited is a Singapore-based provider of gateway and food services at 45 airports across Asia.
Its main operations are in Changi International Airport. It also has operations at  Singapore's cruise terminal, Marina Bay Cruise Center.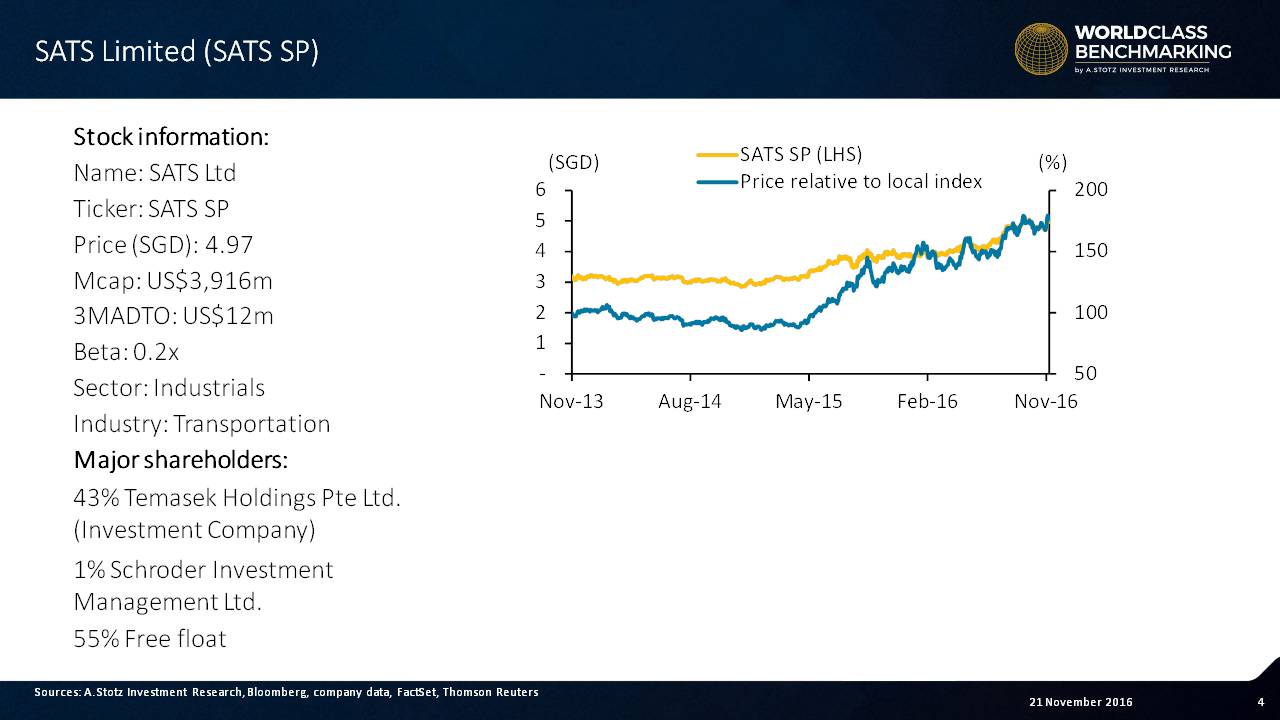 Food Solutions account for 57% of revenues and Gateway Services contribute 43%. Gateway Services includes such tasks as passenger ticketing management and cargo handling.
Business Description
SATS operates in 51 cities and 12 countries, having the largest Food Solutions and Gateway Services network in Asia. The company has maintained its market share of 80% at Changi airport in Singapore, and Singapore accounts for more than 80 percent of its revenue, with Japan accounting for another 13%.
SATS' Food Solutions segment offers a variety of services such as inflight catering services; institutional and remote catering; food distribution and logistics; chilled, frozen and retort food manufacturing (thermal sterilization and packaging); and airline linen and laundry services.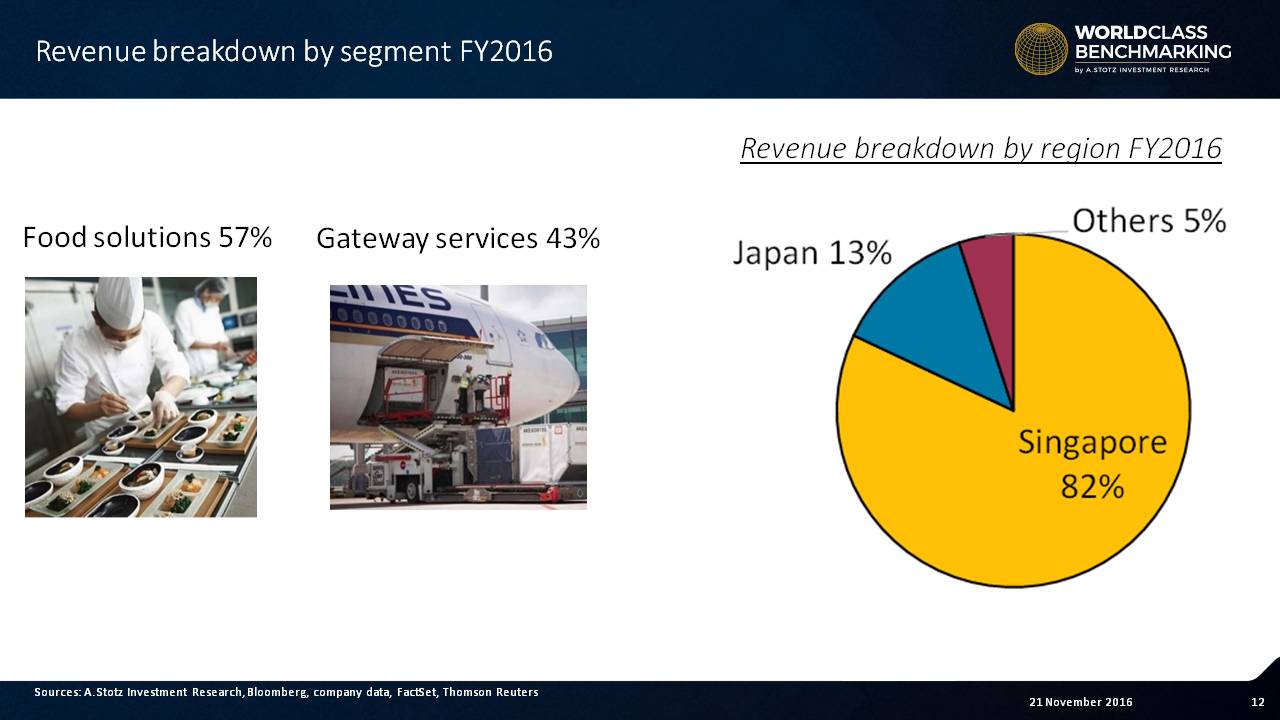 Its Gateway Services include ground handling, such as ramp and baggage management; passenger and apron services; cargo handling and logistics; security; lounge management; and a cruise terminal operation.
SATS plans to scale up its food distribution business through its joint venture with BRF S.A. (BRFS3 BZ), which will process meat and manufacture branded food for retailers, restaurants, wholesalers, and ship chandlers.
SATS plans to grow its non-inflight catering food solutions business in the region. For this project, it is teaming up with BRF, one of the 10 largest food companies globally.
Leadership
Chairman Euleen Goh Yiu Kiang took over the reigns in July of 2016 following the 13-year stint of Edmund Cheng Wai Wing. Kiang was the former CEO of Standard Chartered Bank Singapore and has served on the boards of Royal Dutch Shell and DBS Group Holdings.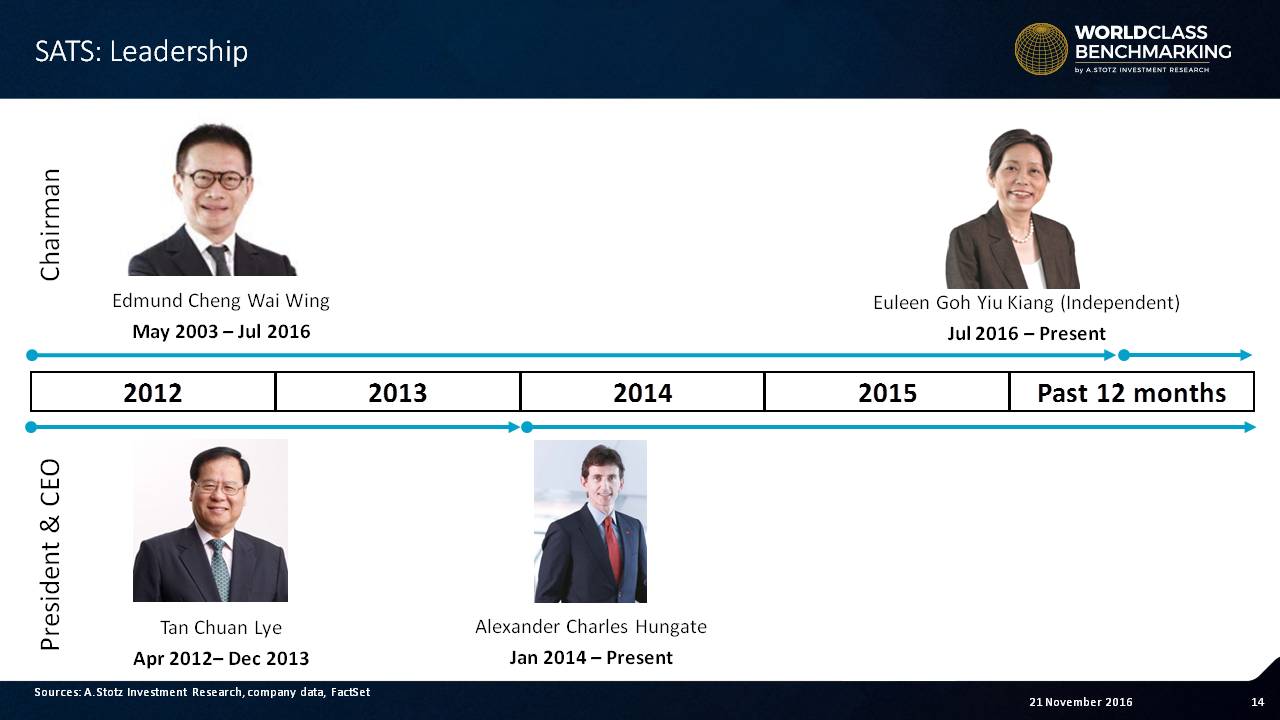 Alexander Charles Hungate became CEO in January 2014. Over the past three years, he has maintained SATS' competitive edge by keeping the company in the #1 ranking for Profitable Growth in its sector. Previously, Hungate served as CEO of HSBC Singapore for three years.
World Class Benchmarking
Profitable Growth has remained World Class since 2015 for SATS. The company ranks among the best 140 of 1,400 large Industrials globally.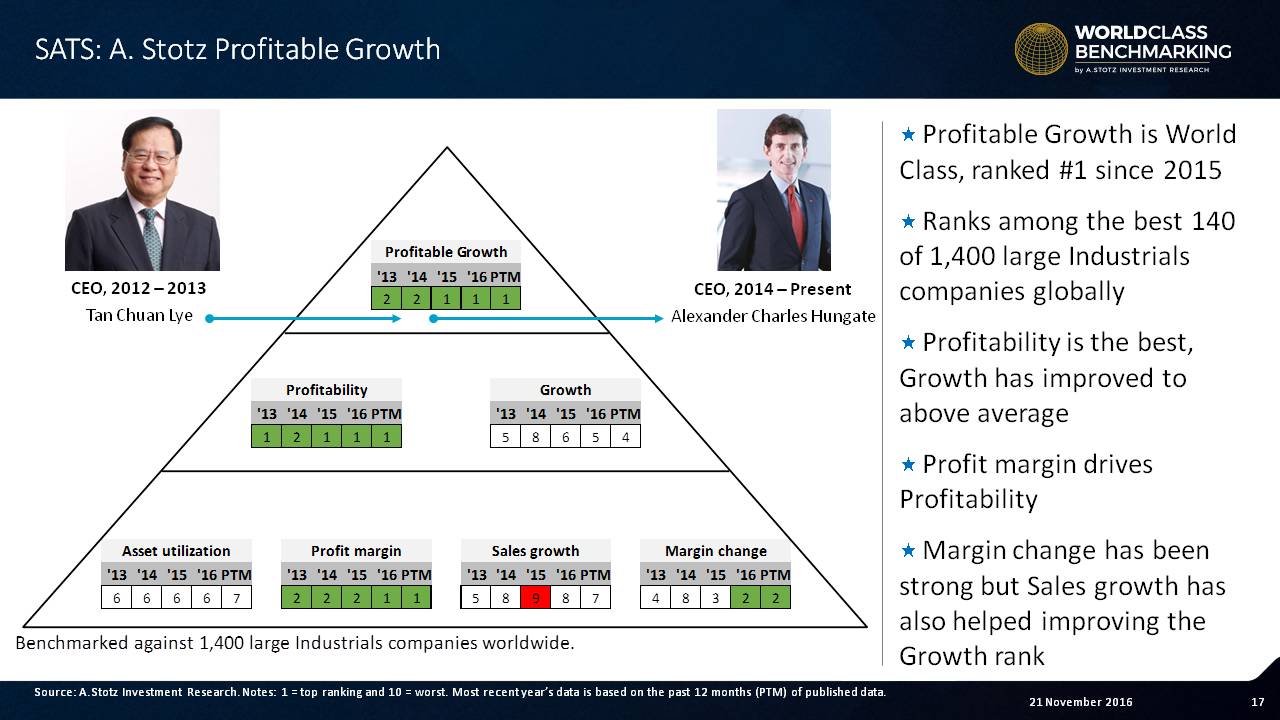 Profitability is the best, and Growth has improved to above average. Profit margin seems to be what is driving Profitability.
Margin change has been strong, but Sales Growth has also helped improve the Growth ranking.
---
Have YOU used any of SATS' services in Singapore? Does it make you want to buy their stock?
If you like our research, share it with your friends.
---
DISCLAIMER: This content is for information purposes only. It is not intended to be investment advice. Readers should not consider statements made by the author(s) as formal recommendations and should consult their financial advisor before making any investment decisions. While the information provided is believed to be accurate, it may include errors or inaccuracies. The author(s) cannot be held liable for any actions taken as a result of reading this article.