Riding the Real Estate Wave of Business Process Outsourcing
Watch the video with Andrew Stotz or read a summary of the World Class Benchmarking on Megaworld Corporation.
---
---
Background
Megaworld Corporation (MEG) is the Philippines's top residential condo developer by unit sales, and supplies mainly mid-range high-rise blocks.
The company has built a wide range of mixed-use real estate developments in Metro Manila. It is also the largest office leasing company for BPO locations.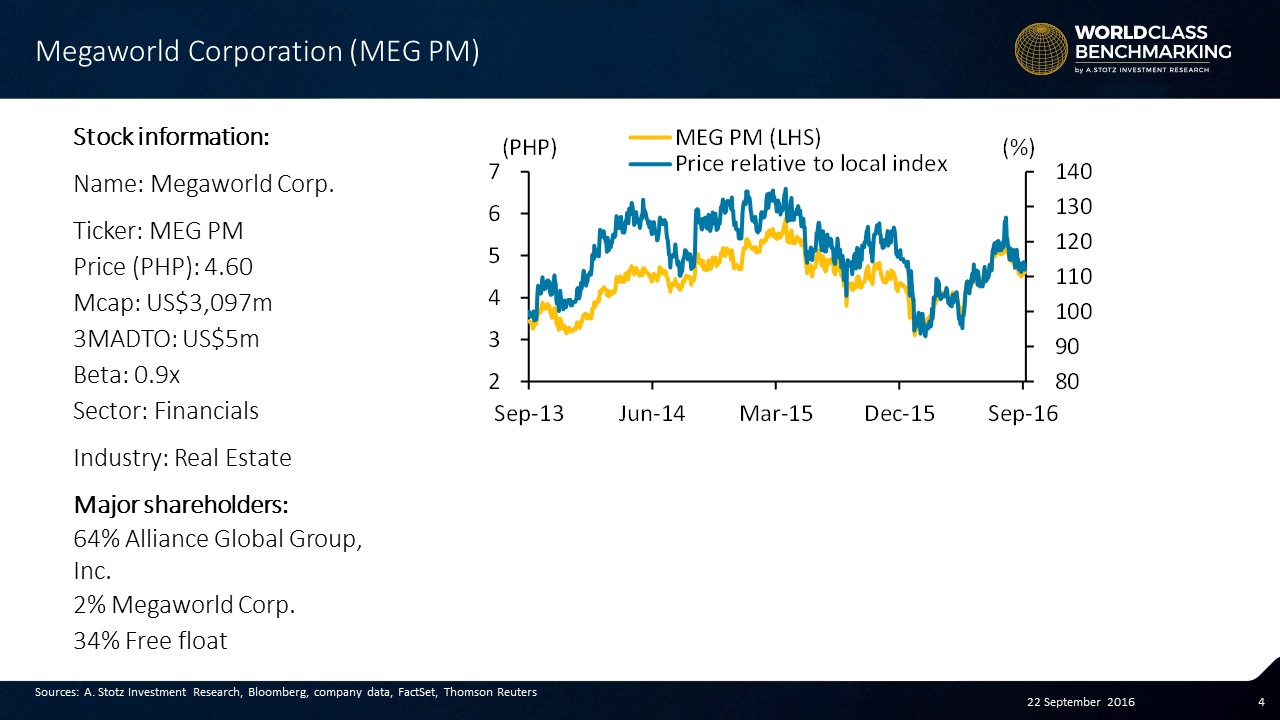 Business Description
About three-quarters of MEG's revenues come from real estate sales and 21% from office leasing. The remainder are derived primarily from hotel operations.
Its real estate sales have been mainly mid-range, high-rise residential blocks in Metro Manila and planned community townships in and around the Philippine capital. These mixed-use developments combine residential units with leased offices for Business Process Outsourcing (BPO). One of the latest and biggest of such developments is planned for Bonifacio Global City, a fast-growing, alternative business district.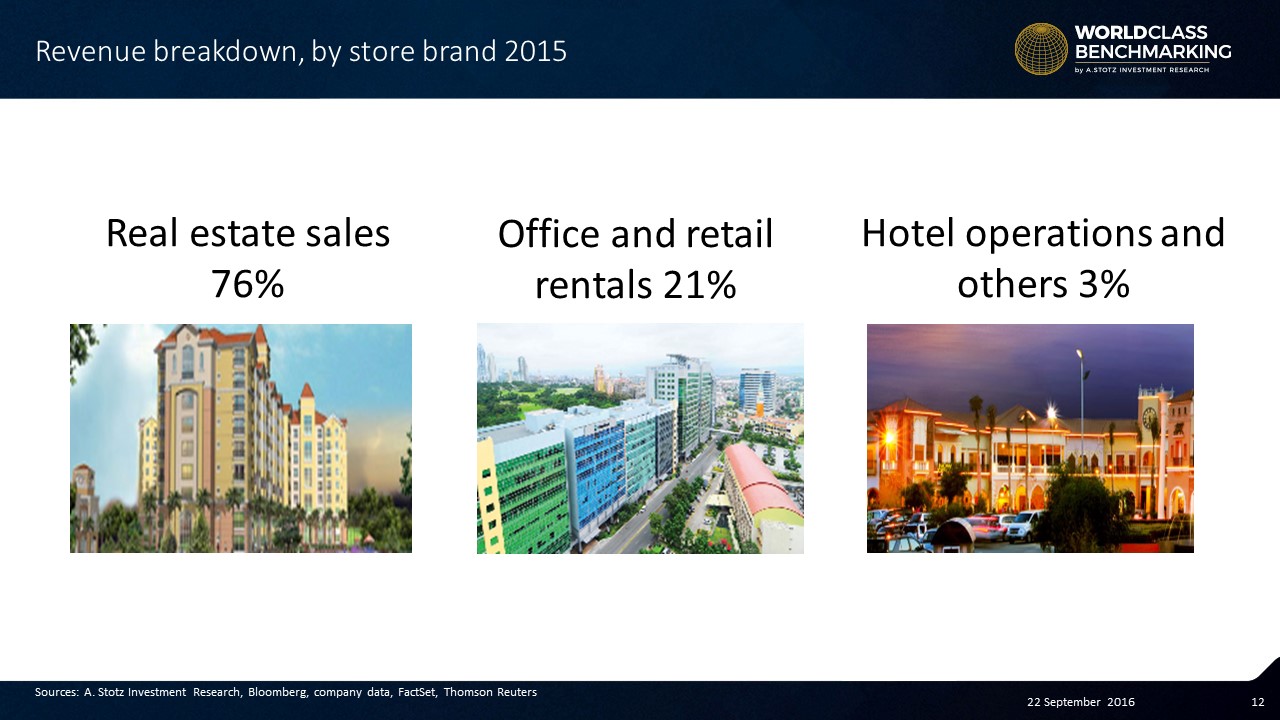 Although office and retail rents are only 21% of revenue, these divisions contribute around 45% of net profit, and are helping to make the company's business less cyclical.
MEG has a business model that aims to accommodate all the real estate needs of the township population, where it aims to build BPO office buildings, condos for workers to live in and commercial buildings to cater to residents' shopping requirements.
Leadership
Andrew Lim Tan founded the Megaworld Corporation and has served as its Chairman and President since 1989. He pioneered the Live-Work-Play-Learn model in real estate development through MEG's integrated township communities, fueling the growth of the business process outsourcing (BPO) industry.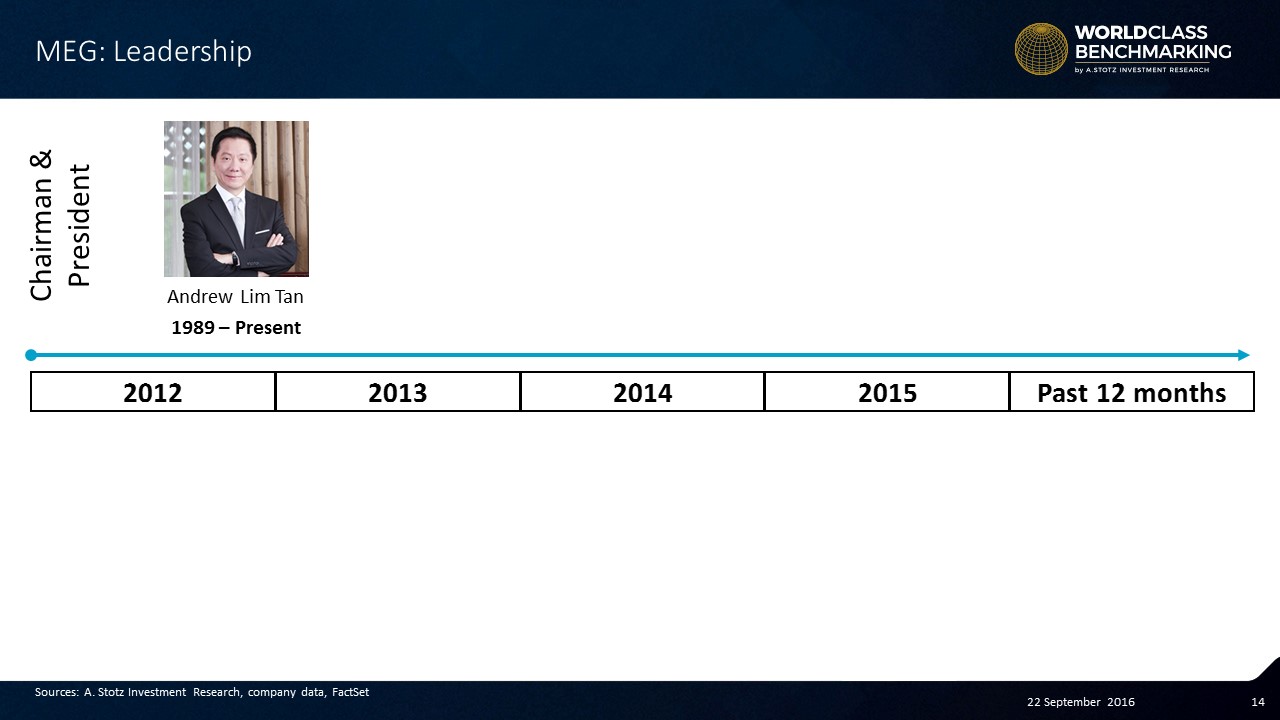 In recent years, Tan has helped Megaworld stay in the top third of large real estate companies for profitability, while growth has started to lag.
Mr. Tan also serves as chairman of the board of Empire East Land Holdings (ELI PM) which is 82%-owned by Megaworld and listed on the Philippine Stock Exchange.
World Class Benchmarking
Profitable Growth has been volatile but mostly above average. While 2015 saw the company in a fairly beleaguered state, metrics have improved and MEG ranks better than 108 of 180 large real estate companies.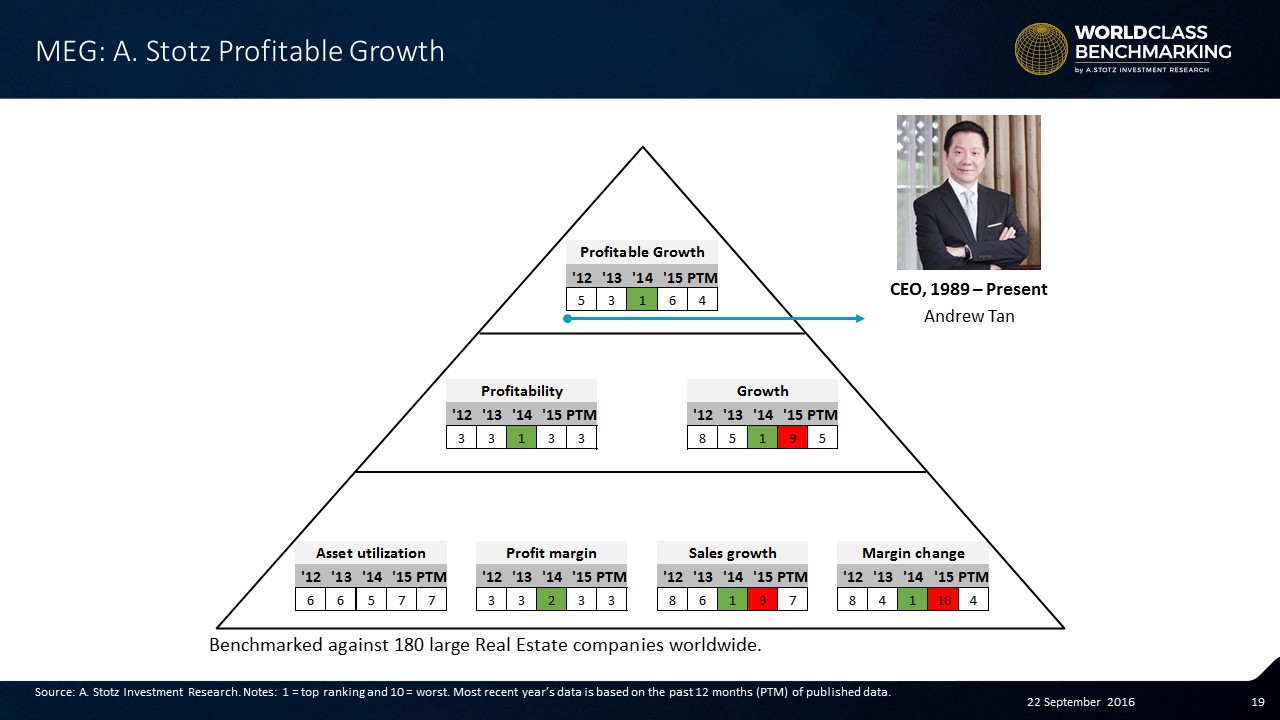 The primary strategy is currently to invest more strongly in commercial real estate for office leasing, which should keep revenue and profit more steady than relying on residential condo sales. Profitability is ranked #3 currently, and Growth improved to #5.
Profit margin is the source of good profitability in the company and has remained relatively steady for five years.
Growth improvement came from more Sales and above average Margin change.
---
Do YOU invest in the Philippines? Why / Why not?
If you like our research, please share with your friends.
---
DISCLAIMER: This content is for information purposes only. It is not intended to be investment advice. Readers should not consider statements made by the author(s) as formal recommendations and should consult their financial advisor before making any investment decisions. While the information provided is believed to be accurate, it may include errors or inaccuracies. The author(s) cannot be held liable for any actions taken as a result of reading this article.