Ranked among the Top 14 Small Utilities Worldwide
Watch the video with Andrew Stotz or read a summary of World Class Benchmarking on TPC Power Holding Public Company Limited.
---
---
Background
TPC Power Holding Public Company Limited focuses on electricity generation and distribution from biomass. It plans to expand to other renewable energy sources as well.
TPCH has investments in seven main subsidiaries and holds majority stakes in six of them, all of which are in Thailand.
The company also provides supporting services to its subsidiaries for a fee.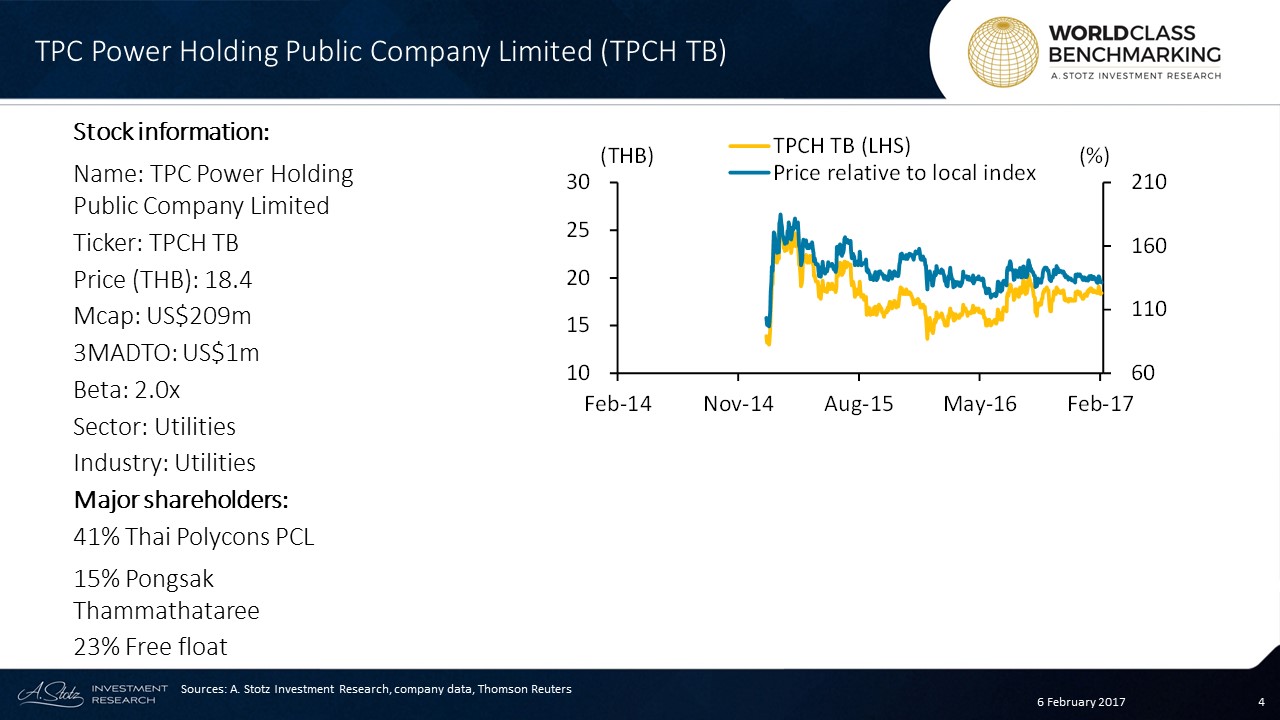 Business Description
Centered around power generation and distribution from biomass, TCPH owns the biggest biomass power plant group in Thailand. Its main revenue is dividends and servicing fees from shares in its subsidiaries, as well as income from providing supporting services to them. THCP sells and distributes the energy generated through PPAs and similar contracts.
The subsidiaries Maewong Energy (85%-owned), Chang Raek Bio Power (73%-owned), Thungsung Green (65%-owned) and Mahachai Green Power (46%-owned) already operate with around 10 MW of capacity each.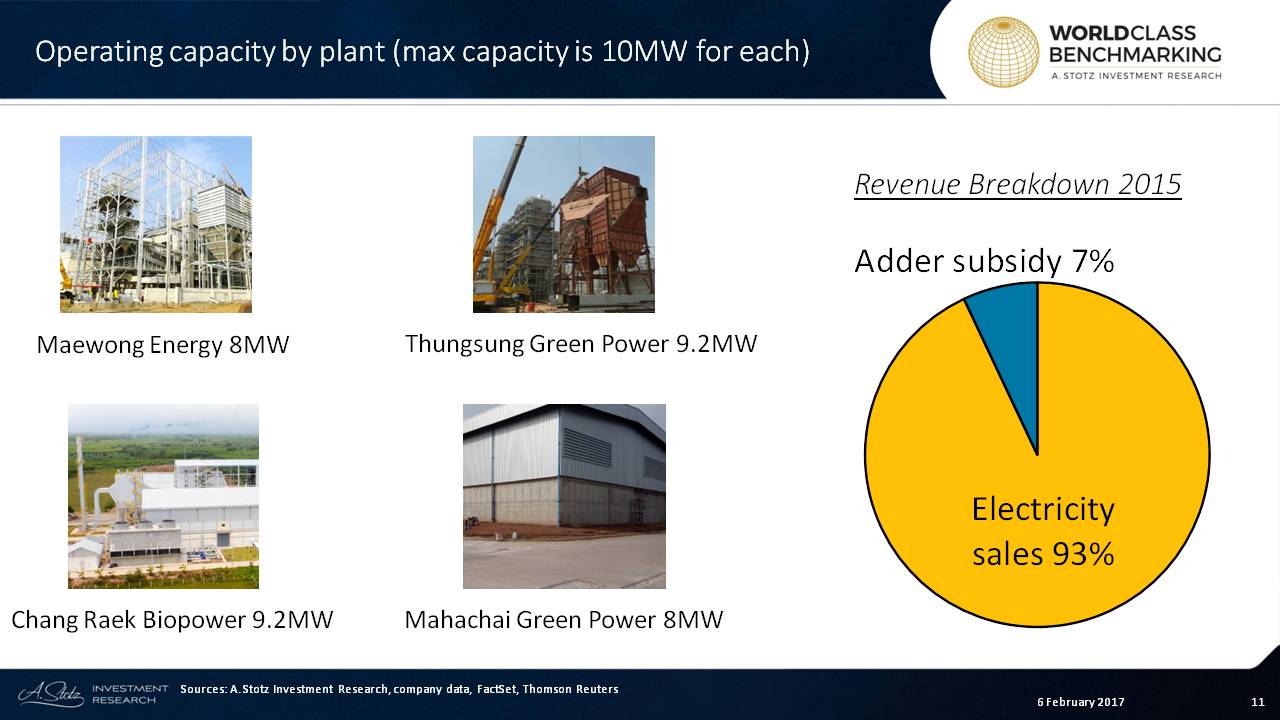 Pattani Green (65%-owned), Phathalung Green Power (60%-owned), Satun Green Power (51%-owned) are under development and should have around 10 MW of capacity each.
TCPH has been conducting feasibility studies on projects in other renewable sources such as hydro, wind, solar and waste. The company is open to having the entire investment or participating in a joint venture. Within two years, the company is set to start up a hydro production plant in Laos (80 MW) and two more biogas plants.
Leadership
Dr. Thanu Kulachol has helmed the position of Chairman since 2013. He is a US-educated independent director with a PhD from Southern Illinois University and an MBA from Fairleigh Dickinson University.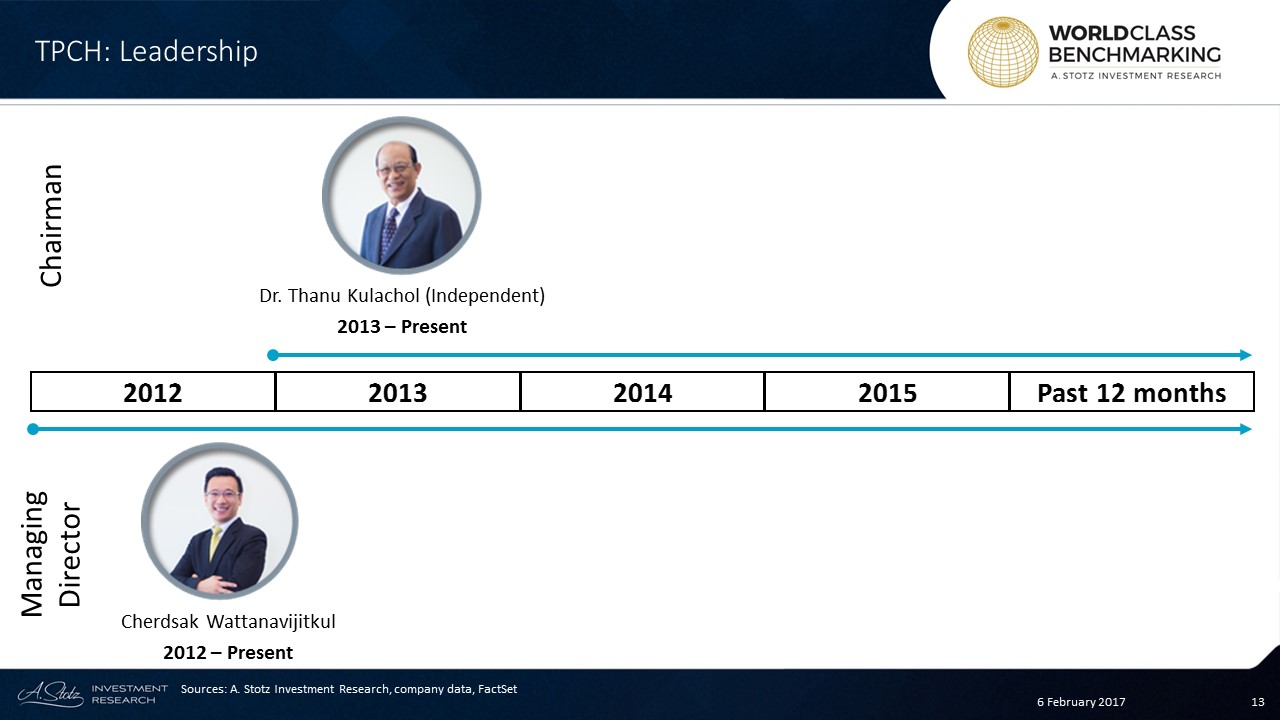 Cherdsak Wattanavijitkul acts as the chief executive through his position as President and Managing Director. He has held this position since the company's incorporation in 2012 and deserves much of the credit for the TPC Power's meteoric rise in our World Class Benchmarking index.
World Class Benchmarking
Profitable Growth improved from to #1 from #7 in the past 12 months. This sudden jump stems from the fact that most of the companies previous investments in power plants are now in their operation phase.
The company ranks among the best 14 out of 140 small utilities globally.
Profitability improved to above average, improving two marks to #4 in 2016. But the largescale rank improvement stems primarily from Growth's rise to #1.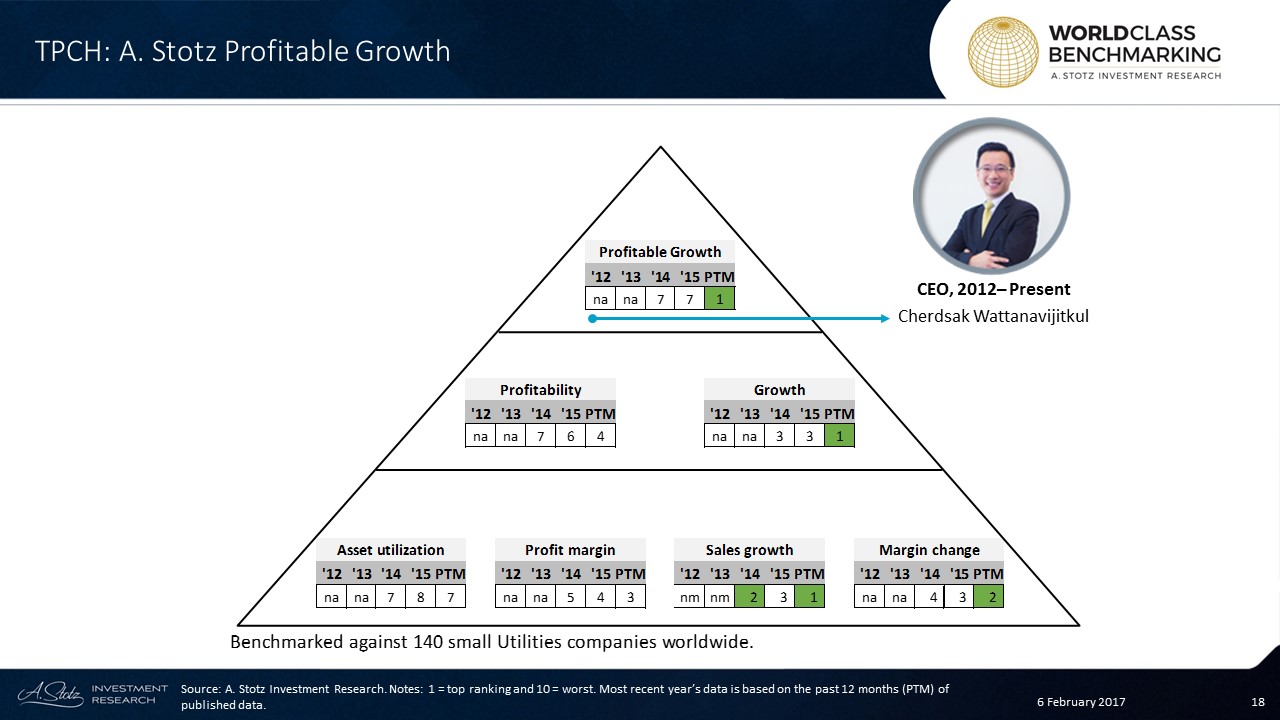 The better Profit margin was the main cause of the improvement in Profitability.
Sales growth and Margin change both contributed to a better Growth rank.
---
Would you invest in TPC Power?
If you like our research, share it with your friends.
---
DISCLAIMER: This content is for information purposes only. It is not intended to be investment advice. Readers should not consider statements made by the author(s) as formal recommendations and should consult their financial advisor before making any investment decisions. While the information provided is believed to be accurate, it may include errors or inaccuracies. The author(s) cannot be held liable for any actions taken as a result of reading this article.