VGI's Acquisitions to Support New Media Solutions
Background
VGI Global Media Public Company Limited provides advertising solutions, much of which is in the Bangkok sky-train system operated by its parent BTS Group (BTS TB).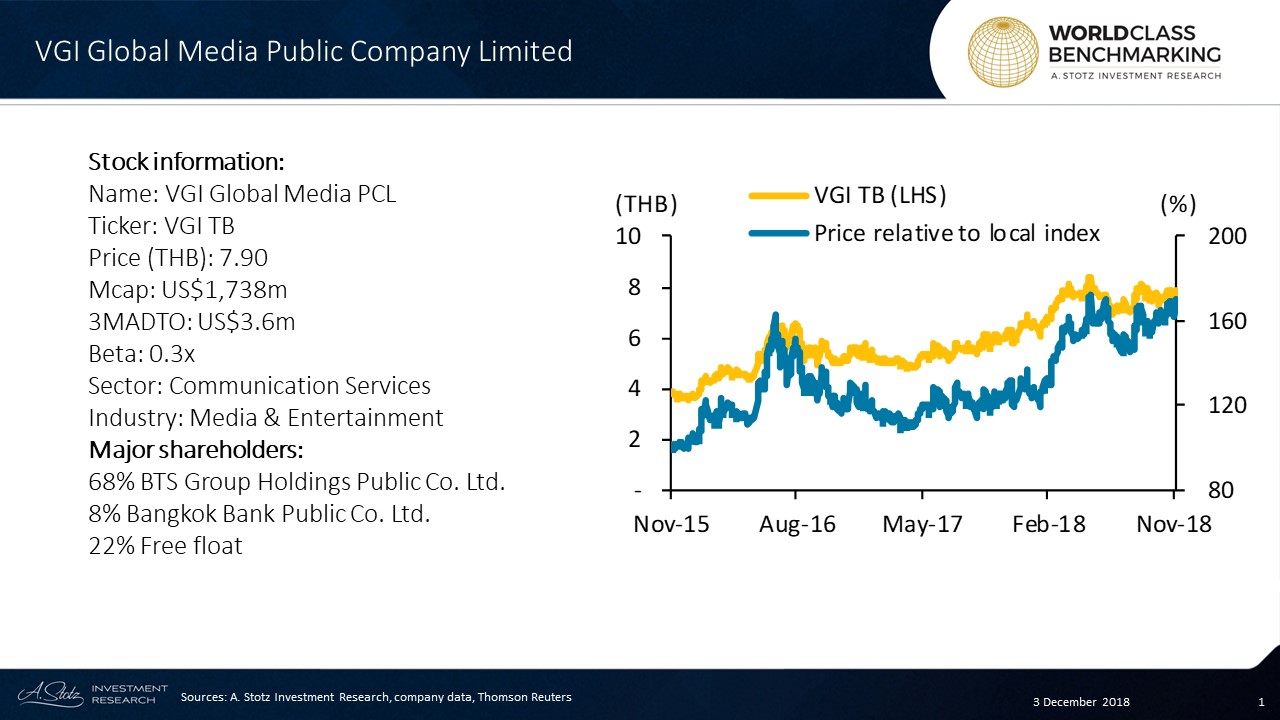 VGI also owns 32% of the outdoor advertising company Master Ad PCL (MACO TB) and recently acquired a 23% stake in the logistics company Kerry Express (Thailand) Ltd.
Business Description
Through recent acquisitions and partnerships, VGI has added services to complete its media services offering to its clients. Besides providing out-of-home media services and commercial areas in the BTS sky train system operated by its parent BTS Group (BTS TB), VGI also offers payments and logistics solutions for its clients, i.e. from customer acquisition to delivery.
Advertising media is divided into Transit, Outdoor, Office and Other, and includes static and digital media. VGI has a 32% stake in outdoor media company Master Ad PCL (MACO TB) and another 18% is held by BTS Group.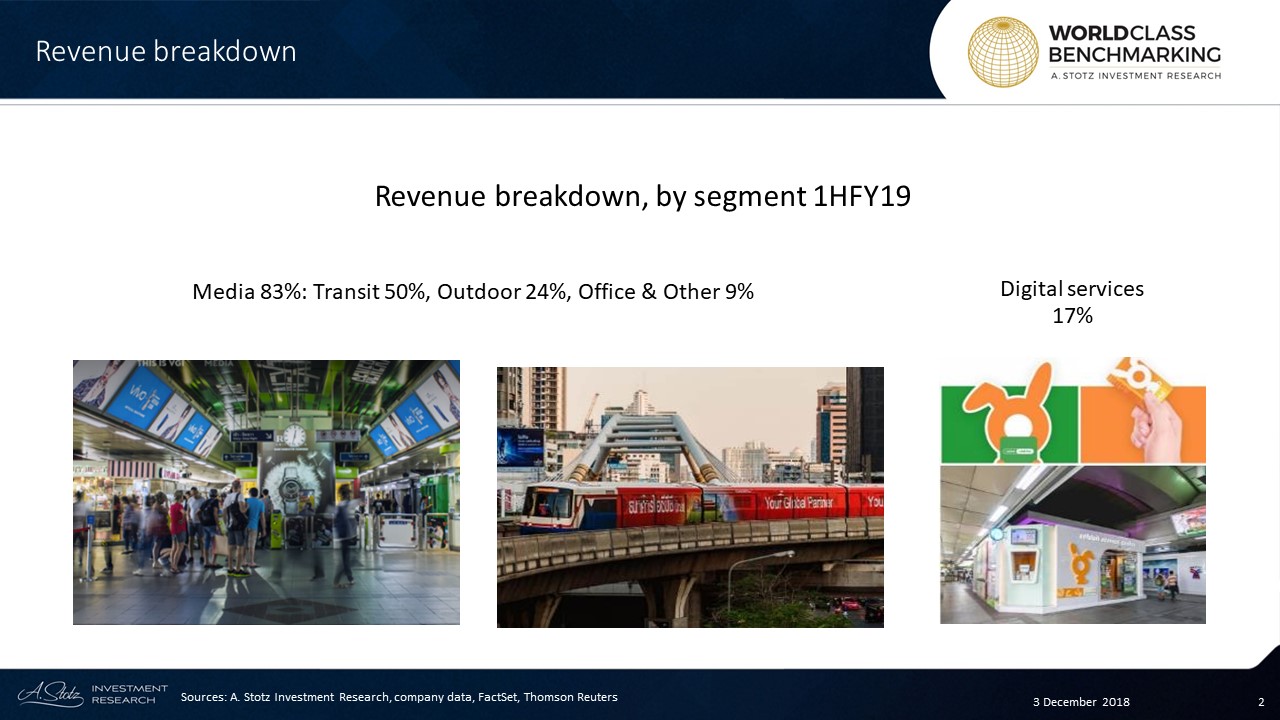 In Digital services, VGI offers payments through Rabbit Card which has about 10m cards in circulation. Rabbit and LINE Corp (3938 JP) have partnered to offer the e-payment service Rabbit LINE Pay. In addition, Rabbit offers microloans through a partnership with AEON (AEONTS TB).
On 20 July 2018, VGI acquired a 23% stake in Kerry Express (Thailand) Ltd. for Bt5.9bn to complement its advertising and payment businesses and also offers logistics services and product delivery to its clients. Yet to recognize a full quarter, Kerry contributed to VGI's bottom line instantly.
Leadership
Keeree Kanjanapas was appointed Chairman of VGI in 2012. He also holds the chairmanship position at BTS Group Holdings PCL (BTS TB), and Bangkok Mass Transit System PCL. Additionally, he serves as the Director at many companies, including BTS Infrastructure Development Co., Ltd., Eastern Bangkok Monorail Co., Ltd., and Northern Bangkok Monorail Co., Ltd. He attended the Top Executive Program (CMA 10) Year 2010 of Capital Market Academy and Director Accreditation Program (DAP) Year 2011 of Thai Institute of Directors.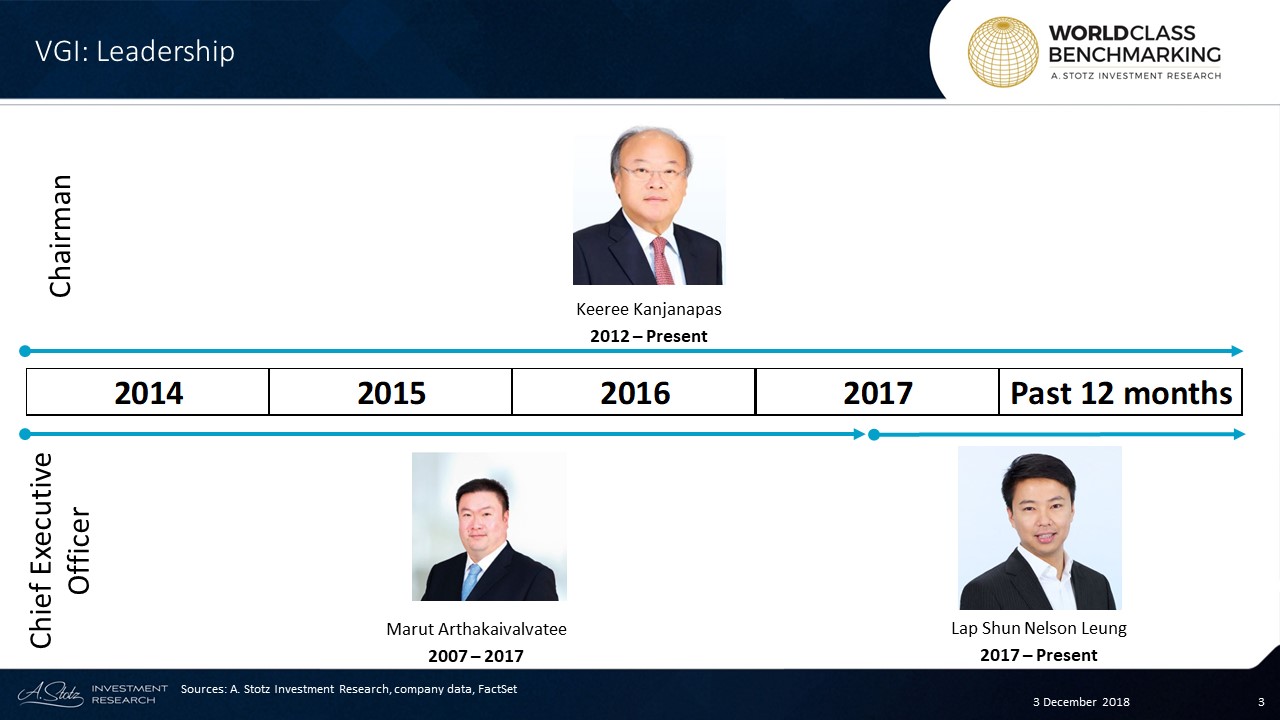 Lap Shun Nelson Leung has been the CEO and member of the Executive Committee of VGI since 2017. He graduated with a Bachelor of Mathematics from the University of Waterloo in Canada and a Master of Business Administration from Sasin Graduate Institute of Business Administration of Chulalongkorn University in Thailand.
World Class Benchmarking
Profitable Growth was excellent in FY2015-FY2018, however, in the past 12 months, the rank had fallen to #4. Still above average, VGI ranked in the top 536 out of 1,340 medium consumer discretionary companies worldwide.
Profitability has shown similar ranks as Profitable Growth but ranked at #3 in the most recent period. Growth has fluctuated below the average, but most recently improved to #4.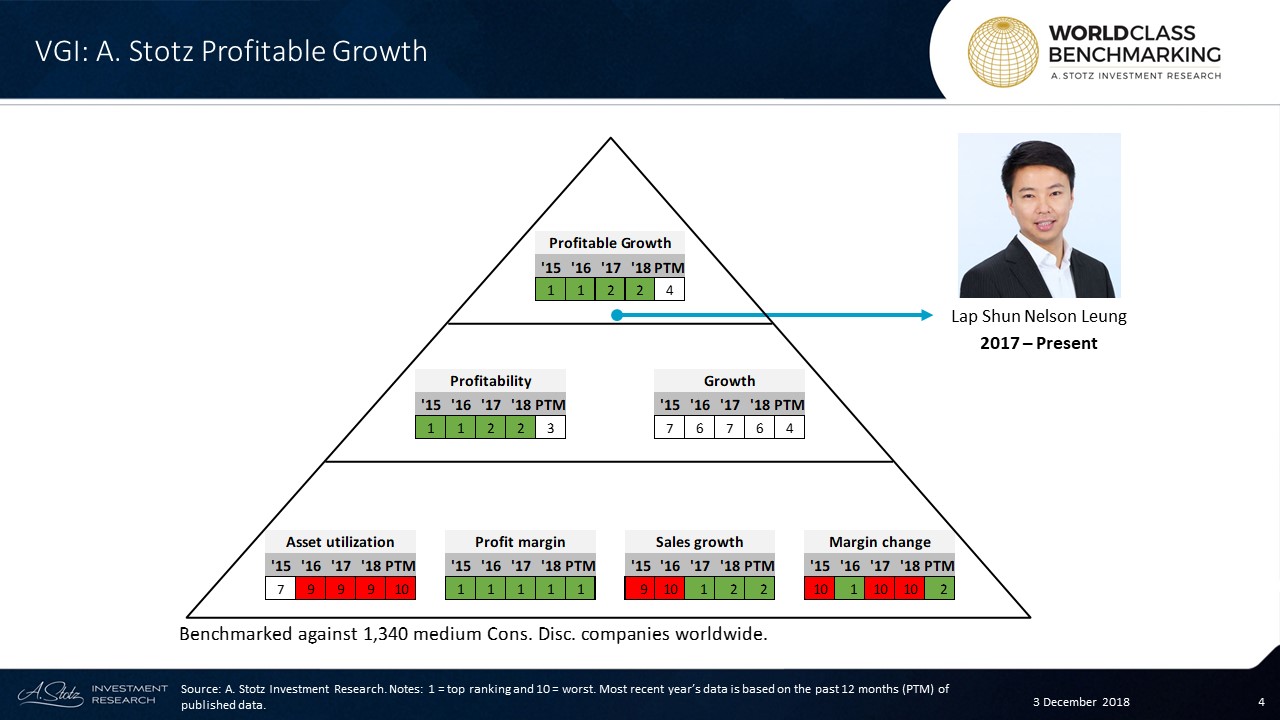 Asset utilization has been about the worst since 2016. In contrast,  Profit margin has been steadily top-ranked through the time period.
Sales growth has shown great ranks since 2017. Margin change has been volatile over the years.
---
What're your thoughts on VGI?
If you like our research, share it with your friends.
---
DISCLAIMER: This content is for information purposes only. It is not intended to be investment advice. Readers should not consider statements made by the author(s) as formal recommendations and should consult their financial advisor before making any investment decisions. While the information provided is believed to be accurate, it may include errors or inaccuracies. The author(s) cannot be held liable for any actions taken as a result of reading this article.