Profitable Growth Has Recovered at Wynn Macau
Background
Wynn Macau Limited is ranked as the second-largest gaming company in Macau by casino revenue, and no. 1 in terms of exposure to VIPs.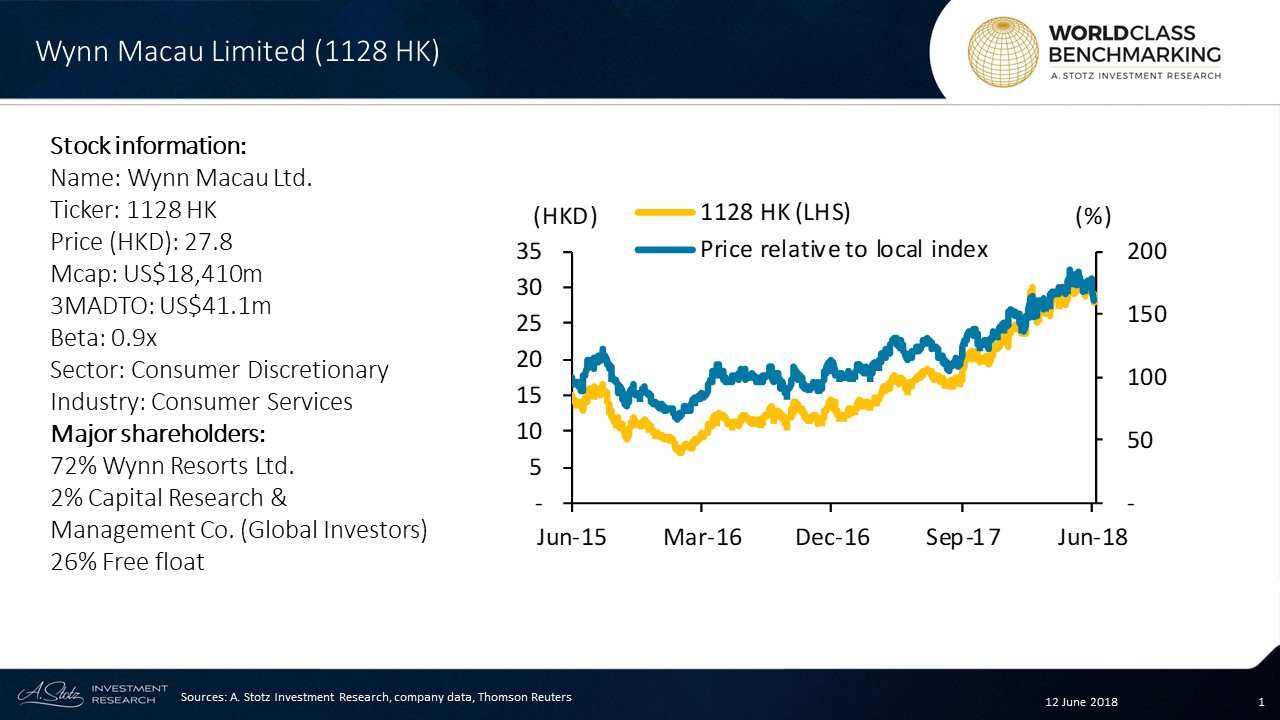 The company operates two casinos, Wynn Peninsula and Wynn Palace, in Macau. The resorts are well-known for their luxurious design, which attracts high-rollers.
Business Description
Nearly all of Wynn's revenue comes from its two casino operations in Macau: the Wynn Macau (Peninsula), and the newer Wynn Palace. Around 60% of casino EBITDA is derived from the Peninsula, and the rest from the Palace. Non-casino segments, at 7% of sales, include five restaurants, a spa, lounge and bar areas, and a convention center.
The number of hotel rooms and suites at the Peninsula casino exceeds 1,000, while that at the Wynn Palace is around 1,700. The majority of clients at the combined facilities come from China and Hong Kong.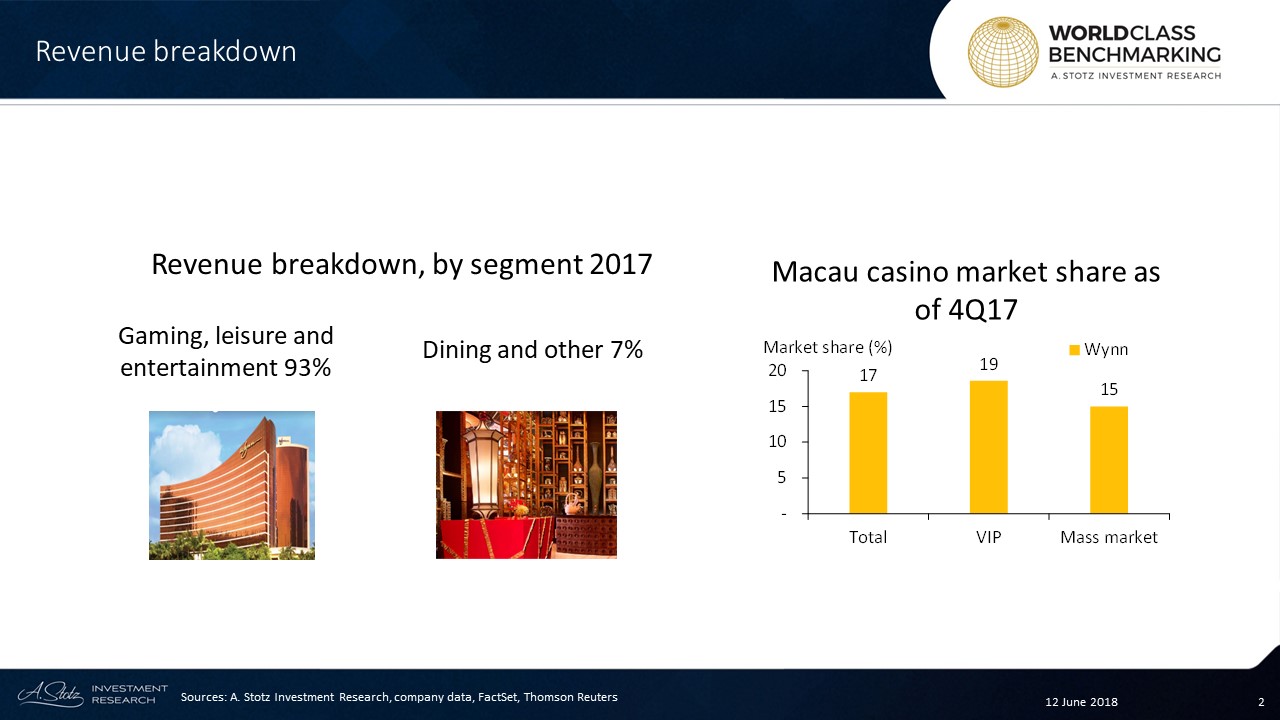 Peninsula caters largely to the mass market while Wynn Palace, located in the Cotai strip of Macau, targets the VIP market. Wynn increased its VIP market share to 19% in 4Q17 from 15% in 4Q16.
Following an alleged sex scandal, Stephen Wynn resigned from all his positions in Wynn and its mother company (WYNN US) and sold all his shares in the mother company. After this, Galaxy Entertainment Group Ltd (27 HK) has become a 5% owner in the mother company which could be an important strategic partner going forward.
Leadership.
Allan Zeman serves as a chairman of Wynn Macau since the begging of 2018. During his career, Zeman has been awarded an Honorary Doctor of Laws degree from the University of Western Ontario, Canada, and Honorary Doctorate degrees of Business Administration by the City University of Hong Kong and the Hong Kong University of Science and Technology.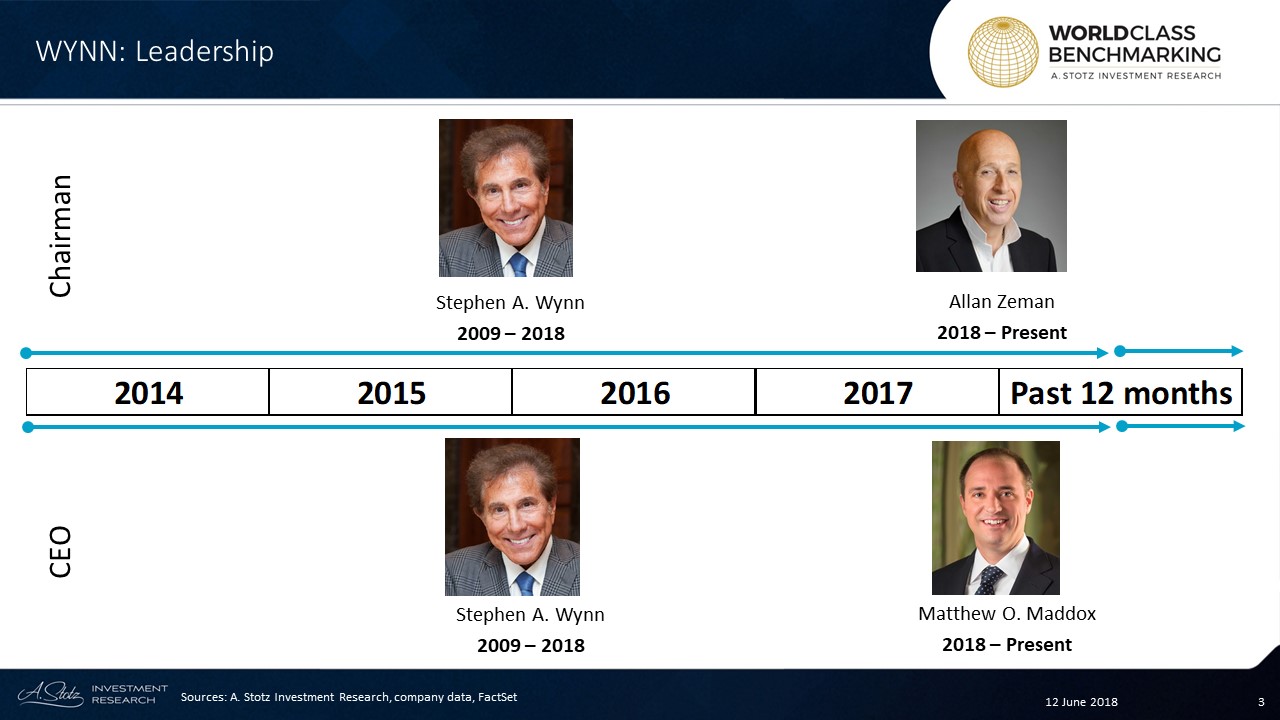 Matthew O. Maddox is the current CEO of Wynn Macau. He has served in this position in 2018. Mr. Maddox has a background in the gaming, casino and hotel industry for over 18 years. He earned his BBA in Finance from Southern Methodist University, US.
World Class Benchmarking
Profitable Growth has returned to the green in the past 12 months. Wynn ranked at #2 which is in the top 256 out of 1,280 large Consumer Discretionary companies worldwide.
Profitability also improved to #2 in the past 12 months and Growth jumped to #1 after three poor years.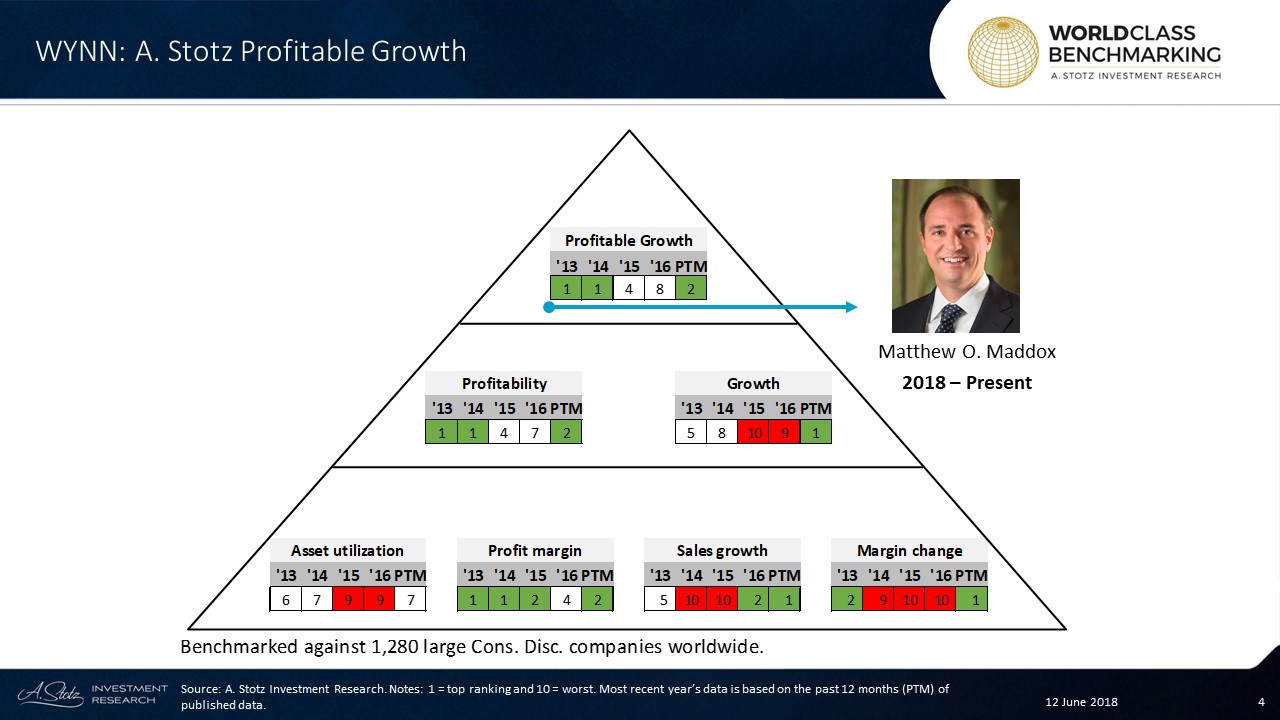 Asset utilization has ranked below average for the past years, the rank did, however, improve to #7 from #9 in the past 12 months. Profit margin returned to a #2 rank in the most recent period.
Sales growth jumped to #2 in 2016 after two years ranked at #10 and in the past 12 months the rank improved to #1. In the most recent period, Margin change rebounded to #1 after three years in the red.
---
What're your thoughts on Wynn Macau?
If you like our research, share it with your friends.
---
DISCLAIMER: This content is for information purposes only. It is not intended to be investment advice. Readers should not consider statements made by the author(s) as formal recommendations and should consult their financial advisor before making any investment decisions. While the information provided is believed to be accurate, it may include errors or inaccuracies. The author(s) cannot be held liable for any actions taken as a result of reading this article.