Profitability Outweigh Growth at This Singaporean Telco
Watch the video with Andrew Stotz or read a summary of World Class Benchmarking on StarHub Limited.
---
---
Background
StarHub Limited is a telecommunications service operator in Singapore.
The company offers information, communications and entertainment services for both the consumer and corporate markets.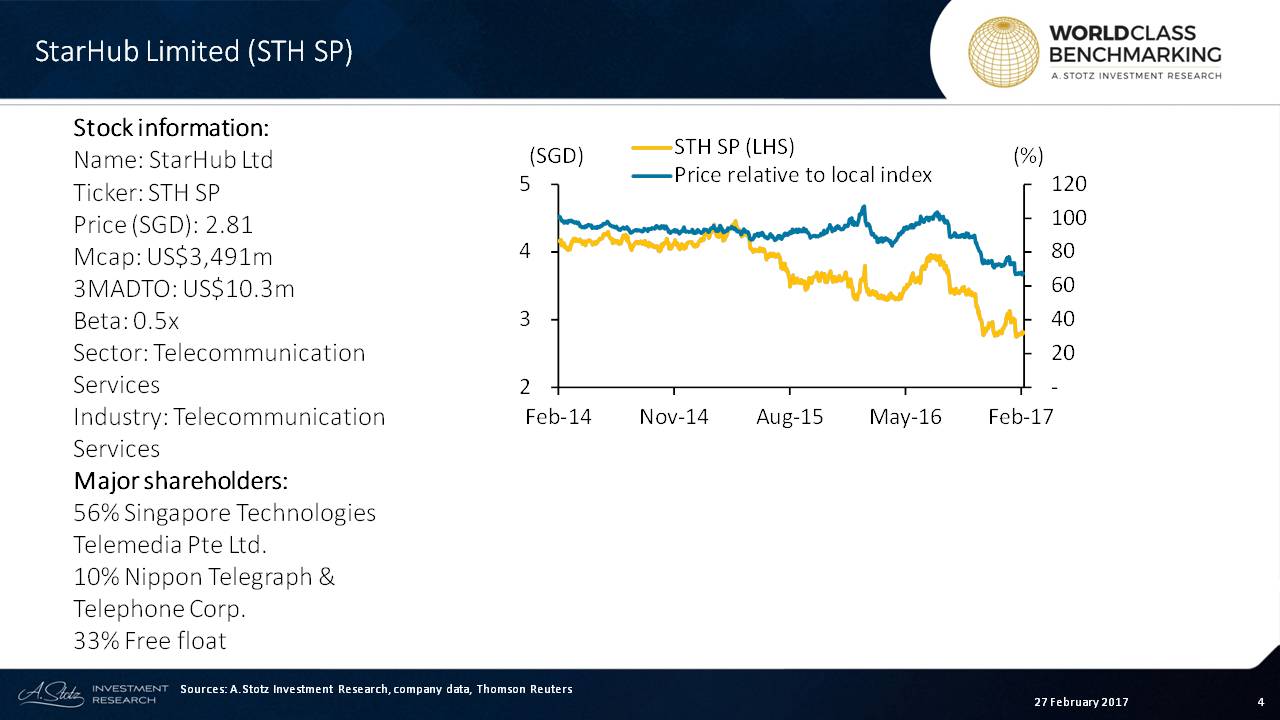 It operates a mobile network that provides 2G, 3G and 4G services, as well as Pay TV and broadband services.
As of the third quarter of 2016, Starhub had a total of 2.3 million mobile customers.
Business Description
STH earns its revenue via five business segments. Its Mobile segment contributes 51% of total sales by providing mobile pre- and postpaid plans such as MaxMobile.
Enterprise fixed network services contributes 17% to total sales and includes cloud solutions, data analytics and cyber security for corporations.
The Pay TV segment contributes 16% of total sales and provides 200 channels and a variety of TV entertainment. STH recently signed a partnership with Singapore Slingers, a professional basketball team that competes in the ASEAN Basketball League, which will boost this segment. STH also offers Fiber TV with HD content as well as StarHub Go, which allows users to access the content anywhere and on any device.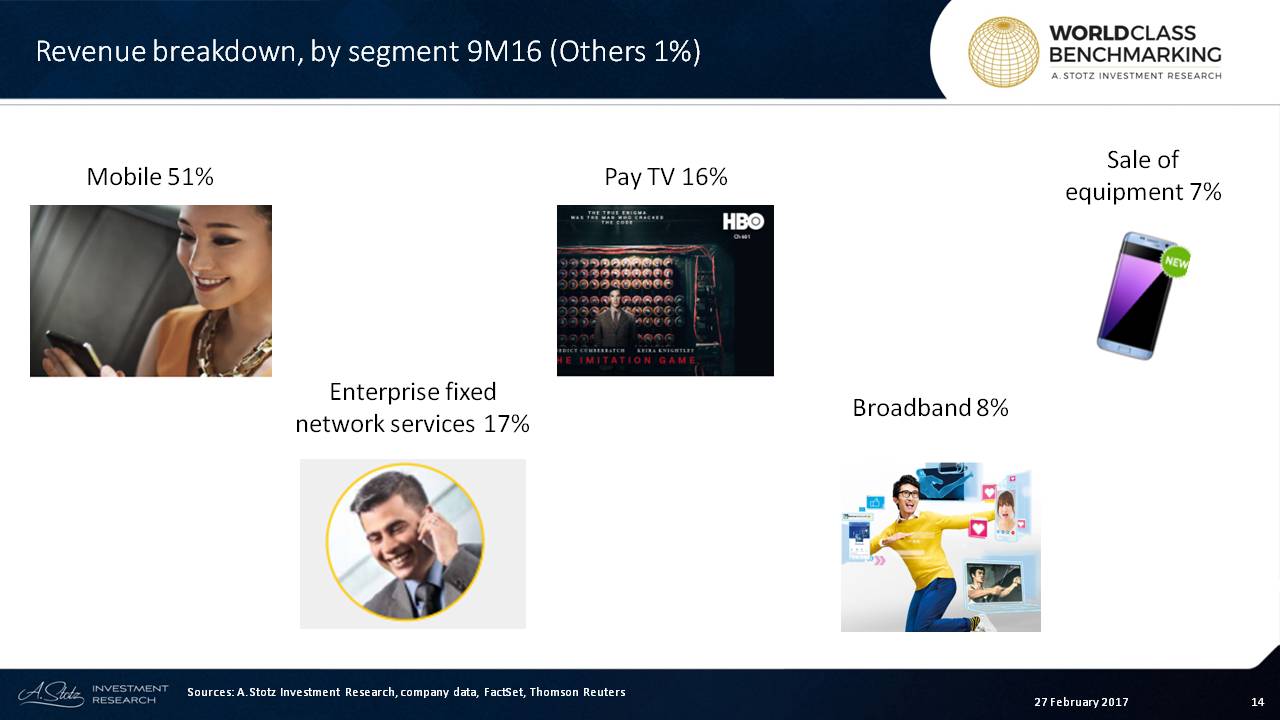 The sale of equipment contributes 9% of total sales and includes mobile handsets, cable modems and routers. Broadband contributes 8%.
STH mainly focuses on bundles to attract and keep its customers. That includes package deals for customers to buy fiber and mobile broadband, fiber TV and home fixed line services.
Leadership
Steven Terrell Clontz took over as chairman in July 2015. Clontz was formerly the CEO of StarHub from 1999 to 2010 and now serves as a high-ranking executive at Singapore Technologies Telemedia.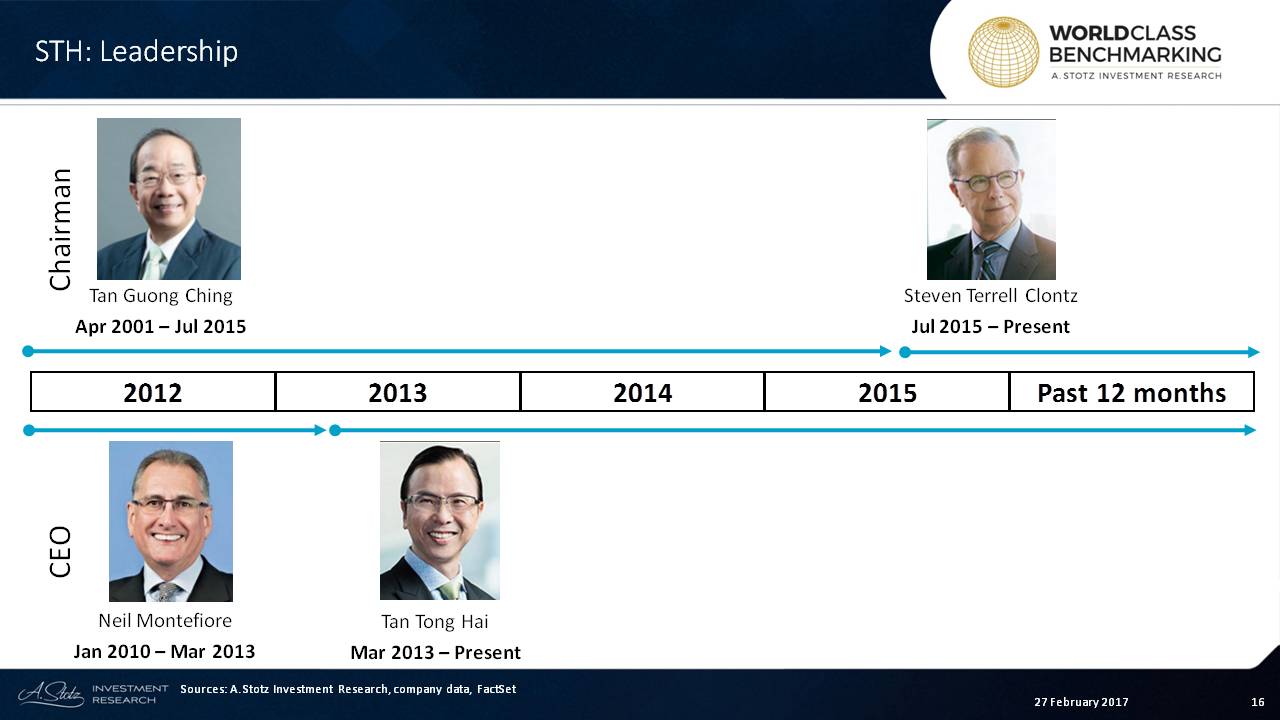 Tan Tong Hai took over as CEO in 2013 after first serving as chief operating officer since 2009. In that role, he got to manage the daily operations of the firm. His command of the company demonstrates a special talent, as he has maintained StarHub's ranking in the #1 overall World Class Benchmarking space since he took charge.
World Class Benchmarking
Profitable Growth has been World Class since 2012. StarHub ranked among the top 14 of 140 large Telecoms globally.
Profitability, the main cause of StarHub's high Profitable Growth ranking, is World Class as well.
Growth, however, has remained below average since 2014. This shows the large pull that Profitability has on their overall score. Even as StarHub has fallen from #4 to #6 on the Growth ranking since 2012, the company has remained in the #1 position for Profitable Growth.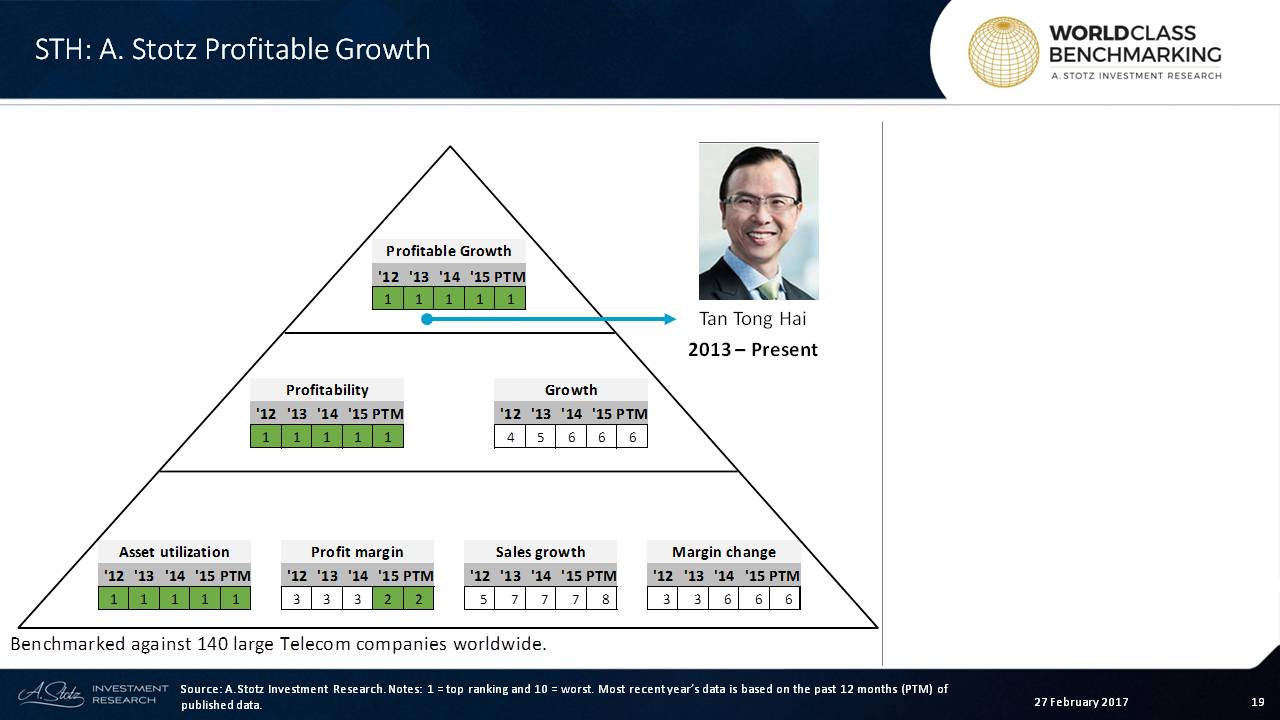 Asset utilization and Profit margin are both strong, with the latter improving slightly since 2014.
Sales growth has been poor since 2012 though, and Margin change has also degraded since 2014.
---
Would you invest in Starhub Limited?
If you like our research, share it with your friends.
---
DISCLAIMER: This content is for information purposes only. It is not intended to be investment advice. Readers should not consider statements made by the author(s) as formal recommendations and should consult their financial advisor before making any investment decisions. While the information provided is believed to be accurate, it may include errors or inaccuracies. The author(s) cannot be held liable for any actions taken as a result of reading this article.