Profitability Higher at Thailand's Largest Chemical Co.
Watch the video with Andrew Stotz or read a summary of World Class Benchmarking on PTT Global Chemical PCL.
---
---
Background
PTT Global Chemical Public Company Limited is Thailand's largest fully-integrated petrochemical and chemical company operating in the refinery, olefins and aromatics sectors. These three business segments account for 34%, 33% and 20% of the company's revenue, respectively.
The company is a partial subsidiary of PTT PCL, which owns a 49% stake.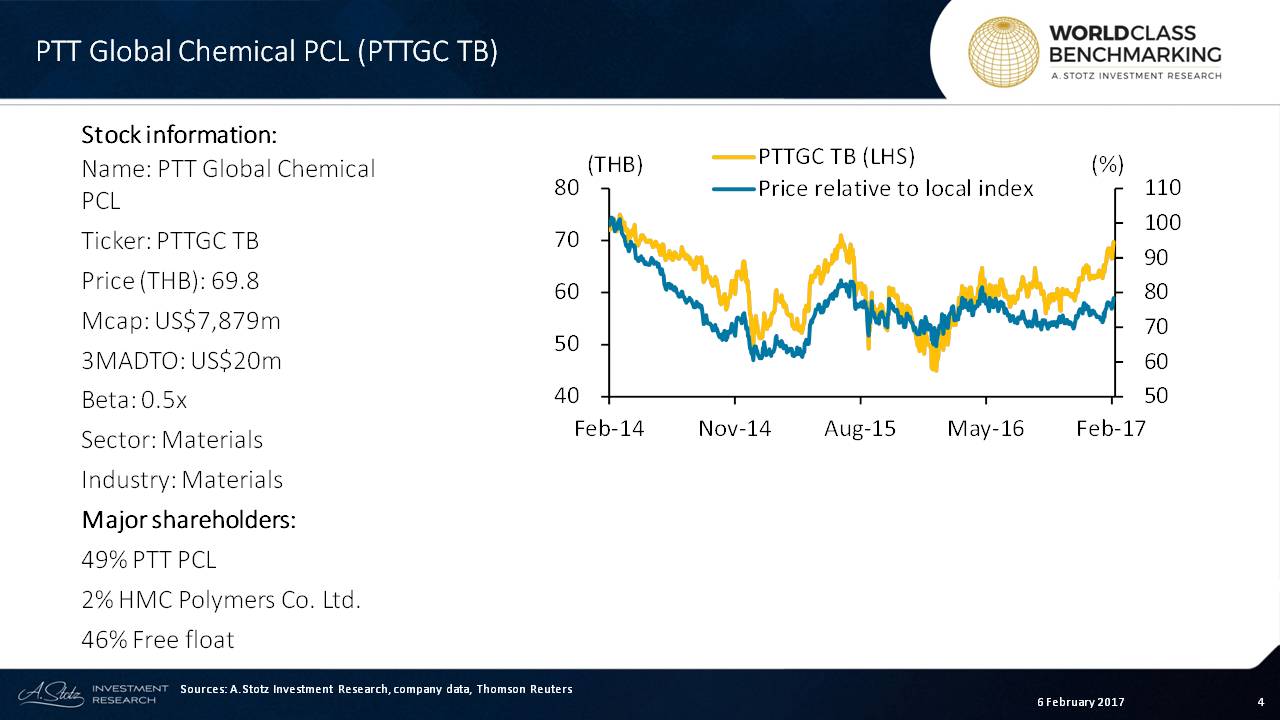 Business Description
The refinery business contributes 34% of revenue. PTTGC is a leading petroleum refiner in Thailand and supplies refined petroleum products such as LPG, used as a petrochemical input, cooking and transport fuels and middle distillates, such as jet fuel and diesel.
PTTGC's olefins business contributes 33% of its revenue. The business manufactures and distributes olefins products using natural gas and naphtha as its feedstock. Olefins are used to produce fibers, wires, cables and plastics
Aromatics products are used to produce automotive and electronic parts, clothing and food packaging. This segment generates 20% of revenue.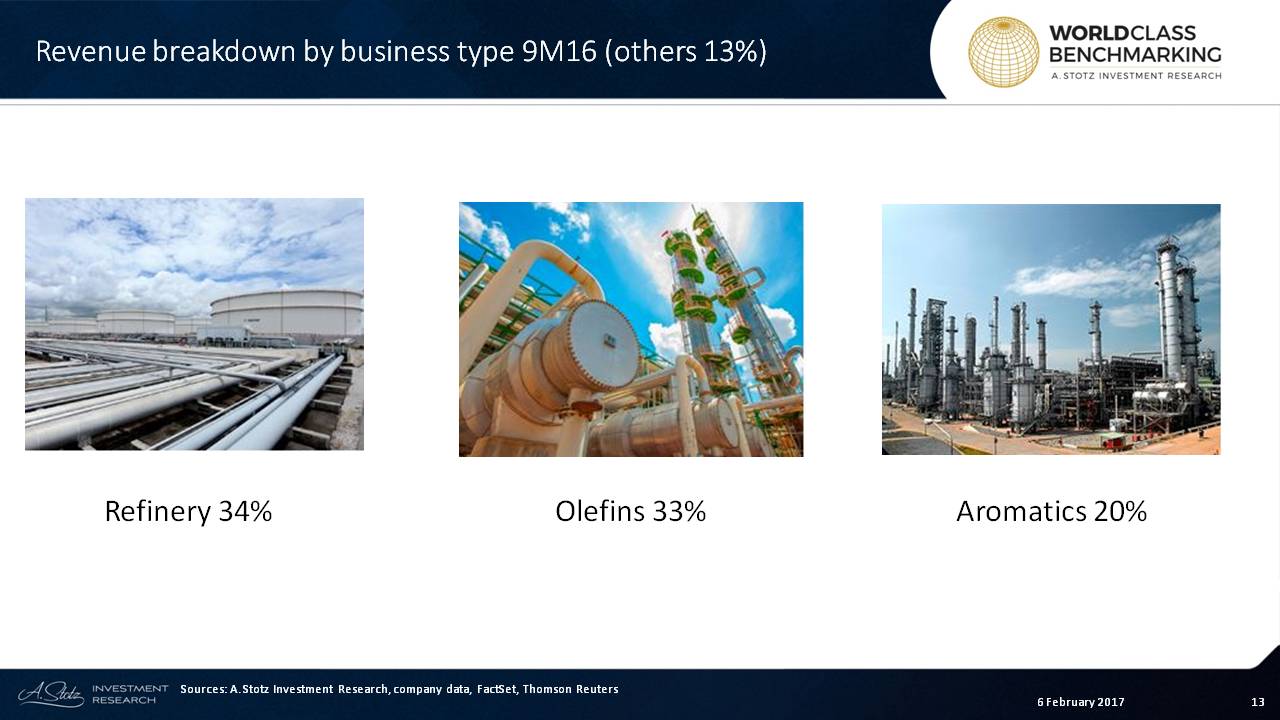 The remaining 13% of PTTGC's revenue comes from its green chemicals, high-volume specialties and other chemical-related businesses.
PTT Global Chemical has a total olefins and aromatics capacity of 8.5 million tons per annum, with over 280,000 barrels per day of refining capacity.
The company's current "Project Max" is set to improve the operational productivity by adding around US$200-400 million in earnings.
Leadership
Chairman Prasert Bunsumpun has held the position of chairman since 2011. The Harvard-educated titan has also held the chairman position for Thoresen Thai Agencies and Krung Thai Bank.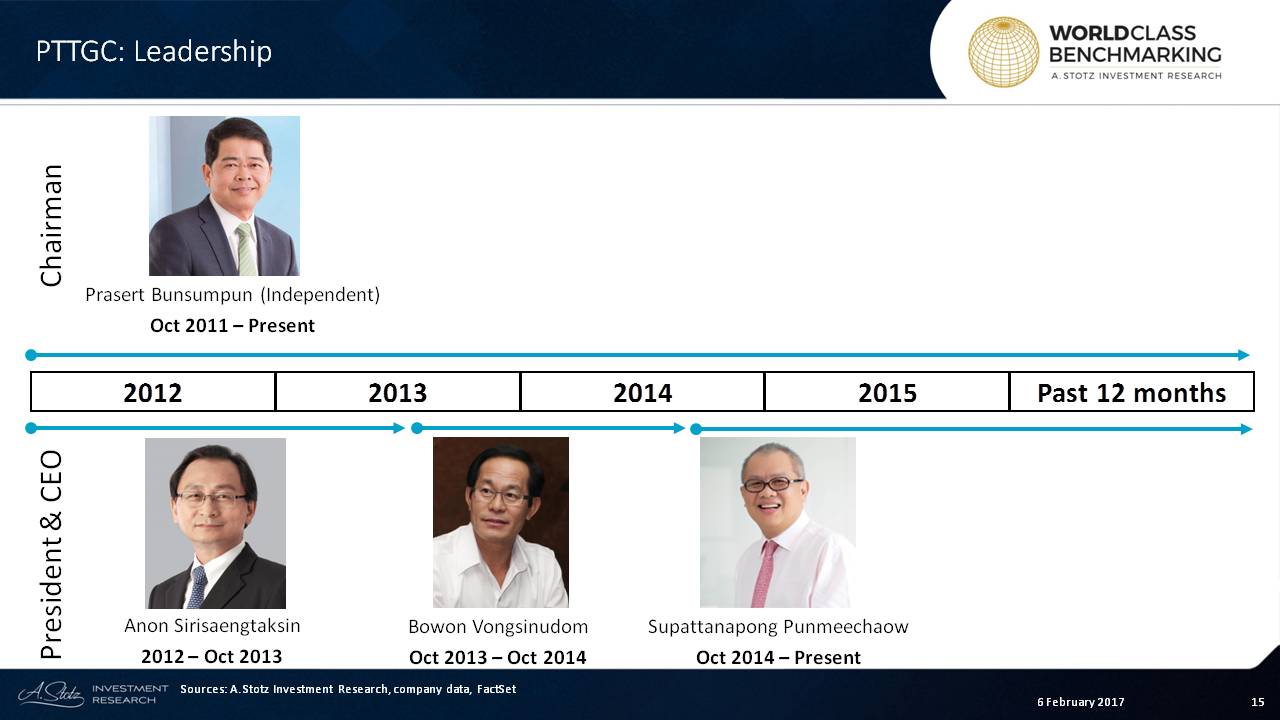 The company has gone through several chief executives in the last few years. President & CEO Supattanapong Punmeechaow has held the position since late 2014 and has thus far seemed to right the ship. The company is ranked well among its peers in terms of Profitable Growth.
World Class Benchmarking
Profitable Growth seems to have broken a negative trend.
PTTCG ranks among the best 219 of 730 large Materials companies worldwide. Profitability has started to improve and Growth has come back from a poor record in 2014.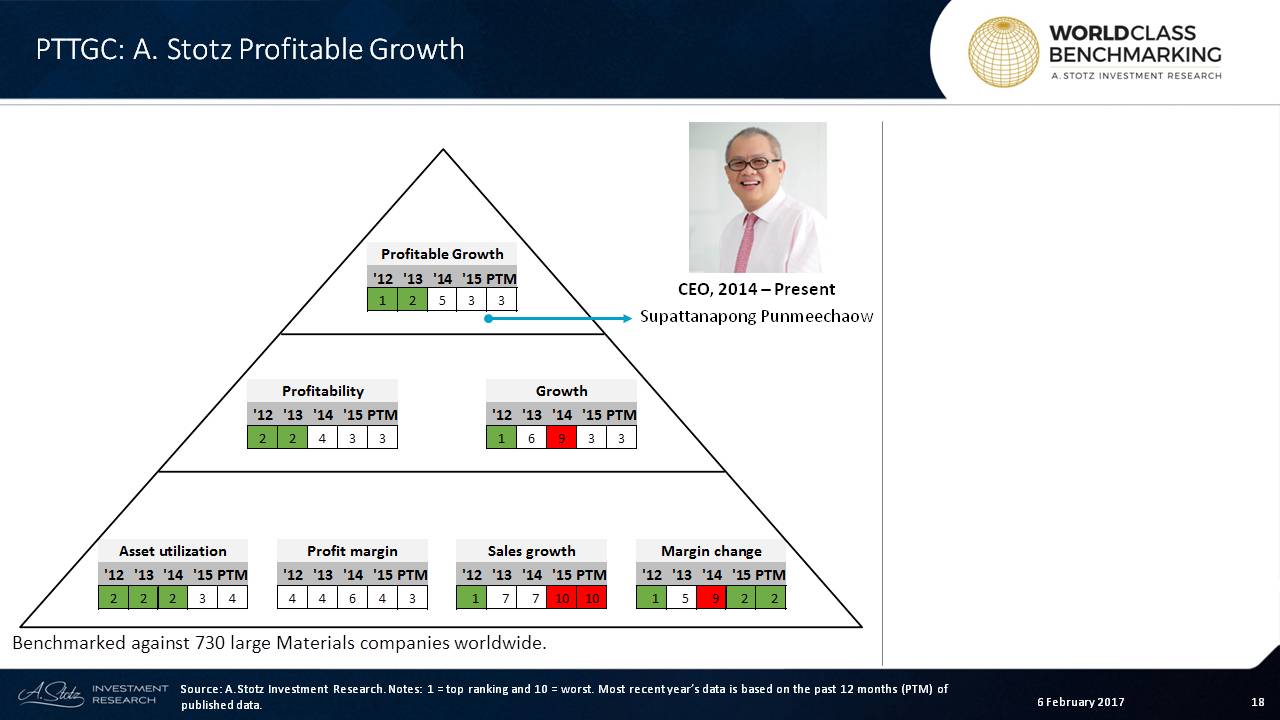 Profit margin has driven Profitability improvements.
Margin change has driven the improvement in the Growth ranking, which now sits at #3. Margin change sat at a deplorable #9 ranking in 2014, until the following year when it shifted all the way to #2.
So, the margin has been the main driver of both legs in the company's Profitable Growth rank.
---
---
Would you invest in PTT Global Chemical?
If you like our research, share it with your friends.
---
DISCLAIMER: This content is for information purposes only. It is not intended to be investment advice. Readers should not consider statements made by the author(s) as formal recommendations and should consult their financial advisor before making any investment decisions. While the information provided is believed to be accurate, it may include errors or inaccuracies. The author(s) cannot be held liable for any actions taken as a result of reading this article.