HIWIN Technologies Has Shown a Solid Improvement in Profitable Growth
Background
HIWIN Technologies Corporation was established in 1989 with its headquarters in Taiwan.
It engages in research, development, design, manufacture and maintenance of ball screws and linear guideways.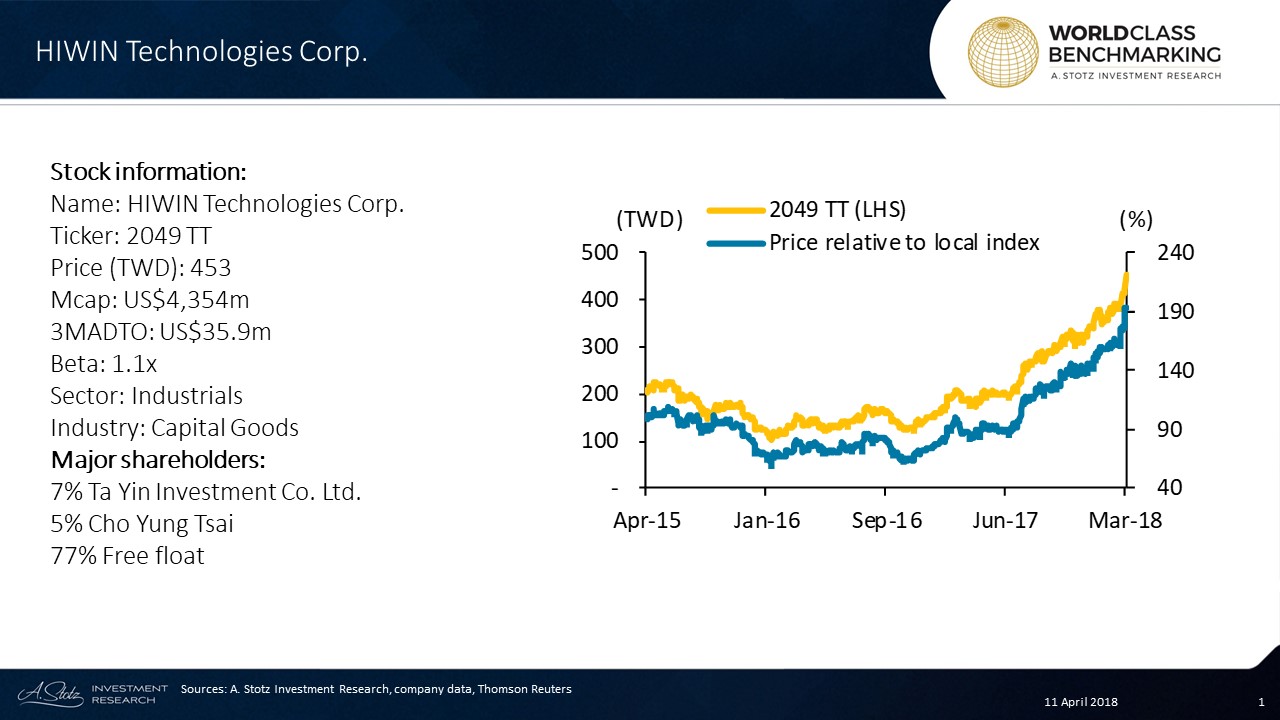 HIWIN acquired a 48% stake in Luren precision in 2015 which manufactures gear-cutting tools and machine tools.
Business Description
HIWIN, based in Taiwan, is the world's second-largest supplier of linear guideways and ball screws. With its many overseas subsidiaries across the globe, HIWIN derives most of its income from Asia and Europe.
The majority of HIWIN's revenue is from manufacture and distribution of linear guideways, low friction sliding rail with high accuracy used in machine tools, transportation systems, and measurement apparatuses.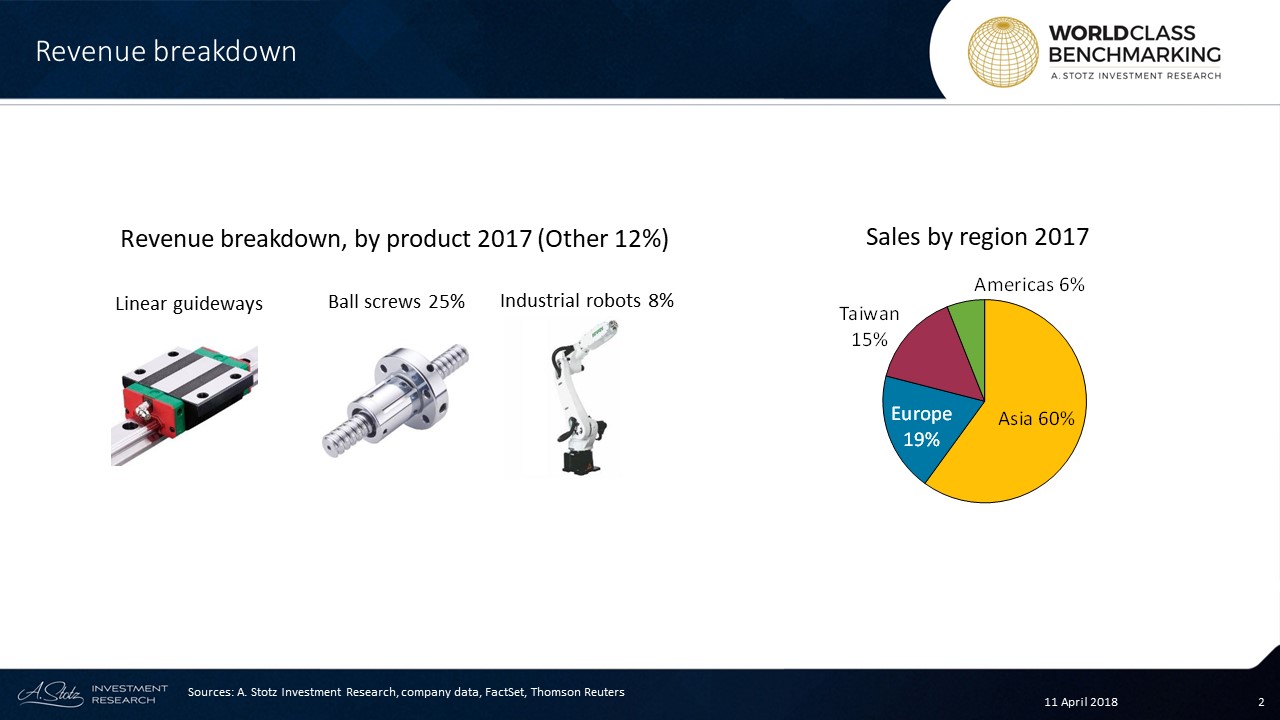 Ball screws are mechanical screws used to translate rotational motion, used in aircraft, automobile and machine tools. HIWIN is an experienced producer of high-grade ball screws, meeting international standards. Industrial robots is a relatively new business which has potential to become a new growth driver.
HIWIN holds a 45% stake in Luren Precision and 65% in Eterbright Solar Corporation which engage in gear-cutting tools and solar business respectively. They contribute the remaining 12% of revenue.
Leadership
Eric Chuo is the founder of HIWIN and has served as its Chairman since 2008. He is also the Chairman of HIWIN's subsidiary Luren Precision Co., Ltd. Mr. Chuo holds a Master's Degree in Management from the University of San Francisco, US and has received honorary Doctorates from multiple institutions.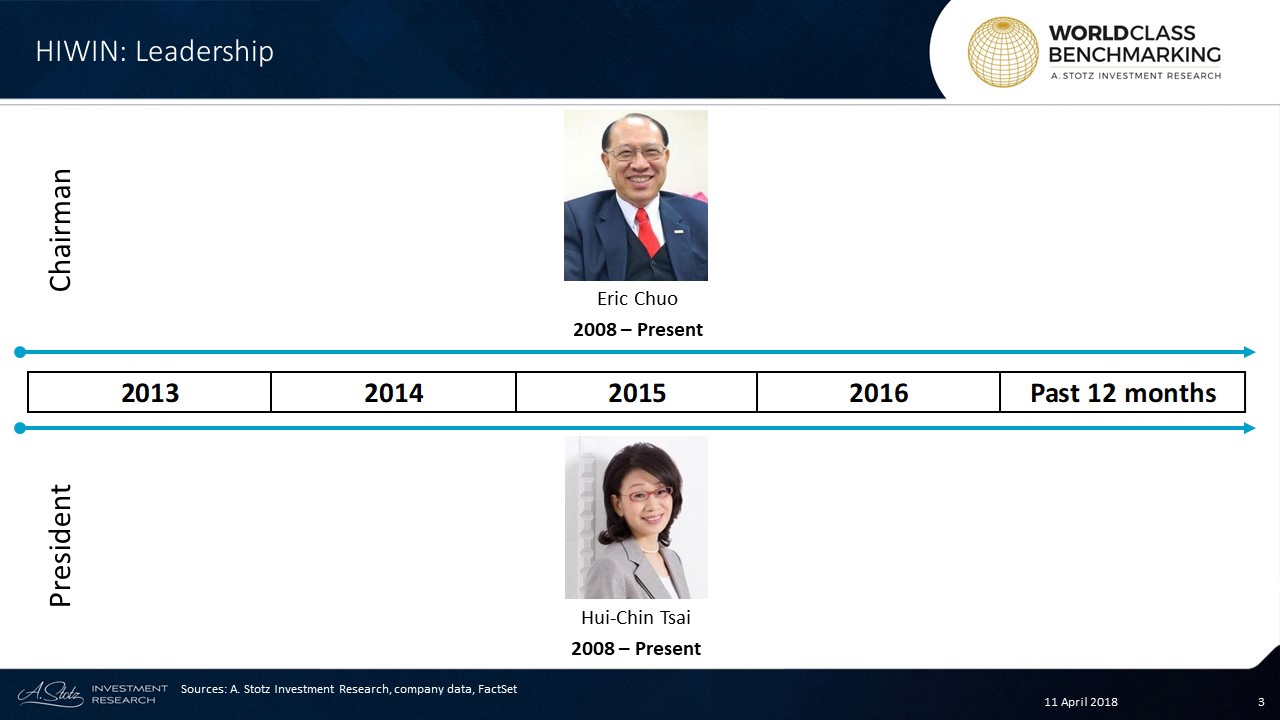 Hui-Chin Tsai is the current president of HIWIN and has served in this position since 2008. She attended the University of California, Berkeley, US. Hui-Chin Tsai is the Chairman of Elegant Leaders in the Machinery Industry, a group promoting women in the sector.
World Class Benchmarking
Profitable Growth has ranked in the upper half for the whole time period and ranked at #2 in the past 12 months. HIWIN ranked among the top 294 of 1,470 large Industrials companies worldwide.
Profitability improved to #2 from #4 in the past 12 months. Growth improved to #2 as well, but from a #7 rank in the previous period.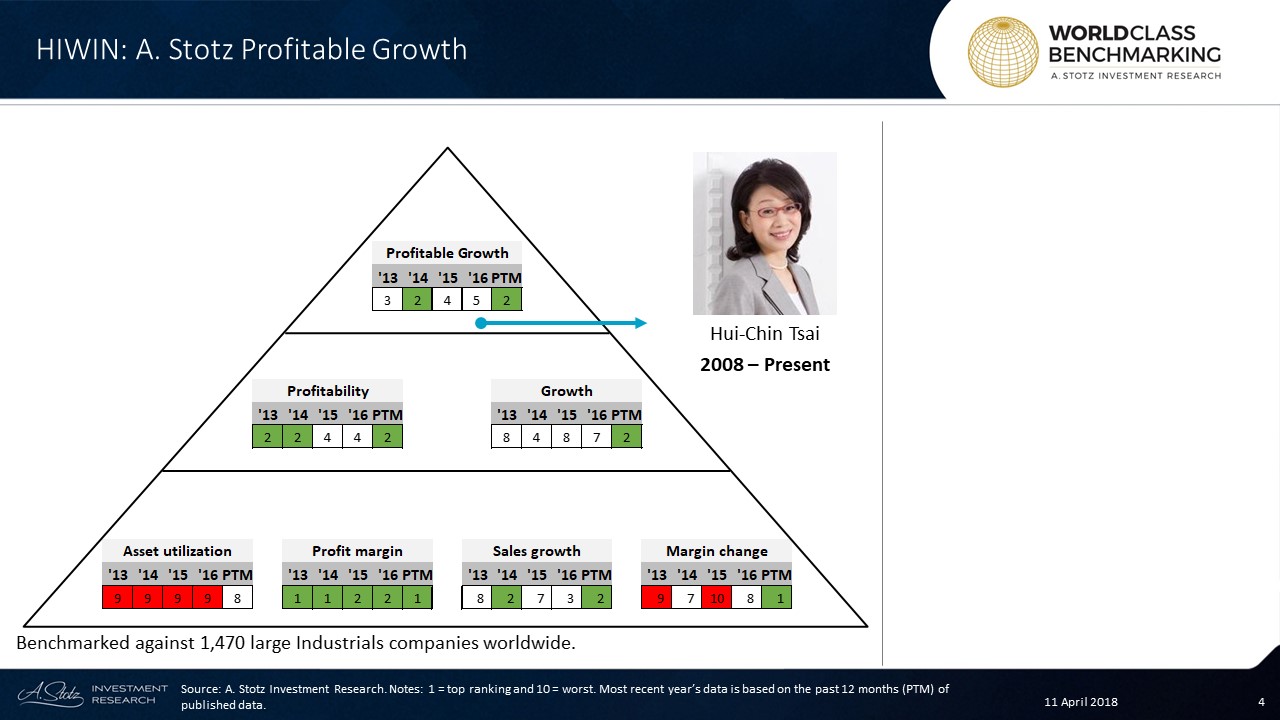 Asset utilization and Profit margin show a stark contrast in rankings. Asset utilization has ranked poorly and has seen a slight improvement to #8 from #9, while Profit margin has consistently ranked in the top 20% and ranked in the top decile in the most recent period.
Sales growth has improved to a #2 rank from being ranked #7 in 2015. Margin change jumped to #1 from #8 in the past 12 months.
---
What're your thoughts on HIWIN?
If you like our research, share it with your friends.
---
DISCLAIMER: This content is for information purposes only. It is not intended to be investment advice. Readers should not consider statements made by the author(s) as formal recommendations and should consult their financial advisor before making any investment decisions. While the information provided is believed to be accurate, it may include errors or inaccuracies. The author(s) cannot be held liable for any actions taken as a result of reading this article.