Philippine Conglomerate with Great Profitability
Background
DMCI Holdings Incorporated is a major Philippines-based conglomerate. It owns the largest coal mine in the country.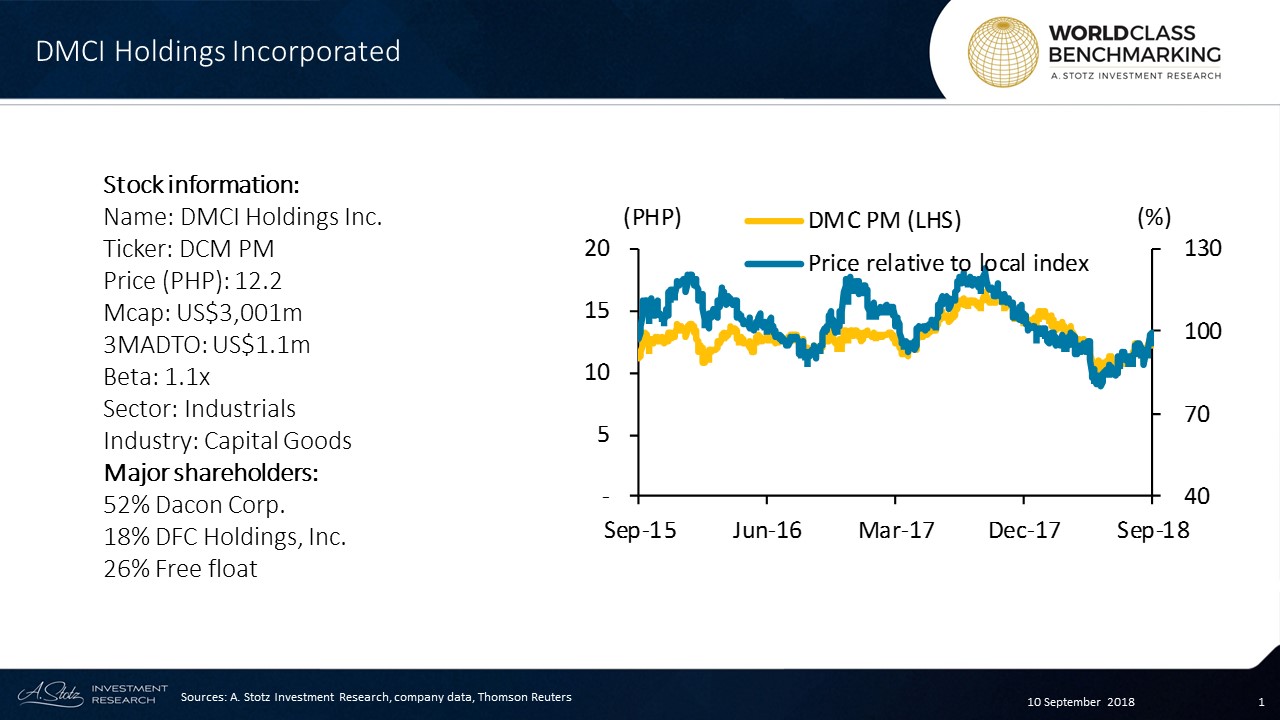 DMC's core business was originally construction, but DMC now derives a large majority of its income from its business in power, mining and real estate.
Business Description
DMC conducts its business through its many subsidiaries. Its power and mining business operates through Semirara Mining and Power Corporation (SCC PM) in which DMC holds a 57% stake. Net income from this subsidiary accounts for more than 2/3 of DMC's total net income.
The mining division can be attributed entirely to SCC while the power business can be separated into on-grid and off-grid of which the latter is managed by DMC and attributes for 2% of net income.
Property development is focused on mid-income residential condos under the brand name, DMCI Homes.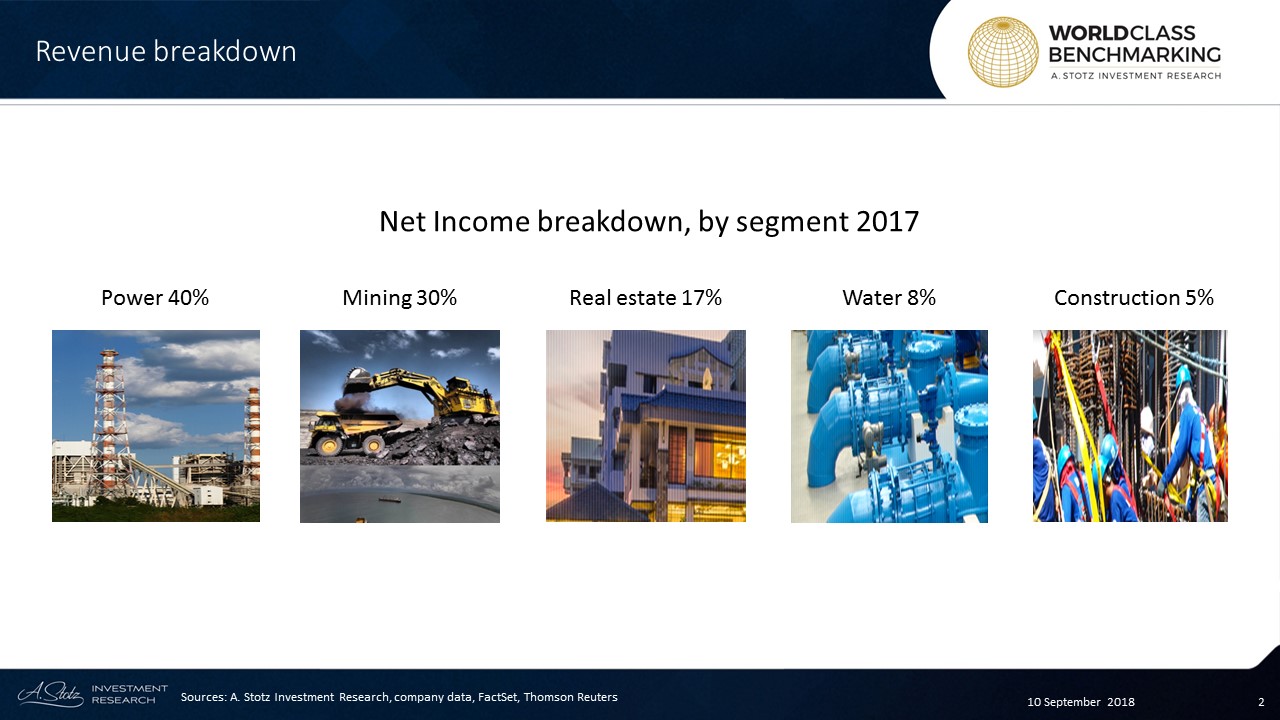 Another notable subsidiary is 27%-owned Maynilad Water which operates DMC's water segment. It is the largest water concessionaire by customer base in the Philippines.
The original core business of DMC now accounts for only 5% of net income. DMC is currently waiting for the project award for construction of a large-scale railway. Its partnership with Japanese contractor to help contribute in the bidding to happen in 4Q18.
Leadership
Isidro A. Consunji is the Chairman and President of DMC. He also holds chairmanship in other companies, such as D.M. Consunji Incorporated, DMCI Homes Incorporated, DMCI Power Corporation, Universal Rightfield Property Holdings Incorporated, Semirara Mining and Power Corporation, Maynilad Water Services Incorporated, and Palm Concepcion Power Corporation. Additionally, he serves as a Director at Carmen Copper Corporation and Atlas Consolidated Mining and Development Corporation.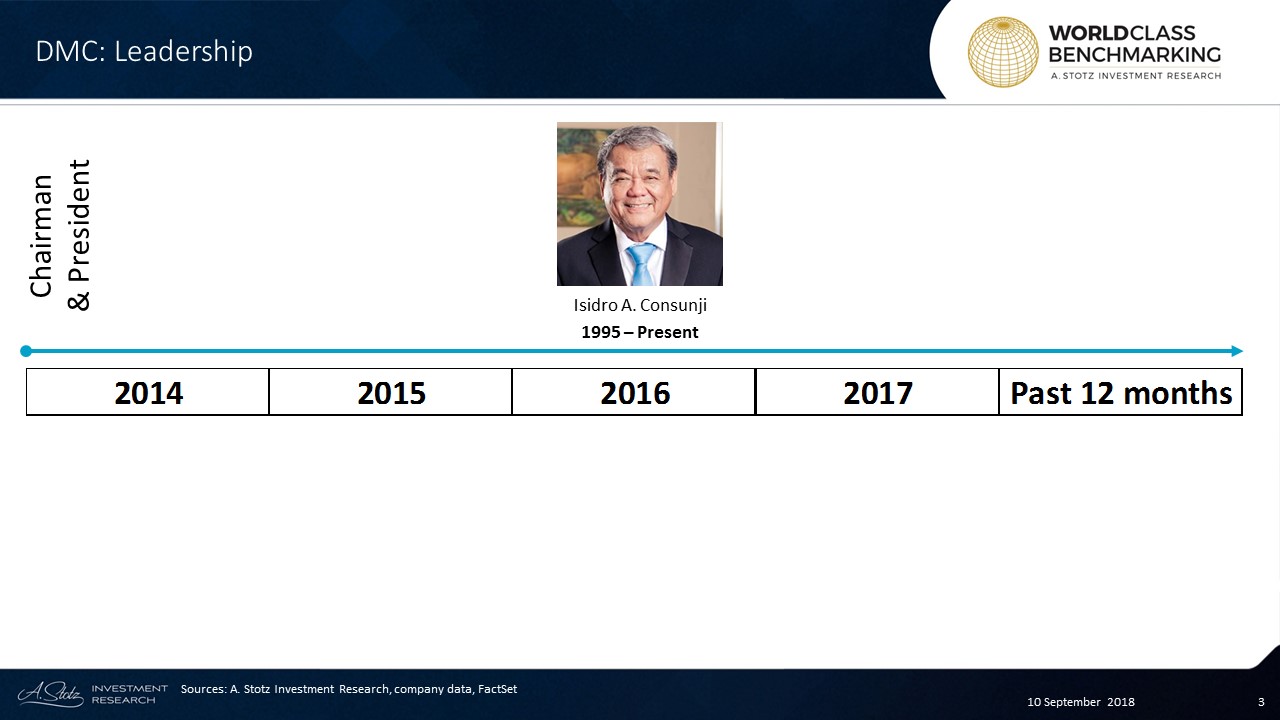 Mr. Consunji has been educated at various institutions in the Philippines. He earned a Bachelor of Science degree from the University of the Philippines, a Master's Degree from the University of Asia and the Pacific, and an MBA from the Asian Institute of Management.
World Class Benchmarking
DMC's Profitable Growth has persistently ranked at #2 over the years, which is in the top 292 out of 1,460 large Industrials companies worldwide.
Profitability has shown the same steady rank as Profitable Growth, ranked at #2 for the whole time period. Growth has improved from #9 in the year 2014 to about average since 2015.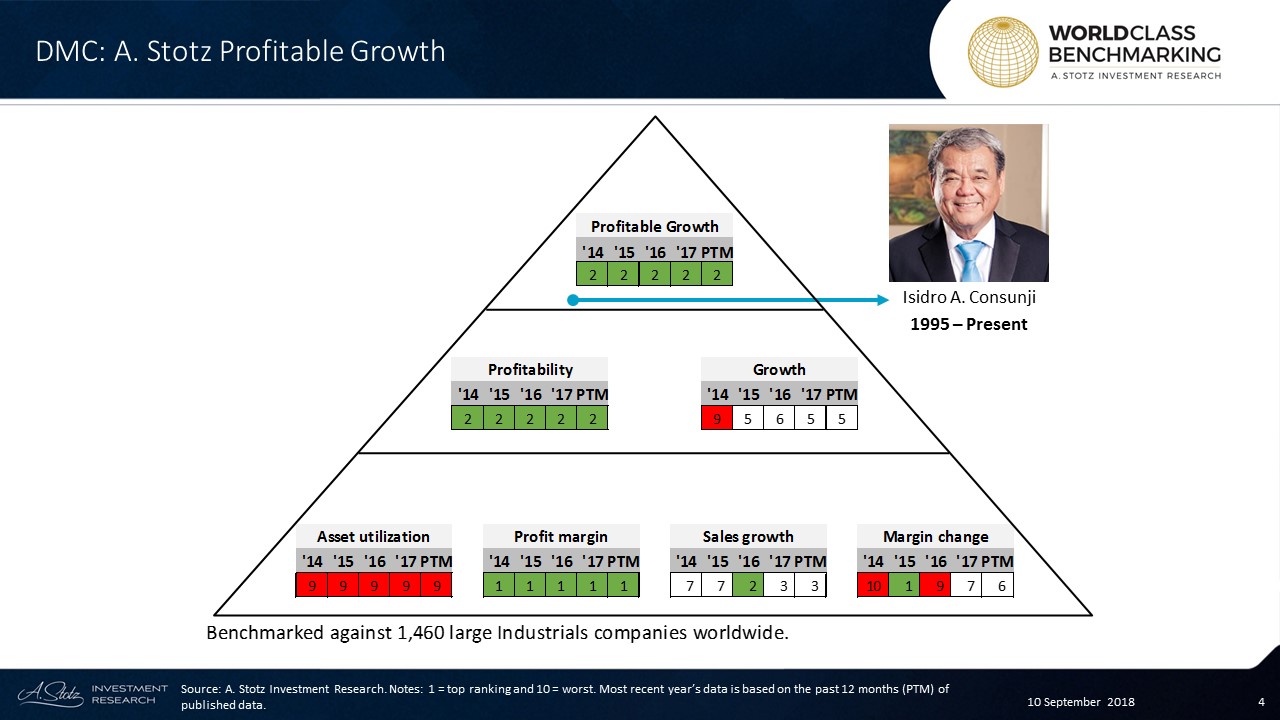 Asset utilization has consistently stayed at a poor #9 rank, which differs from Profit margin that has been excellent for the whole time period.
Sales growth improved to #2 from #7 in 2016, fell one step to #3 in 2017 and stayed there in the past 12 months. Margin change has slowly been moving up the ranks from #9 in 2016.
---
What're your thoughts on DMC?
If you like our research, share it with your friends.
---
DISCLAIMER: This content is for information purposes only. It is not intended to be investment advice. Readers should not consider statements made by the author(s) as formal recommendations and should consult their financial advisor before making any investment decisions. While the information provided is believed to be accurate, it may include errors or inaccuracies. The author(s) cannot be held liable for any actions taken as a result of reading this article.