Thai Flagship Petroleum Exploration and Production Company
Background
PTT Exploration and Production Public Company Limited is a Thailand-based petroleum exploration and production (E&P) company.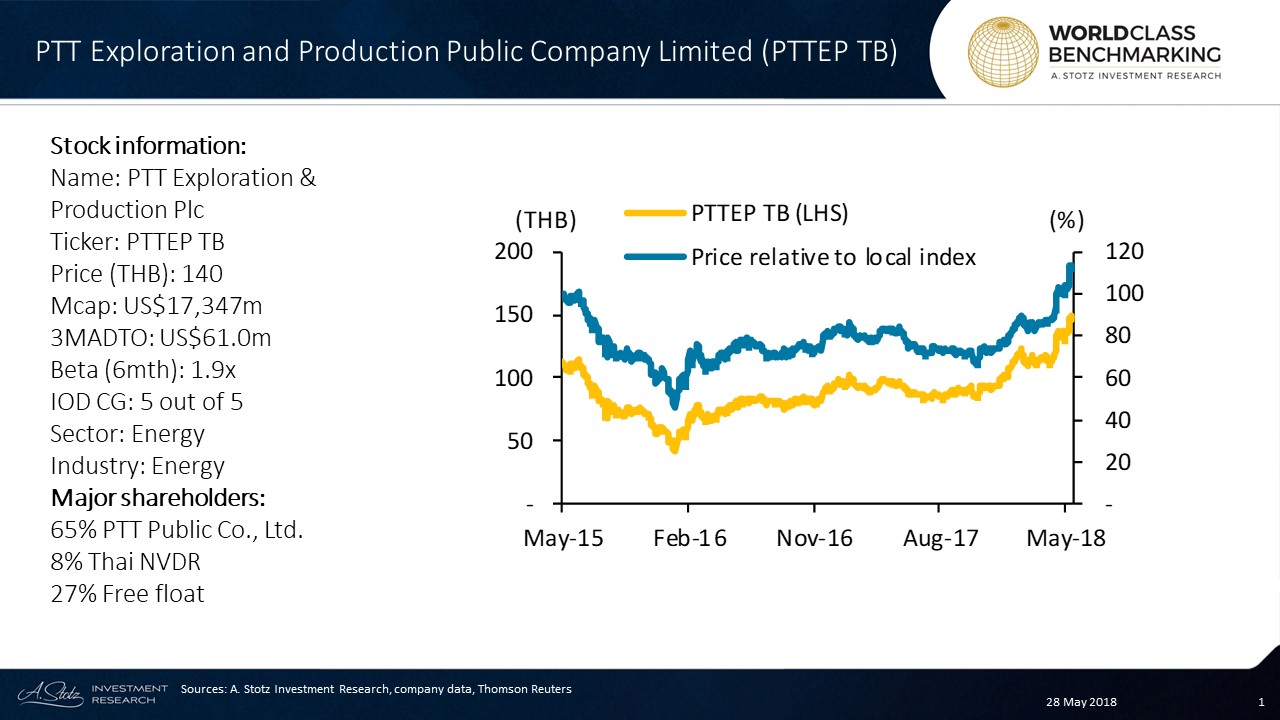 It operates in 30 countries, including Algeria, Australia, Canada, Indonesia, and New Zealand. Its exploration and production (E&P) operations account for more than 90% of revenue.
Business Description
PTTEP operates in more than 30 countries, exploring and producing oil and gas in Thailand and overseas. It also transports gas via overseas pipelines, and invests in other energy-related projects. It has altogether 36 production and exploration projects in countries such as Thailand, Myanmar, Indonesia, Algeria, Australia, Canada, Brazil, and Mozambique.
About 40% of PTTEP sites' asset value are outside Thailand and its product mix includes gas and liquid; 60% of revenue comes from gas products e.g. natural gas and condensate, and 40% from liquid products such as bitumen and crude oil. Of the company's current sales volume, 77% is sold within Thailand and 19% to other countries in Southeast Asia.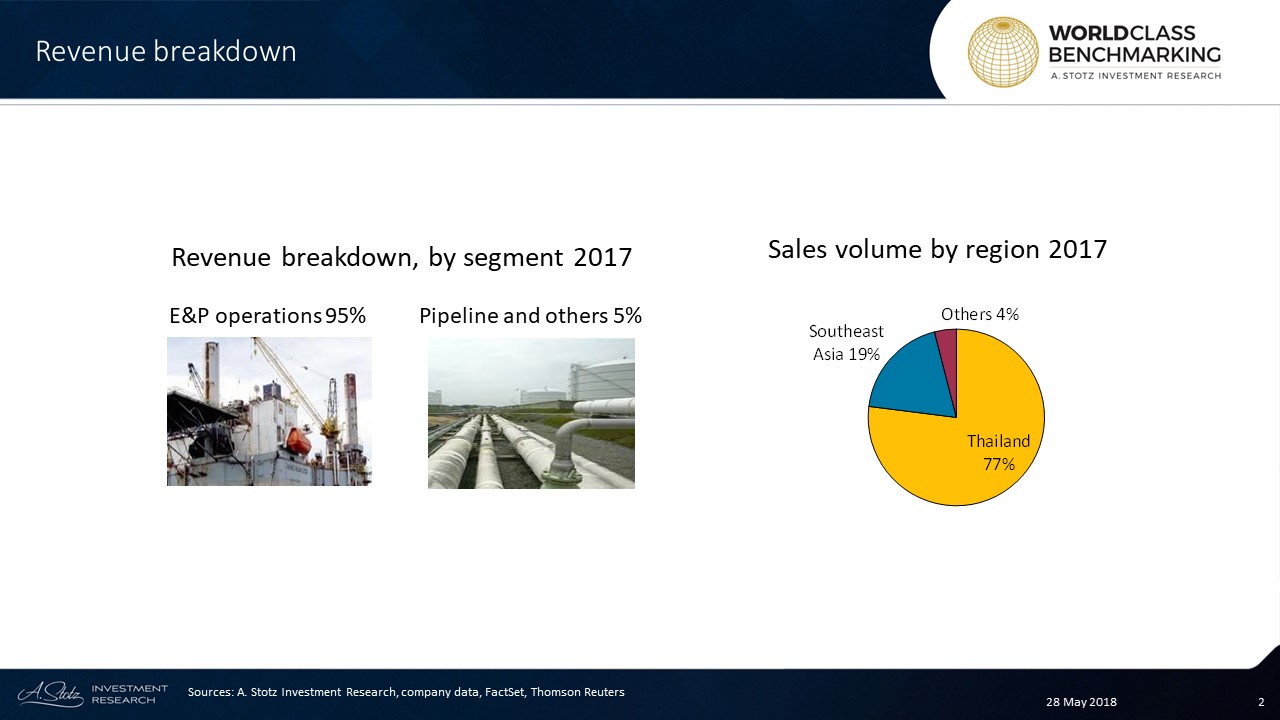 PTTEP, through JVs, is operating natural gas pipelines from three of its projects in Myanmar, including the Zawtika block in the Gulf of Martaban.
In 2017, PTTEP expanded cooperation with PTT in the LNG value chain by opening a jointly owned company PTT Global LNG which helped PTTEP invest 10% stake the MLNG Train 9 Project, an LNG liquefaction project in Malaysia providing a capacity of 3.6m tons per annum.
Leadership
Prajya Phinyawat has been the chairman of PTT Exploration & Production since 2012. He is also a director at Thai Lube Base Public Company Limited. Prajya Phinyawat holds an undergraduate degree from the University of Chulalongkorn, Thailand a graduate degree from Stanford University, US and a doctorate degree from The University of Texas, US.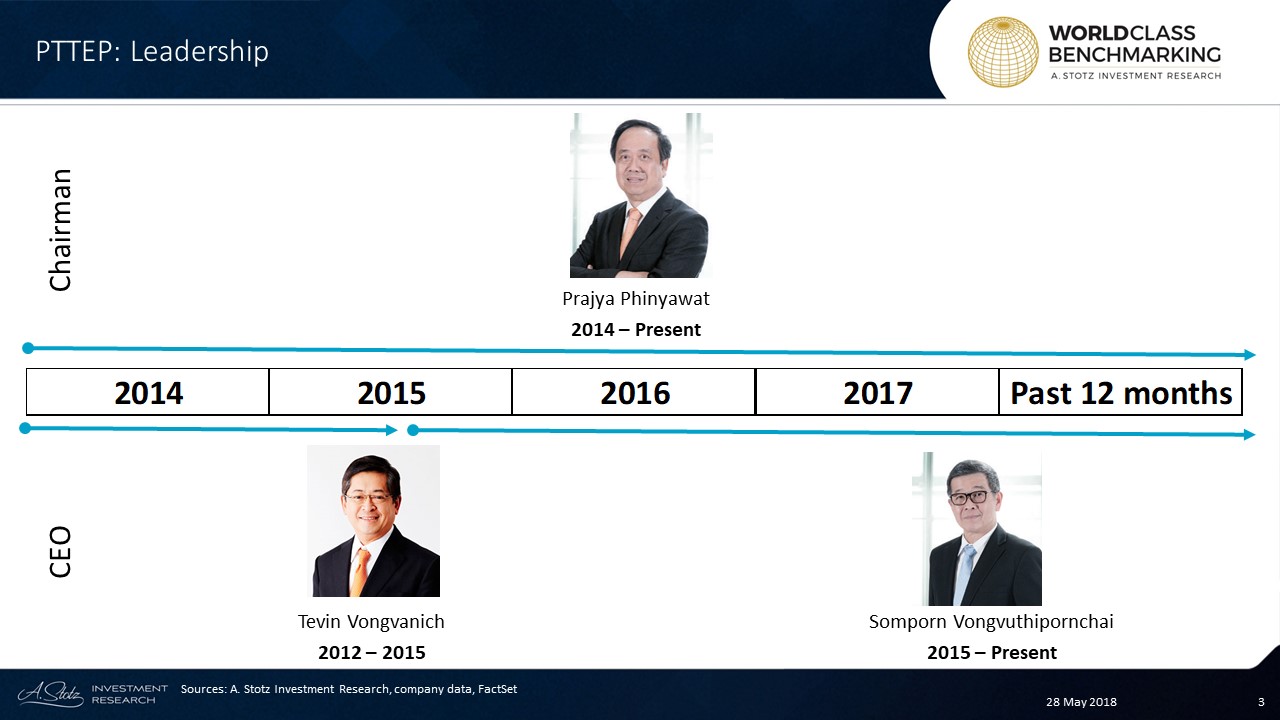 Somporn Vongvuthipornchai has served as the CEO of PTTEP since 2015. He received his BS, MS, and Ph.D. in Petroleum Engineering from the University of Tulsa, US.
World Class Benchmarking
Profitable Growth has been in an improving trend since 2016. In the past 12 months, PTTEP ranked in the top 40% among 330 large Energy companies globally.
Profitability has shown the same ranks as Profitable Growth since 2016. Growth has improved from below average in 2014-2016 to #3 in 2017. However, PTTEP's Growth rank fell back to #5 in the past 12 months.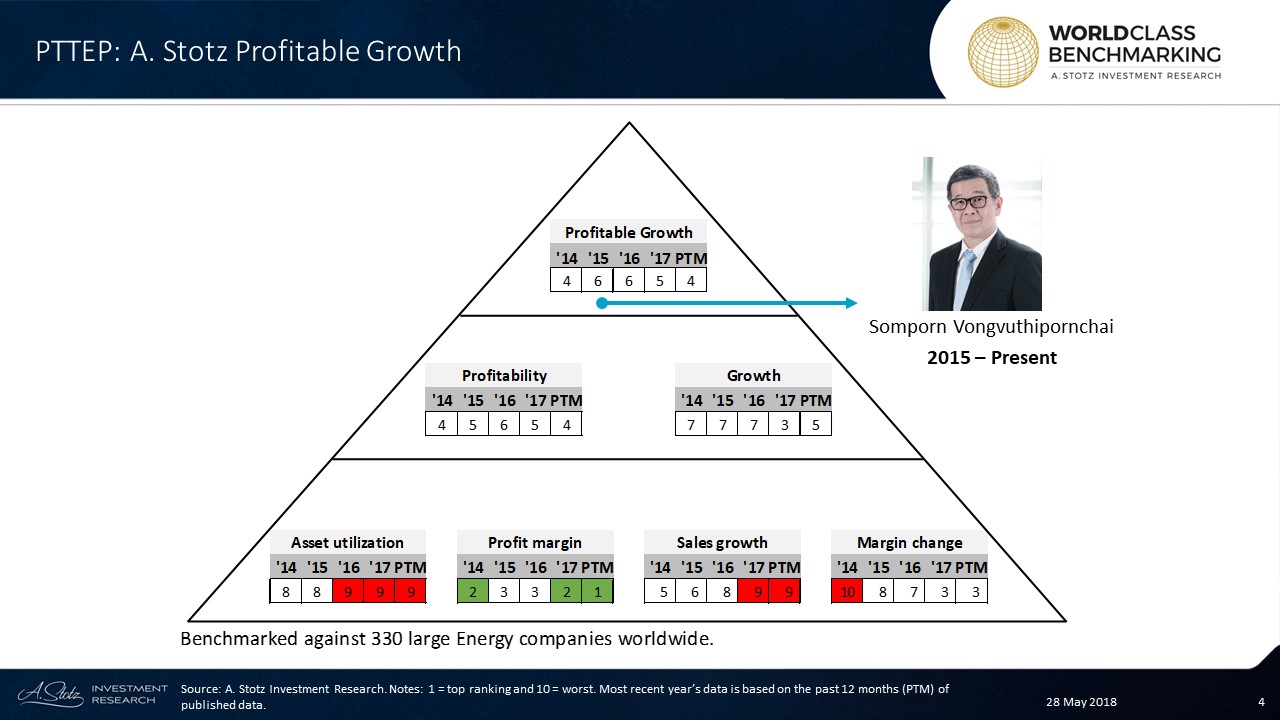 Asset utilization has been poor for the whole time period and has ranked at #9 since 2016. Profit margin has shown good performance and a great improvement to #1 in the most recent period.
Sales growth has been trending downward and ranked #9 since 2017. Margin change has shown the opposite trend and ranked at #3 since 2017.
---
What're your thoughts on PTTEP?
If you like our research, share it with your friends.
---
DISCLAIMER: This content is for information purposes only. It is not intended to be investment advice. Readers should not consider statements made by the author(s) as formal recommendations and should consult their financial advisor before making any investment decisions. While the information provided is believed to be accurate, it may include errors or inaccuracies. The author(s) cannot be held liable for any actions taken as a result of reading this article.