Part Maker Geared Towards China Renewables Vow
Watch the video with Andrew Stotz or read a summary of the World Class Benchmarking on China High Speed Transmission Equipment Group Company Limited.
---
---
Background
China High Speed Transmission Equipment Group Company Limited has top market share of transmission gears used in wind power that are manufactured in China.
Gears for wind-power equipment account for 80% of revenue, and the group supplies all of the major global wind power equipment makers, both in China and overseas. GE (GE US) is its biggest customer.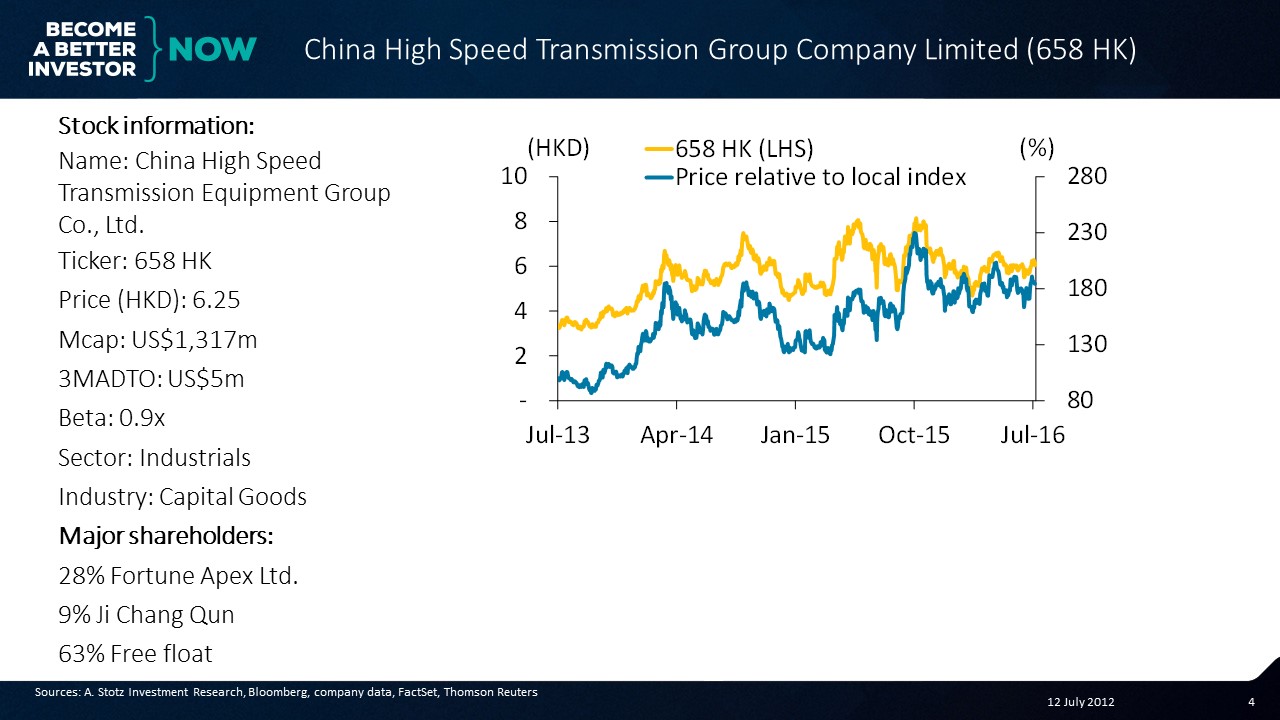 Business Description
CHST is the biggest manufacturer in China of transmission gears for wind power equipment, and has around half of the domestic market. It also has a quarter of the market overseas for this product, the main customer in the US being GE (GE US).
Wind power transmission gears account for more than three quarters of the company's total revenue. The remaining divisions are Industrial gears, which are mainly for use in construction, Marine gears, which are integrated marine propulsion systems including hydraulics, and Others. The transmission gears come in various sizes for different wind power capacity, ranging from the smallest 750kW to the largest 5MW, but the main product, at just under half of the division, is the 1.5MW gearbox.
Despite overcapacity in the power market because of the slowing Chinese economy, and the curbs in certain provinces, the Chinese administration still plans for 31GW of projects to be constructed in 2016.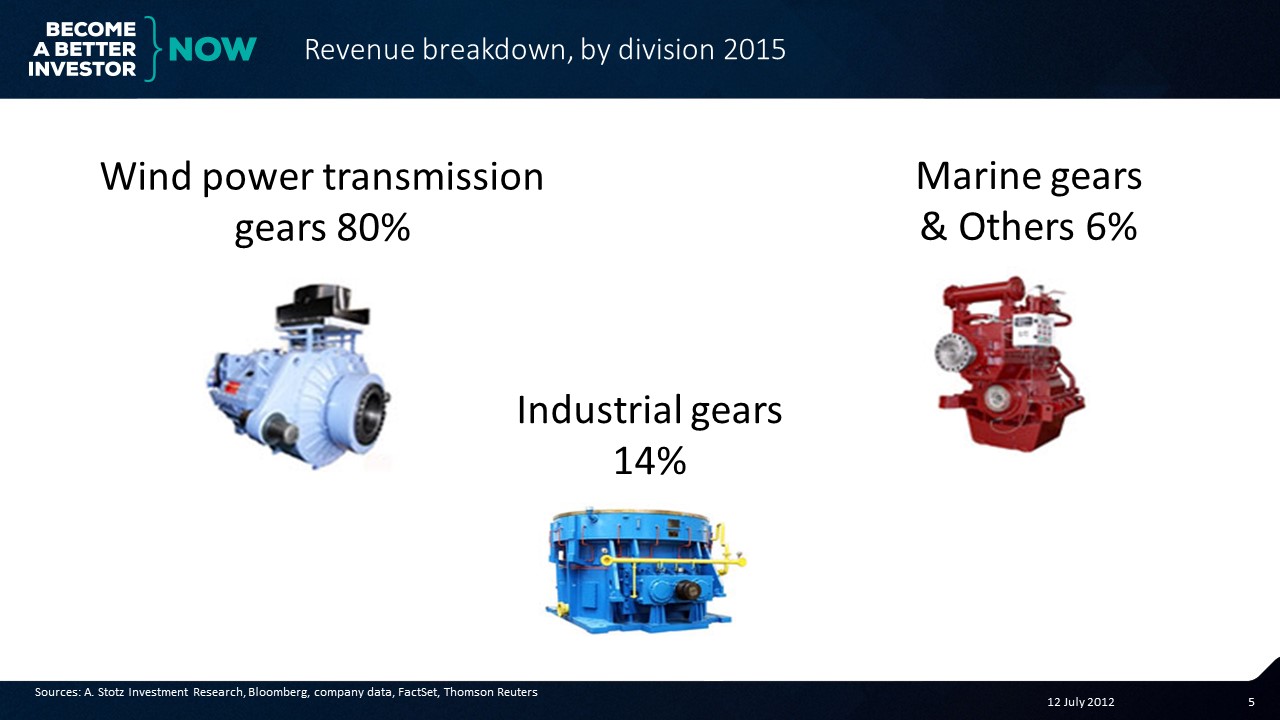 World Class Benchmarking
Profitable Growth improved to #3 from #9! This means CHST ranks better than 1,001 of 1,430 large Industrials companies globally.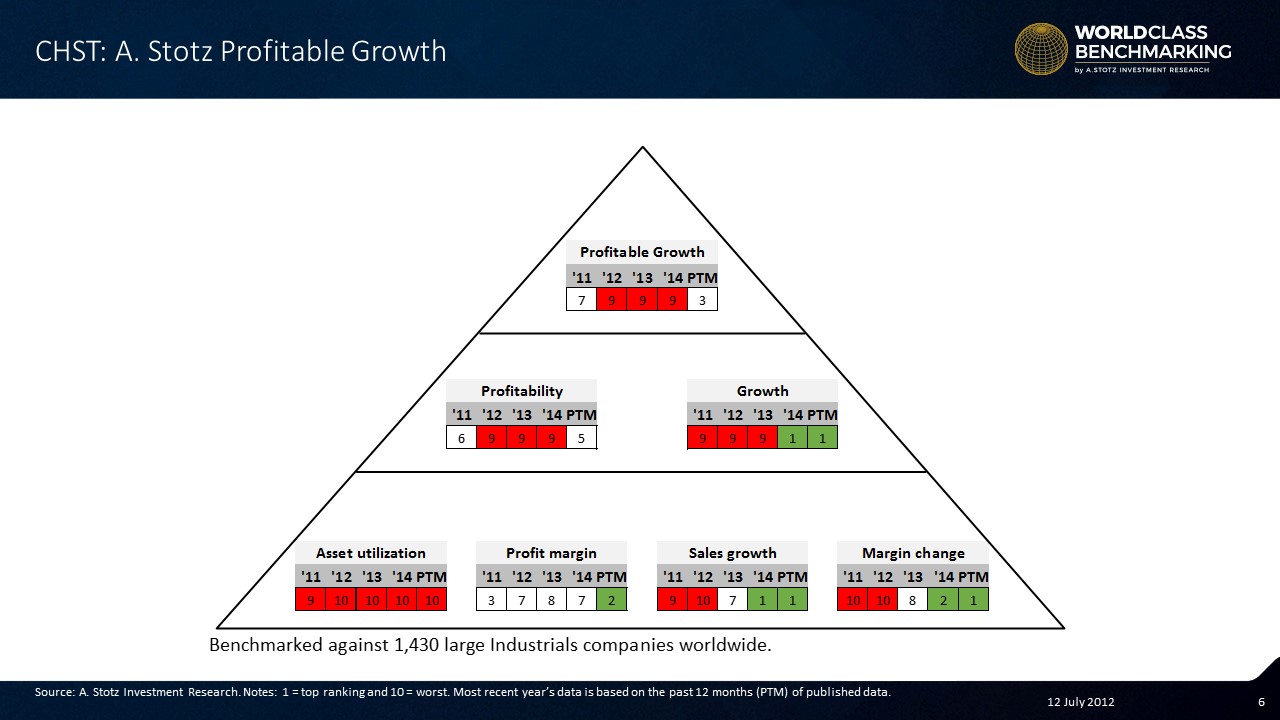 Profitability improved to #5 from #9 and was the primary driver of its Profitable Growth rank. Growth maintained its #1 rank that it gained in 2014.
Profit margin improved to #2 from #7 and was the driver of CHST's ROA. Margin change improved to #1 from #2. Growth was driven by both increased sales and improved margin.
---
---
Do YOU want to see the Profitable Growth rank for a company in YOUR portfolio?
Leave a comment below and we'll post it if we have it.
---
DISCLAIMER: This content is for information purposes only. It is not intended to be investment advice. Readers should not consider statements made by the author(s) as formal recommendations and should consult their financial advisor before making any investment decisions. While the information provided is believed to be accurate, it may include errors or inaccuracies. The author(s) cannot be held liable for any actions taken as a result of reading this article.