Margins Begin to Hurt Environmental Engineering Company
Watch the video with Andrew Stotz or read a summary of World Class Benchmarking on China Conch Venture Holdings Limited.
---
---
Background
China Conch Venture Holdings Limited is an investment holding company that engages in energy conservation, energy-saving building materials and environmental solutions.
It also provides port logistics services and investments.
It operates in more than 30 companies in Asia through three major subsidiaries.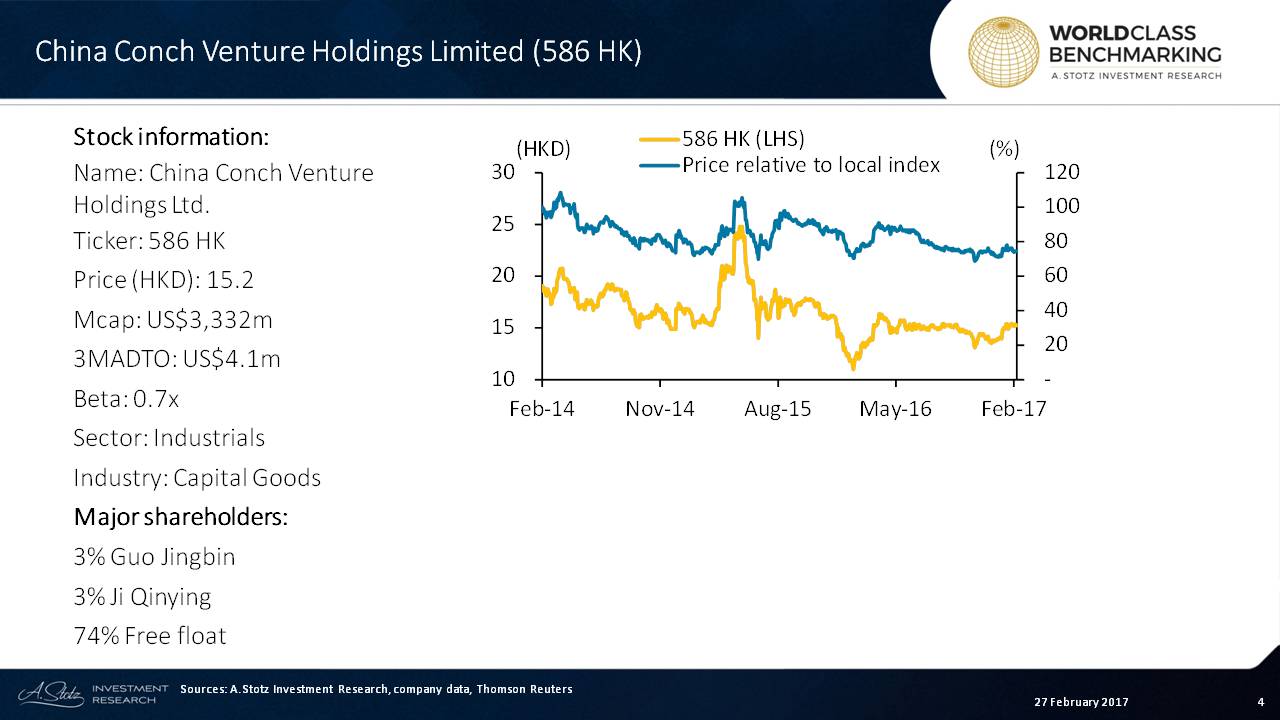 Business Description
CV has three main subsidiaries in two broad segments: Wuhu Conch Investment, which specializes in environmental protection projects; Anhui Conch Venture and Bozhou Conch Venture, which produce new building materials. Revenue is sourced solely in Asia, and China accounted for 58% in 2015.
Wuhu Conch Investment has many subsidiaries and focuses on the disposal of municipal waste (13 companies), energy generation (eight companies), and industrial solid waste disposal (four companies).
It engages in waste incineration, with ash, gas and heat as outputs; vertical mills, which grind cement; and residual heat power generation. It also owns Yaobai Environmental, which treats hazardous waste.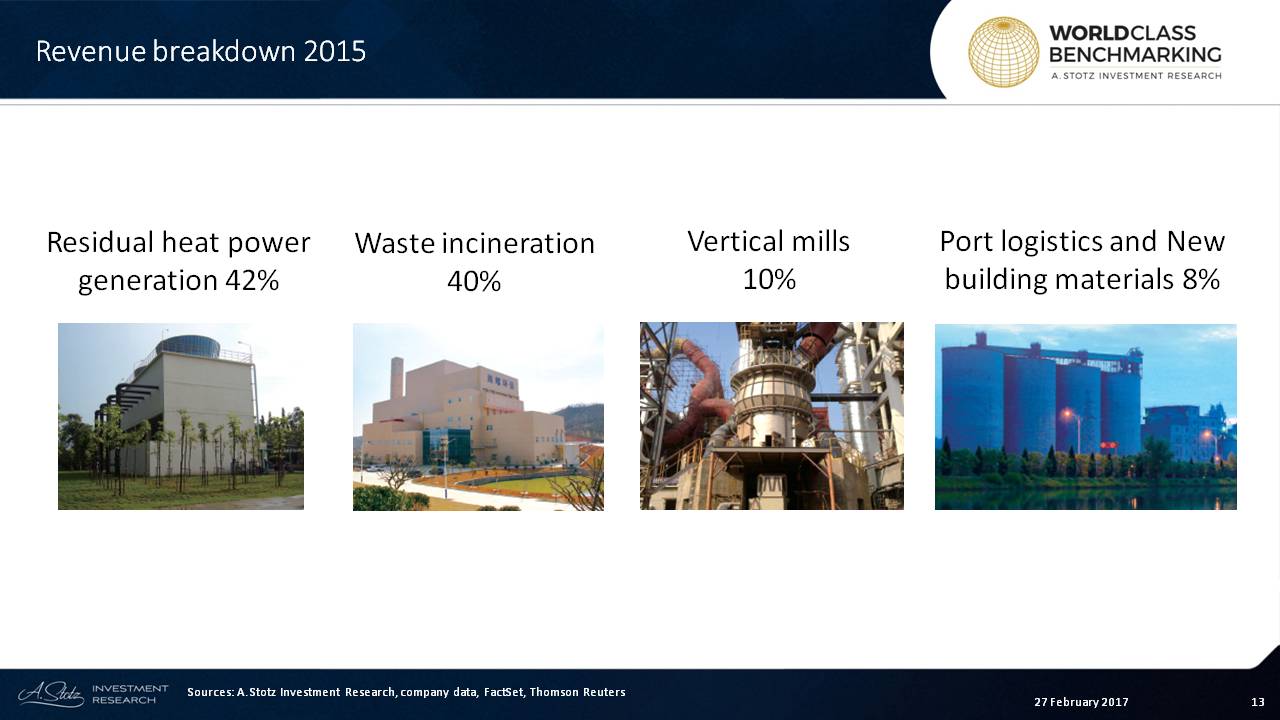 Anhui focuses on construction of environmental protection projects. Through Wuhu Conch Venture it holds 49% of Conch Holdings' shares.
It also owns the Haichang Port and is a major shareholder of CK Equipment and CK Engineering, both joint ventures with Kawasaki that engage in project design, equipment manufacturing and construction management.
Leadership
Guo Jingbin, a longtime hand at China Conch, has served as Chairman since June 2013, six months before the initial public offering. He has additionally served as Vice-President of Anhui Conch Group, since 1997.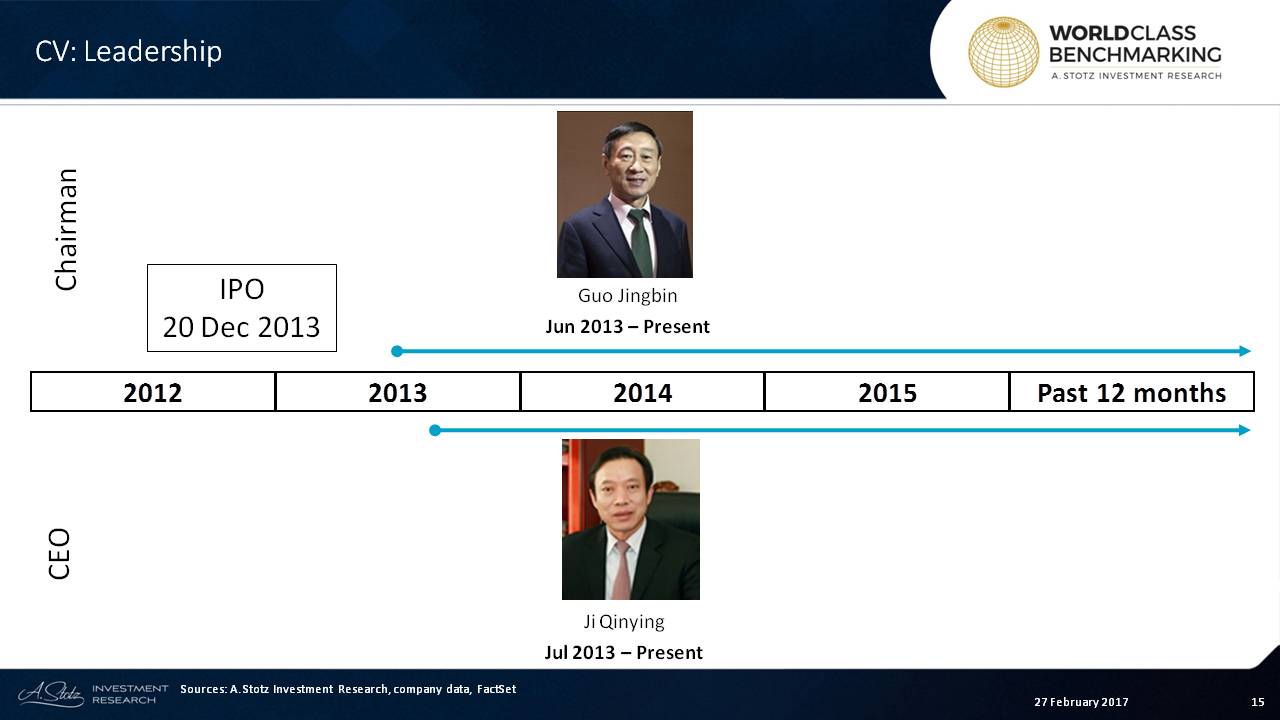 Ji Qinying became CEO at the same time as Jingbin became Chairman in mid-2013 but actually served in a similar role since 2007. The company has remained above average on the World Class Benchmarking rating system during his entire tenure.
World Class Benchmarking
Profitable Growth has fallen to #4 from holding down a World Class ranking during the 2012-2015 era. Profitability is still in the green though, but it did fall one in rank.
Growth, however, is the primary weakness of China Conch. The company has moved to #7 during the most recent two years from #3 in 2013.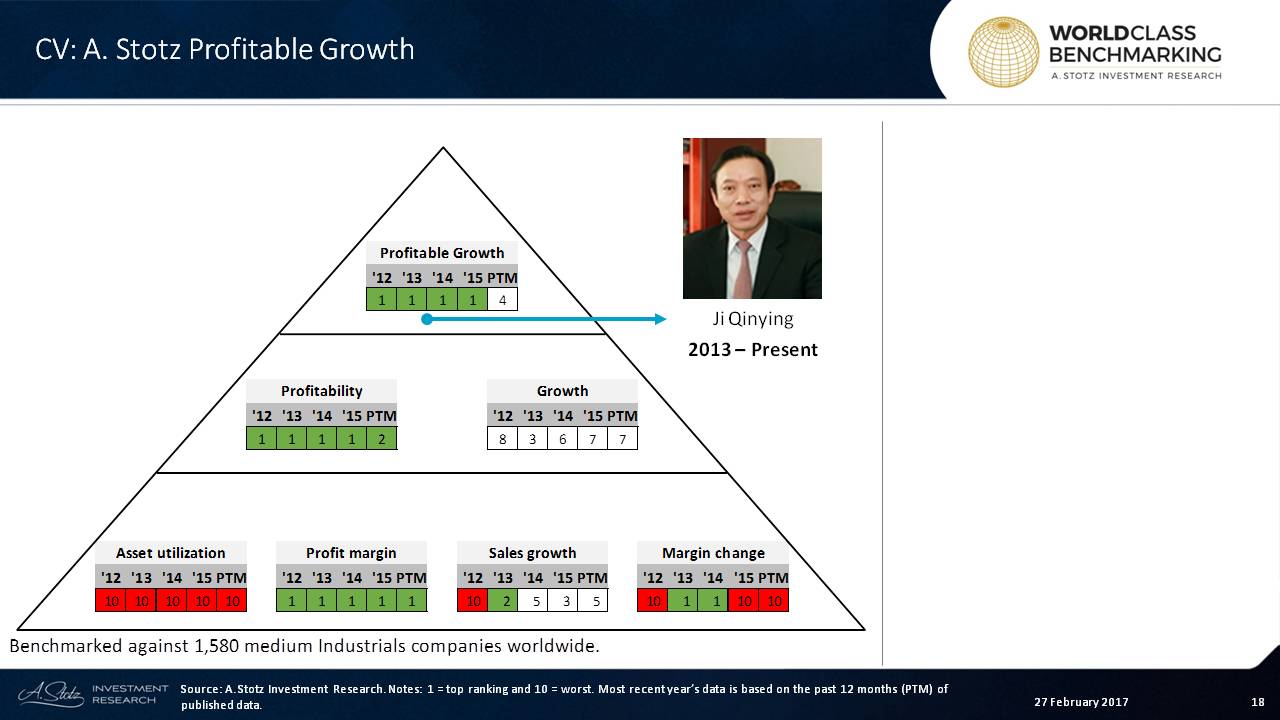 Asset utilization is ranked the worst possible, and has remained in this position for five straight years without fail. Profit margin has been World Class since 2012 and is the sole reason for its high Profitability rank.
Sales growth has been volatile but average over the previous twelve months. Margin change has also gone to #10 in 2015-2016 from #1 in 2013-2014.
---
Would you invest in China Conch Venture Holdings Limited?
If you like our research, share it with your friends.
---
DISCLAIMER: This content is for information purposes only. It is not intended to be investment advice. Readers should not consider statements made by the author(s) as formal recommendations and should consult their financial advisor before making any investment decisions. While the information provided is believed to be accurate, it may include errors or inaccuracies. The author(s) cannot be held liable for any actions taken as a result of reading this article.