Launch of New Ultra-Efficient Plant in Indonesia
Background
Polyplex (Thailand) Public Company Limited is part of the Polyplex group and produces polyester film, which is mainly used in the food industry for packagings such as food pouches and PET bottles.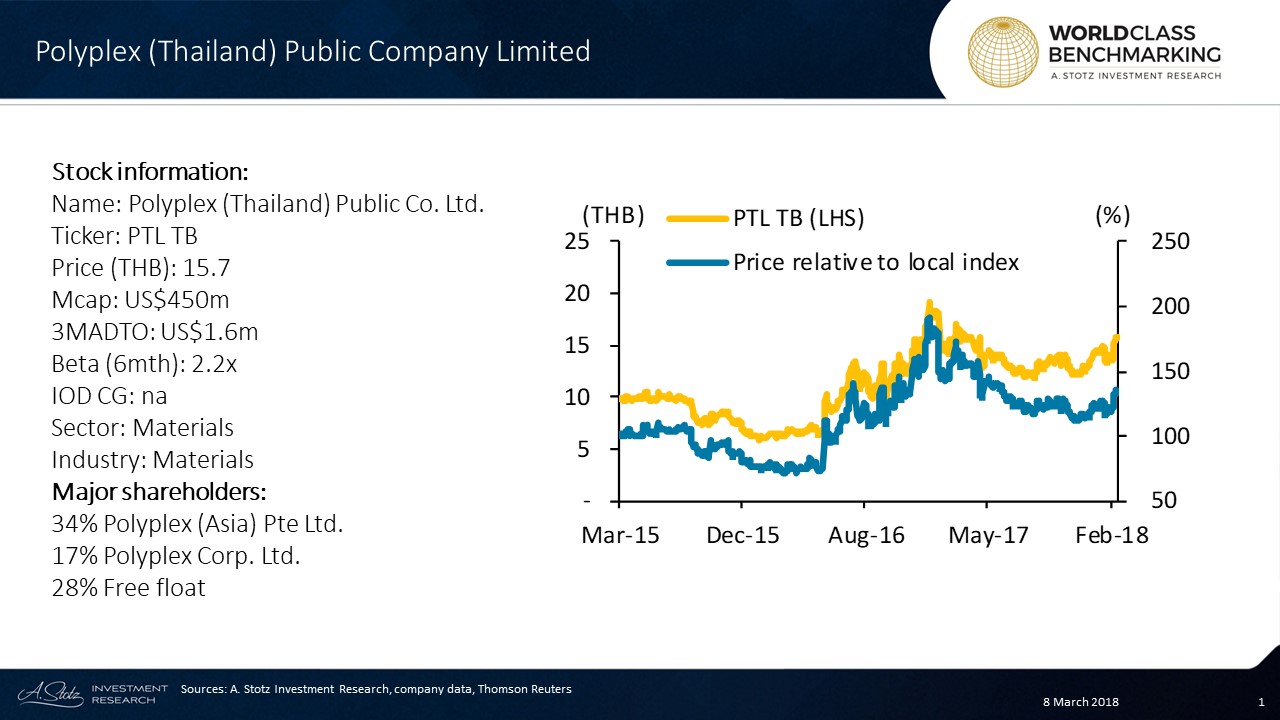 It is the only player with a manufacturing presence in all the key markets of Europe, North America, and India, as well as a domestic plant in Thailand.
Business Description
PTL's core business is polyester film and plastic products made from polyester resin. The Polyplex group is ranked fifth in the world by annual production volume. Applications of the company's polyester film range from food packaging such as food containers and lids on cartons, and PET bottles, to less commoditized and more specialized high-margin electronics-related products.
The market has been growing at an average rate of 6-7% p.a. for more than 25 years, largely due to the steady demand from the food industry, which tends to be recession-proof. There are now meaningful barriers to entry because of the dominance of only a few players, and the high cost of investing in new facilities; the top 10 competitors already have close to half of the world market.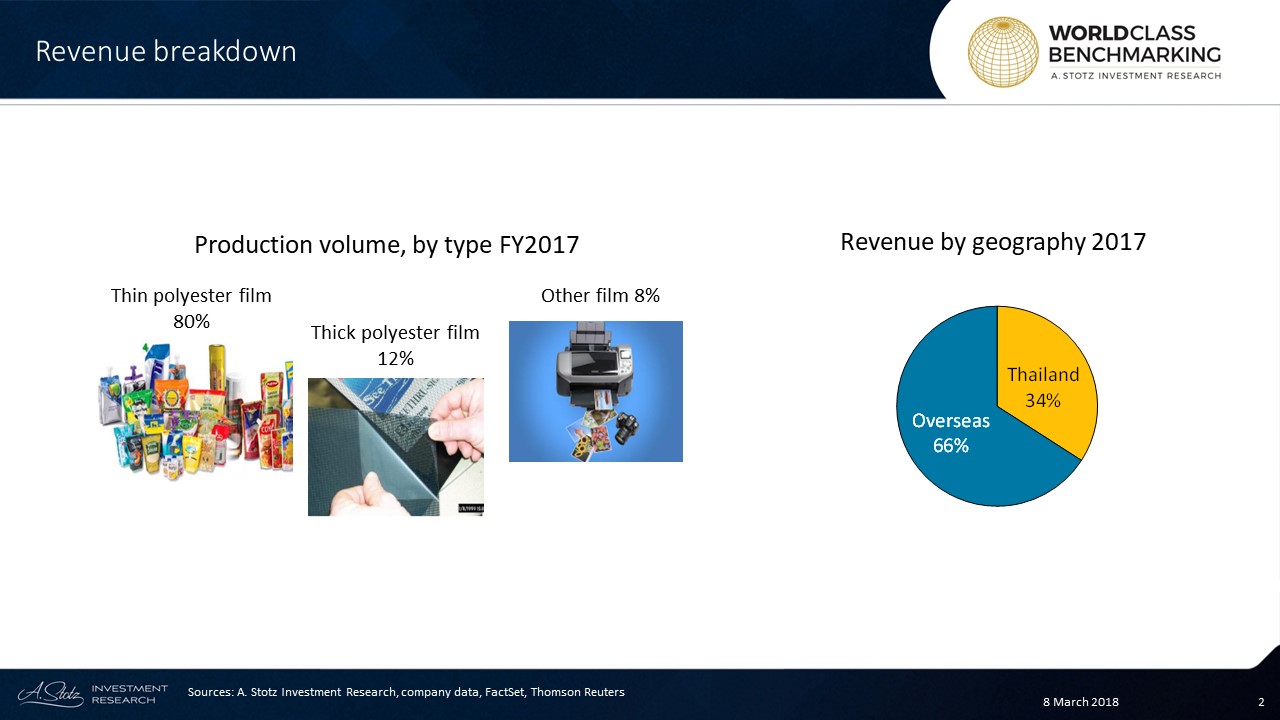 What distinguishes PTL from its competitors is that it has manufacturing bases in Southeast Asia, Europe, and North America, with a new ultra-efficient plant in Indonesia planned to come on stream next year. The new plant should have about 20% faster line speed and produce 20% wider film.
Leadership
Manu Leopairote is the current independent Chairman of PLT and has served in this position since 2004. He also holds Chairmanship and Directorship in multiple other companies such as ARIP Public Company Limited (ARIP TB) and Khon Kaen Sugar Industry Public Company Limited (KSL TB). He received his Bachelor's degree and Honorary Doctorate from Thammasat University, Thailand and his Master's degree from the University of Kentucky, US. In addition, he has also been decorated Knight Grand Cross (First Class) of the Most Noble Order of the Crown of Thailand among other decorations.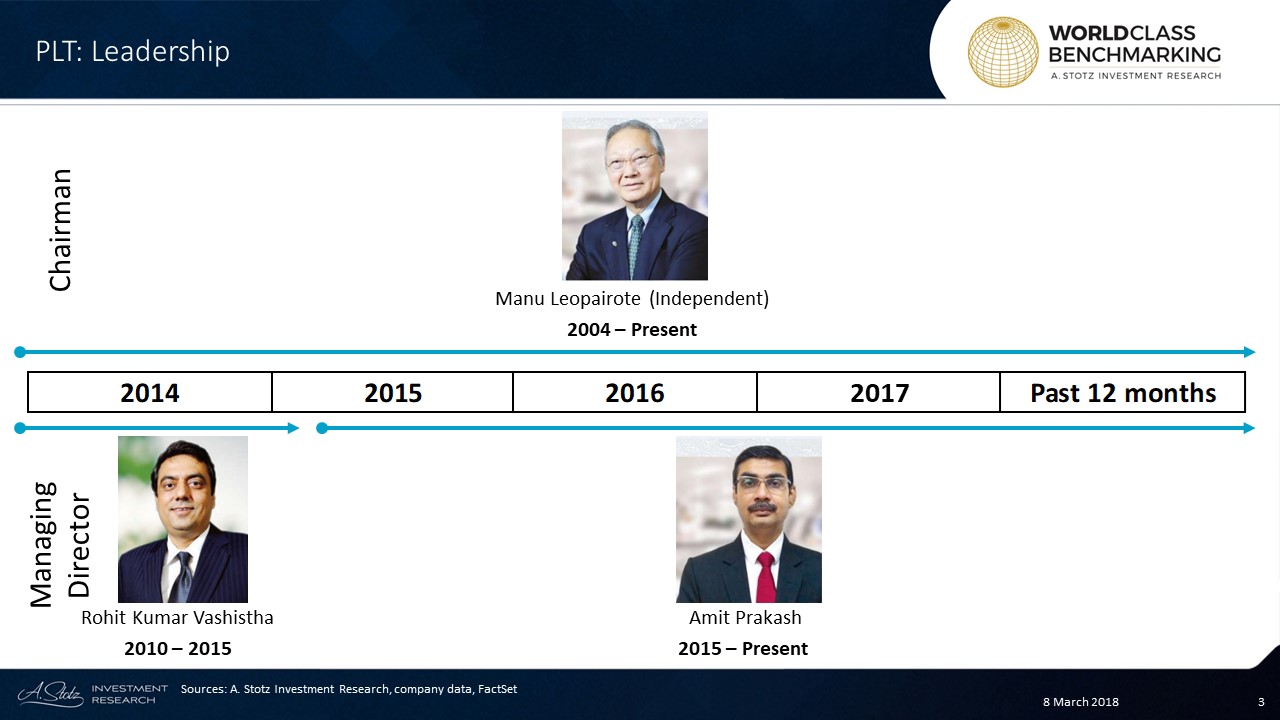 Amit Prakash was appointed Managing Director of PLT in 2015 following Rohit's resignation. He has worked for PLT since 1998 and is currently holding directorship in Polyplex (Singapore) and Polyplex (Asia). His education consists of Bachelor's degree in Electrical Engineering from Harcourt Butler Technical Institute, India, and MBA from Warwick Business School, UK.
World Class Benchmarking
Profitable Growth has gradually improved from among the worst in 2014 to be ranked in top 3 in the past 12 months. PTL ranked among the top 234 of 780 medium-sized Materials companies worldwide.
Profitability exhibit the same trend as Profitable Growth while Growth has seen heavy fluctuations. Growth ranked at #1 in 2016 and 2017 but fell to #8 in the past 12 months.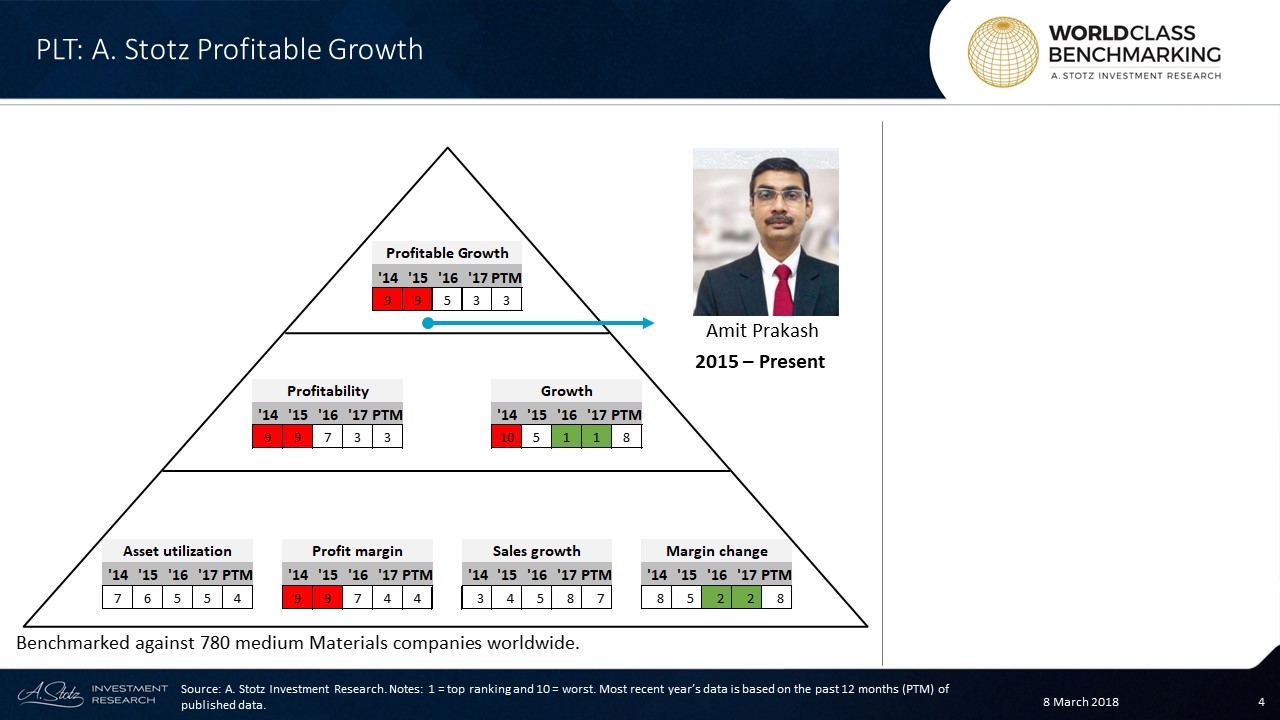 Improvements can be seen in both Asset utilization and Profit margin, both ranked at #4 in the past 12 months.
Sales growth has seen a declining trend since 2013. Margin change has performed well in 2016 and 2017 but has fallen back a #8 rank in the past 12 months.
---
What're your thoughts on PLT?
If you like our research, share it with your friends.
---
DISCLAIMER: This content is for information purposes only. It is not intended to be investment advice. Readers should not consider statements made by the author(s) as formal recommendations and should consult their financial advisor before making any investment decisions. While the information provided is believed to be accurate, it may include errors or inaccuracies. The author(s) cannot be held liable for any actions taken as a result of reading this article.