How to Read the World Class Benchmarking Triangle (5 of 5)
How to Become Financially World Class, Part 5
In this five-part video series Andrew Stotz, PhD, CFA walks you through all the basics you need to know about World Class Benchmarking and How to Make Your Company Financially World Class.
We know that business is hard, but we believe that the financial aspects should NOT be. World Class Benchmarking is a clear-cut financial tool for that takes the finances of your company from complicated to simple, from scattered to focused, and from individual to team.
---
---
How to answer these questions?
How do I create clear and consistent financial goals?
How do I get everyone on my team to understand the company's financial goals?
How do I make sure that the company's financial goals do not cause internal competition?
How do I align my team's financial goals with my firm's financial goals?
This triangle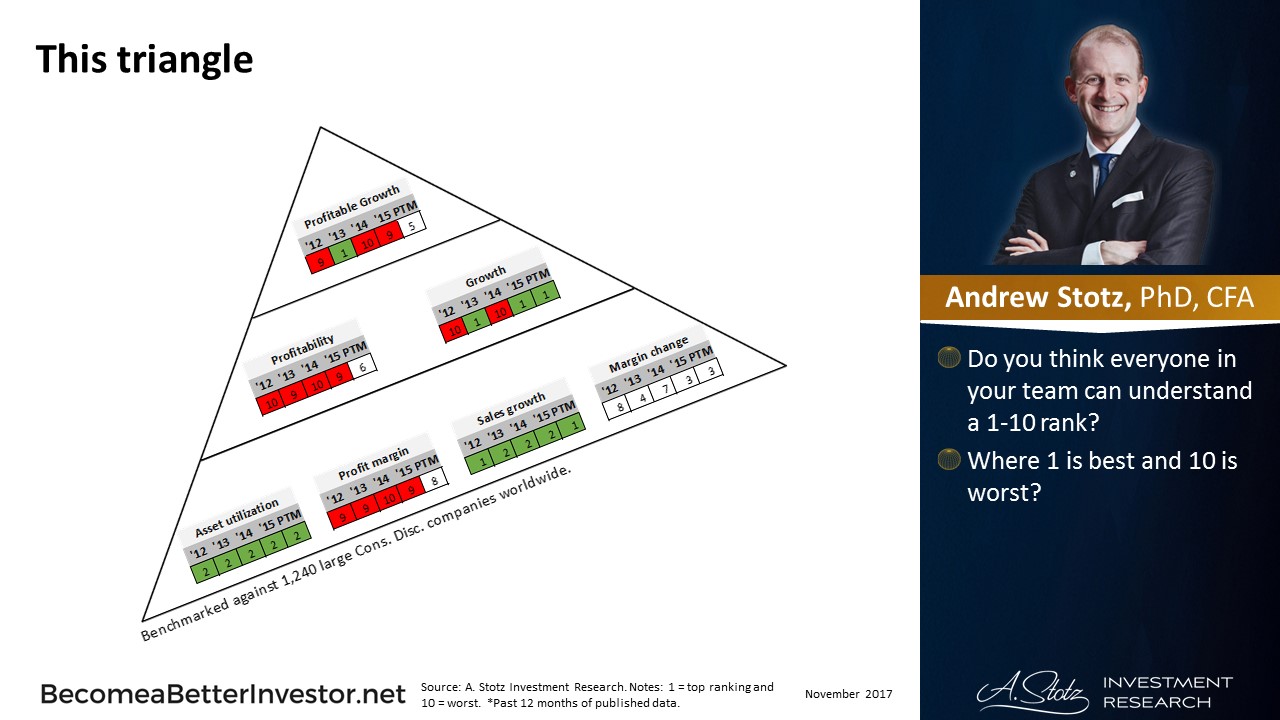 Top of the triangle
The top of the triangle is the measure that matters: Profitable Growth
We rank the company from 1 (best) to 10 (worst)
We track the company for 5 years
A company should strive for strong profit growth with minimum asset use
Middle of the triangle
Profitable Growth rank driven from results of two different measures below
Strong Profitability means generating more profit from assets
Earnings per share Growth, the market values it and so should you
Bottom of the triangle
Results at the top of the triangle are explained by the two items below
Profitable Growth is explained by the company's rank against global peers on six different measures, four of them on the bottom of the triangle
Asset utilization – Revenue generated from assets
Profit margin – A measure of cost control
Sales growth – Proves customers want products
Profit margin change – Internal driver of EPS growth
Level two and three explain what is the source of Profitable Growth
Now you see the gold of World Class Benchmarking
By just looking at the triangle you can know about the financial performance of the company
Profitable Growth matters most
Everyone understands a 1-10 ranked scorecard
Like a scorecard in sports the goal is clear to all team members and does not change midgame
This gets all employees aligned behind one financial goal, to become Financially World Class
---
DISCLAIMER: This content is for information purposes only. It is not intended to be investment advice. Readers should not consider statements made by the author(s) as formal recommendations and should consult their financial advisor before making any investment decisions. While the information provided is believed to be accurate, it may include errors or inaccuracies. The author(s) cannot be held liable for any actions taken as a result of reading this article.