Kossan Is a Highly Efficient Rubber Glove Producer
Background
Kossan Rubber Industries Berhad was founded in 1979 with headquarter in Klang, Malaysia.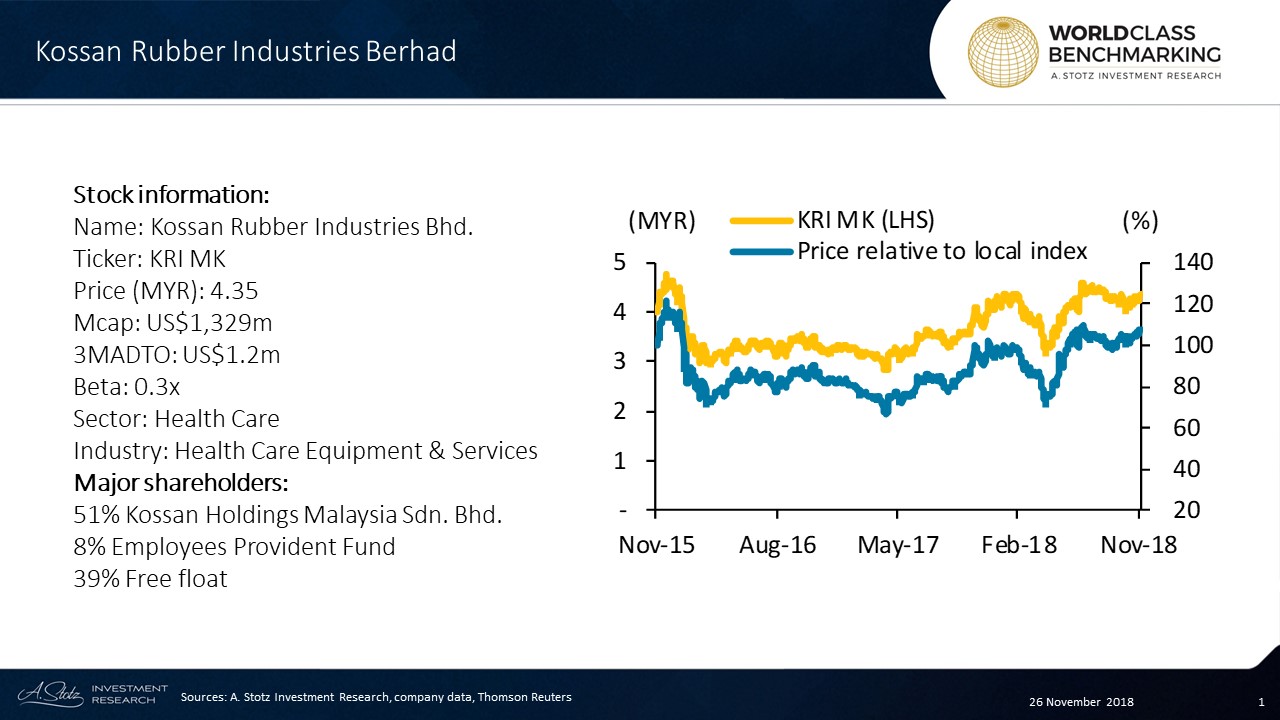 KRI engages in manufacturing and sale of rubber products under four segments: Technical Rubber, Gloves, Cleanroom and Others.
Gloves contribute the majority of revenue at 88%. Currently, KRI has 21 plants including 16 for gloves.
Business Description
Exports account for 94% of sales and KRI sells to more than 190 countries. KRI has a total of 21 plants: 16 for gloves, 4 for technical rubber and 1 for cleanroom. All plants are located in Malaysia except for cleanroom which is in Dongguan, China.
Gloves contribute 88% of revenue. It produces natural rubber latex and nitrile powder examination gloves and procedure gloves for medical, professional, specialty, and surgical applications.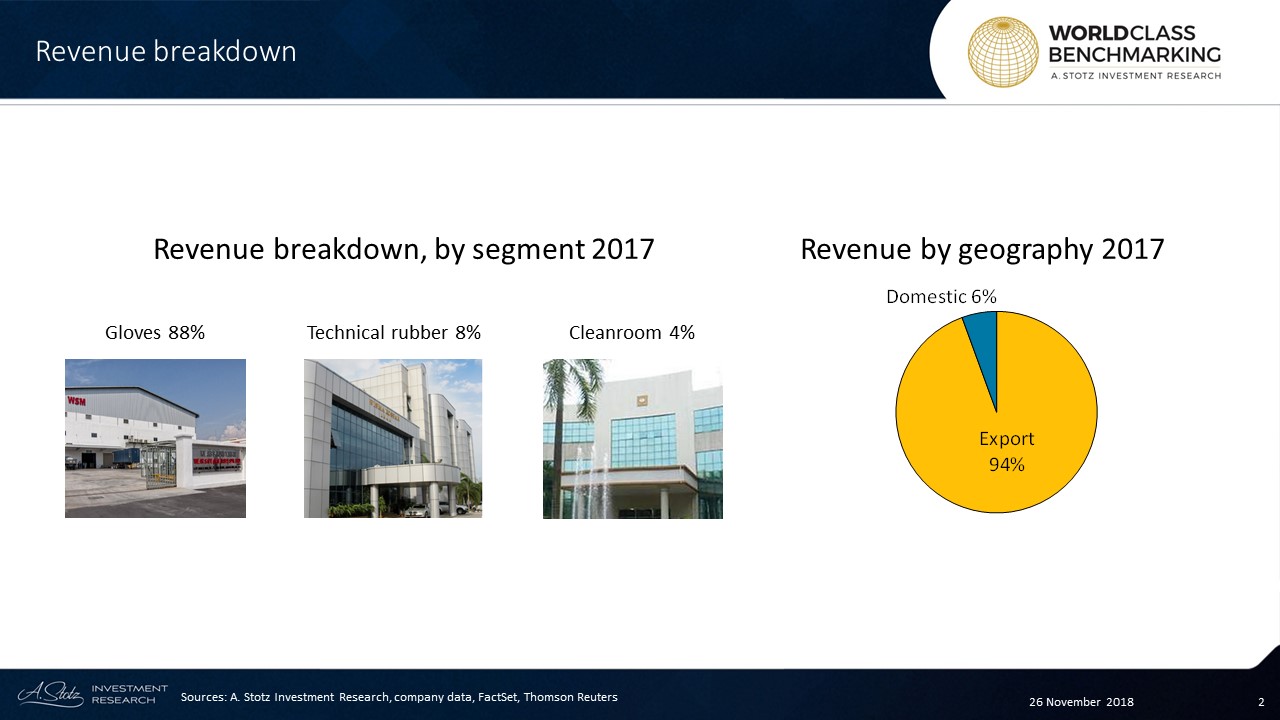 In technical rubber, KRI produces engineered rubber products used in a wide array of industries, including infrastructure, automotive and industrial applications. Cleanroom includes face masks, gloves, and wipes used in electrical and electronic industries.
Plant 17 was fully commissioned in November 2018 and brought annual capacity to 27bn pieces. Another two plants are expected to commission in 2019 and increase production by 5.5bn. KRI has purchased a piece of land in Perak, Malaysia for expansion, which is expected to be completed in eight years and add annual capacity of 45bn pieces.
Leadership
Mohammed Shafeii was appointed as the Chairman of KRI in 2017. Recently, he has also taken on directorship for Perak Corporation Berhad (PRK MK) and Majuperak Holdings Berhad (MJPR MK). He holds a Bachelor of Arts degree from the University of Waterloo, Canada and a Master of Business Administration from the University of Dundee, Scotland.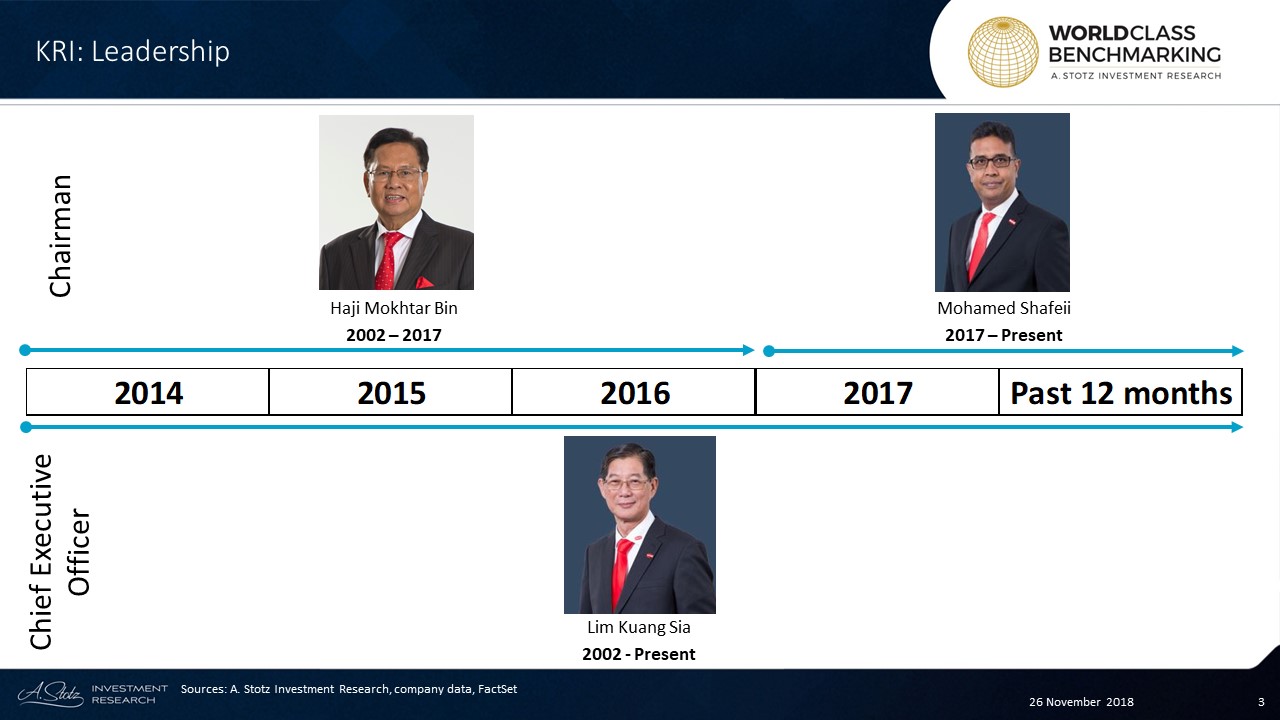 Lim Kuang Sia has served as the Managing Director and Chief Executive Officer of KRI since 2002. Aside from his role at KRI, he is also the founder of Yayasan Kossan and a board member to several private companies. His education consists of a Bachelor of Science degree from Nanyang University in Singapore, a post-graduate Diploma in Chemical Engineering from University College London, UK and a Master's Degree in Chemical Engineering from Imperial College London, UK.
World Class Benchmarking
Profitable Growth has ranked as high as #2 in 2015 but has fallen to #4 in recent years. In the past 12 months, KRI ranked among the top 176 out of 440 medium-sized Health Care companies worldwide.
Profitability has ranked at #3 in almost every year since 2014 with an exception of a slight improvement in 2015. The Growth rank has fluctuated over the years and ranked at #6 in the most recent period.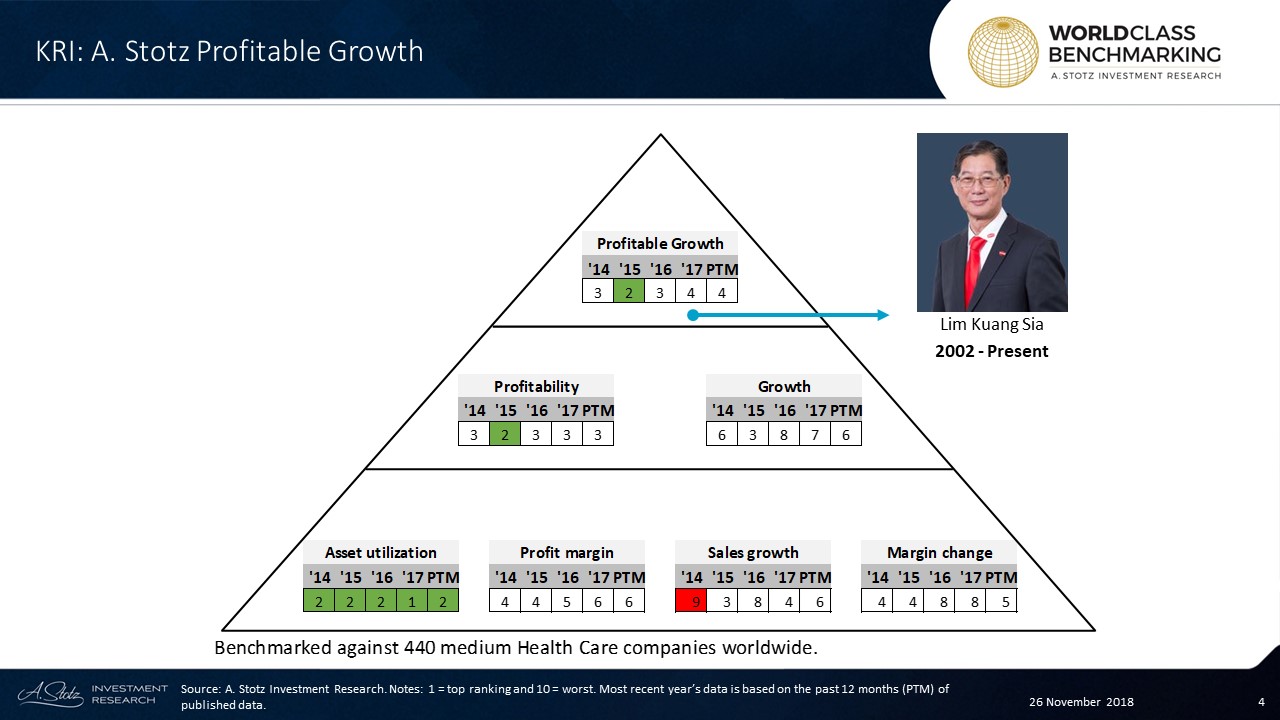 Asset utilization has consistently been ranked at #2 in most years, while Profit margin has achieved below average ranks in recent years.
Sales growth has improved from #9 in 2014 to #6 in the past 12 months. In contrast, Margin Change has dropped from #4 in 2014 to as low as #8 before recovering to #5 in the past 12 months.
---
What're your thoughts on KRI?
If you like our research, share it with your friends.
---
DISCLAIMER: This content is for information purposes only. It is not intended to be investment advice. Readers should not consider statements made by the author(s) as formal recommendations and should consult their financial advisor before making any investment decisions. While the information provided is believed to be accurate, it may include errors or inaccuracies. The author(s) cannot be held liable for any actions taken as a result of reading this article.