Indonesian Food Sultan Dominates in Noodles
Watch the video with Andrew Stotz or read a summary of the World Class Benchmarking on PT Indofood Sukses Makmur Tbk.
---
---
Background
Established in 2009 PT Indofood CBP Sukses Makmur Tbk (ICBP), a subsidiary of Indofood Sukses Makmur (INDF IJ), produces: several types of noodle products, a segment in which it is the leading player in Indonesia; dairy products, including milk, ice cream and butter; snacks, including biscuits; food seasonings; and beverages such as soft drinks and coffee.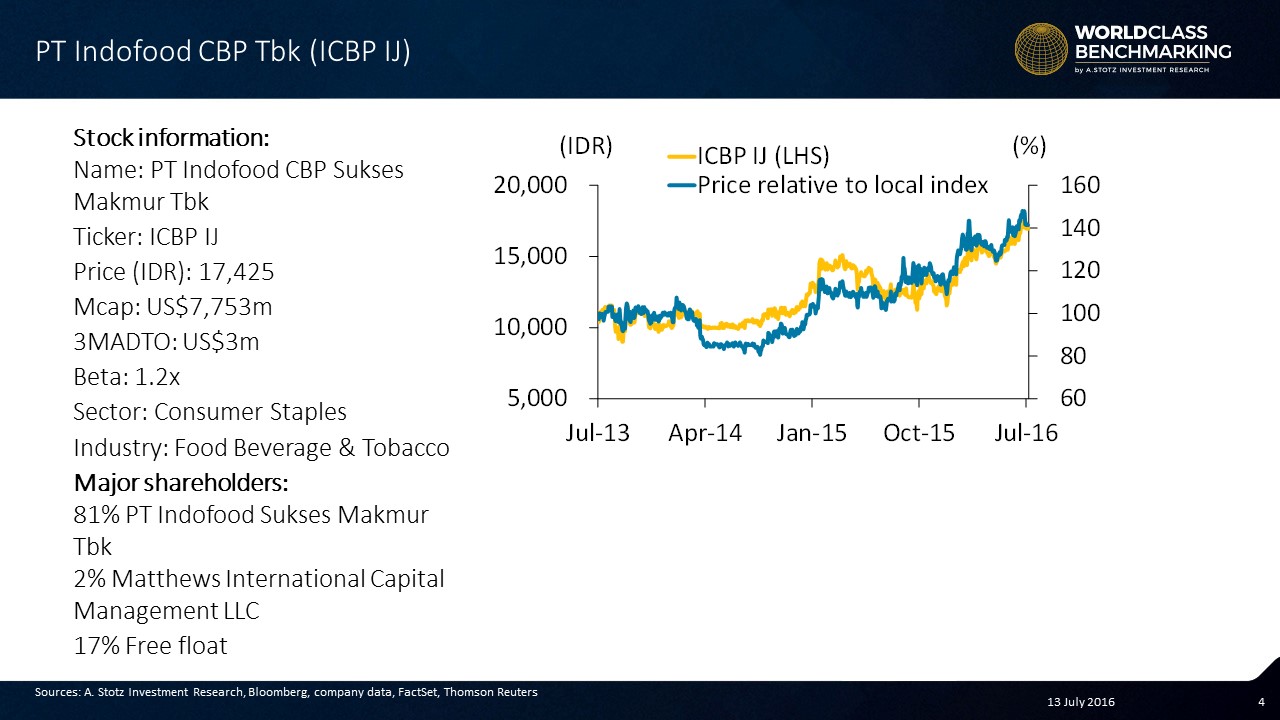 Business Description
ICBP, a subsidiary of Indonesian food giant Indofood Sukses Makmur (INDF IJ), operates via five main business segments. The main revenue contributor is its Noodles division, producing instant bag and cup noodles under the brands Indomie and Supermi.
The Dairy division operates through 69% owned PT Indolakto Tbk with five factories in Java. Products include condensed milk, non-dairy creamer, ice cream and fresh milk.
Its Snack food business is conducted under a joint venture with Seven-Up Nederland B.V. It includes brands Lay's and Cheetos.
Its Beverages division operates through two subsidiaries responsible for production and commercialization of non-alcoholic beverages, such as Pepsi, Mirinda and a range of fruit drinks.
The Food Seasonings and Nutrition and special foods division markets tomato and soy sauces and seasonings and produces cereals and biscuits for infants, toddlers and children, accounting for 4% of revenue.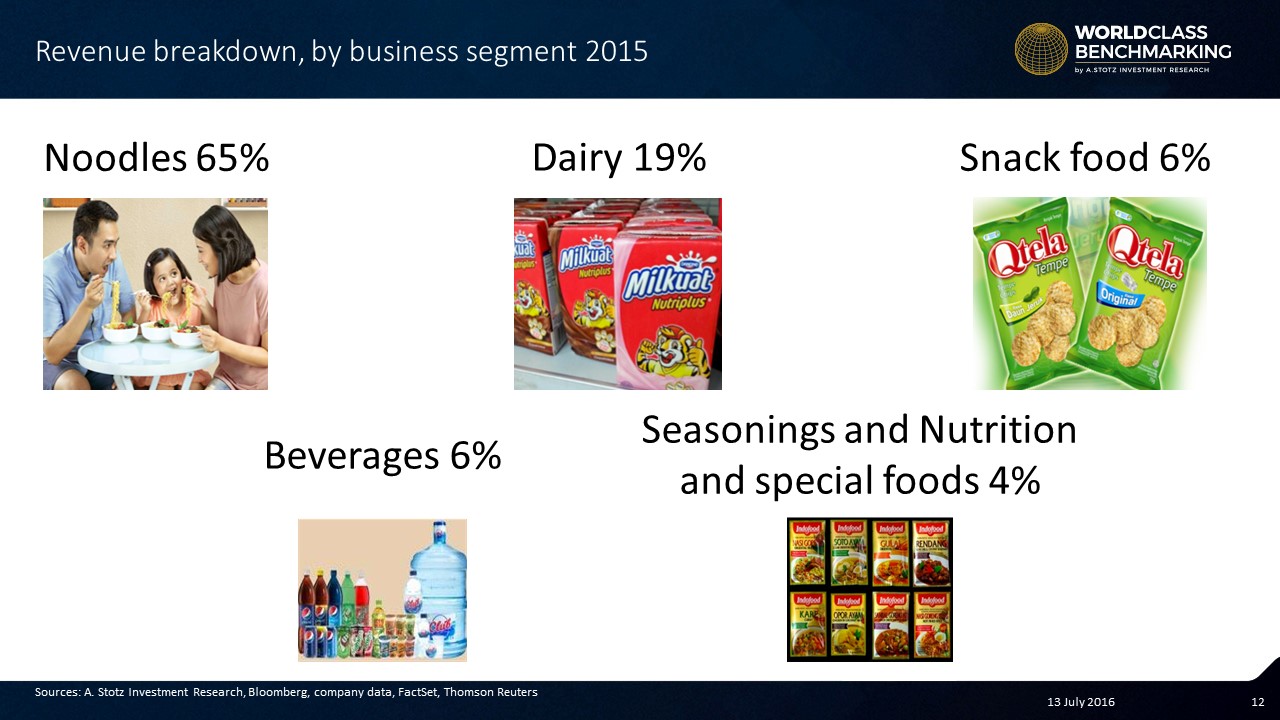 Leadership
The President Commissioner is the head of the Board of Commissioners in Indonesian companies and can be seen as the equivalent of the Chairman of the Board of Directors in other countries. The President Director is the head of the Board of Directors in Indonesian companies and can be seen as the equivalent of the Chief Executive Officer in other countries.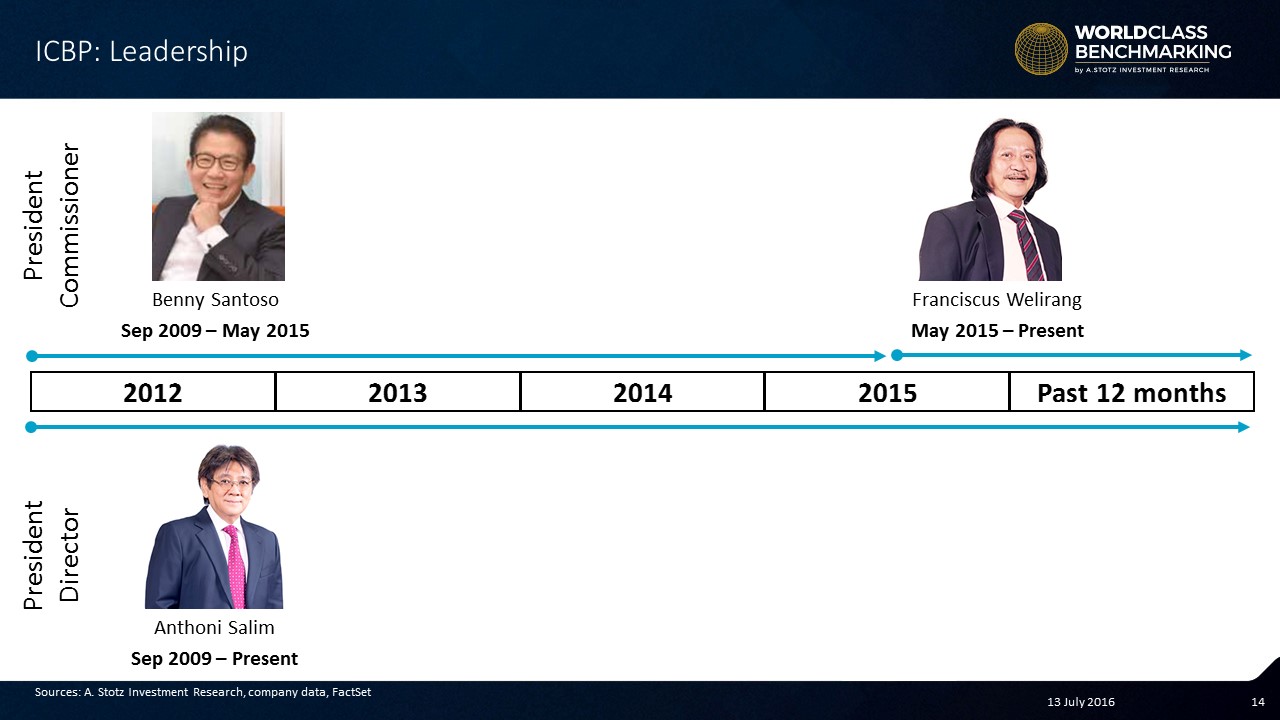 Benny Santoso was President Commissioner for ICBP from September 2009 to May 2015 when Franciscus Welirang took over as President Commissioner for the company. Anthoni Salim has been the President Director and CEO of the company since September 2009 and it's under his leadership that ICBP has achieved the financial performance shown in the World Class Benchmarking below.
World Class Benchmarking
Profitable Growth maintained the #2 rank that ICBP has kept since 2012. This means ICBP ranks better than 472 of 590 large Consumer Staples companies globally.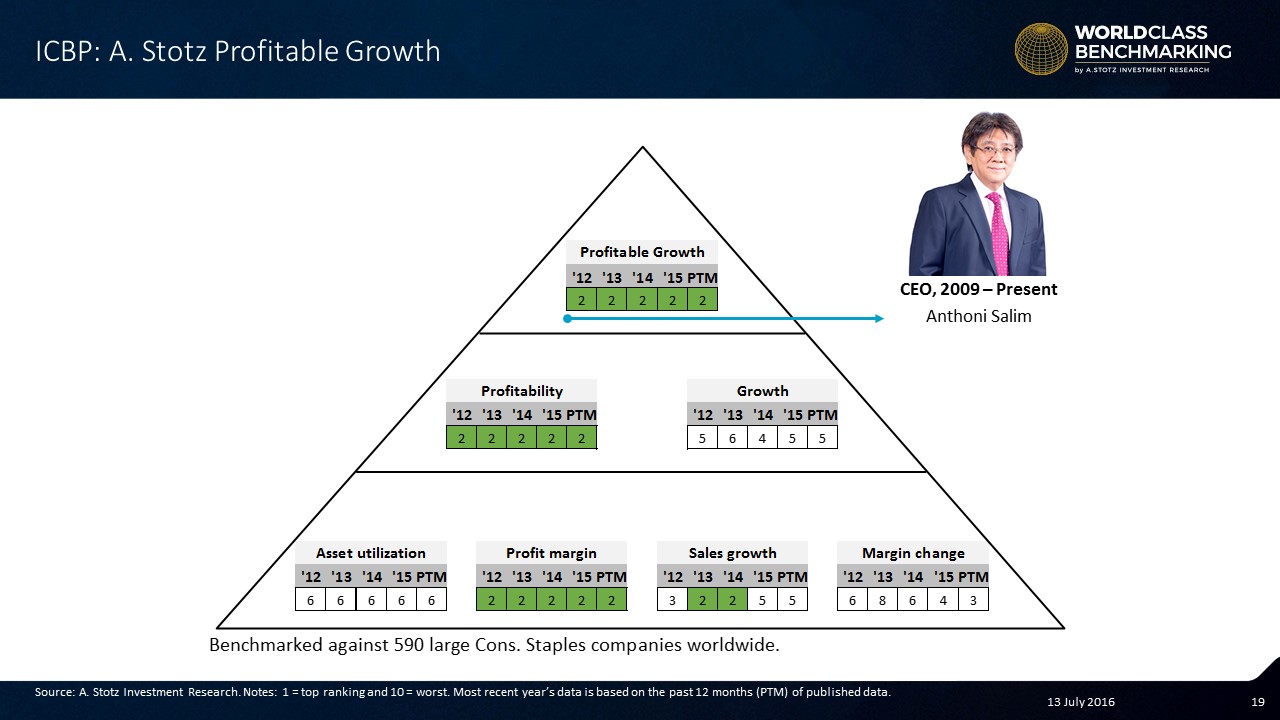 Solid profitability in terms of ROA that has been ranked #2 for the whole period. Growth maintained its average #5 rank.
Profit margin is the main driver of Profitability. Margin change improved to #3 from #4, but it was not enough to improve the Growth rank.
---
Do YOU want to see the Profitable Growth rank for a company in YOUR portfolio?
Leave a comment below and we'll post it if we have it.
---
DISCLAIMER: This content is for information purposes only. It is not intended to be investment advice. Readers should not consider statements made by the author(s) as formal recommendations and should consult their financial advisor before making any investment decisions. While the information provided is believed to be accurate, it may include errors or inaccuracies. The author(s) cannot be held liable for any actions taken as a result of reading this article.