Hong Kong: The Ugliest Girl at the Dance
Watch the video with Andrew Stotz or read a summary of the country profile on Hong Kong.
---
---
Four Pillars of GDP: Least attractive in Asia
Hong Kong is, unfortunately once again, the object of many a euphemism: the moldiest pear in the pear in the pear tree, the cheapest rock in the jewelry shop, the ugliest girl at the dance. Take your pick!
The market's low GDP growth, annualized at 2.83%, is falling below even the low-growth environment of 2016. Investment was the largest contributor to GDP growth, but net exports were a significant obstacle to growth.
Still the Lowest ROE in Asia
Despite a slight recovery in 2016, the first quarter of 2017 was a letdown, and consensus estimates for 2017-2018 earnings growth sit below the Asian average.
Return on equity expectations of 7.5% for this year are the lowest in Asia.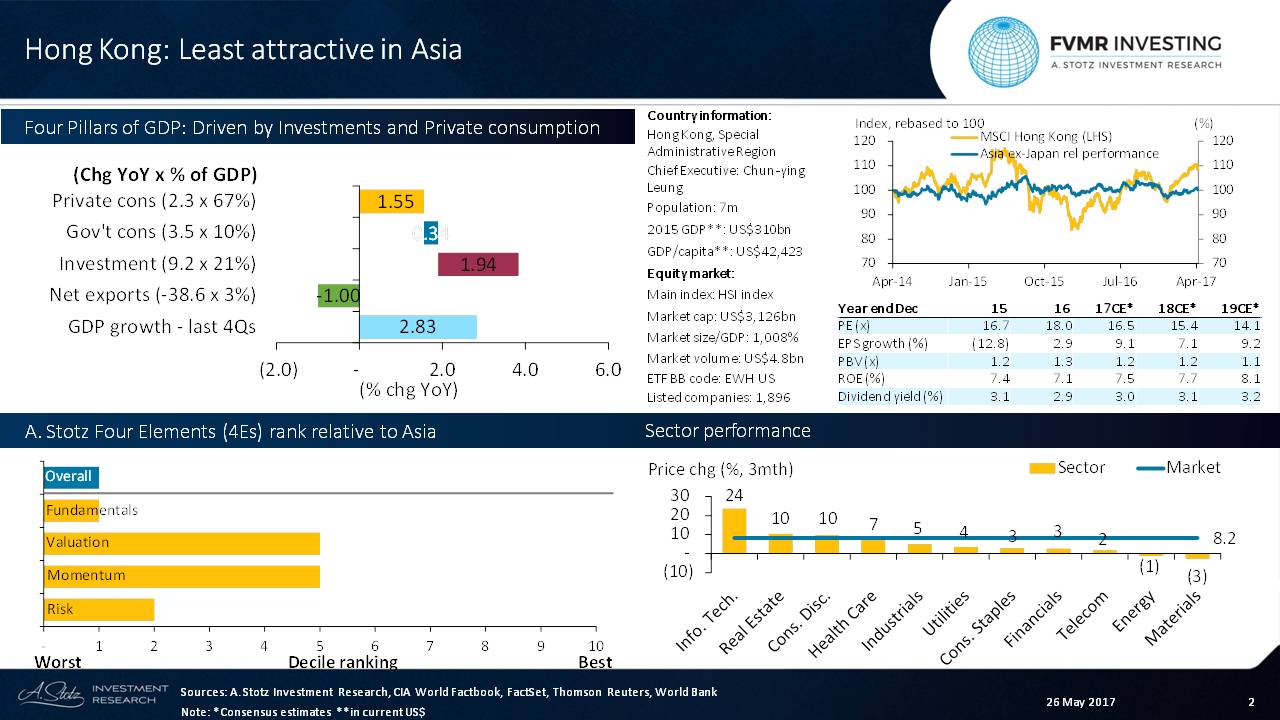 A. Stotz Four Elements: Hong Kong's rank relative to Asia
Overall Hong Kong is the least attractive in Asia considering all our four elements: Fundamentals, Valuation, Momentum, and Risk.
Fundamentals: Hong Kong has the lowest ROE in Asia, hence weak profitability.
Valuation: Low price-to-book value and moderate dividend yields tempt some investors.
Momentum: Hong Kong has moderate price momentum.
Risk: The market's beta and price volatility compared to Asia ex-Japan are relatively high.
Strong performance in Information Technology
Top 3 largest sectors: Real Estate: 17% of the market; Information Technology: 16%; Financials; 15%.
Best sector & stock: Info. Tech. +23.6%, Landing International Development Ltd +129.7%
Worst sector & stock: Materials -2.8%, Shougang Fushan Resources Group Ltd -23.8%
*CE is consensus estimates
---
Are you investing in Hong Kong?
If you like our research, share it with your friends.
---
DISCLAIMER: This content is for information purposes only. It is not intended to be investment advice. Readers should not consider statements made by the author(s) as formal recommendations and should consult their financial advisor before making any investment decisions. While the information provided is believed to be accurate, it may include errors or inaccuracies. The author(s) cannot be held liable for any actions taken as a result of reading this article.