Growth Returns to Thai Airways
Watch the video with Andrew Stotz or read a summary of the World Class Benchmarking on Thai Airways International Public Company Limited.
---
---
Background
Thai Airways International Public Company Limited is the state-owned airline of Thailand.
It owns 39% of the low-cost carrier Nok Air, and it flies to 72 destinations in 31 countries.
Thai Airways's fleet consists of 94 aircraft, and its network is now centered around Europe and North and Southeast Asia and Oceania.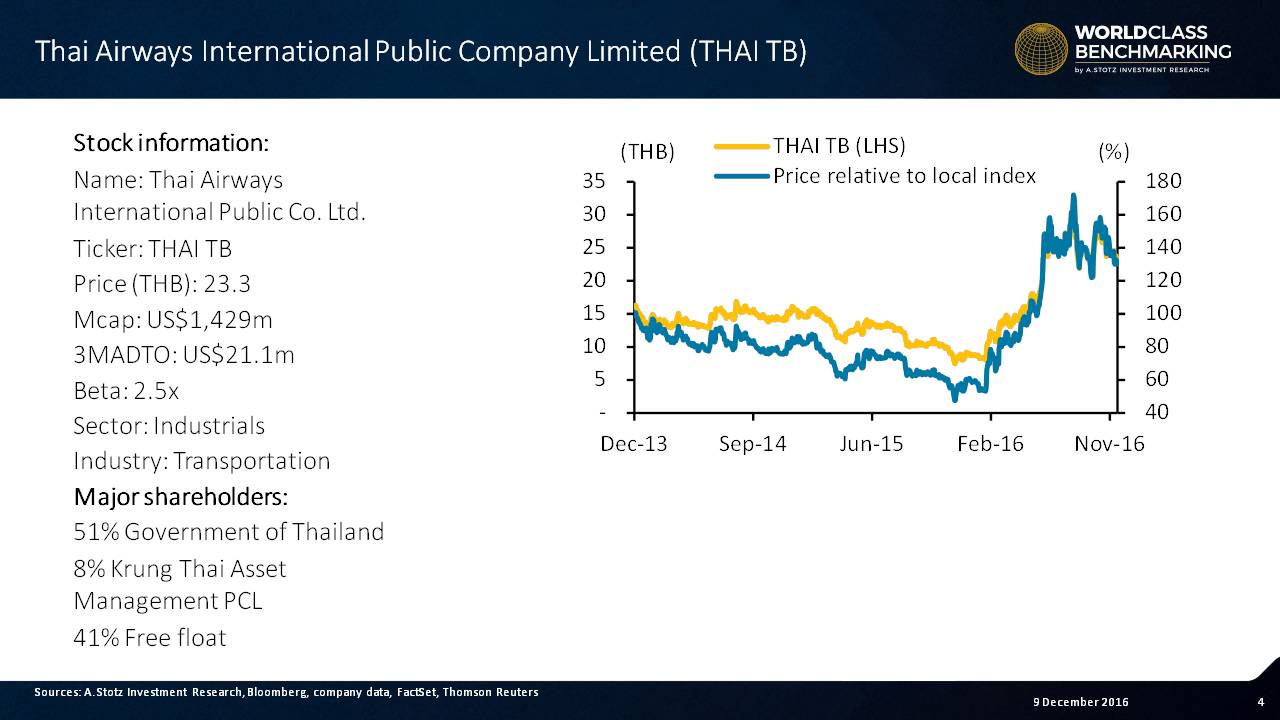 Business Description
More than 80% of Thai Airways revenue comes from passenger transport, which provides web reservations, check-in services, equipment services and air cargo to nearly 80 destinations.
In 2016, THAI transported about 17 million passengers throughout its total global network, which includes two domestic subsidiaries.
It currently has a fleet of 94 aircraft with an average age of 7.7 years, and more than two-thirds of the aircraft are for mid- or long-haul flights.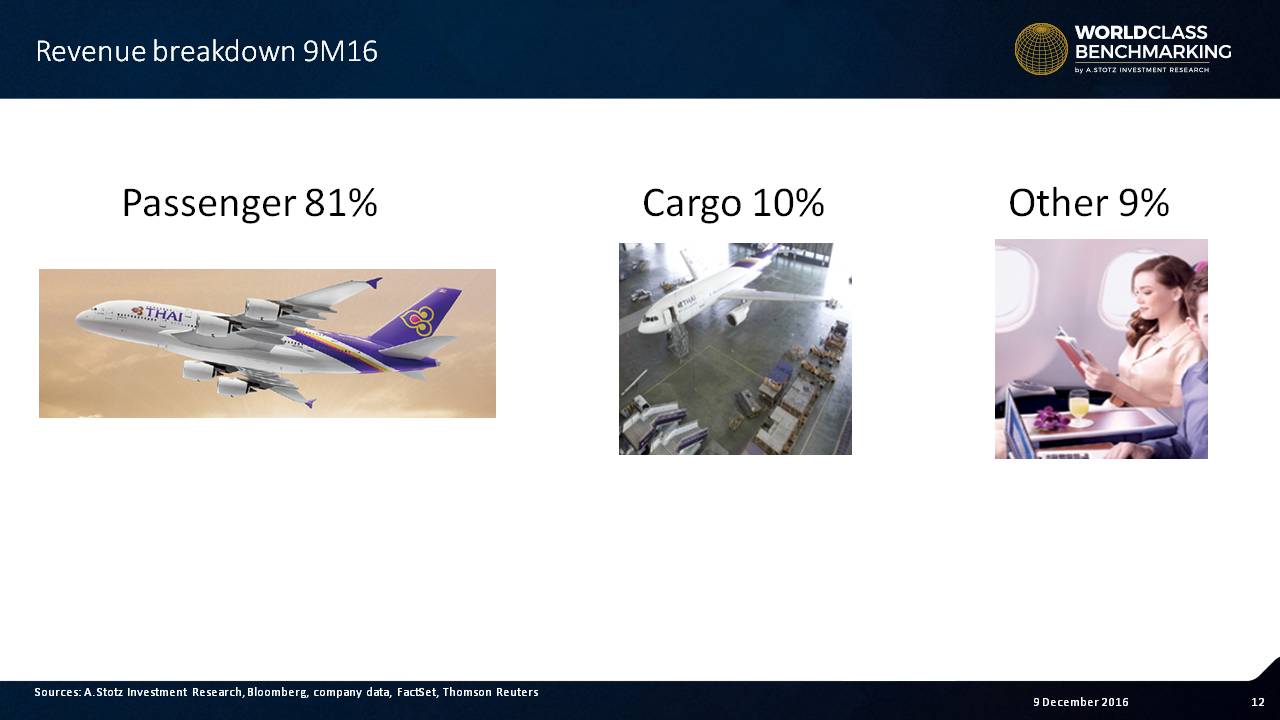 Its cargo business, which generates about 10% of revenue, includes related reservation, documentation and inspection services, as well as tracking, tracing and express deliveries. It also offers additional logistics services for cargo delivery. About 9% of revenue stems from miscellaneous services like aircraft maintenance and in-flight catering.
With fuel and oil accounting for around one-third of total company expenses, the drop in oil prices over the past few years has benefited the global airline industry, and THAI is no exception.
Leadership
Areepong Bhoocha-Oom is serving his third three-year term as Chairman. Areepong also acts as an independent director, as well as head of the Strategy and Transformation Committee. He has served on the board of many other entities, such as Krungthai Bank PCL and Bank of Thailand.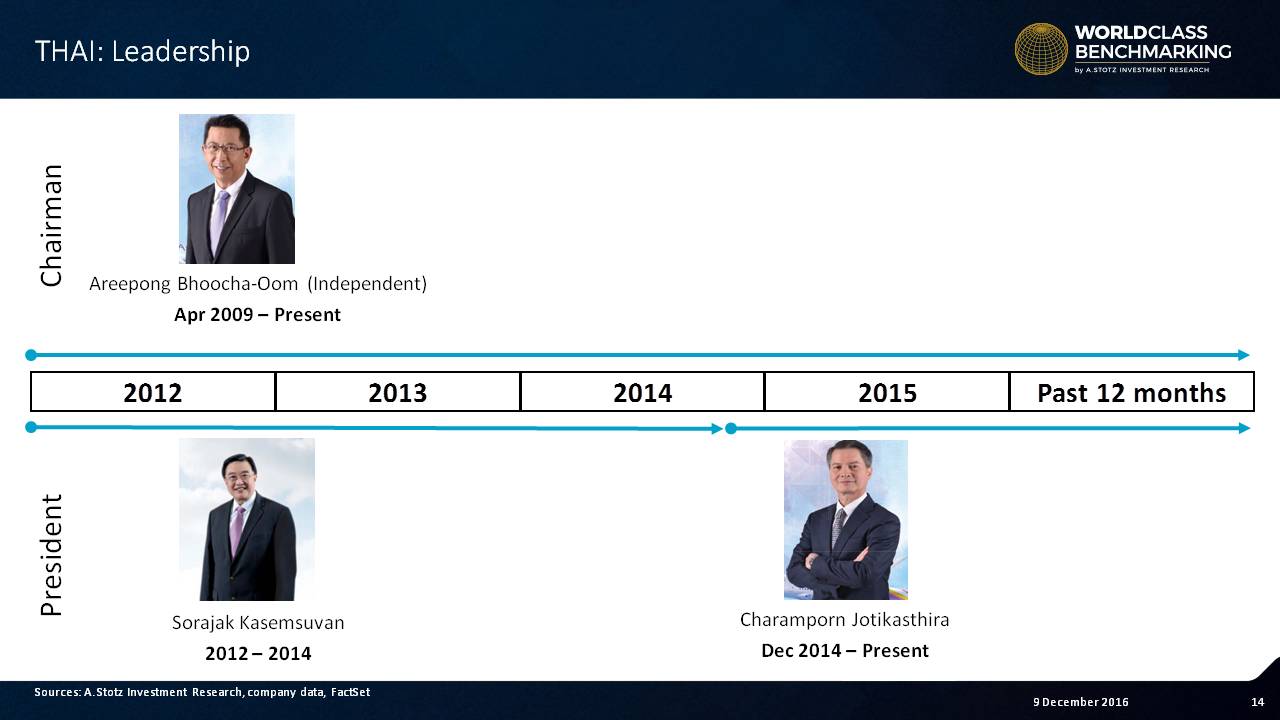 President Charamporn Jotikasthira took control in December 2014 and immediately put the airline on track for growth. From the near worst possible ranking of #9 in our Growth ranking for 2014, Charamporn led THAI to #4 in 2015 and #1 in 2016—quite the transformation.
World Class Benchmarking
Profitable Growth improved to #6 in 2016 after taking home the worst ranking of #10 for 3 years straight.
THAI ranks better than 564 of 1,410 large industrial companies.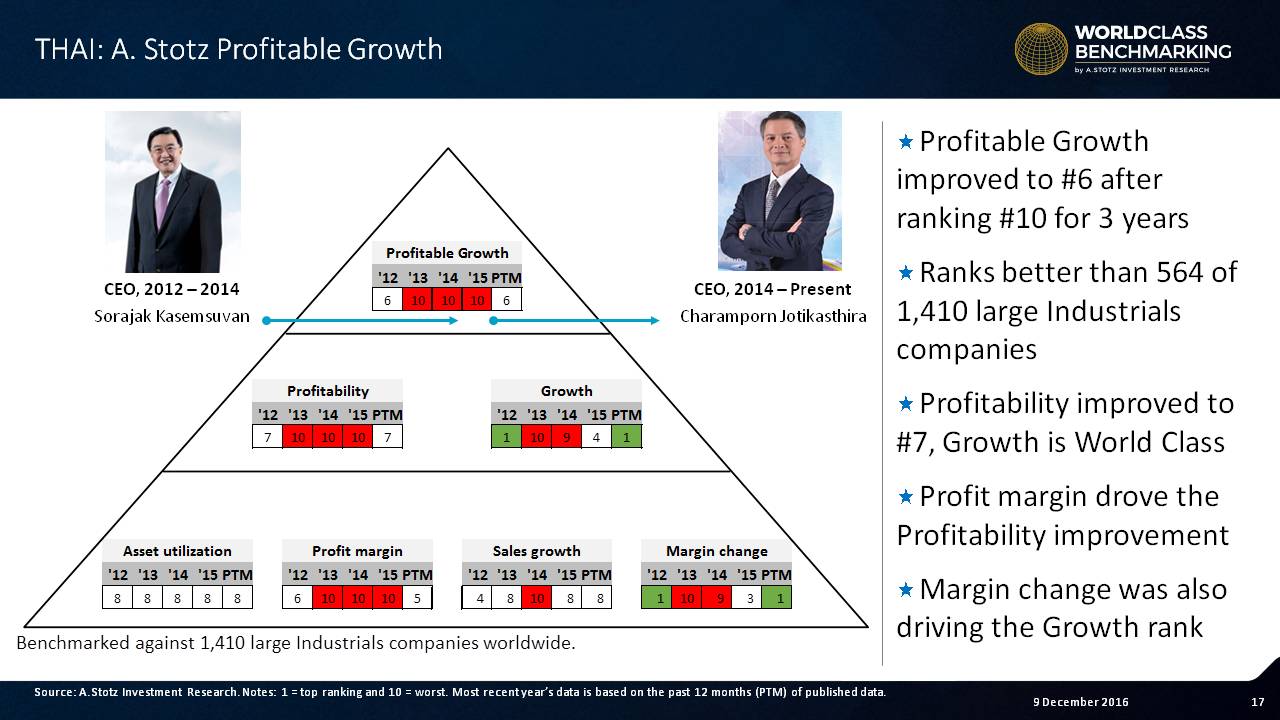 Profitability at THAI improved to #7 in 2016, while Growth jumped up to World Class in just a two-year span.
Profit margins appear to have driven the Profitability improvement and was also behind the improvement in Growth rank as Margin change was ranked #1 in the past 12 months.
---
Would you invest in Thai Airways?
If you like our research, share it with your friends.
---
DISCLAIMER: This content is for information purposes only. It is not intended to be investment advice. Readers should not consider statements made by the author(s) as formal recommendations and should consult their financial advisor before making any investment decisions. While the information provided is believed to be accurate, it may include errors or inaccuracies. The author(s) cannot be held liable for any actions taken as a result of reading this article.