Great Profitable Growth at China Resources Gas Group
Background
China Resources Gas Group Limited is a state-owned enterprise and the top gas utilities company by revenue in China.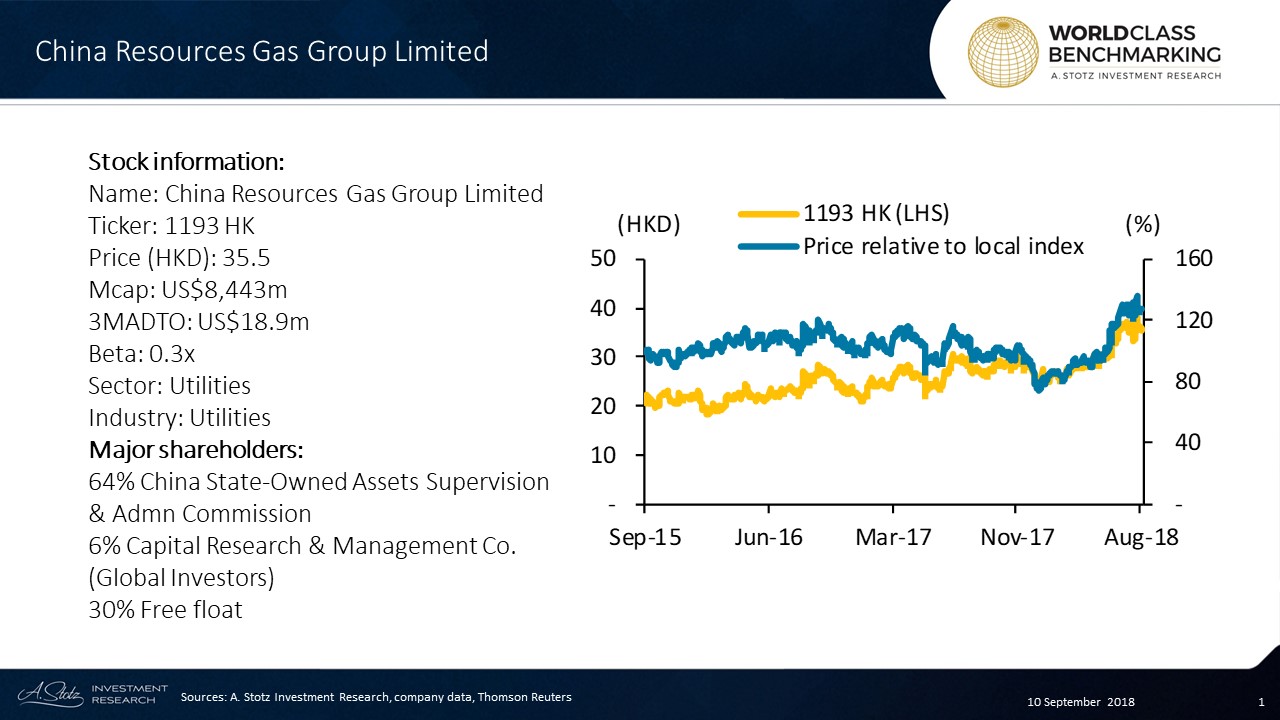 CRG supplies industrial, commercial, and residential customers with gas, and currently has 32.5m residential customers.
It distributes over 8bn cubic meters of gas annually and operates throughout the entire country.
Business Description
CRG is a Chinese state-owned enterprise and the largest distributor of natural gas in China. Well over 3/4 of its revenue comes from natural gas sold to its users via pipe, with the rest coming from new gas connecting fees to its customers.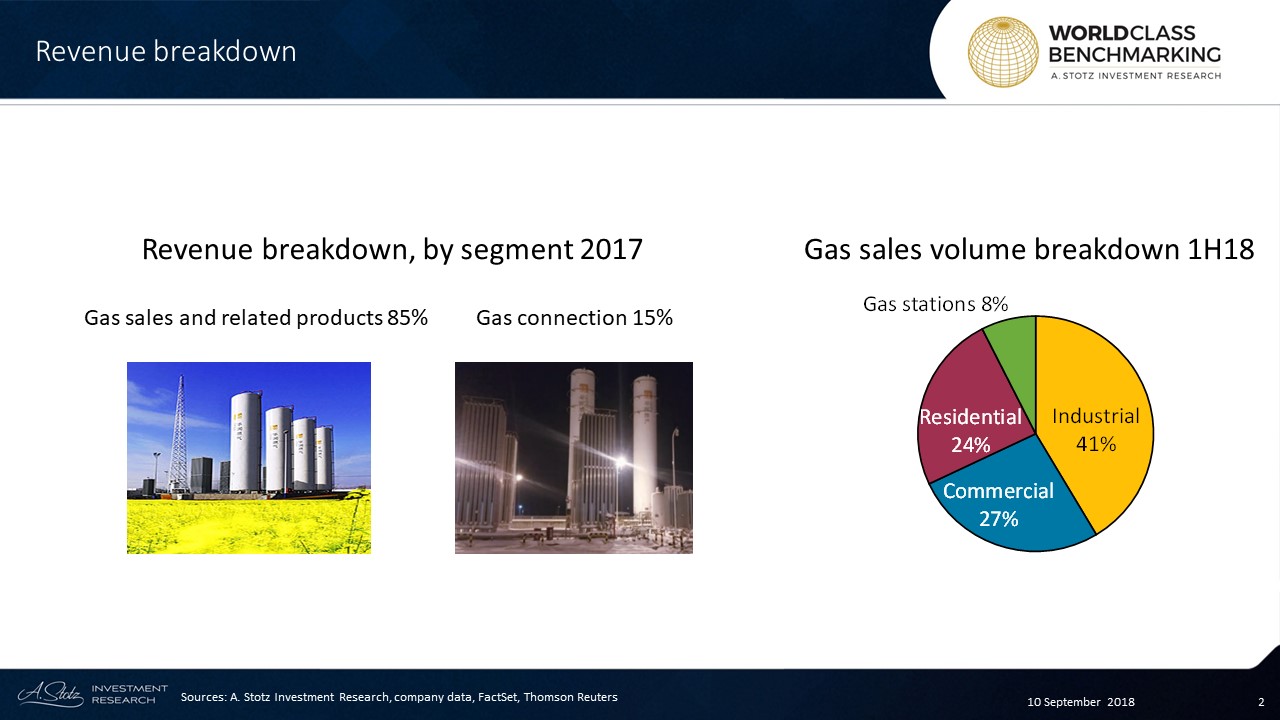 The operations of CRG are strategically located in areas of China which are both economically more developed and densely populated, and areas with rich reserves of natural gas for its supplies. Industrial and commercial users range from plants with piped natural gas to natural gas filling stations, while the majority of its residential customers are city-dwellers.
The Chinese government has long-term energy plans which are focused on shifting usage away from coal-based to natural gas. One of CRG's core supply areas is the North, which means it is particularly well-positioned to take advantage of the shift to gas-heating. The government also plans to enable gas suppliers such as CRG to be able to source natural gas more cheaply via liberalization of supply sources.
Leadership
Wang Chuandong was appointed the Chairman of CRG in 2012. He also holds various other board and executive positions within the China Resources group. His educational background includes a Bachelor's degree in Science majoring in Petroleum Refining from the China University of Petroleum, China and a Master of Business Administration Degree from the University of Texas, US.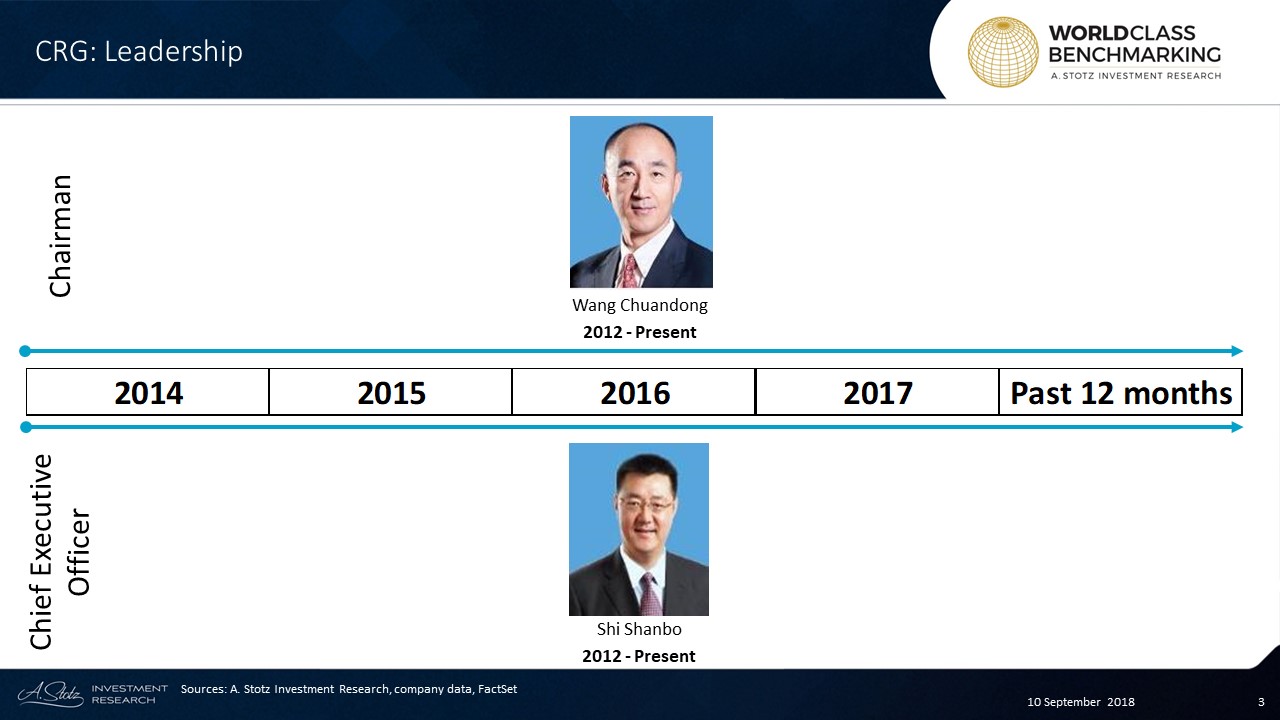 Shi Shanbo has served as the CEO of CRG since 2012. Similar to Wang, he holds other numerous positions in other companies within the China Resources group, some of which have been listed on the stock exchange. He holds a Master's Degree in Economics from Dongbei University of Finance and Economics, China.
World Class Benchmarking
Profitable Growth has been performing well since 2014. It has consistently been ranked above average and climbed to the top 20% in recent years. In the past 12 months, CRG ranked among the top 56 out of 280 large Utilities companies worldwide.
Profitability shows a similar trend of excellent performance as Profitable Growth. In the past 12 months, Growth improved to #3 from #4, a rank the company has held stably in 2014-2017.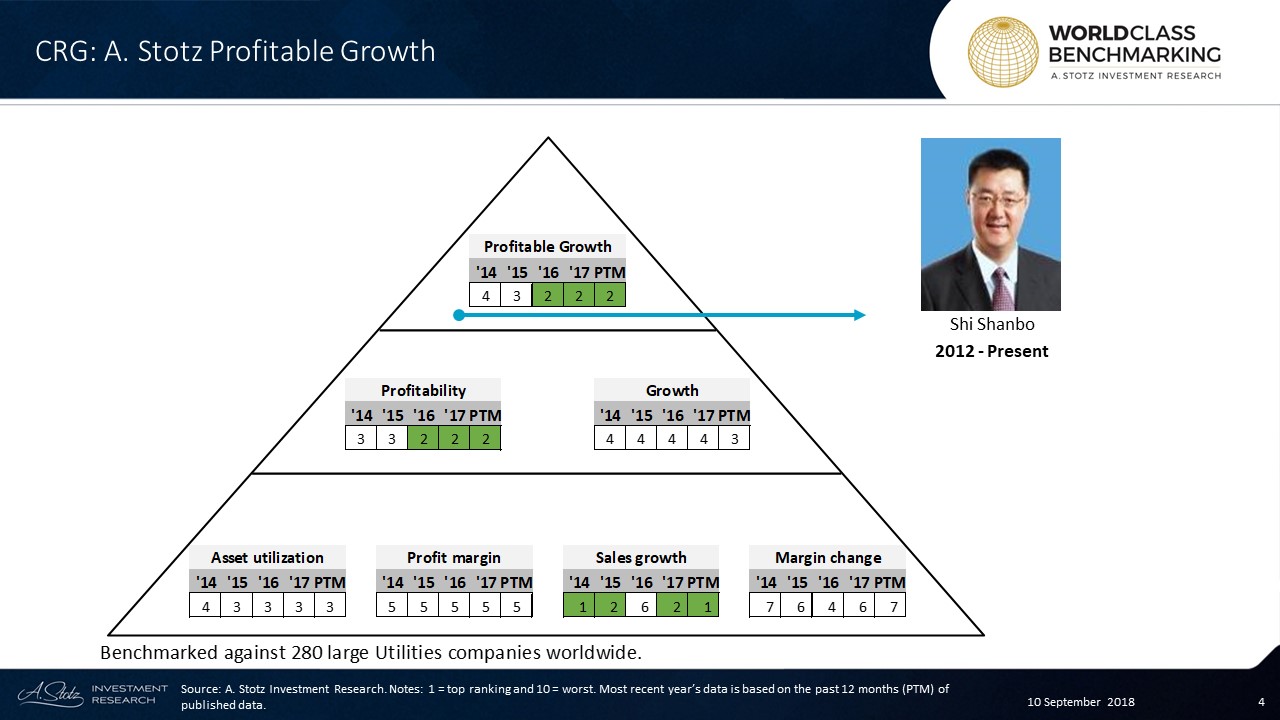 Asset utilization and Profit margin have been stable, ranked at #3 and #5 respectively in most years.
Sales growth dropped to #6 in 2016 from its previous high ranks, however, the rank quickly recovered in 2017 and CRG was back at #1 in the past 12 months. Margin change has shown a falling rank since 2016 and ranked at #7 in the most recent period.
---
What're your thoughts on CRG?
If you like our research, share it with your friends.
---
DISCLAIMER: This content is for information purposes only. It is not intended to be investment advice. Readers should not consider statements made by the author(s) as formal recommendations and should consult their financial advisor before making any investment decisions. While the information provided is believed to be accurate, it may include errors or inaccuracies. The author(s) cannot be held liable for any actions taken as a result of reading this article.