Good Profitability at Major Cineplex Group
Background
Established in 1995, Major Cineplex Group Public Company Limited is Thailand's leading lifestyle entertainment company.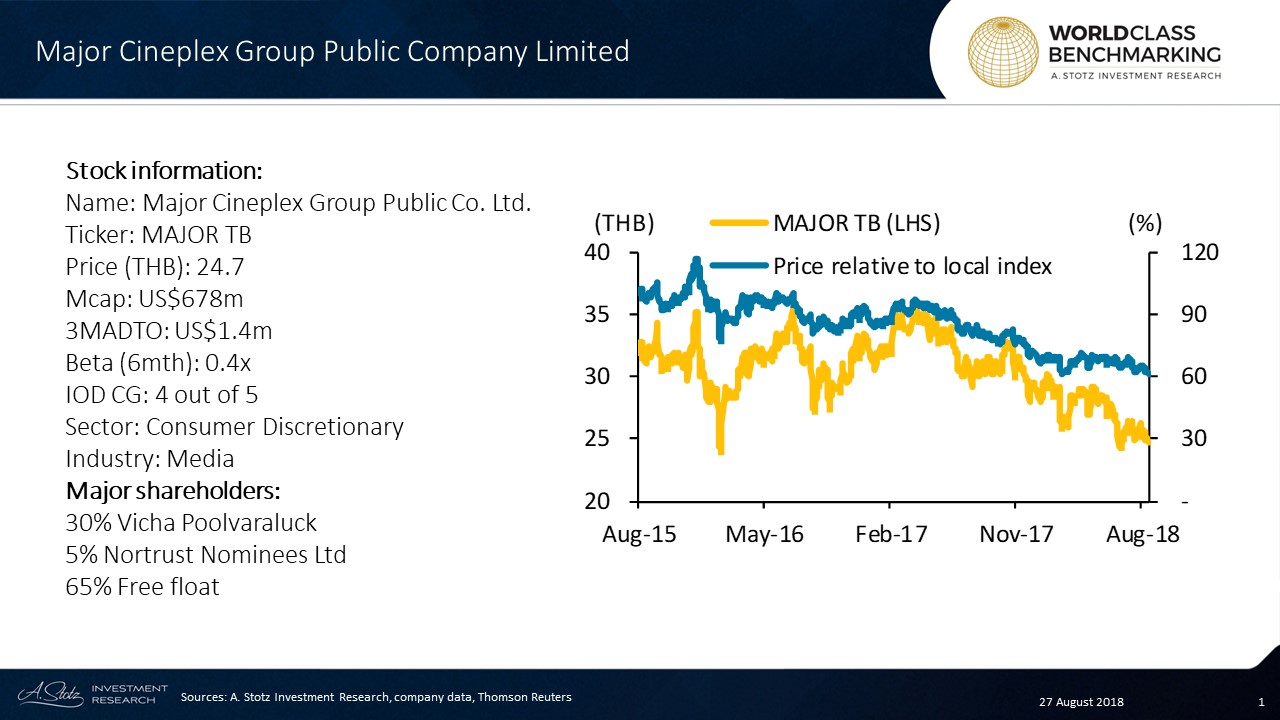 It operates a movie theater chain under the brand Major Cineplex as well as bowling and karaoke chain, the Major Bowl.
The company also offers theater advertising space and rentals across its business locations.
Business Description
MAJOR's main revenue is from the movie business. It had 726 screens by the end of 2017, in various Cineplexs in Thailand e.g. Major, Paragon, EGV, Esplanade, and Quartier. MAJOR also operates cinema chains, bowling alley chains as well as all related services in Cambodia and Laos.
Besides tickets sold, revenue also comes from concessions and its rentals. The company offers advertising and sponsorship space in its business locations, with most of them being cinemas but also at their bowling and karaoke locations.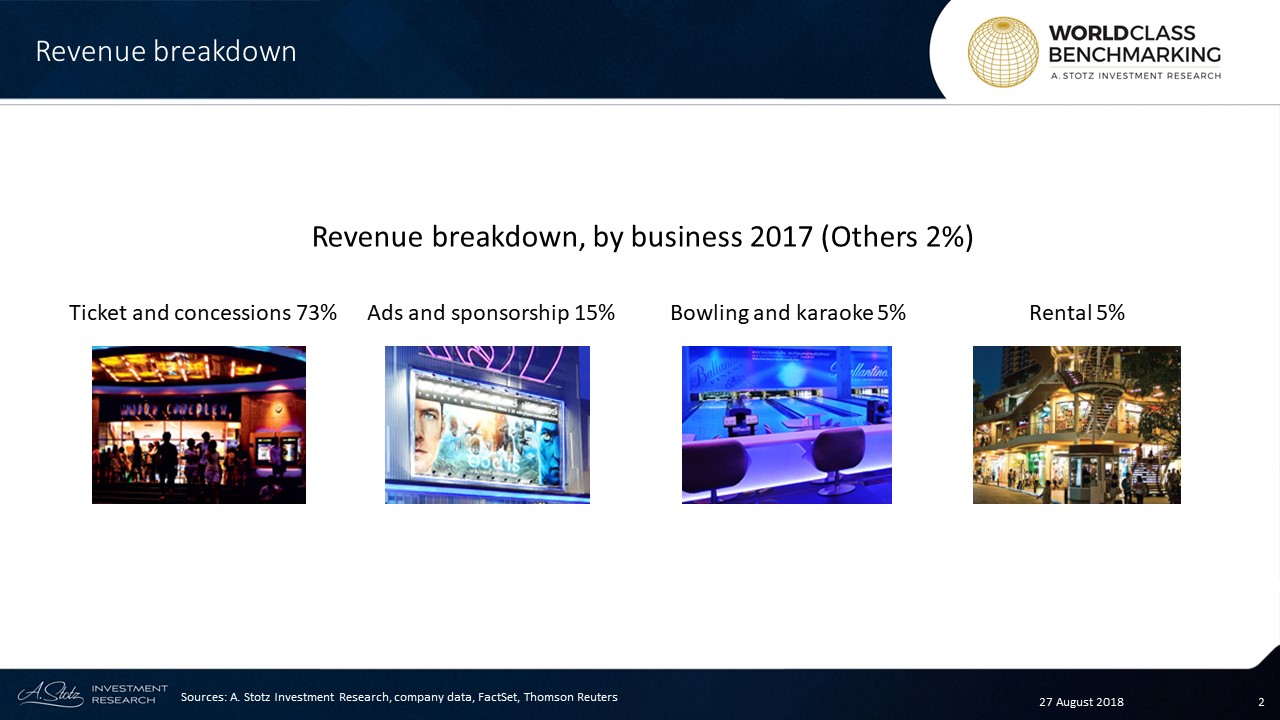 In addition to cinema, bowling and karaoke, MAJOR also has ice skating rinks at some complexes. To make the most use out of its locations, the company also rents space for retail, restaurants, etc. through short and long term leases. In addition, MAJOR owns 26% of Siam Future Development PLC (SF TB).
In the home entertainment, film distribution and rights space, MAJOR holds around 92% share in M Pictures Entertainment PLC (MPIC TB).
Leadership
Somchainuk Engtrakul has been the independent Chairman of the Board of Directors of MAJOR since 2004. He holds a Bachelor's Degree in Economics from UPSALA College, US, as well as Bachelor of Laws and an honorary Doctor of Philosophy in Public Administration from Sripathum University, Thailand.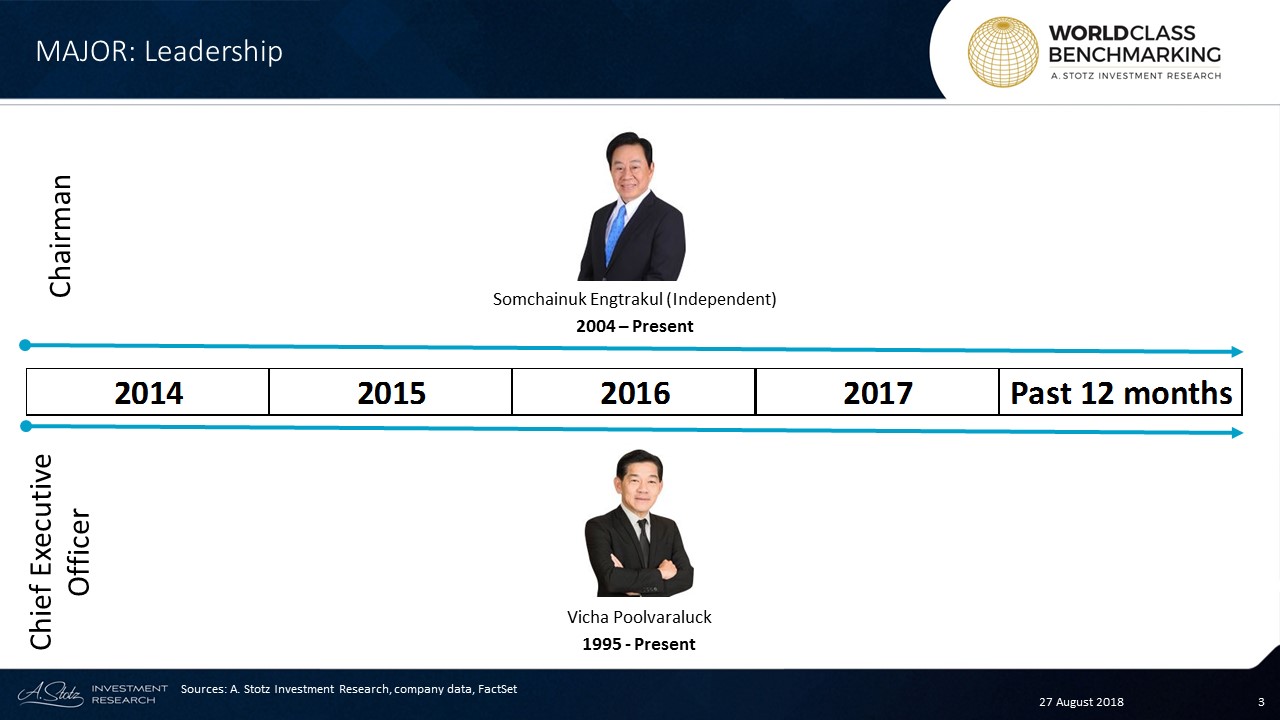 Vicha Poolvaraluck has been the Director and CEO of  MAJOR since 1995. Additionally, he has served as Director and Vice Chairman of the Board of Directors of  M Pictures Entertainment PLC (MPIC TB) since 2008. He holds a Bachelor's Degree of Business Administration from Chulalongkorn University, Thailand and an MBA from the United States International University of San Diego, US.
World Class Benchmarking
Profitable Growth has consistently ranked considerably high at #3 with an exception of a marginal drop to #4 in 2016. In the past 12 months, MAJOR ranked among the top 396 out of 1,320 medium-sized Consumer Discretionary companies worldwide.
Over the years, both Profitability and Growth has had stable ranks at #3 and #6 respectively.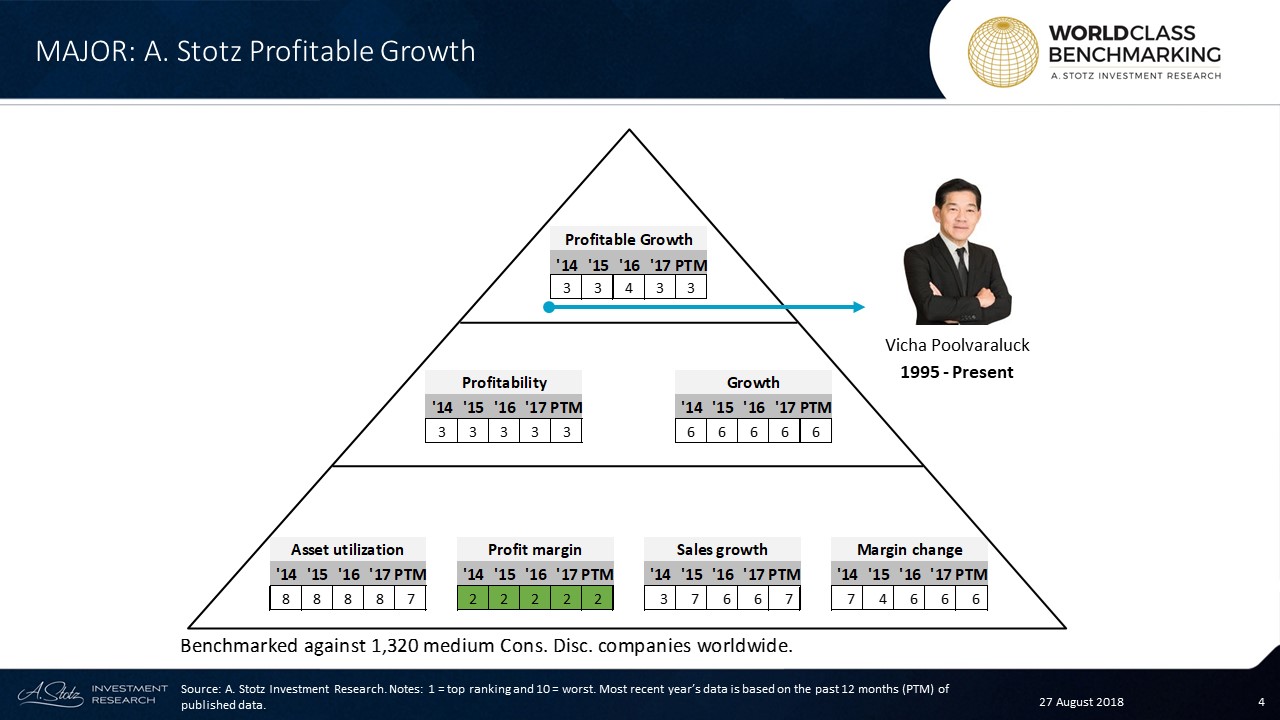 Asset utilization and Profit margin continue MAJOR's trend of stable ranks with only a small divergence in the past twelve months for Asset utilization. In all other years, Asset utilization has ranked at #8 while Profit margin has maintained a great ranking at #2.
Sales growth and Margin change has had some fluctuation in its ranks but has remained below average since 2016.
---
What're your thoughts on MAJOR?
If you like our research, share it with your friends.
---
DISCLAIMER: This content is for information purposes only. It is not intended to be investment advice. Readers should not consider statements made by the author(s) as formal recommendations and should consult their financial advisor before making any investment decisions. While the information provided is believed to be accurate, it may include errors or inaccuracies. The author(s) cannot be held liable for any actions taken as a result of reading this article.