Global Top-20 Semiconductor Manufacturer Aims for World Class
Watch the video with Andrew Stotz or read a summary of the World Class Benchmarking on Win Semiconductors Corporation.
---
---
Background
Win Semiconductors Corporation (Win Semi) is in the global top-20 of semiconductor manufacturers, and is a pure-play foundry i.e. it specializes in making compound semiconductors designed by its electronic component vendor customers.
Main applications are in the mobile telecom segment. The company is based in Taiwan, and the majority of sales are in Asia.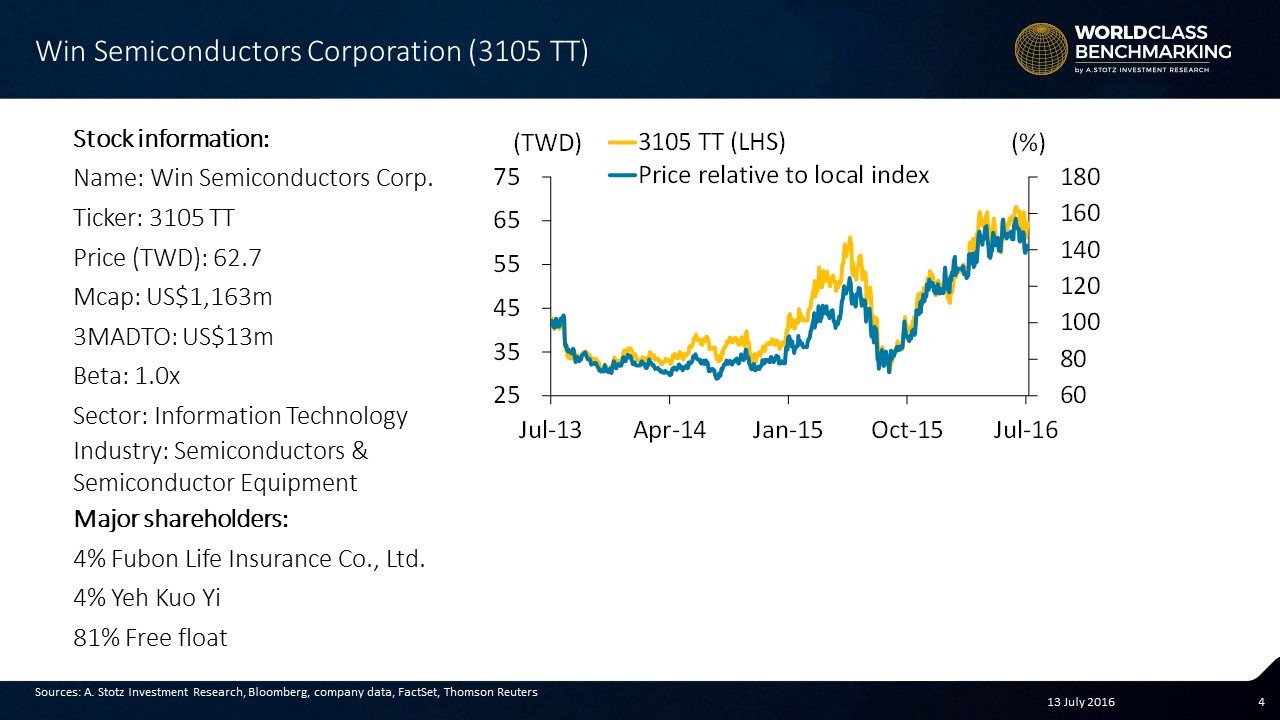 Business Description
Win Semi is Taiwan-based and one of the world's top-20 semiconductor manufacturing foundries ranked by sales. It has three divisions by application: Wi-Fi, 50%; Cellular, 40%; and Infrastructure, 10%.
The Wi-Fi division makes compound semiconductors for use in Wi-Fi-linked equipment, such as routers, while Cellular is for mobile handsets.
Infrastructure includes compound semiconductors used in base stations, satellites, and fiber optics. Compound semiconductors are designed by Win Semi customers, mainly electronic component companies, to have superior speeds and lower power consumption.
Solid smartphone shipments have been the demand driver in the past few years. The need for faster data transmission via LTE and 5G should underpin demand for compound semiconductors in smartphones, as telecom service providers promote profitable LTE services aggressively.
For the Infrastructure division, continuing rising demand for cloud storage should create more opportunities.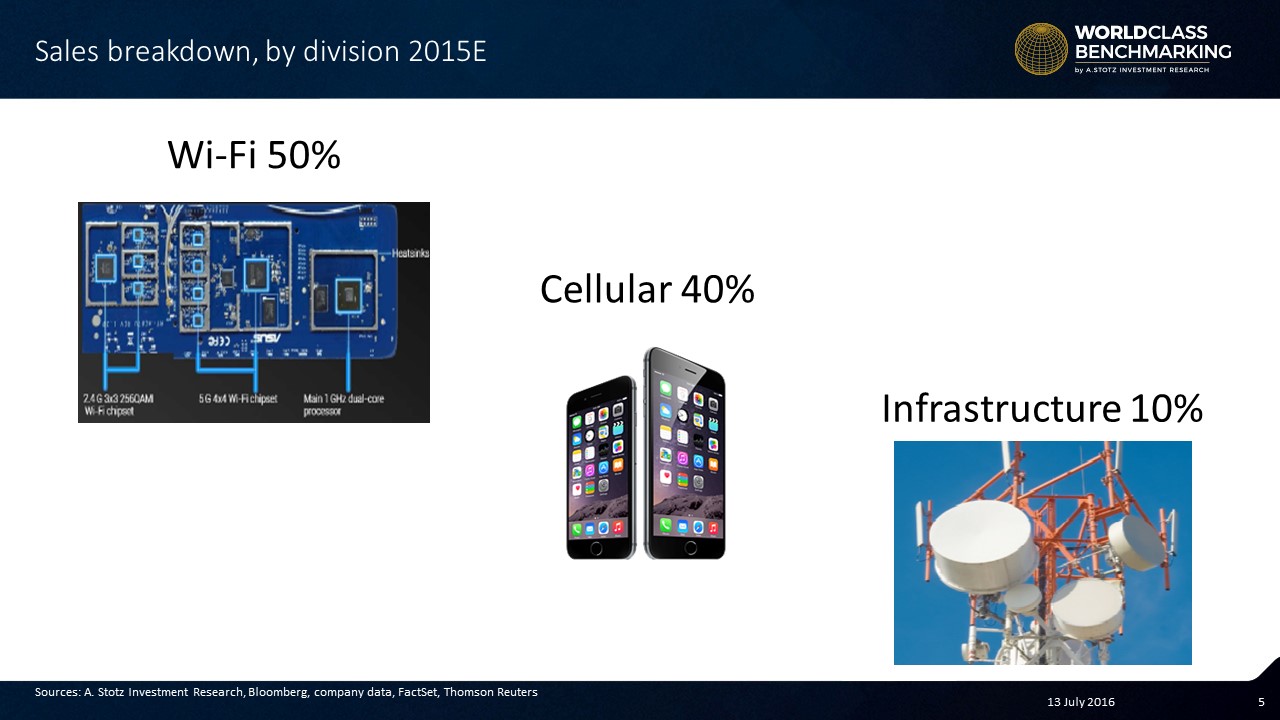 World Class Benchmarking
Profitable Growth maintained its #2 rank and has improved from #4 in 2012. This means Win Semi ranks better than 952 of 1,190 medium Info Tech companies globally.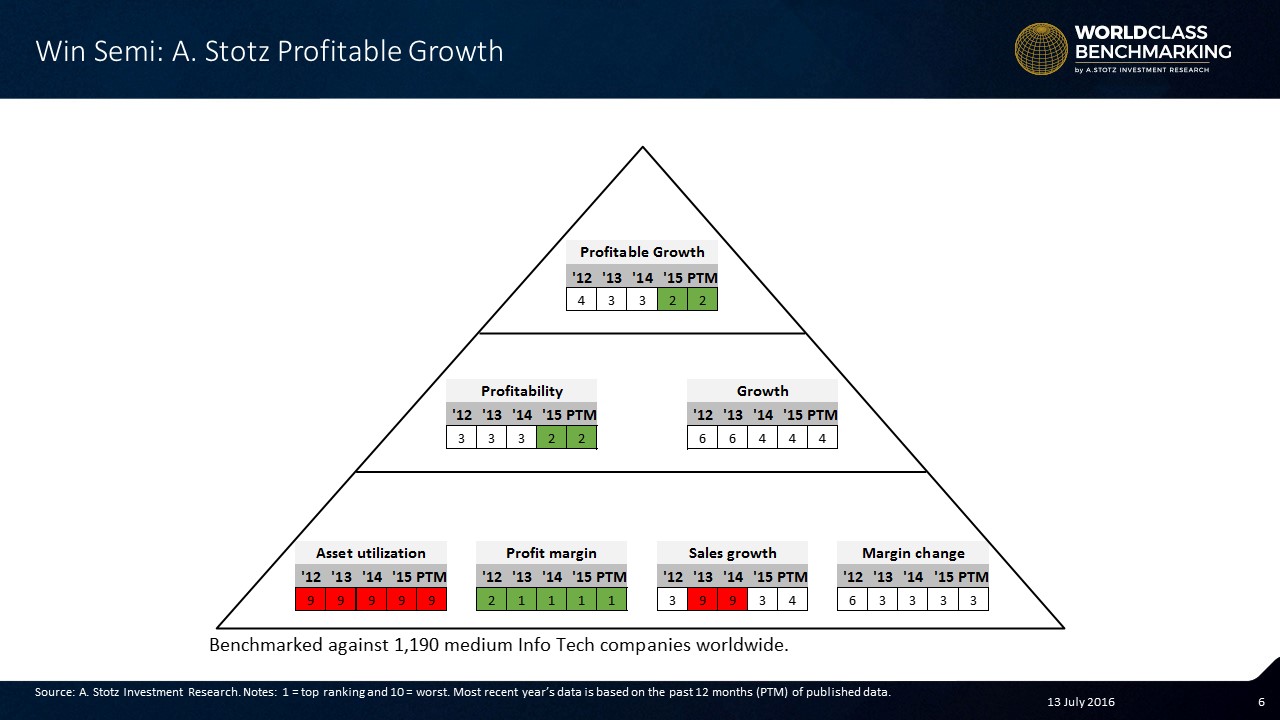 Profitability maintained its #2 rank that the company gained in 2015. This means Win Semi ranks among the best 238 medium Info Tech companies globally on ROA. Growth maintained its #4 rank.
Profit margin was still ranked in the top decile, and is the driver of the Profitability rank. Sales growth fell to #4 from #3 but it didn't affect the Growth rank as margin change was strong at #3 among its global peers.
---
Do YOU want to see the Profitable Growth rank for a company in YOUR portfolio?
Leave a comment below and we'll post it if we have it.
---
DISCLAIMER: This content is for information purposes only. It is not intended to be investment advice. Readers should not consider statements made by the author(s) as formal recommendations and should consult their financial advisor before making any investment decisions. While the information provided is believed to be accurate, it may include errors or inaccuracies. The author(s) cannot be held liable for any actions taken as a result of reading this article.