From Hot Pot to Hot Stock
Click here to read an updated World Class Benchmarking of MK Restaurant Group.
Background
MK Restaurant Group Public Company Limited is a Thailand-based restaurant chain company.
It franchises MK Suki (Japanese-style hot pot) restaurants outside Thailand in Japan, Vietnam, Indonesia and Singapore.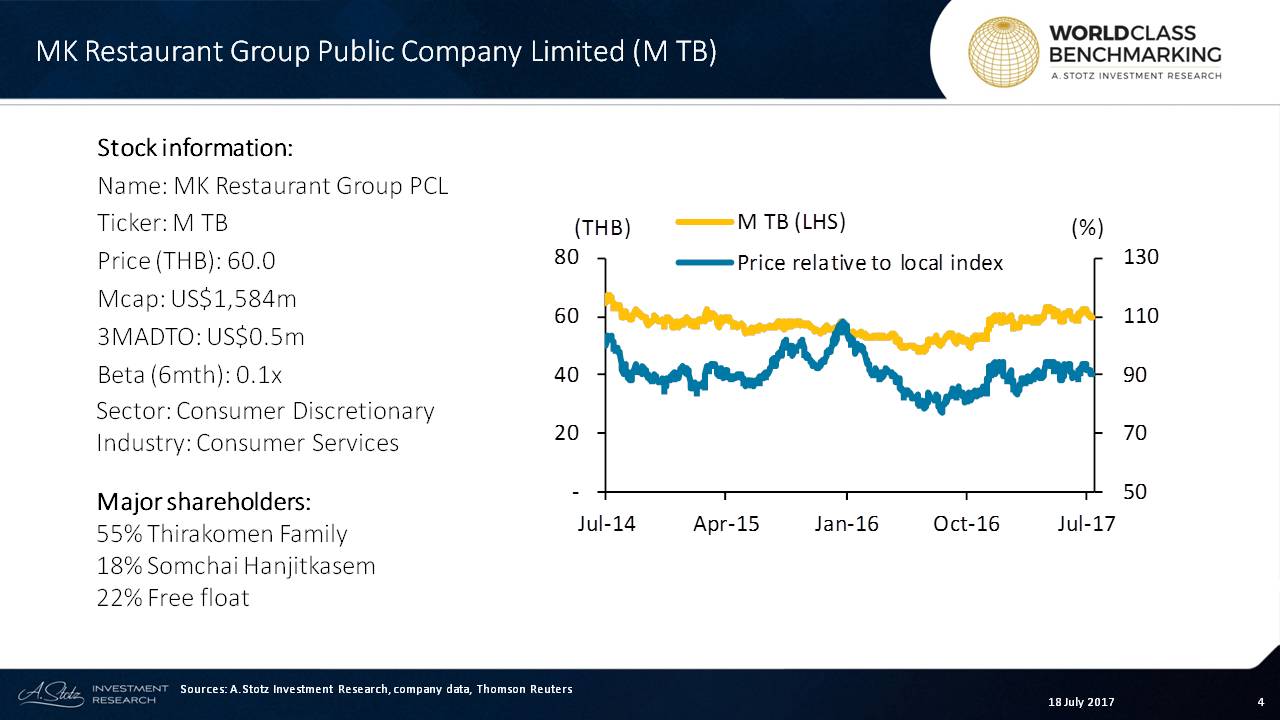 MK outlets account for 80% of revenues, and Yayoi restaurants account for 18% of revenues.
Business Description
MK is primarily a restaurateur business, with 619 outlets as of 1Q17 and another 40 new facilities planned during 2017 (20 MK, 15 Yayoi, and five Miyazaki). Its subsidiary, MK Personnel Training Center, provides training for all existing and future staff of the restaurants.
MK Restaurants offer Thai-style sukiyaki and a wide variety of dim sum and roasted dishes. MK Gold restaurants target high-income customers and offer finer dishes compared to the regular MK branches.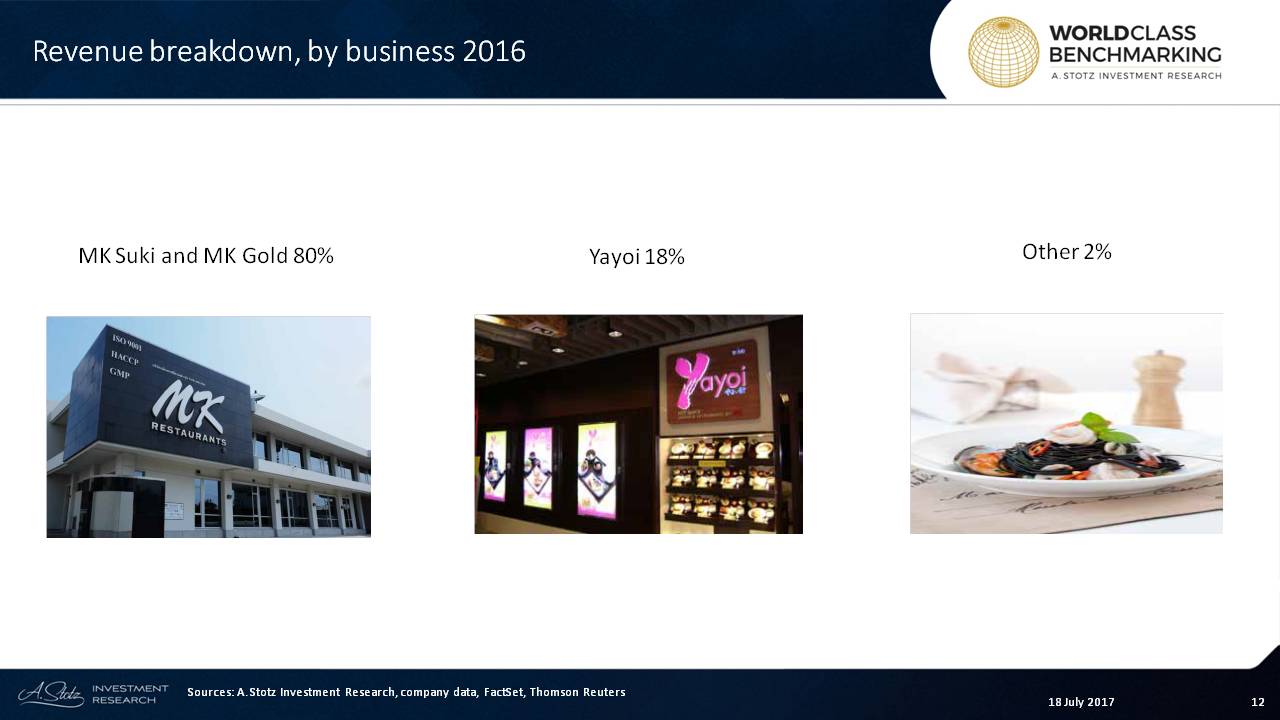 Its Japanese cuisine Yayoi Restaurants offer a-la-carte menus and sets served with rice, salad and miso soup.
MK Suki and Yayoi Restaurants offer home delivery and catering services, and MK also franchises MK Suki, Yayoi and Miyazaki restaurants to operators in Japan, Vietnam, Singapore and Laos. M has 48 restaurants across Asia, but they currently account for a small portion of revenue.
M operates two other Japanese restaurants, Hakata and Miyazaki;  two Thai restaurants, Na Siam and Le Siam; as well as Le Petit, a nationwide coffee shop and bakery chain offering snacks, baked goods and coffee.
Leadership
Rit Thirakomen has served as Chairman & CEO since mid-2012. He owns about 15% of the company, and his wife owns about 40%.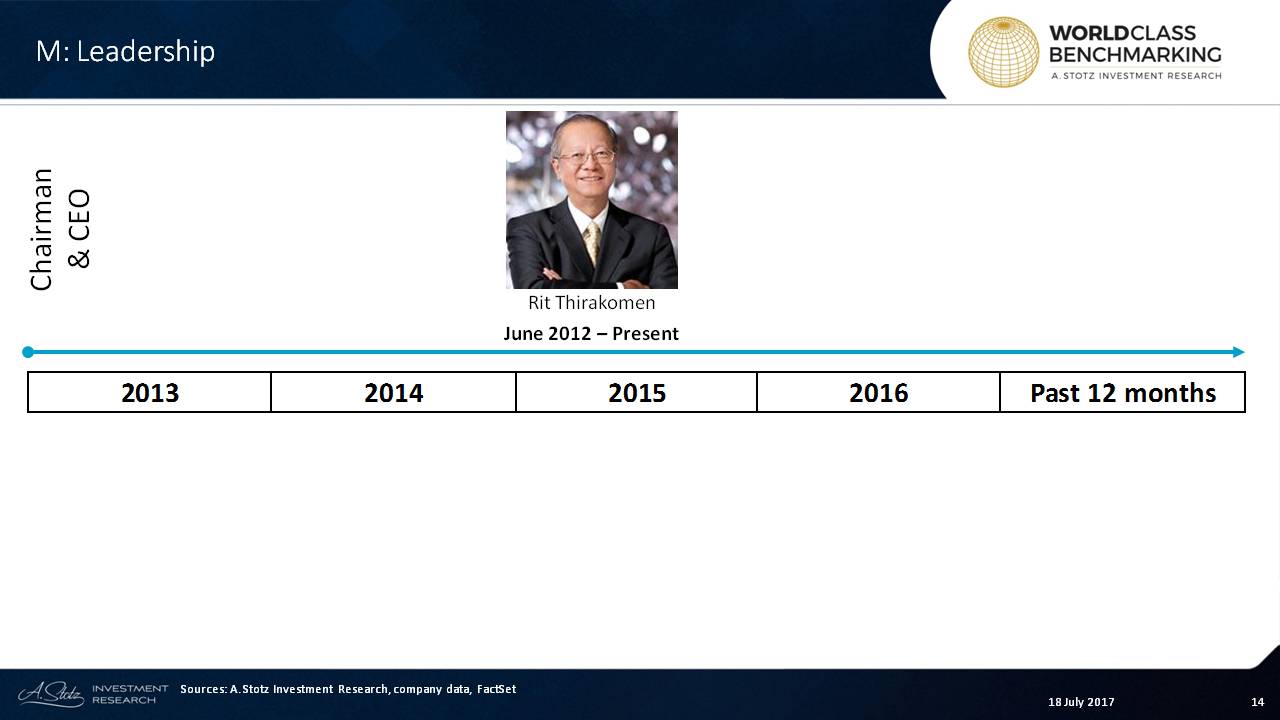 During his tenure, Profitable Growth has remained quite elevated for the company.
World Class Benchmarking
Profitable Growth has been in the green since 2013, currently falling in at #2.
The company ranks among the top 274 of 1,370 medium consumer discretionary companies globally.
Profitability is World Class recently, and Growth has improved to #4 from #7 in 2015.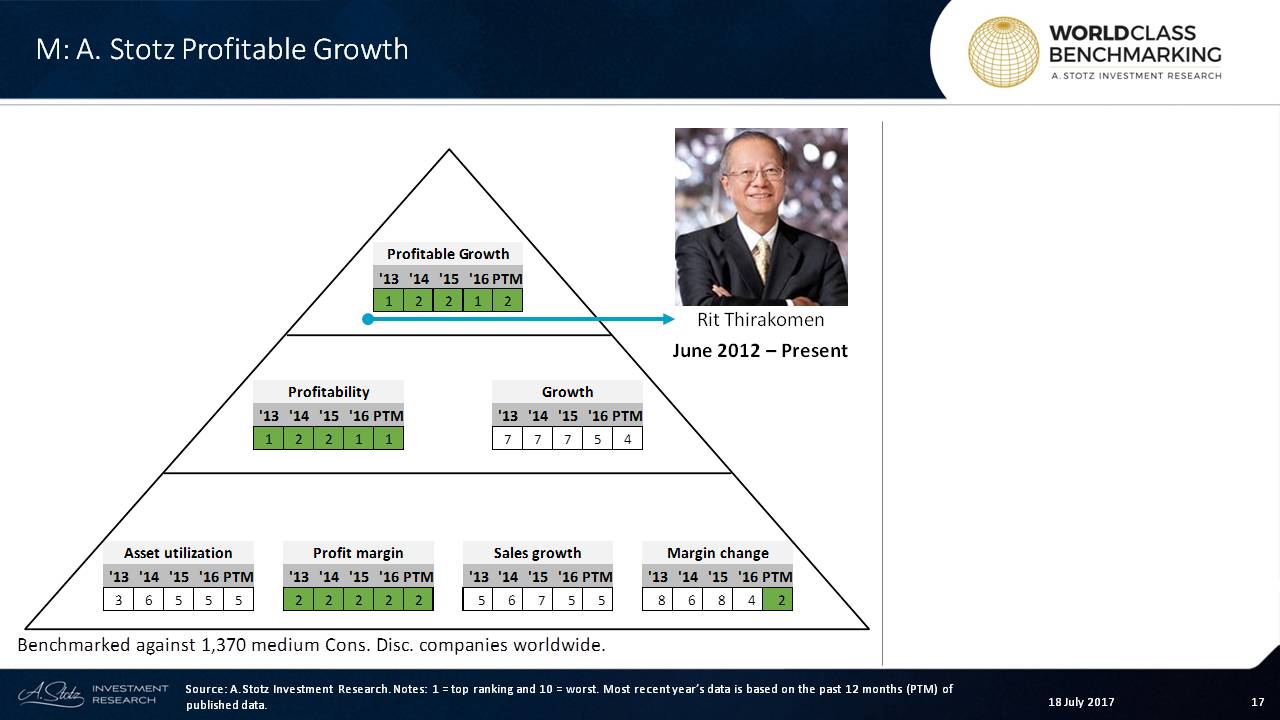 Asset utilization is ranked average, while Profit margin drives profitability.
Sales growth ranked #5, while Margin change improved to #2 and drove the improvement in Growth.
---
Are you impressed by MK?  What's your thoughts?
If you like our research, share it with your friends.
---
DISCLAIMER: This content is for information purposes only. It is not intended to be investment advice. Readers should not consider statements made by the author(s) as formal recommendations and should consult their financial advisor before making any investment decisions. While the information provided is believed to be accurate, it may include errors or inaccuracies. The author(s) cannot be held liable for any actions taken as a result of reading this article.