Fila Korea Controls Global Sportswear and Golf Equipment Brands
Background
Fila Korea Limited was founded in 1991 and started marketing sportswear products under the FILA brand.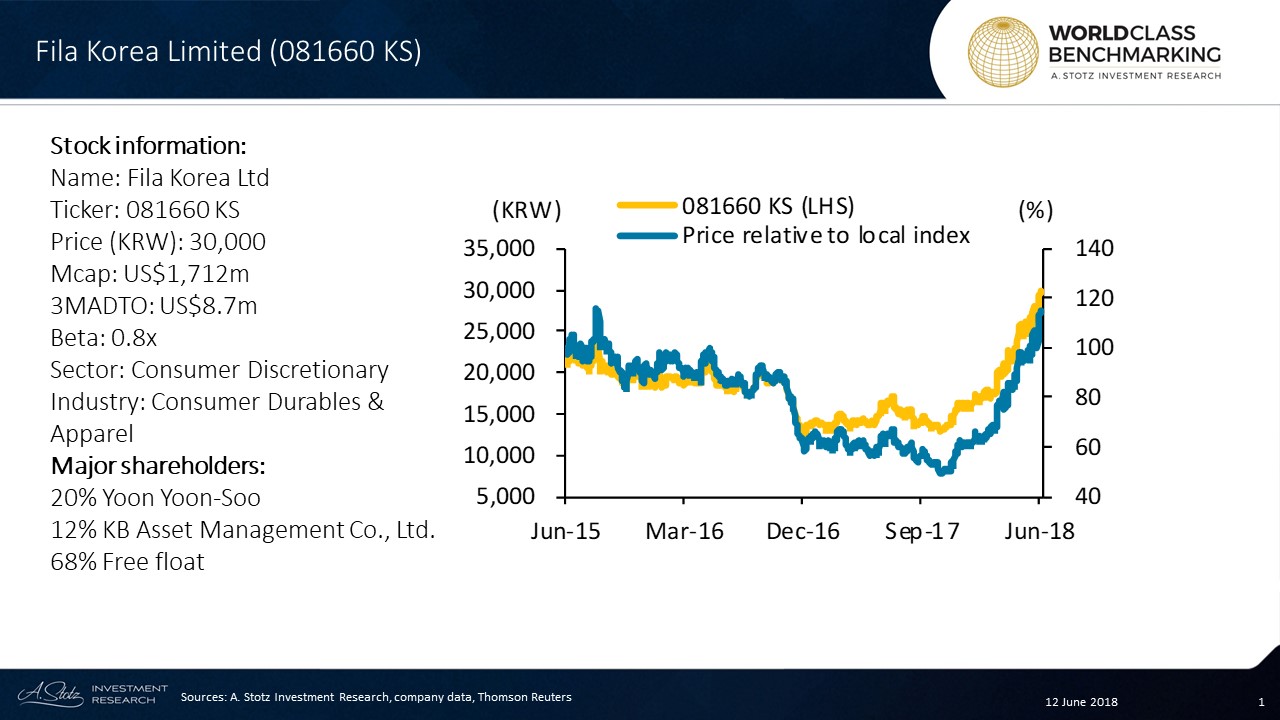 In 2007, the company acquired the global FILA brand and all its subsidiaries. In 2011, a majority stake in Acushnet (GOLF US), with well-known golf brand Titleist, was acquired.
Business Description
The FILA brand was originally established in Italy in 1911 and in 2007 Fila Korea Limited (Fila) acquired the global brand and all its subsidiaries. In 2011, Fila acquired a 53% stake in global golf equipment company Acushnet Holdings Corp. (GOLF US).
Under the FILA brand, the company distributes sports apparel ranging from shoes to clothing, underwear, and golf equipment. FILA accounted for 30% of total revenue in 2017, of which Korea accounts for 47%, US for 47%, and the remaining is overseas royalty income.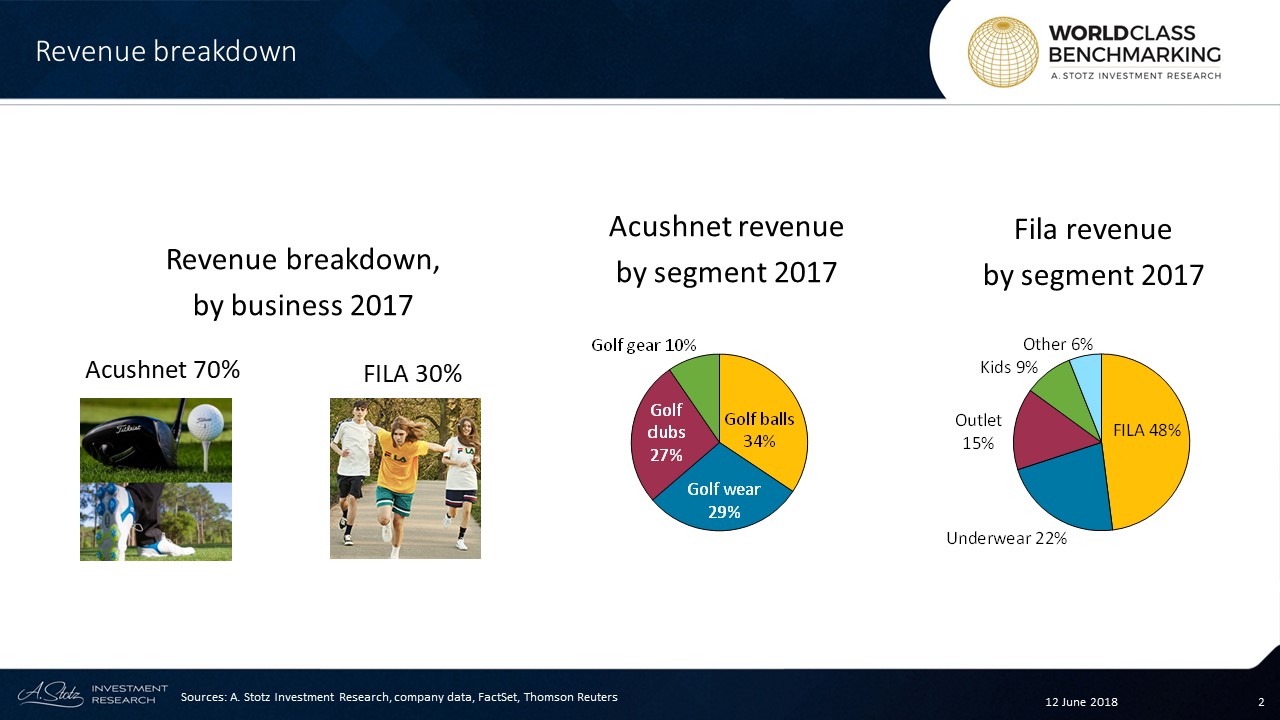 In Korea, the FILA brand is focused on functional value while in China it aims for premium positioning. Fila has a 15% stake in the JV Full Prospect Ltd. with ANTA Sports Products Ltd. (2020 HK) which sells FILA in China.
Acushnet sells golf equipment under its brands Titleist, FootJoy, Pinnacle, Vokey Design, and Scotty Cameron. In 2017, Acushnet accounted for 70% of Fila's total revenue and the main contributor was golf balls at 35% of Acushnet's sales. US accounted for 51% of Acushnet sales in 2017, followed by EMEA, Japan, and Korea at 13% each.
Leadership
Yoon Yoon-Soo is the founder of Fila Korea and has served as the company's chairman since 1991. He holds a Bachelor's degree in Political Science & Diplomacy from Hankuk University of Foreign Studies, Korea.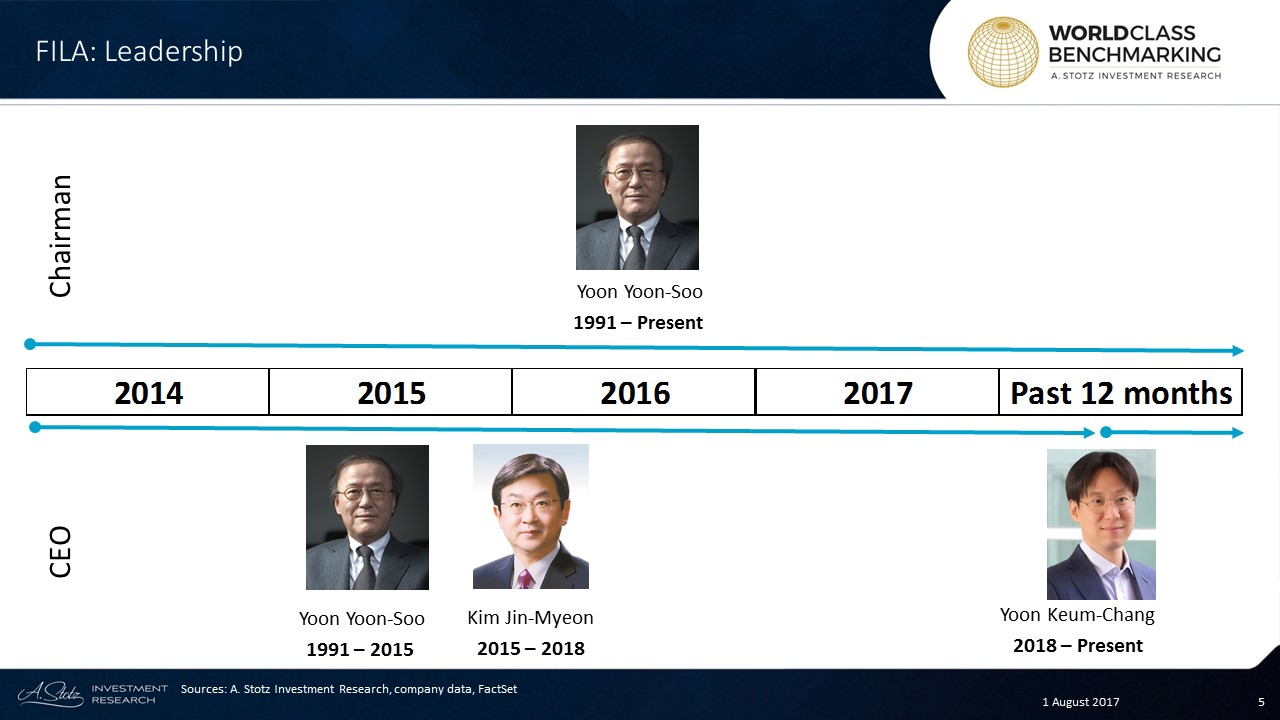 Yoon Keum-Chang was recently appointed CEO of Fila Korea. He is the son of the company's founder and chairman, Yoon Yoon-Soo. Keum-Chang graduated from the University of California, San Francisco, US and later earned an MBA from the University of Rochester, US.
World Class Benchmarking
Profitable Growth has been fluctuating and dropped to #9 in the past 12 months which is in the bottom 256 out of 1,280 large Consumers Discretionary companies worldwide.
Profitability has shown a slowly improving trend since 2016 and ranked at #8 in the most recent period.  Growth has been sluggish, dropped to #10 in the past 12 months from top ranks in 2016 and 2017.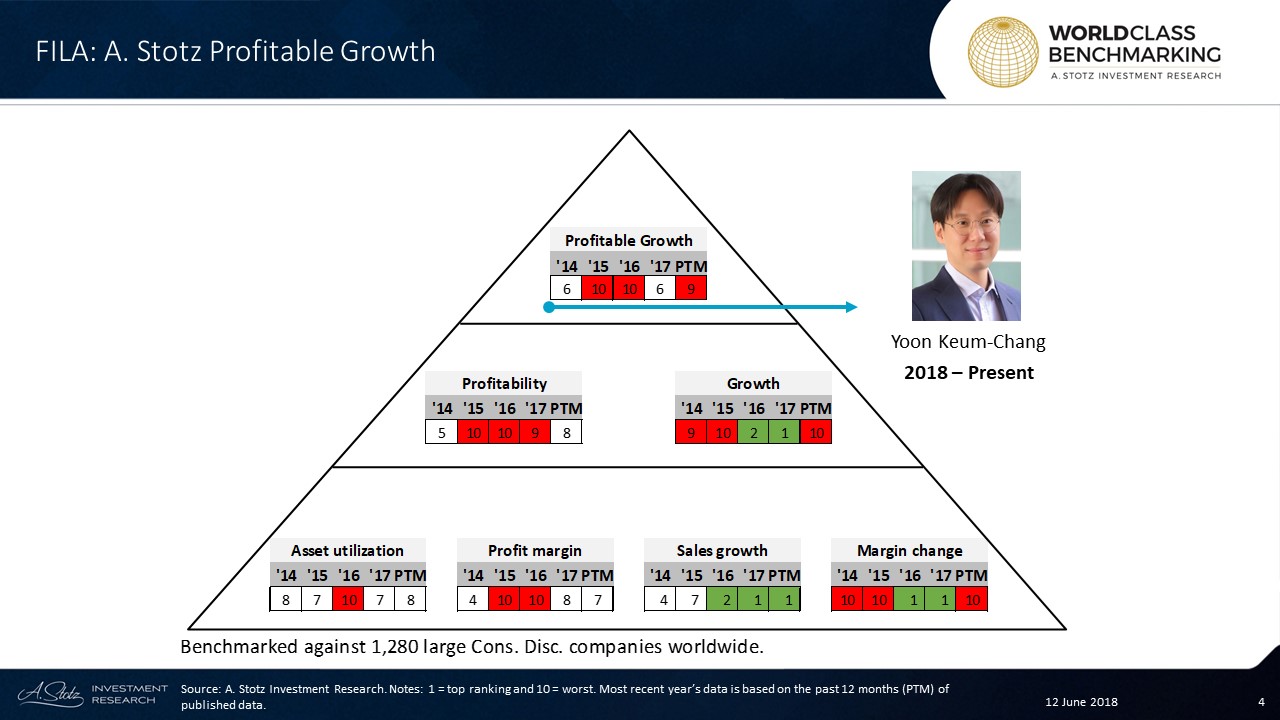 Asset utilization and Profit margin are still low but have both improved since 2016.
Sales growth has significantly improved and stayed in top ranks since 2016. Margin change dropped from top rank to the bottom in the past 12 months.
---
What're your thoughts on FILA?
If you like our research, share it with your friends.
---
DISCLAIMER: This content is for information purposes only. It is not intended to be investment advice. Readers should not consider statements made by the author(s) as formal recommendations and should consult their financial advisor before making any investment decisions. While the information provided is believed to be accurate, it may include errors or inaccuracies. The author(s) cannot be held liable for any actions taken as a result of reading this article.