Falling Profitable Growth at Delta Electronics Thailand
Background
Delta Electronics (Thailand) Public Company Limited is a manufacturer and exporter of electronic components and power supplies.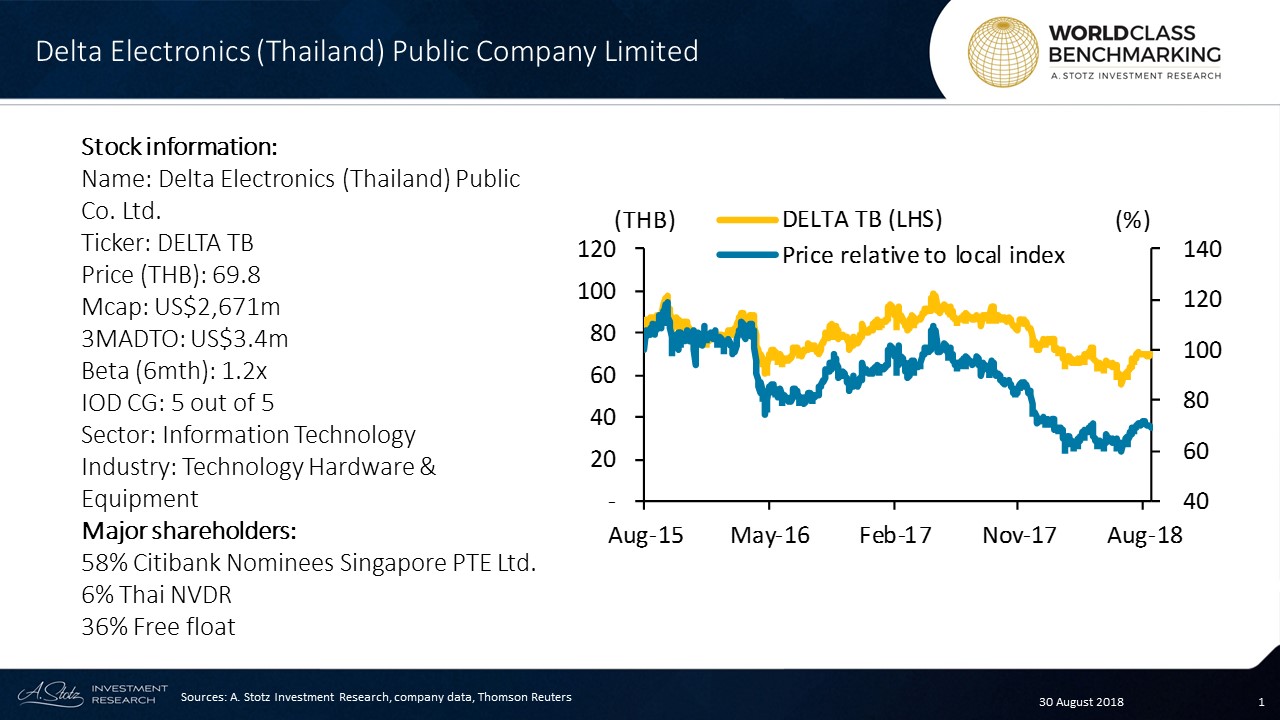 Its factories are located in Thailand, India and Slovakia, and its main R&D facilities are in Thailand and Germany.
Business Description
Its power electronics segment manufactures different types of power supplies to be used as power storage, adapters and converters. These are mainly used in IT and automotive industries.
Infrastructure segment provides IT solutions with power systems, power supplies and data centers as its core products. They also supply EV charging and renewable energy systems along with other products in the energy infrastructure product category.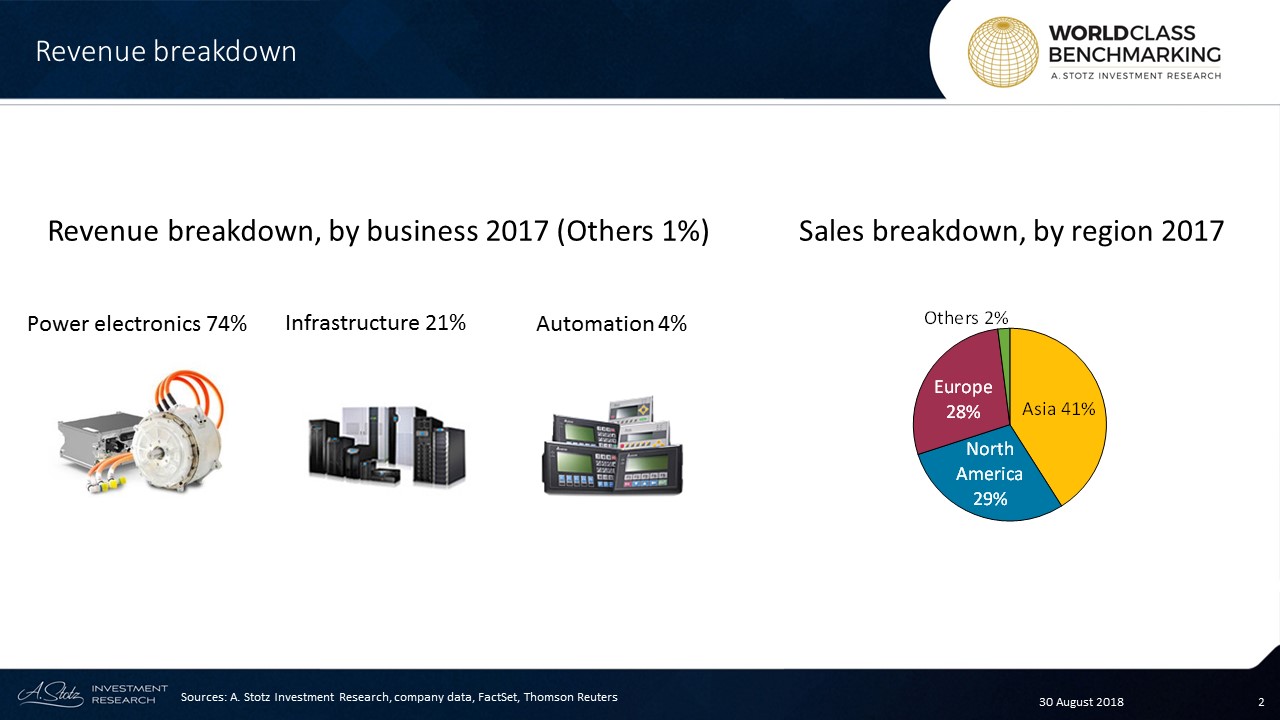 DELTA supplies automation for industrials and building application as performance and efficiency aid. Industrials products include equipment control, motors. drives and robots while the building segment focuses more on management software, LED lighting and surveillance.
Electrical vehicles have become a major driver for two of its three main product groups, namely power electronics and infrastructure.
Voluntary tender offer from Delta Electronics International (Singapore) Pte., at Bt71 was announced on August 1. Besides getting approval from DELTA's shareholders the deal would need regulatory approval.
Leadership
Chairman "James" Kong Meng Ng, a prior president of the company, has served as the Chairman since 1990. He holds a Bachelor's Degree in Electrical Engineering from National Taiwan University, Taiwan and a Master of Science in Electronics Engineering from the University of Southampton, UK.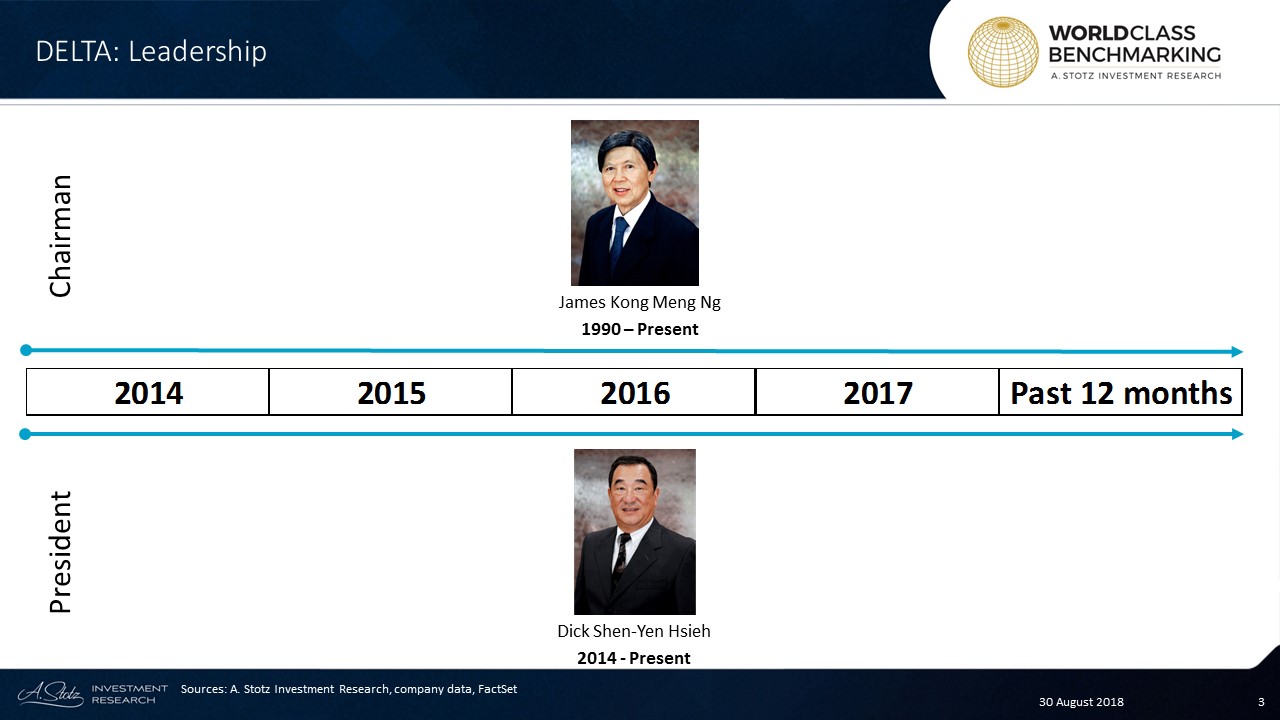 "Dick" Shen-Yen Hsieh has held a series of positions at the company since joining the Sales & Marketing division in 1991 before he became President in 2014. He holds an EMBA degree from the National Taipei University of Technology, Taiwan and has completed the Training Director Accreditation Program from the Thai Institute of Directors Association.
World Class Benchmarking
Profitable Growth ranked #1 in 2014-2015 but the rank has fallen since. However, in the past 12 months, the rank improved to #3 from #4 which is among the top 207 out of 690 large Info Tech companies worldwide.
Profitability has been great for the whole time period and ranked at #2 since 2016. Growth has been more volatile over the years and ended up at #7 in the past 12 months.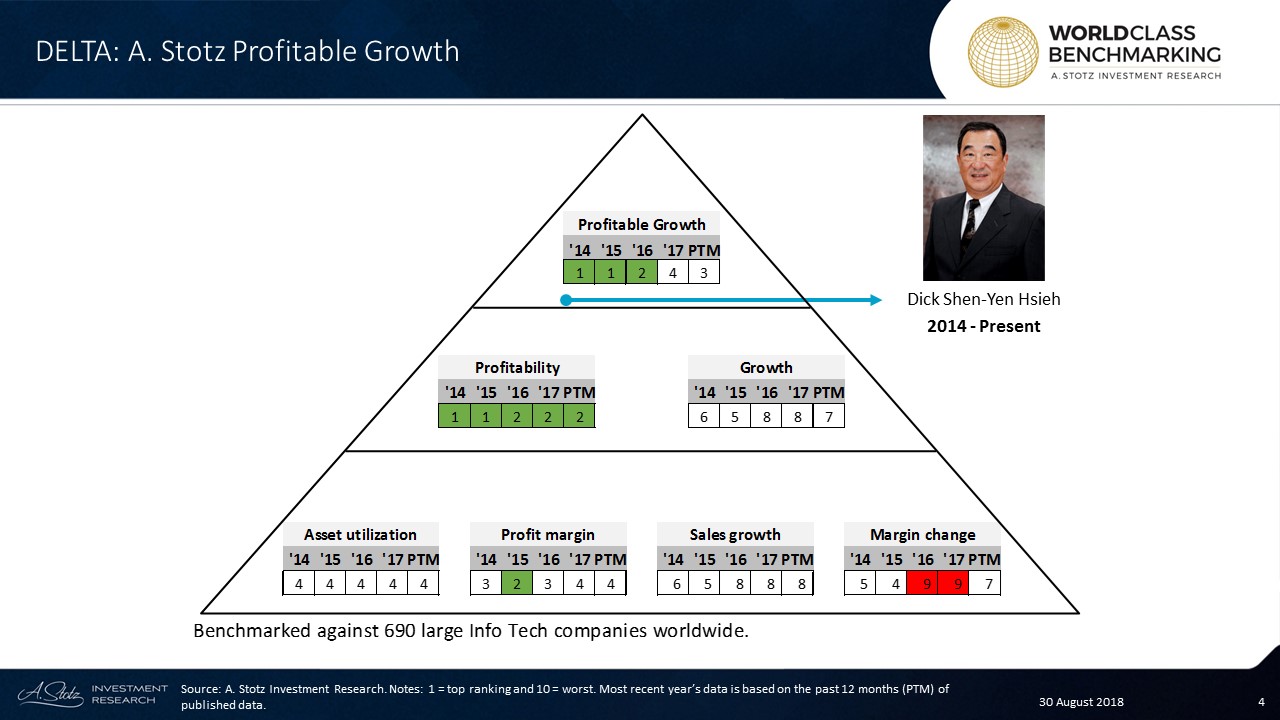 Asset utilization has consistently ranked at #4 since 2014. Profit margin has stayed above average for the whole time period and ranked at #4 in the most recent period.
Sales growth fell to #8 in 2016 and has stayed there since. Margin change dropped to #9 in 2016-2017 but stepped up to #7 in the past 12 months.
---
What're your thoughts on DELTA?
If you like our research, share it with your friends.
---
DISCLAIMER: This content is for information purposes only. It is not intended to be investment advice. Readers should not consider statements made by the author(s) as formal recommendations and should consult their financial advisor before making any investment decisions. While the information provided is believed to be accurate, it may include errors or inaccuracies. The author(s) cannot be held liable for any actions taken as a result of reading this article.