Distributing Health and Happiness throughout China
Background
Health and Happiness (H&H) International Holdings Limited is an investment holding company that manufactures and distributes health products for families.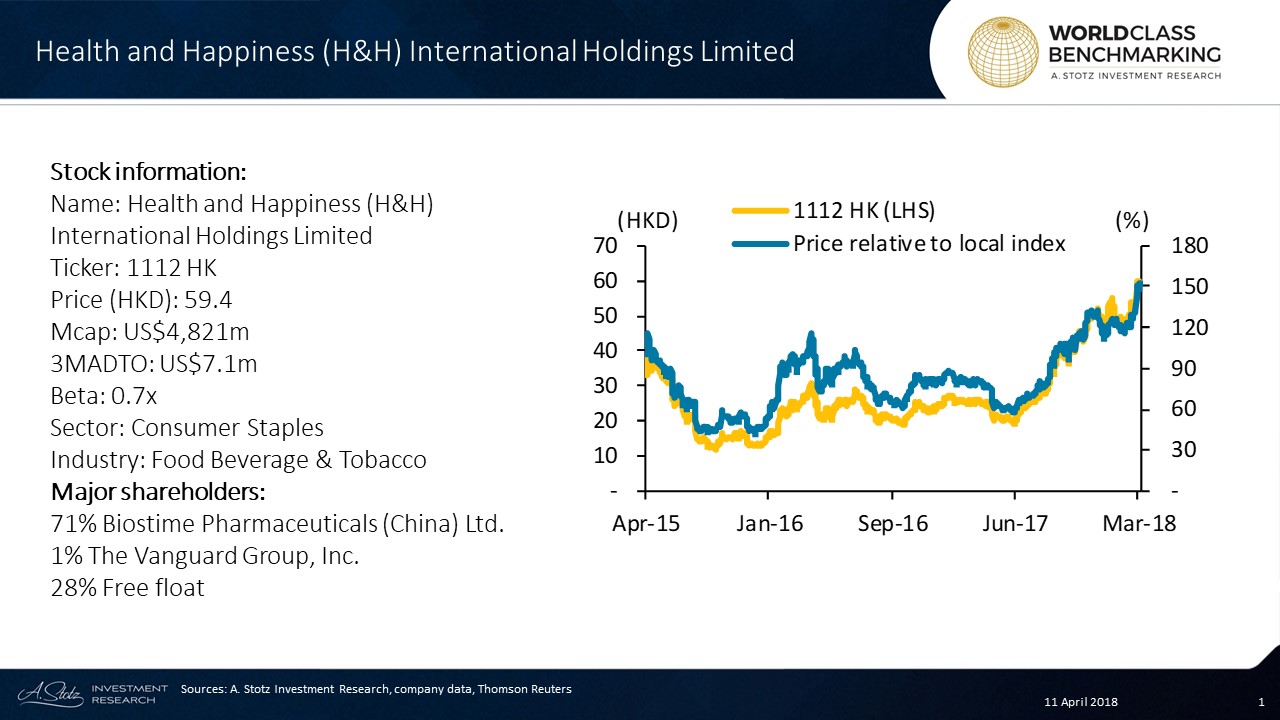 The main focus is on pediatric nutrition and baby care products. This is extended to provide products for mothers and fathers as well.
The company was founded in 1999 and its main market is China.
Business Description
H&H's core business is infant formulas and pediatric products. In this segment (BNC), the company produces infant formulas for children under seven years old, including probiotic supplements, dried baby food products, and nutrition supplements.
The adult nutrition and care (ANC) segment offers vitamins, health supplements, and skin care and sports nutrition products. For women specifically, H&H manufactures milk formulas for expectant and nursing mothers. H&H is also involved with research, development, and processing of meat, fruit, and vegetable powder and candy.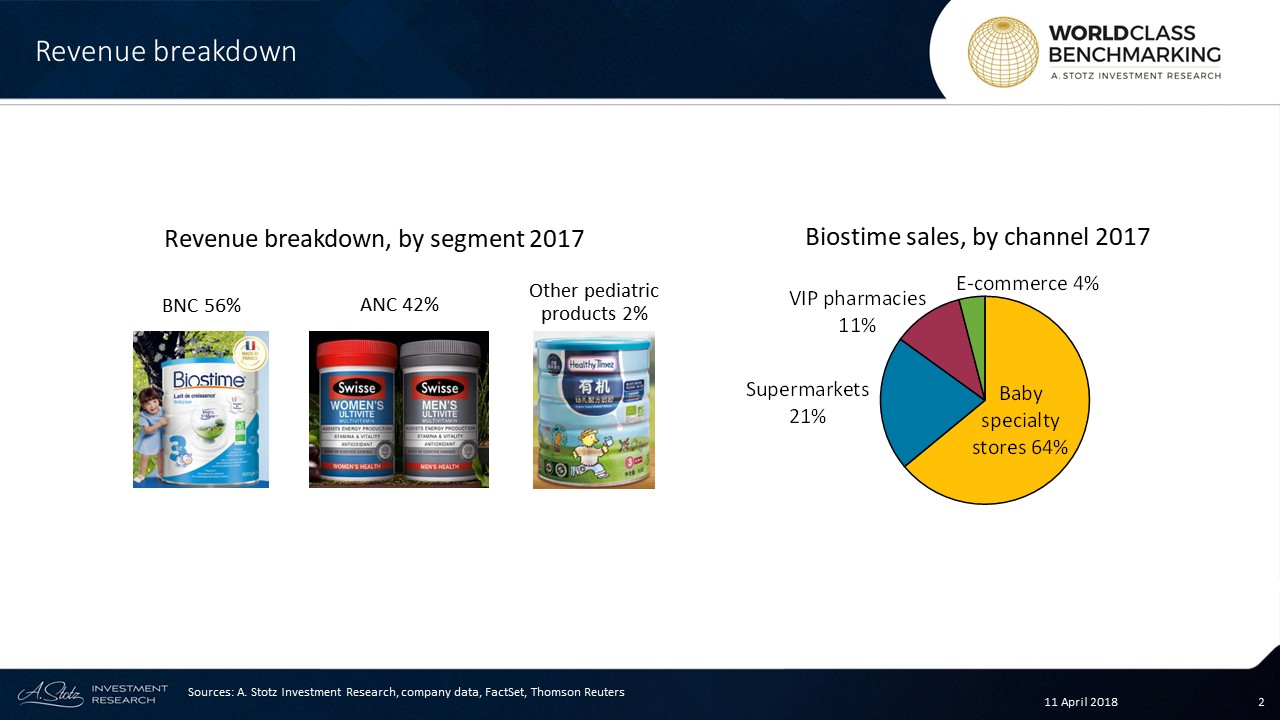 In addition to manufacturing and distribution through wholesale, retail, import, and export, H&H counts with an early childhood education advisory business as well as products in online software and IT services.
Products and services are offered through its brands Biostime, ADiMIL, Swisse, BMcare, Parenting Power and Mama100 e-commerce platform.
Leadership
Luo Fei has been the Chairman and CEO of H&H since 2010. He has worked in multiple companies in the past which accumulates to about 20 years of experience in the industry of Biotechnology. He is also a director in many of H&H's subsidiaries as well as a director in the company's majority shareholder Biostime Pharmaceuticals (China) Limited. His education consists of a Bachelor's degree in microbiological engineering and a Master's degrees in industrial fermentation and business administration, both from the South China University of Technology. He has also completed an EMBA program at the China Europe International Business School in Shanghai, China.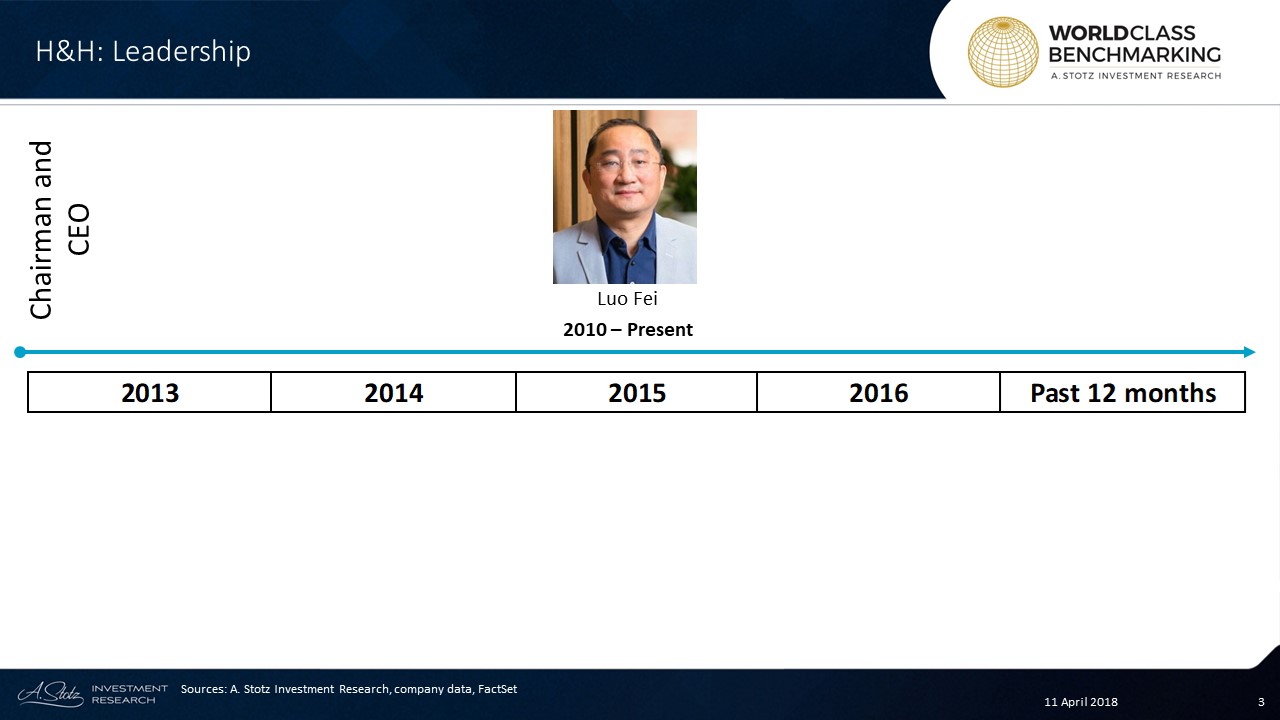 World Class Benchmarking
In 2015, Profitable Growth fell to #8 from #1. The rank has improved since 2015 and in the past 12 months, H&H ranked among the top 180 of 600 large Consumer Staples companies globally.
Profitability fell to an average rank from #4 in the past 12 months. In 2016, the company's Growth rank jumped to the best from the worst. The rank fell one step to #2 in the most recent period.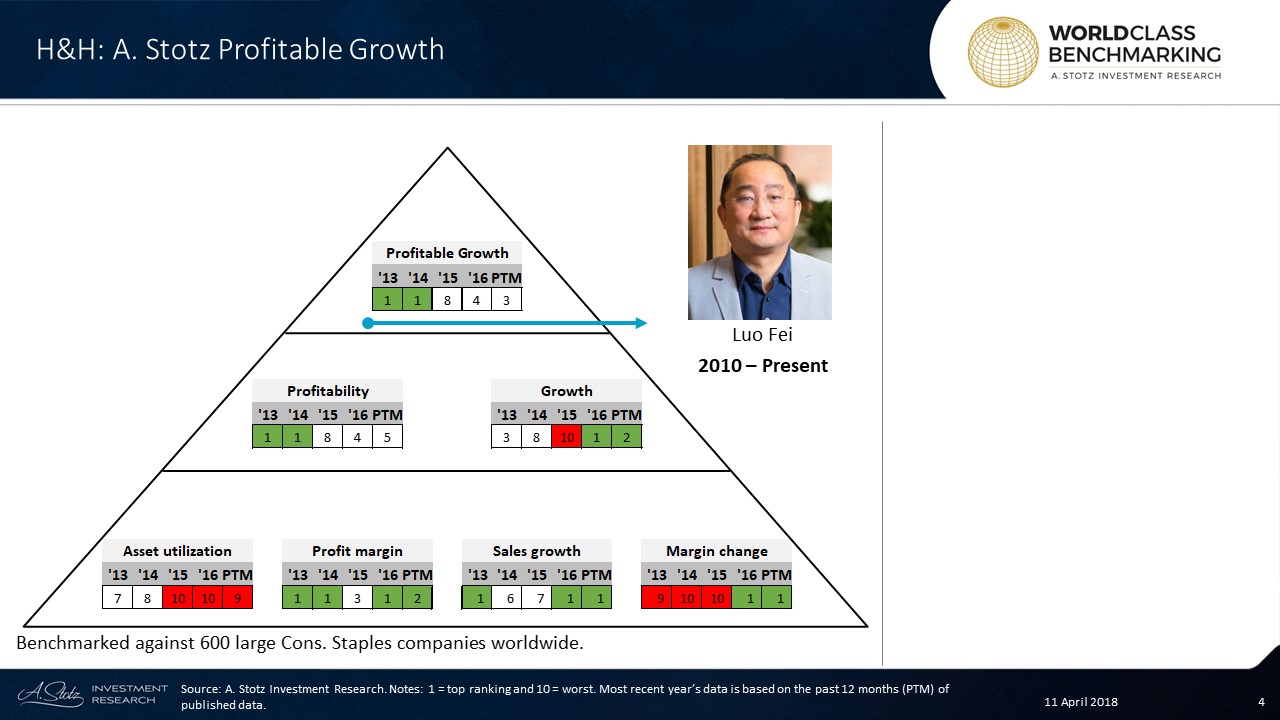 Asset utilization has consistently been among the worst, ranked at #9 in the most recent period. Profit margin has ranked in the top 3 for the whole time period and ranked at #2 in the past 12 months.
Sales growth and Margin change have both ranked in the top since 2016.
---
What're your thoughts on H&H?
If you like our research, share it with your friends.
---
DISCLAIMER: This content is for information purposes only. It is not intended to be investment advice. Readers should not consider statements made by the author(s) as formal recommendations and should consult their financial advisor before making any investment decisions. While the information provided is believed to be accurate, it may include errors or inaccuracies. The author(s) cannot be held liable for any actions taken as a result of reading this article.