Del Monte Pacific – Fan Request
Watch the video with Andrew Stotz or read a summary of the World Class Benchmarking on Del Monte Pacific Limited.
---
---
Singapore on Demand
Thanks to Lawrence Luz for the request to see World Class Benchmarking on Del Monte Pacific Limited (DELM SP / DMPL PM).
Background
A Singaporean investment holding company engaged in growing, processing, and selling canned and fresh pineapples, pineapple concentrate, tropical mixed fruit and tomato-based products. Brand names include Del Monte, Contadina, College Inn, and S&W. Secondary listing on Philippine Stock Exchange on 14 June 2013.
World Class Benchmarking
The reason 2014 is missing is that DELM changed reporting period from to April year end from December year end, hence, 2015 in the chart below is the year closed in April '16.
Profitable Growth for the company has fallen to the 2nd worst decile.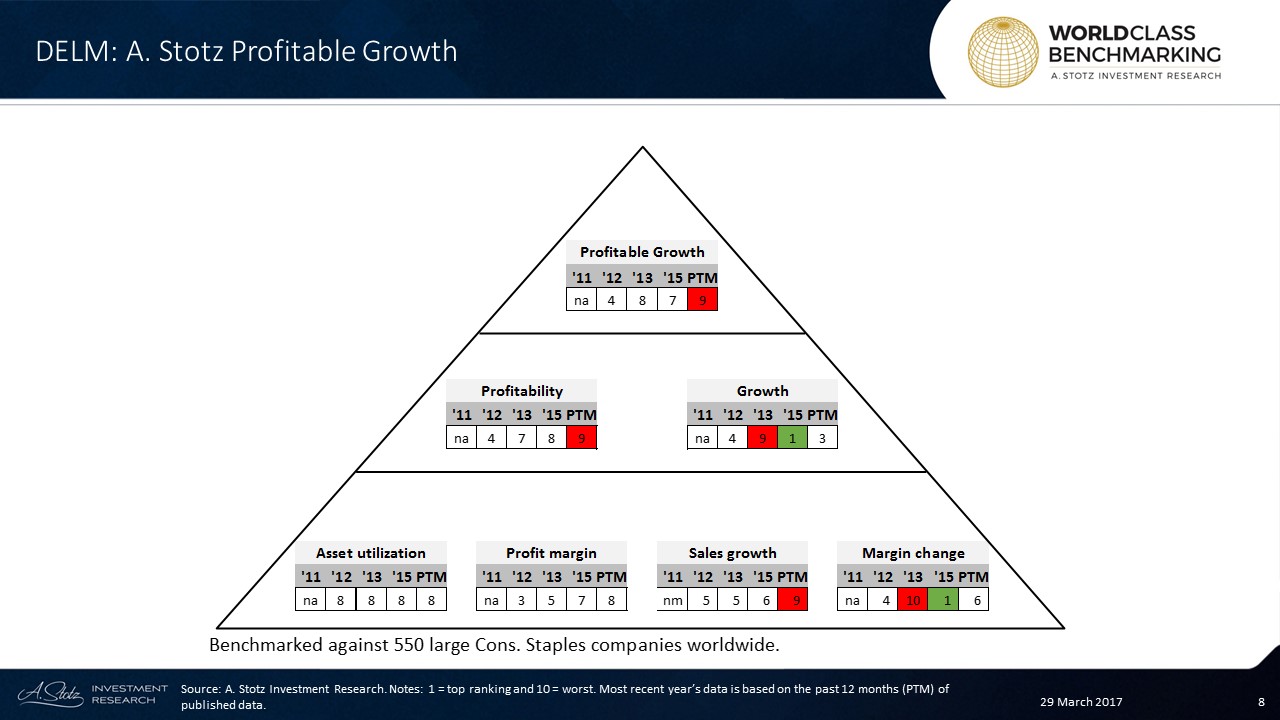 Profitability has been the main problem, Growth has been ranked in the top 3 since 2015.
Asset utilization and Profit margin are both poor. Sales growth has been poor, Margin change drove Growth improvement.
---
Do YOU want to see the Profitable Growth rank for a company in YOUR portfolio?
Leave a comment below with company name and country of listing…and we'll post it if we have it
---
DISCLAIMER: This content is for information purposes only. It is not intended to be investment advice. Readers should not consider statements made by the author(s) as formal recommendations and should consult their financial advisor before making any investment decisions. While the information provided is believed to be accurate, it may include errors or inaccuracies. The author(s) cannot be held liable for any actions taken as a result of reading this article.